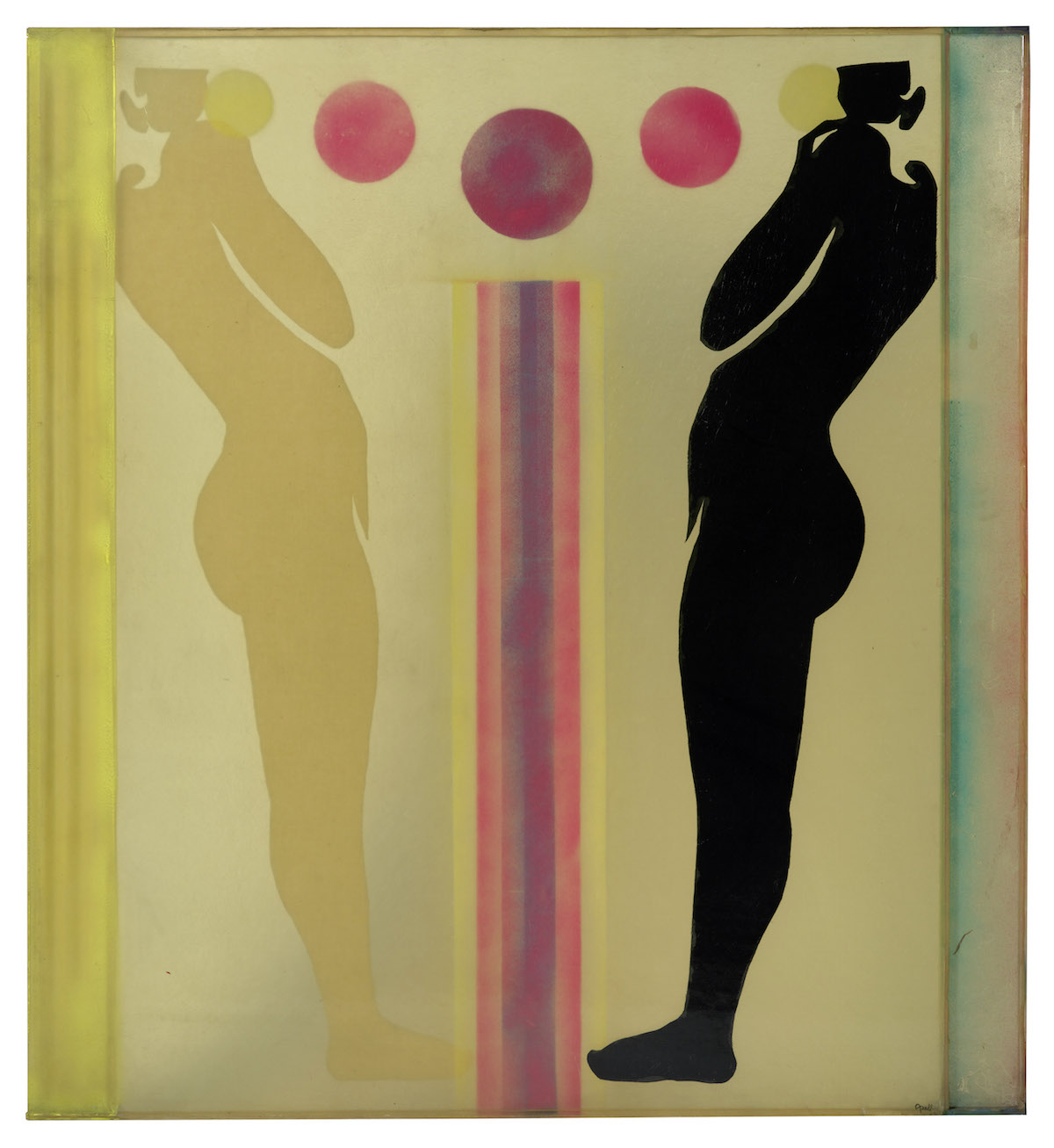 Evelyne Axell was one of the first female European artists to embrace pop art from the mid-1960s, and her bold celebration of female sexuality sets her apart her as a proud feminist, whose work is more relevant than ever in the current climate around everything from the gender pay gap to the #MeToo movement. Born in Belgium in 1935, she worked as a theatre and film actress throughout the 1950s, before turning to painting. She studied for a year with family friend René Magritte, before visiting London in the mid-1960s, where she met British pop artists including Patrick Caulfield, Pauline Boty, Peter Blake, Allen Jones and Joe Tilson. This proved formative for her work, and she began to experiment also with plastic, which was to become a defining element of her practice.
Female silhouettes are moulded and cut from brightly coloured, semi-translucent plastic sheets, and the women of her work lounge casually or throw their heads back with sensual pleasure, unashamed and filled with desire. Her career was cut tragically short in a car crash in 1972, when she was just thirty-seven. A new exhibition, curated by Angela Stief, at König Galerie in London celebrates Axell's work. Stief tells us what makes this show so necessary now, and why Axell's work deserves to be rediscovered.
Left: Clef de Contact Jaune; Right: Clef de contact rose, both 1966
How did you first come across Evelyne Axell's work? Why did she stand out to you amidst the other pop artists of her time who she is often associated with?
I discovered Evelyne Axell's work when I was doing research for the exhibition Power Up – Female Pop Art, which I curated at Kunsthalle Wien in 2010. She was one of nine featured artists with works from the sixties. The group show, which also included artists like Sister Corita Kent, Marisol, Kiki Kogelnik, Jann Haworth, Dorothee Iannone, Christa Dichgans, Niki de Saint Phalle and Rosalyn Drexler, sought to highlight the incredibly critical, subversive and experimental drive of these female pop protagonists' work – work which definitely proved aware of its creators' position in society as women. Yet, Axell stands out because her oeuvre is explicitly about female empowerment: she assertively and confidently placed the naked body, the self-portrait and female pleasure at the core of her collages, paintings, drawings and assemblages.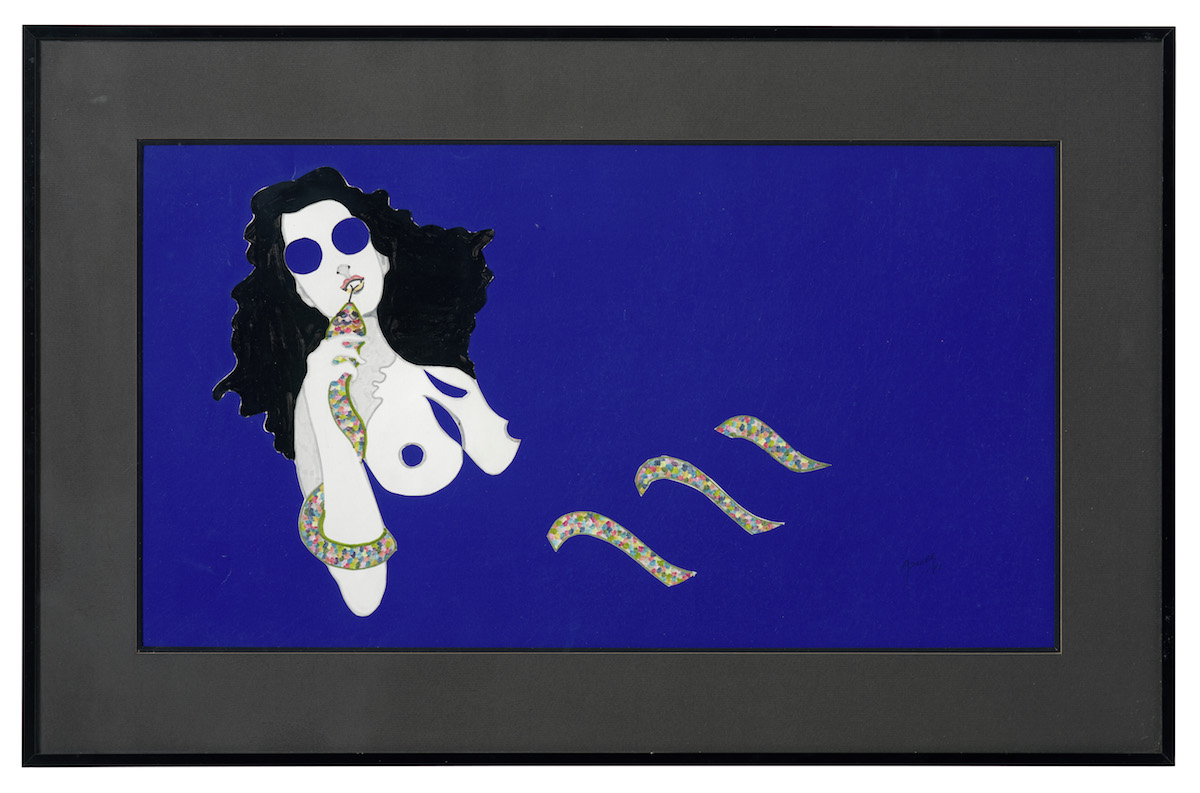 It is still rare to hear about the female history of pop art. Why has this story only started to be told in recent years, and how much more work is there still to be done?
I can hardly believe that a society can be so discriminating and conservative, to overlook such incredibly good artists for such a long time. These women were already doing work half a century ago, and only now are they slowly being recognized and shown in major pop art survey exhibitions. Compared to their male companions, they are still undervalued and less represented in public and private collections. Nevertheless, I guess, it's not only about gender equality, but it's about quality, and for me, Axell belongs to the best artists of her generation.
"Axell confidently places the naked body, the self-portrait and female pleasure at the core of her collages, paintings, drawings and assemblages"
An unabashed celebration of female sexuality and erotic pleasure is at the forefront of Axell's colourful work. Did this have any consequences for her at the time, and what does it mean for her work today?
During a show at Galerie Foncke in 1969, Axell orchestrated a happening in which she placed a naked woman wearing only a helmet amidst an art audience, and then began slowly clothing her. She was sued for this public display of female nudity, but luckily won the trial. Axell was very aware of the inequality female artists faced at that time and knew that she was often only appreciated because of her beauty. That is why she decided to change her name and only use the gender neutral "Axell". She also deconstructed the dominant rules of authorship, switched sides and traded her role as muse for that of producer. This "speaker's position" was so important because women have been subject to portrayal for centuries but hardly from a female viewpoint. The title of the exhibition, Venus, Leda & Mona Lisa, at König gallery points to the iconography of female depictions and Axell's artistic practice of appropriating important subject matters of art history.
Left: Le Peintre II, 1971; Right: Femme ‐ Homard, 1967
She also worked often with plastic, pioneering its use the art world of the 1960s. How did this change her practice and how did it influence others?
Axell was very innovative in terms of the materials she used. She began exploring new materials, experimenting with different kinds of synthetic resin and sculpting silhouettes and body fragments using transparent plastic sheets that she layered into reliefs and then painted or lacquered. In 1967, she collaborated with a company that was producing a material called clartex, which she used for free standing works and her typical works in layers. After this, she used a lot of plexiglass in her works.
"It's not only about gender equality, but it's about quality, and for me, Axell belongs to the best artists of her generation"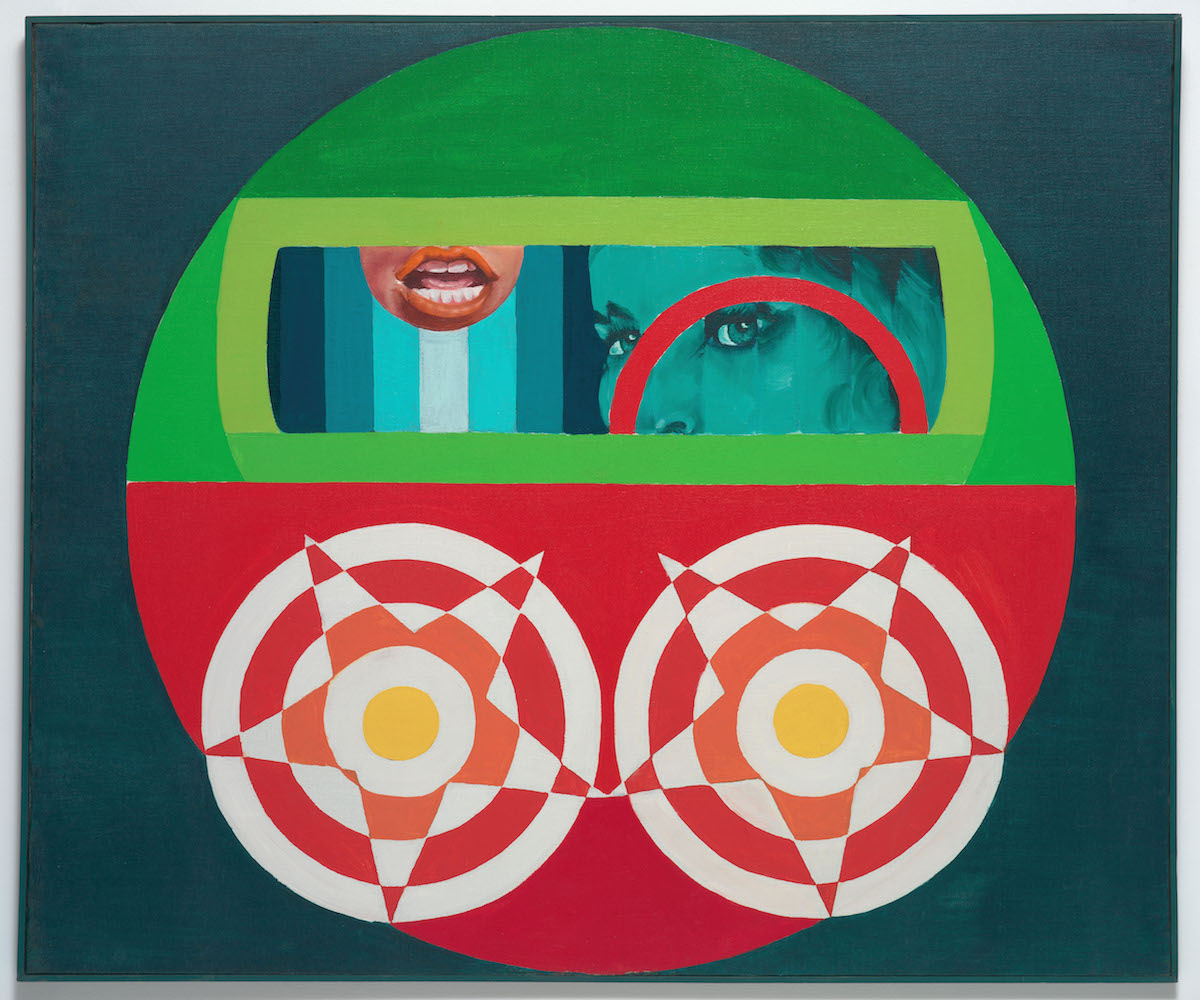 What makes an exhibition of Axell's work more relevant than ever today, in an age of fake news, social media, selfies and global marketing campaigns? Why is now the right time for her to be shown?
Axell's work is very much about addressing issues about identity and authenticity. There is nothing fake, nothing pretentious, but a strong will to express. Maybe she learned from pop to be popular without being populist. Her work has a very political impetus without being explicitly political. Her strategy was smart. She was not being antagonistic or placing blame but was simply asserting her viewpoint, unabashedly, continuously, and in very sensual manner. As she once said: "My world, for all its aggressiveness, is brimming with unconditional zest for life. My motif is clear: Nudity and femininity represent the utopia of a bio-botanical freedom – a freedom, which is immune to frustration and gradual repression, a freedom, which tolerates only the limits, it sets for itself."
All images courtesy of the artist and KÖNIG GALERIE
Evelyne Axell, Cheese
Until 21 July at König London
VISIT WEBSITE