Pablo Neruda, one of the world's best-loved poets, was a fervent hoarder. A Chilean diplomat by trade, he identified as an ardent communist, while unashamedly enjoying the finer things in life. Each of his three houses was filled with a curious collection of objects, offering a peek into Neruda's personality—eccentric, erotic, and at times, exploitative. 
Born to a schoolteacher and railway employee in 1904, and christened as Ricardo Eliécer Neftalí Reyes Basoalto, he began composing poetry at just ten years old. Neruda's mother died young, and while his father was opposed to his son's affinity for literature, the boy was encouraged by others, and published his first work at thirteen. It was in the mid 1920s that he adopted the pseudonym under which he would garner international acclaim, not simply for the skill of his verse but for its erotic nature. Published work unfortunately didn't bring in much of an income, and in 1927 Neruda was forced to take a consulate job in Rangoon, the capital British colony of Burma. From here, he went on to work in Colombo and Singapore. Despite having ample time to read and experiment with surrealist verse, the solitude of diplomatic life ate away at Neruda and he married his first wife in 1930.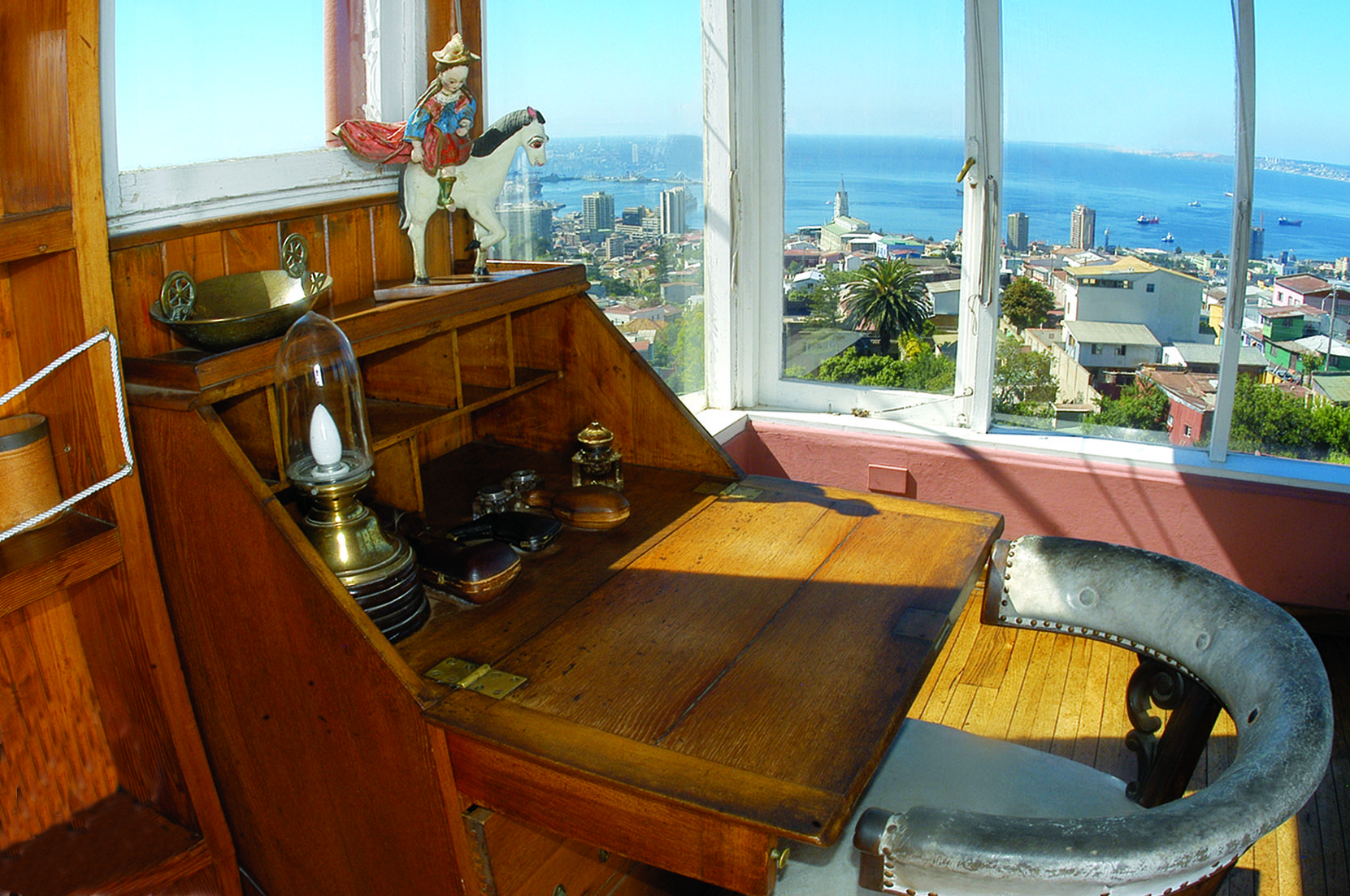 The next period of his life was spent in Spain, where he assumed a Chilean consul post in Madrid, at which point the country became embroiled in civil war. Neruda was immersed in literary social circles, and he became intensely politicised. During this time he also left his wife and nine-year-old daughter to begin a relationship with the Argentine artist Delia del Carril. Here the darker side of Neruda's personality emerges; his daughter died in 1943 following Neruda's abandonment and neglect of his first wife and their child. A 2017 film imagines the poet in the midst of nightly cold sweats, startled awake by guilt-ridden dreams about his only offspring. 
In 1939, Neruda organised the journey of the Winnipeg, a ship that carried 2000 refugees from Spain to the Chilean port of Valparaiso. Assisting the victims of fascism (General Francisco Franco had just defeated Spain's government and unleashed a tsunami of violence across the country) was one of Neruda's lifelong achievements. It was surely this connection that drew him to Valparaiso, with its crammed, colourful streets of houses, and unparalleled view of the ocean. In 1959, Neruda wrote to his friends, declaring that he felt the tiredness of Santiago, and desired a house in Valparaiso to live and write. "It can't be located too high or too low, it should be solitary but not in excess. With neighbours hopefully invisible… original but not uncomfortable… far from everything but close to the transportation."
"Each of his three houses was filled with a curious collection of objects, offering a peek into Neruda's personality—eccentric, erotic, and at times, exploitative"
By penning all of his at times contradictory demands, Neruda spoke his dream home into existence. He soon settled in La Sebastiana, a house built by the Spaniard Sebastian Collard, who had assigned the whole of the third floor to be a birdcage. With its curiously constructed curved edges and towering four floors, the eccentric part of Neruda's spirit was certainly fulfilled. He found the house too big for himself, and bought it in partnership with the sculptor Marie Martner and her husband, who took the bottom two floors, basement and backyard, while Neruda claimed the privileged view of the bay on the third and fourth floors. 
Neruda's love for things—objects, art, furniture, any oddity he came across—ensured that the house brimmed with his personality. Under a Caravaggio reproduction housed by a gilded frame sits a horse seemingly plucked straight from a merry-go-round, whilst an ornate gold decoration adorns the arch next to it. The pieces that Neruda surrounded himself with are as bewildering as they are beautiful. A 44-panelled narrative artwork, somewhere between a comic strip and a tapestry, hangs on the wooden wall above his bed, under the floral gaze of a set of stained glass windows. Neruda's writing room boasts the most scenic view of the house, complete with a desk decorated with various trinkets, accompanied by walls adorned with photos of the poet with his friends, such as Picasso. There's even a portrait by Diego Riviera of his third lover, Mathilde Urrutia, hanging at La Chascona, his Santiago house.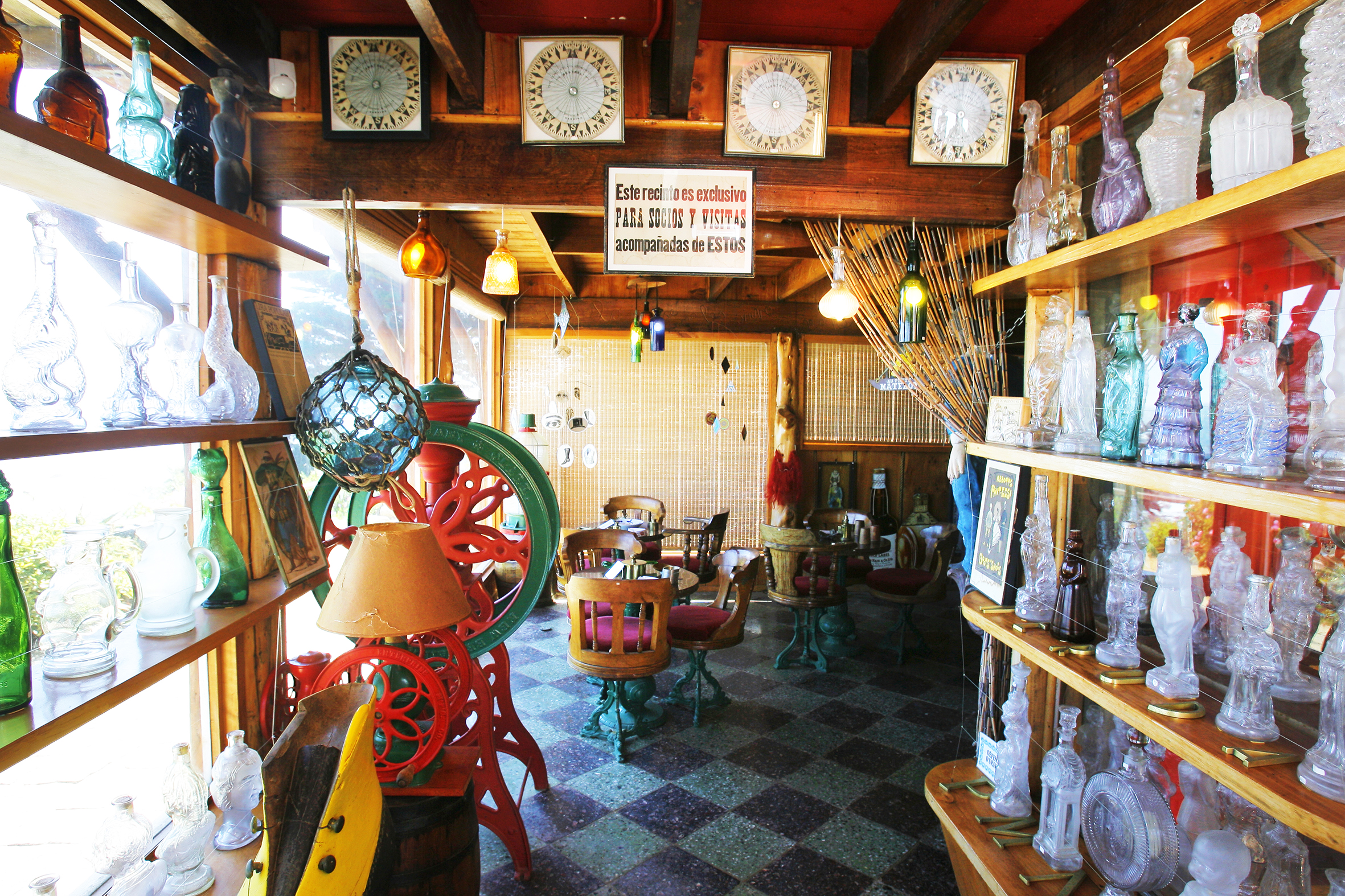 Named after Urrutia's red, almost medusa-like curls, Neruda began building La Chascona in 1953, when they could only unite in secret. Rivera ensconced this affair in his portrait, depicting Neruda within Urrutia's copious amount of hair. In an ode to the house in the book La Barcarola, Neruda wrote of "the water that runs writing in its language", as well as the blackberries "which guard the place with its bloody branches". The construction of the kitchen and dining room were prioritised when Neruda moved in two years later—he enjoyed food, wine and entertaining, and lavished his guests with generous helpings of all three. The dining areas of his homes are filled with china sets and Mexican glassware, piled onto large wooden tables—seating for eight or ten people, at least.
"By penning all of his at times contradictory demands, Neruda spoke his dream home into existence"
As they dined, social gatherings were watched over by the poet's collection of African masks and paintings, often by his own friends. Neruda at times came under criticism for his lavish tastes being at odds with his communist beliefs, and he responded by deriding his critics. A 2008 paper by Kelly Austin which explores Neruda as Collector, Translator and Poet recalls a 1970 interview where he is pressed to answer those who accuse him of hypocrisy. Neruda mocks them as the "petit bourgeoisie", whilst simultaneously proclaiming that he has earned all of his possessions through his work rather than inheriting them, and finally concluding that his home, books and collections are the property of the Communist Party of Chile, and that it is only through their generosity that he is allowed to enjoy this collection.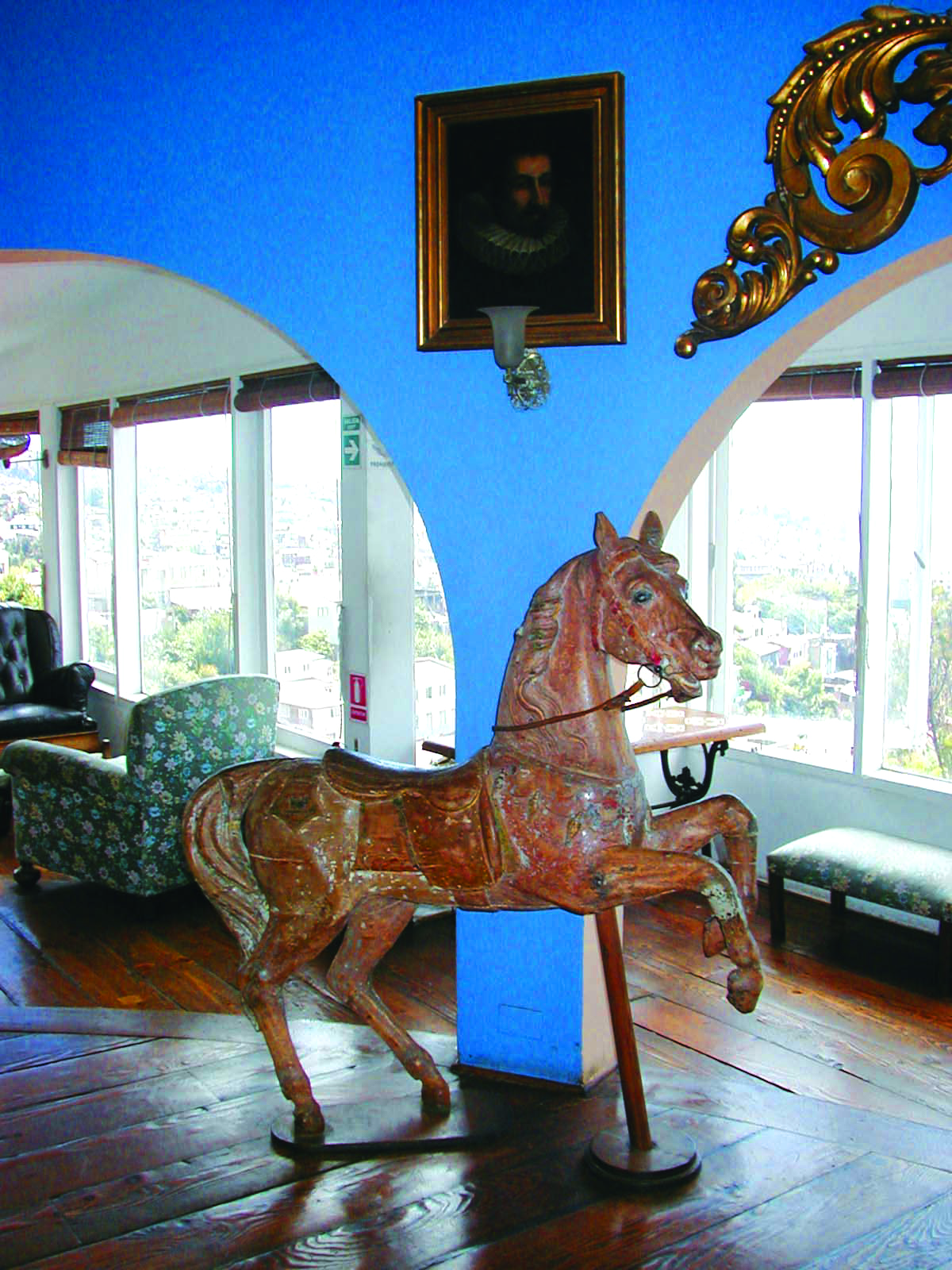 In fact, it is Isla Negra, Neruda's first house obtained in 1937 upon his return from Europe, that reveals why he desired these items so much. They fed his soul, and therefore his writing. After so much of his early adulthood had been plagued by constant travel, he desired a place of his own within which to nest, and cherish both his loved ones and beloved material treasures. Isla Negra was purchased for del Carril, and the site of one of Neruda's most famed compositions, Canto General. A collection of peculiarly shaped glass bottles are seated on the windowsill, while nautical-themed art is dotted around the house. Isla Negra is said to be Neruda's favourite home—it's here that he received the news of the coup that preceded his death, where he celebrated Chilean Independence Day on every 18 September, where he spent his last night with Urrutia, and where the two of them are buried.
Neruda passed away mere days after his friend Salvador Allende was ousted from the Presidency by Augusto Pinochet. The military coup was thought to be responsible for Neruda's death as a longstanding supporter of Allende—while cancer was deemed to be the cause at the time, the poet's body was later exhumed due to the voracity of rumours around the cause of his death. His burial had taken place under Urrutia's watchful eye at La Chascona. The coup had catalysed vandalism of their home, and it was so flooded that boards had to be placed over the mud so mourners could enter and the service take place. Anyone who visits one of the three house-museums today, almost fifty years after his death, can see that despite destruction by his foes, Neruda's spirit has been perfectly preserved, down to every last sumptuous oddity.
All images courtesy of Archivo Fundacion Pablo Neruda