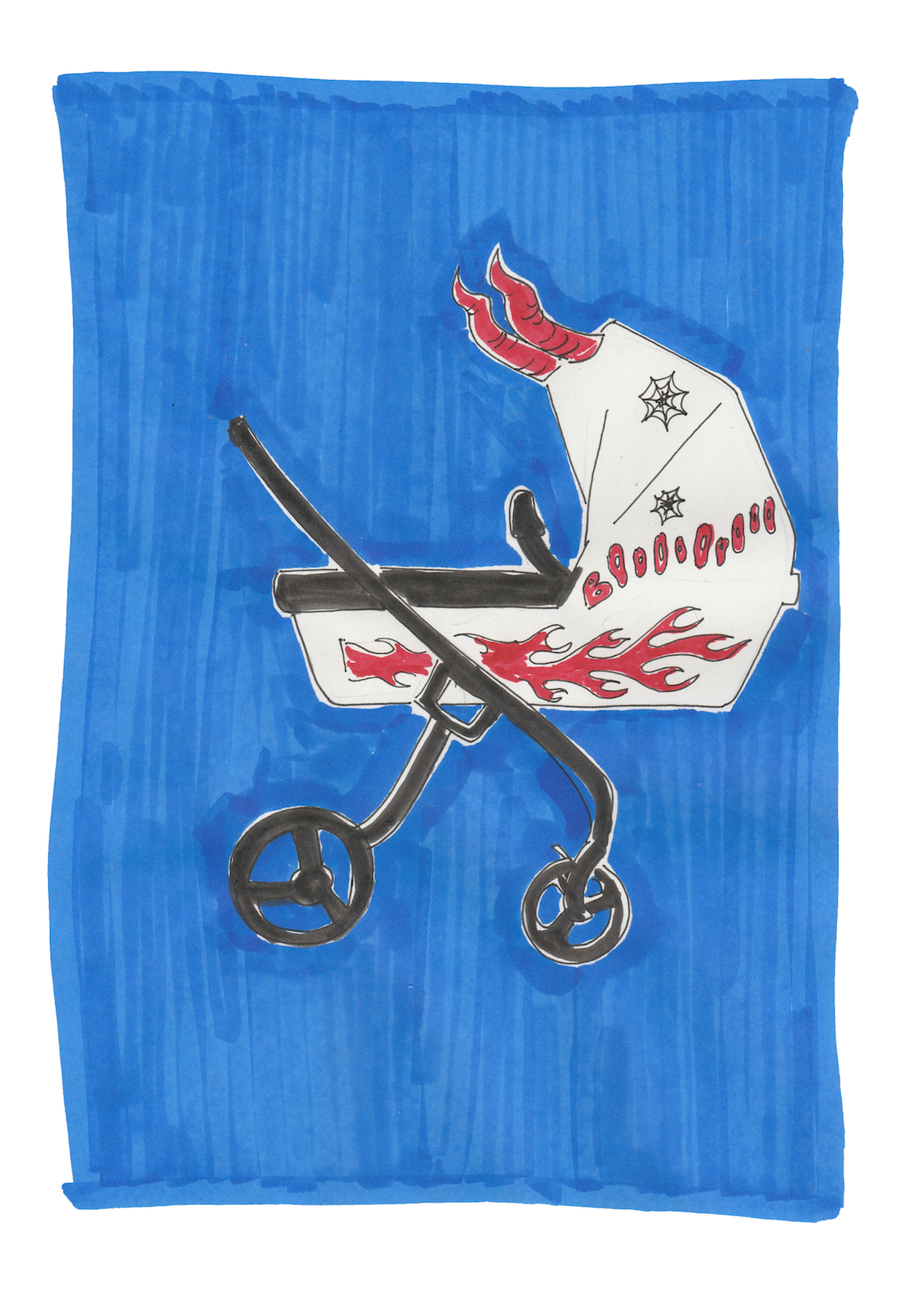 "Ugh, I really don't like buggies. I'm afraid of them," one of the workers in our local cafe said, frowning disdainfully in our direction. You plum, I thought to myself. Do you realize what a woman went through to bring you into this world? Do you know what it takes to grow and birth a child, let alone get one into a pushchair and out to a café, you ungrateful morsel of humanity? My anger broiled as I waited for him to move out of the way. "Oh, sorry." I said.
This coming week marks both International Women's Day and Mother's Day. I am (obviously) sceptical about the purpose of both. Firstly, because an email arrived in my inbox this week from the fashion conglomerate Mango, inviting me to buy one of two t-shirts "designed especially for you", a hideous red effort emblazoned with the words EMPOWERED DETERMINED UNSTOPPABLE WOMAN, or the black option in which they'd run out of shouty adjectives, hence FEARLESS FEMALE. So, happy women's day, fellow females! Let's all buy some feminist rags. After all, shopping is what we do best… and retailers know it.
Last Women's Day, trying to get into the spirit of it, I shared a link on my Facebook account to a documentary about Leila Khaled, the Palestinian freedom fighter who was the first woman to hijack a plane. A man I know commented on the link that this wasn't the sort of woman I should be celebrating, and posted a link to young skater girls in Kabul. These were the real women we need to support with our passive posting. I thanked him—and suggested perhaps a whole day for women to say what they wanted to say was probably too much. Perhaps it should be half a day next time.
I've been mansplained a fair amount in my time, but I was surprised that the mansplanations have continued while out with my baby. The concierge of my building (yes, I guess we're middle-class) takes it upon himself to dole out advice every time I pick up my post. He has a five month-old son. His advice has ranged from reasonable (try to get out every day, even when weather is bad) to the inane (use a pram, not a sling) to the insane (don't ever take a child to a café, at least until they're one, as they need to adapt to the air outside).
As we got into an Uber last week with our baby, who was practising using her lungs, I tensed as the driver began to make suggestions. "Maybe her arm is stuck, take her out of the sling," he proffered. "How many children do you have?" I flung back. "Twelve." We spent the rest of the journey grilling him for tips on every single stage of life.
I am cynical about Mother's Day (according to Mintel stats, Brits spent £510 million on Mother's Day that year) but as I approach my first Mother's Day not only as a daughter but as a mother to a daughter, I started to ask myself what I wanted her to learn about being a woman––about what it means to be a woman in 2018, in my position of relative privilege.
As I write this, in the semi-dark at 6am, my baby girl is farting contentedly next to me in bed. She will probably, as a woman, grow up to be ashamed of farting so freely. There are many things she will be told to be ashamed of. As much as I will try to encourage her to be her own person, she'll have to battle with the inexorable pull of those Mango t-shirts. I want her to know that being a woman isn't the same as being a man, because the world was first designed for men, but that most of us are struggling with the same things, and it doesn't really matter if you're a man or a woman, or neither, or both. Gender is probably the least important thing among all the stuff that forms an identity.
Later than morning when my yet identity-less baby is sleeping again, I spend some time looking at a photograph by Katy Grannan, part of her Anonymous series (currently showing at the Barbican). I'm not sure if the figure, clad in a battered black sun visor, brightly coloured satin and turquoise shorts, shot in profile but sneaking a sly eye back at the camera, a finger raised and pointed towards something out of view, is a man or a woman. That's not what draws me to it. There is something joyful and fun about this person. Something strong. As simple and cliche as it might sound that is what I want for my daughter. Perhaps minus the sun visor.
As RuPaul sings, "We're all born naked and the rest is drag." I think that's a good starting point.