Berlin- The Italian Futurists pioneered an aesthetic appreciation for motion and speed, immaterial features they devotedly depicted in their visual culture (spanning art, film and architecture) throughout the 20th century's first decade. These newly appreciated forms of beauty were facilitated by emerging technologies such as the automobile, which became accessible to an increasing number of people, and the image of which came to represent notions of progress, technological development, and domination over nature. The Futurists' encomia to progress went hand in hand with a devotion to violence and patriotism, which drove them to support and participate in World War I and saw the subsequent movement dissolution at the war's end. Yet, this spirit and dedication to depicting "progress" was soon absorbed by the language and design of advertising.  
During the 1930s, the propaganda machine of the Third Reich – also informed by the power of modernist aesthetics – triumphantly announced the construction of a national 'Autobahn'. The project was never consummated despite an ambitious approach, including the use of slave labour, but the idea transcended the fall of the Reich. A recycled notion of national identity became intertwined with the success of the growing automotive industry, and limitless speed was adopted as a signifier of freedom and liberation from the oppressive rules associated with the fascist regime. After WWII, the United States emerged as one of the leading automotive producers as their assembly lines replaced the weapons they were manufacturing in exchange for consumer goods. The growing suburban society of post-War America, driven, literally, by Fordist forms of mass production, craved comfort and social status. Hence the car became an indispensable need, which has informed the city's architecture and society's modes of consumption to the present day. 
The persuasive, pseudo-erotic rhetoric of advertising neutralised the Futurist aggressivity while maintaining a devotion to the moving object and the status conferred by owning a car. The new means of producing consumer goods, in addition to mass media, shifted the Futurist aggressivity from language to design. In her article on J.G. Ballard's Crash, the novelist Zadie Smith writes of the "cockpit" and the "mouldings of the instrument binnacles". Their design "emphasises a growing sense of a new "junction between our soft bodies and the hardware of the dashboard." The car became a status symbol, an object to be owned, fetishised, and dominated.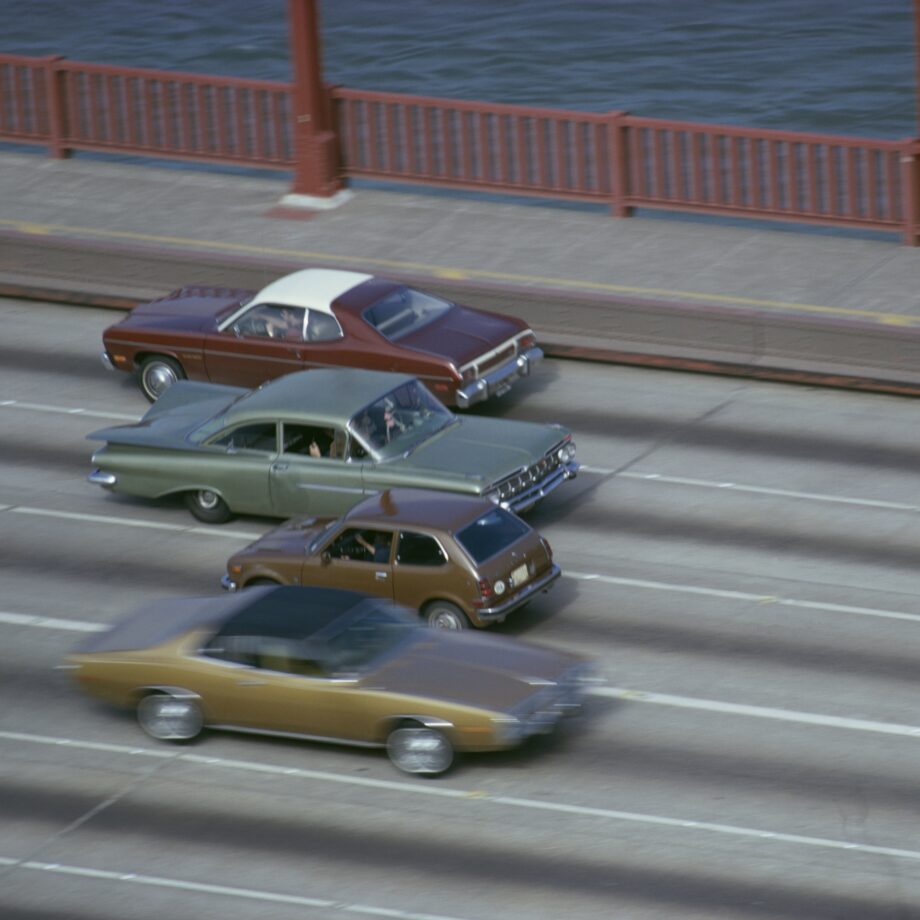 The American filmmaker Kenneth Anger detected an increasing "eroticisation of the automobile" in the omnipresent adverts of the era. In his description for the 1965 film Kustom Kar Kommandos, he addresses the (viral) symbolism of the car in the context of youth culture, stressing the role of narcissism as a "seductive, attention-grabbing, gaudy or glittering mechanical mistress paraded for the benefit of his peers." 
The 3-minute clip was, perhaps ironically, financed by the Ford Foundation with a grant of $10,000. It depicted tightly dressed toupéed teens polishing their customised automobiles with absurdly exaggerated, slow-motion movements, all to the sound of The Paris Sisters' Dream Lover. The "dream-like" set is all in pink and introduces the viewer to the "psyche of the teenager", a notion by then already heavily biased by the interests of the market. The teens were making love to their machines and, thus, to consumerism.
Similarly aware of the implications of a consumerist society, Anger's fellow American Pippa Garner went one step further by twisting the meaning of utilitarian goods in her 1982 Better Living Catalogue, a display of hybrid, nonsensical gadgets presented as practical, even indispensable. Gadgets such as the couch-car Chevrolouge (1975), Dashboard Desk (self-explanatory), or the supermarket-trolley-shaped car Gro-Car combine automobile aesthetics with disrupted logic of consumption. Garner worked on an assembly line prior to being sent to Vietnam alongside the US Army and also prior to working as a commercial photographer for magazines such as GQ. Garner understood the power of language and its manipulation. She tactically used her position at GQ to create works such as Backwards Car (Golden Gate Bridge 1) (1974). In it, a Chevy sedan appears as if driving against traffic while all the while moving forward. Her work, informed by her personal journey working in dialogue with state and corporate institutions, has since been devoted to reevaluating masculine symbolism and critiquing US expansionist culture and machismo.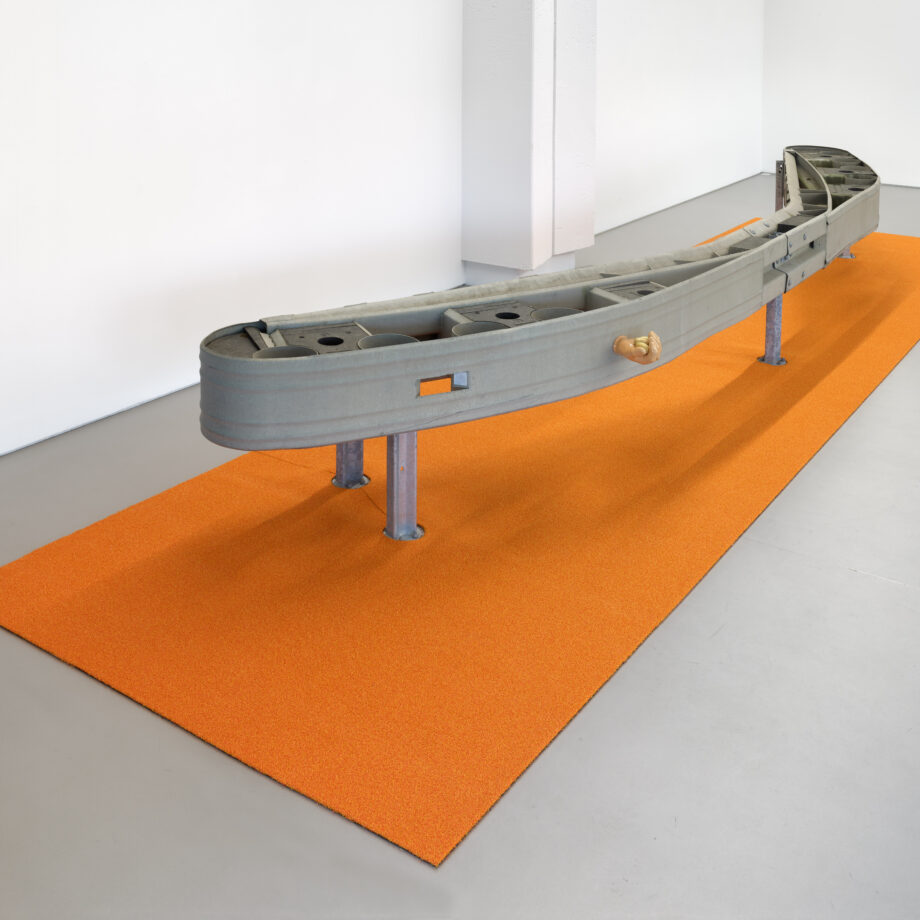 The way technology penetrates everyday life can be seen as absurd and disturbing, as it is depicted in Ballard's novel and in David Cronenberg's film adaptation of Crash (1973; 1996). Similarly, Zadie Smith notes that "technology has entered into even our most intimate human relations. Not man-as-technology-forming but technology-as-man-forming".7 In Crash, a set of emotionally numbed characters get involved in a culture of violence, reenacting famous car accidents to feel sexually (and existentially) excited, letting the machine transform their broken bodies and spirits. Crash not only subverts the relations naturalised and promoted by advertising – "speed and self-esteem or leather interiors and family happiness"– but makes clear that society has failed to keep pace with technological development.
Following the legacy of Garner, Ballard, Cronenberg and Anger while rhetorically rejecting the lineage of Futurism, a set of contemporary artists, including Young-jun Tak, Angharad Williams, Frieda Toranzo-Jaeger, and Anna Uddenberg, have appropriated the language of advertising, social media and religious iconography as part of their artistic discourse to address the material and symbolic meaning of automobiles. 
In his exhibition at Efremidis Gallery, "Wohin?" (Where to?), the Korean-born, Germany-based artist Young-jun Tak showed works made out of sections of cars and guardrails, shown along with items appropriated from Christian iconography. These sculptures reference the Autobahn's construction and the 1933 Olympics in order to allude to systems of belief and competition, as well as to the construction of power identitarian political structures. The Autobahn's unlimited driving speeds are considered almost sacred by many Germans and serve as an emblem of freedom, with the frequent attempts to change the free-for-all on the road perceived as sacrilege by some. Tak's remix of mythologies and the materiality of his displayed relics present a slightly fetishistic allure that recalls Anger's in Kustom Kar Kommandos.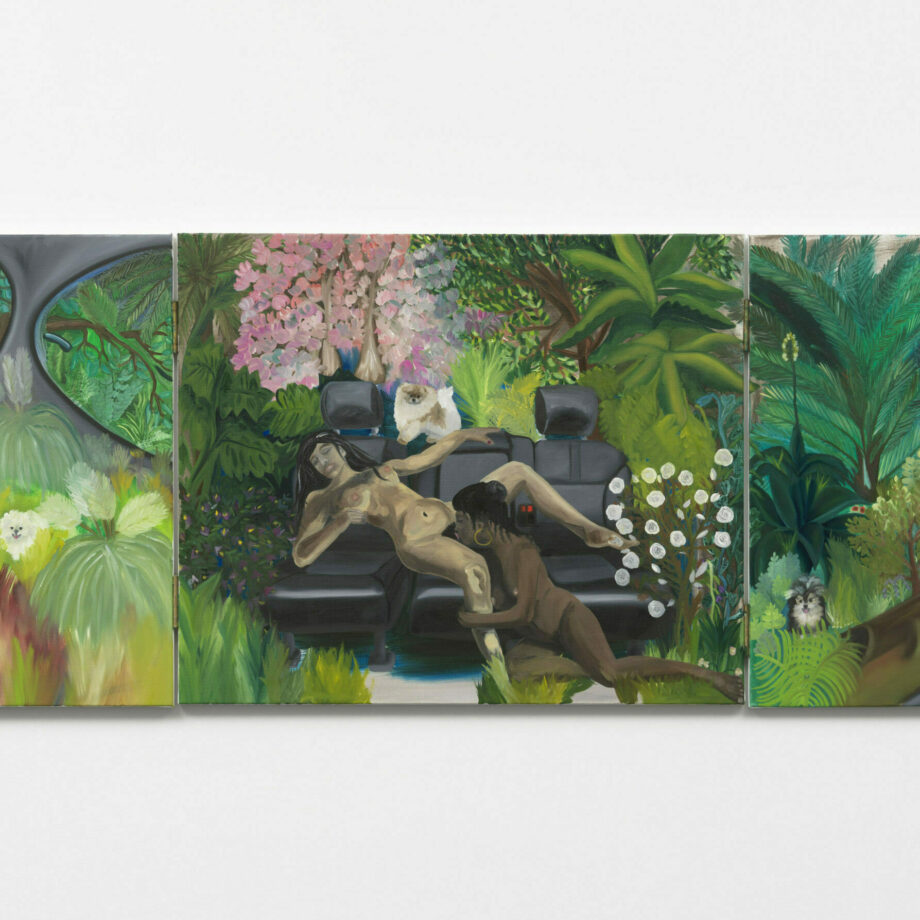 Frieda Toranzo Jaeger also references religious representation. For instance, in the works shown in Autonomous Drive at MoMa PS1, she emulates 15th-century foldable altar tableaux in her presentation formats. Toranzo-Jaeger replaces the Christian iconography with car interiors surrounded by flowers and greenery. In some tableaux, naked, renaissance-style female characters are portrayed (For new futures, we need new beginnings, 2022). In others, scenes of explicit sexual interactions take place (Sappho, 2019). The painted or embroidered motifs allude to Adam and Eve and the concept of human creation, suggesting new beginnings from a non-heteronormative origin. Imbued by a sexual and technophilic desire, the characters resist giving away their power to establish their own interpretation of territorial control and technological domination.
 Angharad Williams' practice is heterogeneous in its materialisation. But, for her exhibition, Eraser at the Kunstverein für die Rheinlande und Westfalen (2022), she presented a minimalistic group of charcoal drawings, realistically depicting a set of automobiles in real scale, floating vertically on white backgrounds (Cars, 2022). The scenarios surrounding the cars are only present as a reflection on their windows; all the rest is white. The vehicles are extracted from their utilitarian dimension, presented in the abstract like museum items to be observed in order to understand the society behind them. They appear as a catalogue of reliques, a testimony of eras, means, and aesthetic trends. In contrast, the handmade execution of the drawings deliberately exposes the imperfect, subjective dimension lost on assembly lines.
Anna Uddenberg is well known for her sexually suggestive figurative sculptures of contorted female mannequins, often exhibiting tight body parts. However, in a more recent strand of her practice, her sculptures have grown in both size and abstraction. Through the materials they are made of – mesh, fake leather, furs, and Crocs – the origins from which the pieces were made – "limousine interiors, elite spas, and first-class lounges" 9 – point to social and material aspirations encouraged by social media and the influencers/OnlyFans lifestyle. Works such as Cuddle Clamp (2017), Cozy Stabilization Unit (2017), and Psychotropic Lounge (I) (2019) look like mythological Wolpentingeren made from pieces of furniture, boats, and cars and almost invite viewers to interact with them.
Either by using the automobile as part of the sculpture's skeleton or as a symbolic motif, Uddenberg and Toranzo-Jaeger exploit a sexualised perception of the consumption objects and the uses to which they are put. Williams and Uddenberg approach class aspirations by displaying cars as icons, as aseptic ethnological items, or as stages to perform new manifestations of power. In the case of Tak and Toranzo-Jaeger, Christian iconography is referenced as a powerful way of communication and indoctrination, a kind of precursor to advertising, a system of truth/untruth, violence and domination. The artists dismantle notions of belief and power dynamics in order to conceptualise other possible forms of cultural values.
Rather than celebrating the triumph of technology like the Futurists, these artists embrace technology's symbolic capacity, alluding to disenchantment with the failed promise of a market-oriented notion of progress- one that ignores several major social concerns. Moreover, a shift in the perception of formats dominated by technocratic approaches has led these artists to question where these notions of progress are leading, possibly to oversimplified views and a denial of the hybrid, polyvalent nature of things. But, far from being didactic or moralistic, these positions show awareness of the social dimension implied in the impact of technology and a rejection of established ideas or linear readings. 
Words by Gabriela Acha 
References
Marinetti, F. T. (1909). The futurist manifesto. In Rainey, L. (Ed.), Modernism: An Anthology (pp. 12-13). Blackwell Publishing.

Smith, Z. (2014, July 4). Sex and wheels: Zadie Smith on JG Ballard's Crash. The Guardian.

Anger, K. (ca. 1964). KUSTOM (Kustom Kar Kommandos – Film Project). Los Angeles.

Ibid.

Ibid.

Barton, B. (2023). Auto Erotics: Pippa Garner at the Kunstverein München, February.

Smith, Z. (2014, July 4). Sex and wheels: Zadie Smith on JG Ballard's Crash. The Guardian.

Ibid.

Windsor, B. (2018, June 15). Anna Uddenberg's sculptures re-think female identity in consumer culture. Dazed.

In later versions of her alien-esque sculptures (at Schinkel Pavillon in Berlin or Meredith Rosen Gallery in New York), Anna Uddenberg worked with actual performers dressed as babies or corporative workers, who suggestively interacted with the sculptures.