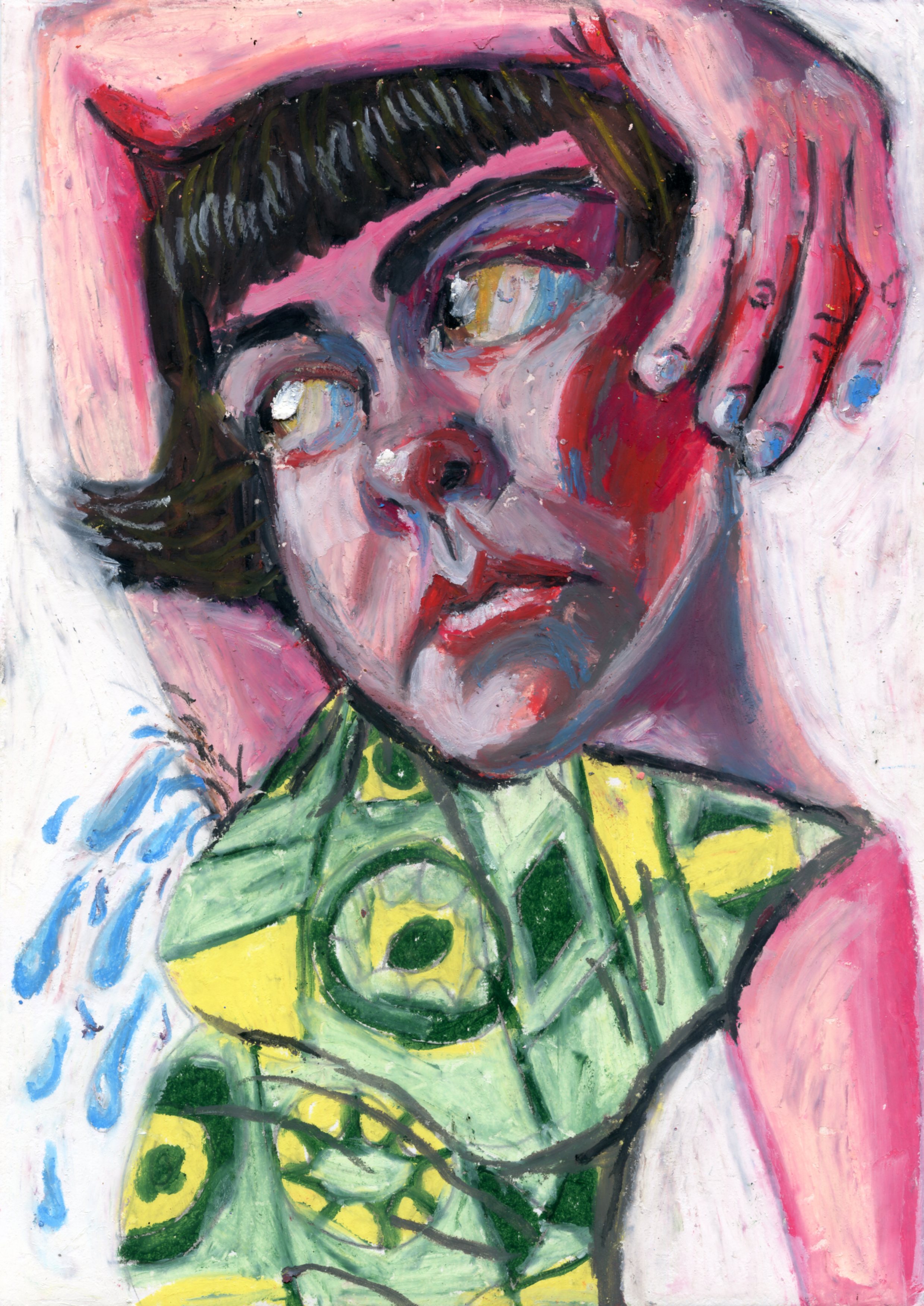 If you were an avid reader of Rookie magazine in its heyday, you may recognize Rachel Hodgson's name from her editorial work: fashion shoots of people you always wanted to be, made magical by her signature rainbow-coloured crayon doodles. However, Hodgson is also a prolific drawer and has recently graduated from the Royal Drawing school in London, where she won Christie's Best Drawing of the Year for her large work My Shoes.
"It's something I can't stop now," she says of her illustrations: surreal self-portraits in which Hodgson appears to shift between her flesh self and a doll of spooky resemblance. "The dolls are real," she explains when I ask her about their symbolism. "People can be very disturbed by baby dolls. There are horror films about them. They scare me sometimes too, but that's very powerful: that people are so afraid of inanimate objects." Laughter and tears are perpetually on the cards, and Hodgson acknowledges that art is therapy for her. "It is how I digest my feelings and I have always had too many ever since I was a child." The works offer an unflinching document of a changing self, complete with hairy legs and period stains.
"When I see myself I often see a cartoon person. I can't believe I am real, I wonder how I got here"
"When I see myself I often see a cartoon person. I can't believe I am real, I wonder how I got here," says Hodgson. "I think also it was a reaction to instagram feeds, in which almost every picture is a selfie; it was my form of that. I feel like I need and want to document myself but the drawings feel more realistic to how I see myself than if they were camera selfies." In her works, sharp scissors teeter threateningly and blood red smudges keep cropping up; there is a sense that one is never far from being stung by the hot cheeks of embarrassment. These drawings are the sleeve on which Hodgson wears her heart.
She slathers her pastels on generously, never shying away from intense, clashing colours. "I definitely fall in love with certain colours and want to use them over and over again. When there is something about it, it's so delicious you could taste it, like pink cake icing or when a yellow is so bright it makes you feel a little sick." This is the feeling they induce—a life lived fully, all the ups and downs felt acutely and accepted as beautiful.