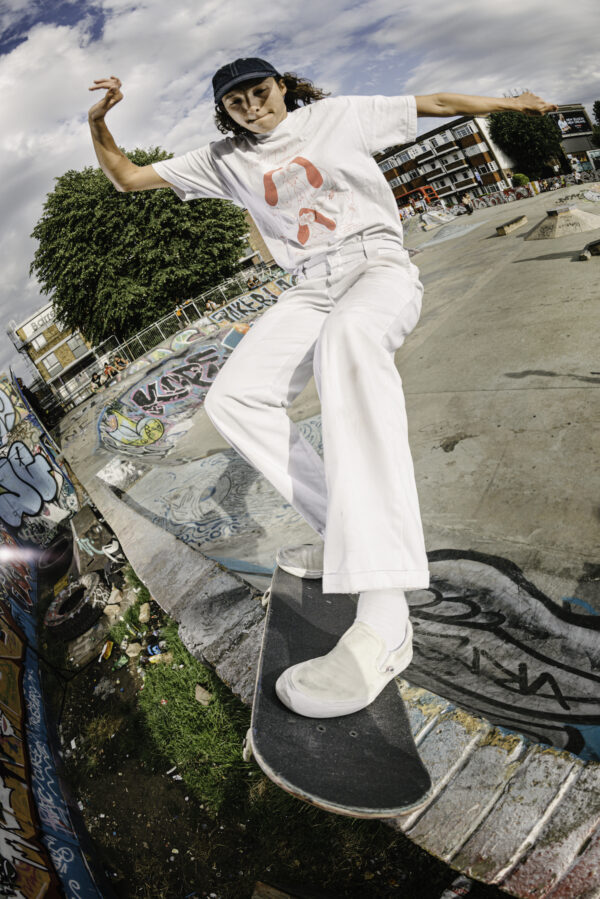 No Comply, Somerset House's survey of skate culture, opens with Henry Kingsford's black and white photograph of Helena Long (British skateboarder, filmmaker and the exhibition's consultant curator) traversing a deserted Trafalgar Square on a board.
Taken during the 2020 Covid-19 pandemic lockdown, the shot nods to the recent surge in popularity experienced by the sport as millions confined primarily to their home and local area sought alternative outdoor leisure activities, exercise regimens and modes of transport during the lockdowns.
Now, after skateboarding made its debut at the Tokyo 2020 Olympic Games, alongside fresh recognition of its worldwide popularity and enduring cultural influence, No Comply charts the history of UK skateboarding since its advent in the 1970s.
The exhibition's three main themes centre around the importance of the DIY ethos of skateboarding, skaters' independence and ability to take control of their urban surroundings, and the collectivism and community engendered by skate culture. These go some way to explaining the allure of skateboarding to visual artists, with many contemporary artists coming of age in skate communities or maintaining a multi-disciplinary passion for skating.
In 2010, Dan Colen presented his solo exhibition Poetry at Gagosian Gallery's 555 West 24th Street space in New York, following the death of longtime friend and frequent collaborator Dash Snow the year prior.
During the preparation and installation of the exhibition, considered by many to be an artistic eulogy to his late friend, Colen built a large skate ramp in the gallery space and invited members of New York's skate community to skate the plywood half-pipe.
"The wheels scuff and gauge at the hard surface beneath them: a permanence born from transience"
Later, Colen upturned the ramp to create Overture ("Two Minutes in Silver Wells, Two Minutes Here, Two Minutes There, It Was Going to be Over in this Bedroom in Encino"), a mournful sculpture that formed the central point of the exhibition and allowed visitors to walk beneath its bridge-like facade and gaze-up at the skid marks created by the skateboard wheels.
In doing so, he invited viewers to consider the highly visual aspect inherent in the mark making of skateboarding, as the wheels scuff and gauge at the hard surface beneath them: a permanence born from transience.
The artwork also serves as an homage to Colen's teenage obsession with skateboarding, an activity that he credits with not only introducing him to art and art making but also to a community of friends and colleagues such as Snow and the photographer Ryan McGinley.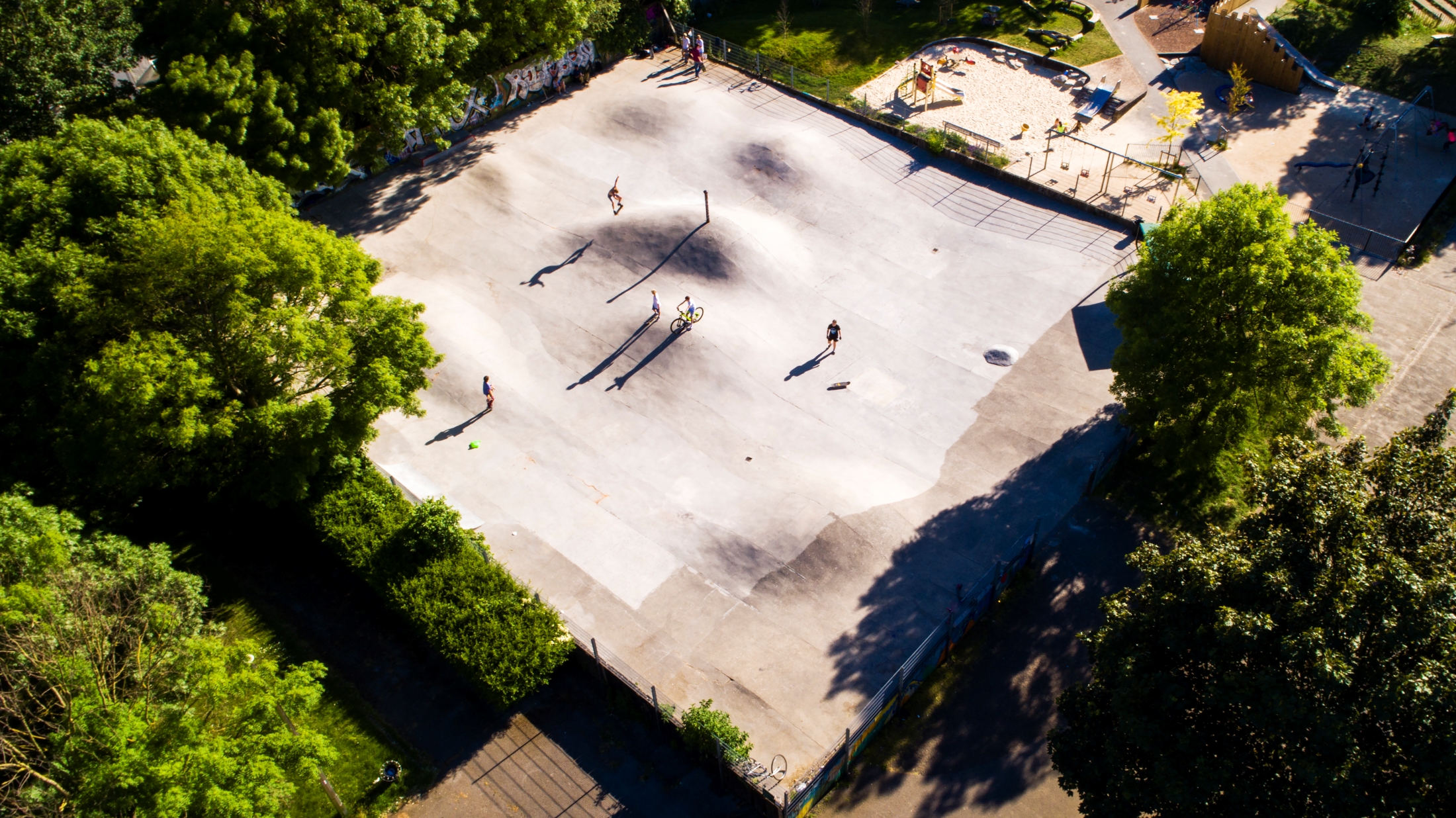 All three artists were championed during the early stages of their careers by Jeffrey Deitch, former director of the Museum of Contemporary Art (MoCA), Los Angeles and curator-extraordinaire famed for presenting innovative exhibitions at his erstwhile gallery Deitch Projects (1996-2010) that disrupted the polite mould of white-walled art spaces.
Deitch had noticed the growing community of skater artists, and in 2002 opened Session the Bowl in New York with a performance by the 5Boro Skate Crew. The exhibition featured paintings, drawings and photographs by more than 30 artists who either skated themselves or were inspired by the skate community. Free Basin, a plywood skatebowl by SIMPARCH (an artists' collective founded in Las Cruces, New Mexico) filled almost the entire gallery space and foreshadowed Colen's Overture to come.
"In its quest for perfection of form for its own sake, skateboarding is to pavement what [Clement] Greenberg argued paint is to canvas," Hamza Walker, Director of LAXART, wrote in his essay about Free Basin when the piece was previously installed at Chicago's Hyde Park Art Center in 2000.
Free Basin at Jeffrey Deitch gallery
Alumni from Session the Bowl include Snow, Ed Templeton, a skater, artist and photographer who alongside being inducted into the Skateboard Hall of Fame in 2016 has also exhibited at the Palais de Tokyo in Paris, and publishes the community-orientated arts magazine ANP Quarterly; Martha Cooper, a photographer recognised for her documentation of the 1970s and 1980s graffiti scene and later the burgeoning skate culture; and Kaws, the former skater and graffiti artist whose 2020 survey at Brooklyn Museum sold out in advance of the opening and whose auction record currently stands at $14,800,000.
Skateboarding has long been associated with graffiti and street art, its fellow subcultures and countercultures, but with artists such as Snow and Colen plus curators and institutional figures such as Deitch exposing skate culture to the wider art world, it wasn't long before contemporary artists were clamouring to align themselves with the skate community.
"In its quest for perfection of form for its own sake, skateboarding is to pavement what paint is to canvas"
Supreme, arguably the most famous and celebrated skate brand in the world, has an extensive history of artistic collaborations, with Colen, Snow, Cooper and Kaws all early adopters. In 2000 Ryan McGinness, also of Session the Bowl, became the first artist to adorn Supreme skate decks with his designs, and two decades later the list of artists who have followed suit reads like an enviable institutional collection.
Mike Kelley, Marilyn Minter, Damien Hirst, Cindy Sherman, John Baldessari, Nan Goldin and Jeff Koons, to name just a few, have all contributed artworks to Supreme skate decks—in 2019 Sotheby's auctioned a complete set of 248 artist decks for £800,000, demonstrating the selling power of skating.
Jeffrey Cheung, an Oakland-based painter of joyful, liberated and playful nudes, takes a different approach to the artist-designed skate deck. Since founding Unity Skateboarding in 2017, he has hand-painted well over a thousand. Unity, a queer skating collective and publishing press, aims to promote skating amongst the QTPOC community and provides space and resources to those interested in taking up skateboarding as a means of self-expression.
Cheung, a passionate skater in his youth, hopes to foster a community and culture of acceptance and inclusivity that he felt was lacking during his teenage years. Since its inception Unity has encouraged its members to pursue creative endeavours alongside skating, and in 2018 Cheung co-curated Pave with Unity co-founder Gabriel Ramirez, a group exhibition at New Image Art Gallery in Los Angeles consisting of work by queer skaters and artists.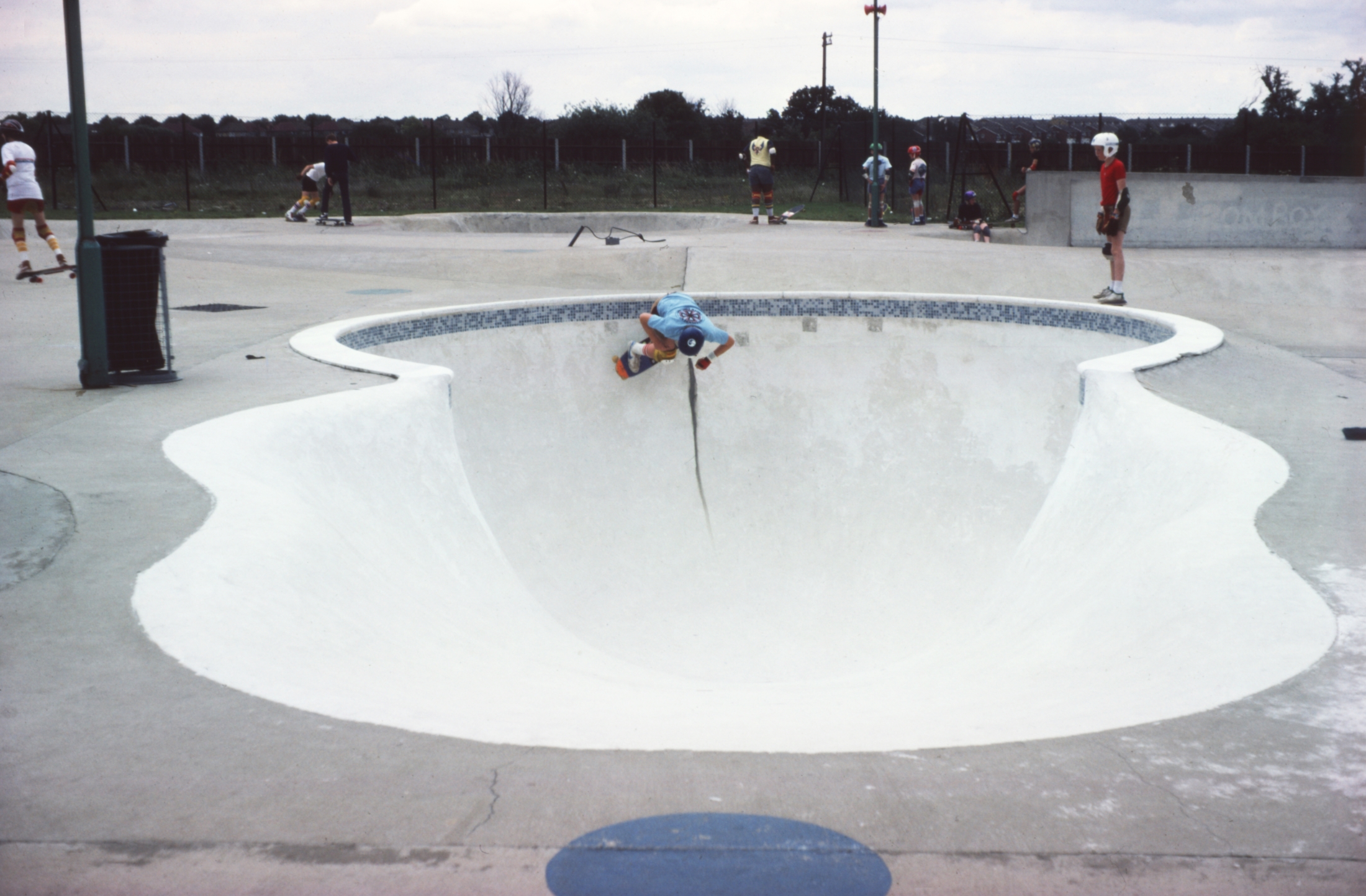 Artists such as Cheung, and earlier Colen, demonstrate that, outside of the inescapable commodification or commercialisation of both worlds, there has long existed a strong affinity between skateboarding and the visual arts, as generation after generation of young people look to both cultures for liberation, acceptance and community.
As skate-legend Tony Alva once said, the sport is "a release of all your energy out on the terrain, your canvas and creation of your own art." That's not set to change.
Hector Campbell is an art historian, writer and curator based in South London