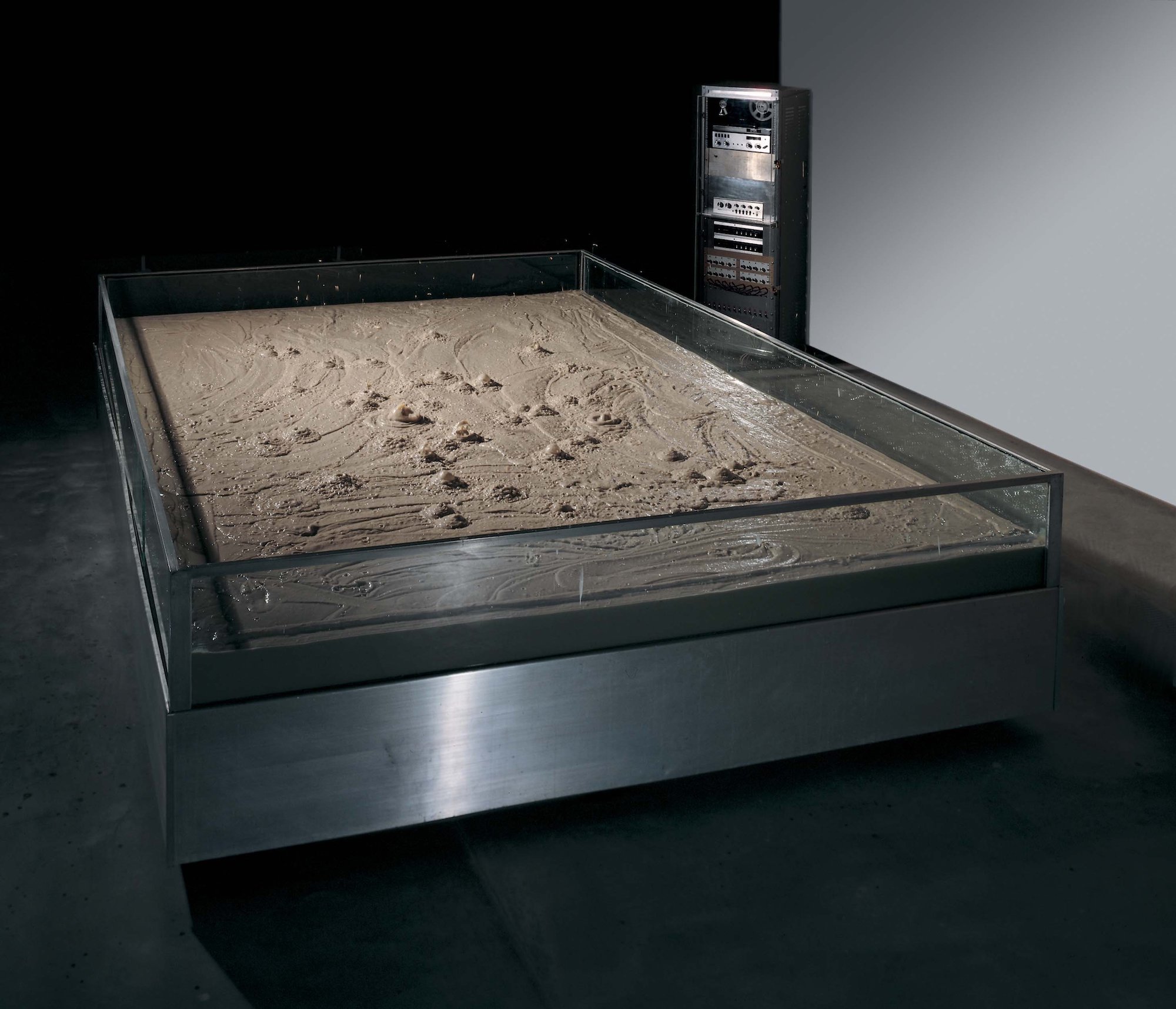 Undulating and erupting like discordant magma, the Mud Muse came to life. Wired up to a totem of analogue hardware topped with a reel-to-reel machine, a spool of tape slowly cycled, emitting chaotic patterns of ripples and splutters. I couldn't say the exact duration of time and anticipation that had preceded this experience. In this bubbling pool of clay there was the end of a quest, a sense of arrival. Now I could see its unhinged playfulness, the collision of protean geology and the technological, and its unexpected mirror-like quality.
I first learned about Robert Rauschenberg's 1971 project Mud Muse while working at Arnolfini in Bristol, one of the city's key contemporary art institutions, where I stumbled across a reference to E.A.T (Experiments in Art & Technology) among the gallery's archive of experimental music and performance. At the time I had just come out of five years of design education, and found myself back in my hometown of Bristol after refusing to step onto the predestined treadmill laid out for architecture graduates in London. The prospect of perennially designing handrails for starchitects felt like a penance that I couldn't quite face, and I wanted to reassess my options. When I landed a job at an arts institution it seemed like a gift, but I was quickly disheartened by the apparent lack of crosstalk and collaboration between disciplines. The world of contemporary art and exhibition-making felt hermetic and inward-looking in a way I had not foreseen.
It was towards the archive and the echoes of the past, the 1960s & 70s in particular, that I found myself drawn. Perhaps I was seeking a kind of therapeutic retreat from the present. These decades felt comparatively like an era of possibility, of innocence and experimentation, and represented a moment in which the worlds of art, design, music, film and performance expanded and flowed into one another as part of a unified cultural experiment. In this period the boundaries of infrastructure, experience and pedagogy were questioned, purposefully exerting power to erase the separation between art and life. Within this enquiry the work of radical projects like Fluxus and APG (Artist Placement Group) captured my imagination immensely, and none more so than E.A.T.
"It was towards the echoes of the past that I found myself drawn. Perhaps I was seeking a kind of therapeutic retreat from the present"
Founded in 1967 by Rauschenberg, Billy Klüver and Robert Whitman, E.A.T. functioned as a pioneering agency connecting artists with emergent technological industries. It saw contributions from the likes of John Cage, Yvonne Rainer, David Tudor and Fujiko Nakaya, with the group's work manifesting as an astonishingly ambitious pavilion in 1970 at the Osaka Expo in Japan. By creating new visionary applications for technology in the arts, they sought to actively carve out the future. From here, Rauschenberg's Mud Muse rose to the surface of my hopeful retrospection as an irreverent beacon, a mythical pulsating synthesis of possibility.
The origins of the Mud Muse have always gripped me, developed with the extensive support of the aeronautics company Teledyne—a reflection of its arrival at a time when the arts craved a direct relationship with industry. It consisted of a PA system that would play a tape reel of various sounds, spanning the frequency range, placed on the underside of a tank of bentonite clay mixed with water to form a free-flowing slurry. When played, the sounds would release compressed air into the sludge, causing it to bubble, burp and plop in a chaotic disharmony, a messy and profane cymatic eruption.
Learning about it first from books, it was a mystery to decipher what exactly it was from images alone. It seemed to be a blur of kinetic sculpture, installation, minimalist conceptualism and land art, whilst equally bubbling comfortably somewhere in the continuum of sonic art and experimental music. Its sleek, rectangular configuration and sizeable scale summoned parallels to Kubrick's 2001: A Space Odyssey monolith, yet one that has replaced any introspective stillness with a reclining state of volatile address—pumping, undulating and spitting.
It was in early 2020, a decade after first discovering it, that I finally saw the Mud Muse for myself at the Moderna Museet in Stockholm. It had been brought out of the collection of the museum for a rare staging in a group exhibition exploring the history of art and technology. The gallery was peacefully quiet and I spotted the Mud Muse almost immediately as I entered, though surprisingly it seemed to be lifelessly still. Yet as I approached, with an uncanny sentience it burst into being, mud rippling and gargling on its surface, occasionally ejecting lumps into the air. It was a marvel that did not disappoint, and its effervescent performativity was strangely hypnotic.
What then quickly became clear was also how funny the Mud Muse was. It was the humour itself that had never truly translated into images; the sleekness and sculptural precision was in stark contrast to the flatulent and unashamedly biological nature of the work. It retained a sensual and aesthetic elegance whilst having a sense of simply letting it all hang out, nature as nature, no editing or window dressing. It was this wry realness that no effort of reading had prepared me for and caught me off guard.
"The sleekness and sculptural precision was in stark contrast to the flatulent and unashamedly biological nature of the work"
I stepped back and walked through the rest of the exhibition, where I encountered contributions from Mumbai's avant-garde collective Vision Exchange Workshop and the Finnish artist Jenna Sutela, triggering thoughts of the decolonised and post-human. It was with these alternative futurities that I returned to Rauschenberg's monolith in the moments before I departed the museum for a final interrogation. As I marvelled at its razor-edge tightrope of humour and formalism, an unexpected quality began to emerge. Whilst looking into the bubbling mass, the associations I had previously conjured began to fall away, to be replaced with a meditative calm. The surface of the clay began to resemble some form of scrying medium, a mirror or window, revealing an alternative path of history or a fork in the road.
The Mud Muse was birthed in a dreamlike moment, when the nascent possibilities for creative integration within industry, as well as the transformative role for the arts within society, embodied an embryonic transformative potential. But to look upon Rauschenberg's monumental sculpture now, it instead spoke of a path not travelled. As I gazed into the bubbling ripples, the alternative promise of this era lay captured within its perpetual gargling. It resembled more and more a living conscious entity, a shackled cybernetic experiment, a plasma of possibility never quite capable of the energy to escape its containment and flow freely outwards to shape reality. The bubbling emissions evoked gasps or utterances, a cyclic lament for a future that never happened.
Within a brief moment this vision collapsed, and the Mud Muse returned to its playful and irreverent state. As I departed I felt an admiration for the work's Rorschach quality: its mystic ability to reveal what lies latent within the observer; to exhume fragmentary ideas from the subconscious; to transcend its technological form and primitive materiality. I look forward to the day when I will get to encounter the Mud Muse again, like a cryptic oracle granting both resolution and riddle in equal measure.
This Artwork Changed My Life is a fortnightly series of personal essays that share the stories of life-changing encounters with art.