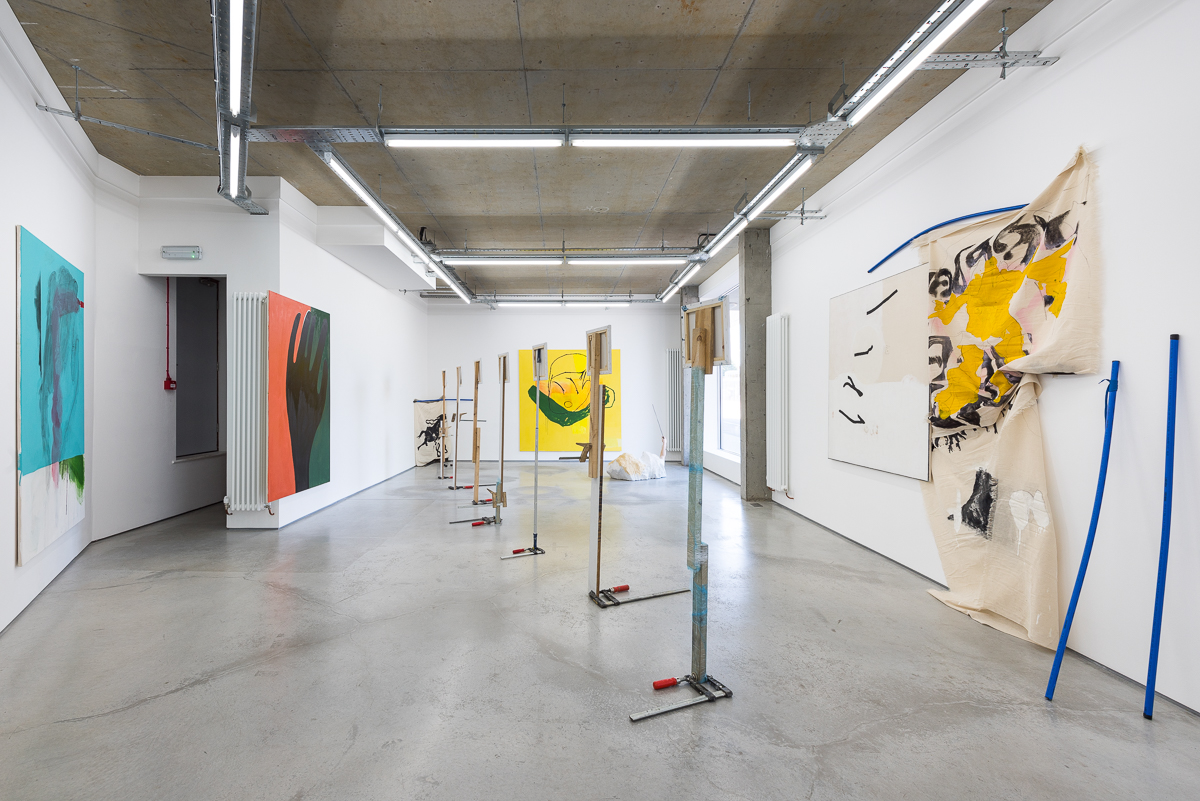 Artists Isabel Alicia Baptista, Ryan Cullen, Tom Król and Malte Zenses met whilst studying at Cooper Union in New York. Since 2013, they've worked together on several exhibitions that favour the architectural ambiguity of offbeat locations: a driveway in LA, a rent-controlled basement with washing machines and a glazed tiled floor, a six-meter-long corridor.
For Londoners, Cullen's work 'T.I.N.A' (made up of seven portraits of Margaret Thatcher) strikes particularly close to home at a time when the British political establishment, headed up by second-ever female prime minister Theresa May (who is in some ways the ideological descendent of Thatcher) stands agape after a general election result literally nobody could have predicted a month before its occasion. The portraits in 'T.I.N.A' each stand at Thatcher's height, and their wooden supports can't help but recall the stiff pride of picket lines. But at its heart this work points not to the UK but across the Atlantic to middle America, to the growing popularity of 'Drink and Draw'—suburban mothers heading to local malls in order to participate in painting classes where everyone in the group paints the same thing.
Behind 'T.I.N.A', Król's large, two bold turquoise, orange and forest green paintings—both depicting the black outline of a hand—hang half on the wall, half off. Baptiste's works: blue rods and canvas rags that hang from or near them, painted with smudged images connoting competition and grand history, sit confidently in the sidelines of the space (a windowsill, the far corner). Nestled against one of Baptista's works, and then sitting alone on the far wall are Zenses' poetic porcelain-like canvases—half-maps to places that used to exist, though you'll never decode the way there.
representative, representative is essentially a game of semiotic hide and seek: as viewers, we're supposed to think about what is being referred to by the shape of the works and the marks upon them. Is it, in the case of Baptista's 'Dutty Wyn E.A. – '88' (2017), the birth year of her favourite bartender from Brooklyn—or, in Zenses' 'the tarot kinda ending' (2016), a recreation of a tarmacked crack in a road he walked down once? Or is it in fact nothing we would recognize as meaningfully connected to the mark at all? These are fundamental questions about language and meaning, tied inextricably to the way we perceive art and how we believe it to be able to communicate with us.
This practise of leading and misleading—enacted in different ways by each artist—lends a sense of mischief to a space that is usually much better-behaved. Take, for instance, the way that the central work (Cullen's 'T.I.N.A') disrupts attempts to take a coherent photo of the exhibition on an iPhone, so the representation of the gallery show on the internet, particularly social media, is scrambled like a radio that's not quite tuned in. For that reason (and a few more) it's best to visit.
representative, representative runs until 21st July at Rod Barton, London.