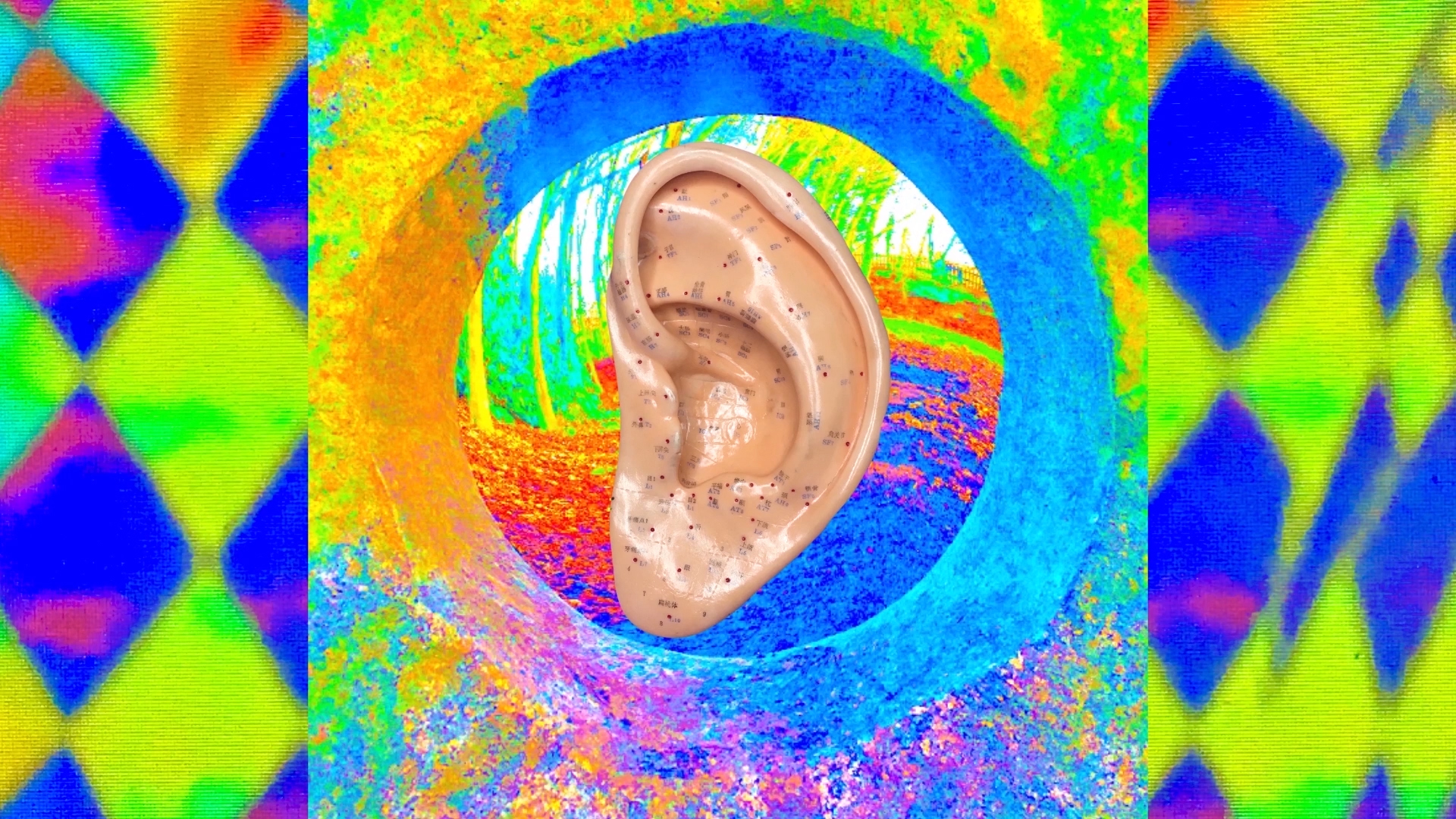 Surrealism meets psychedelia in the work of Newcastle University Fine Art graduate Emma Wiseman. Disembodied ears nestle among curious still-life installations or amid bright neon digital gradients, which the artist terms "interactive and immersive mind massages". Taking inspiration from the strange and uncanny moments in contemporary life, Wiseman aims to create an interactive and multi-sensorial experience for their audience: at their degree show, costumes were provided for visitors to achieve full immersion.
Wiseman counts the experimental video and installation art doyenne Pipilotti Rist as an important influence on their freewheeling work. Wiseman works on a large scale, using papier mâché, found materials and collage to create their all-encompassing colourful worlds, where nothing is too outlandish or bizarre to be brought into the ever-evolving story. (Louise Benson)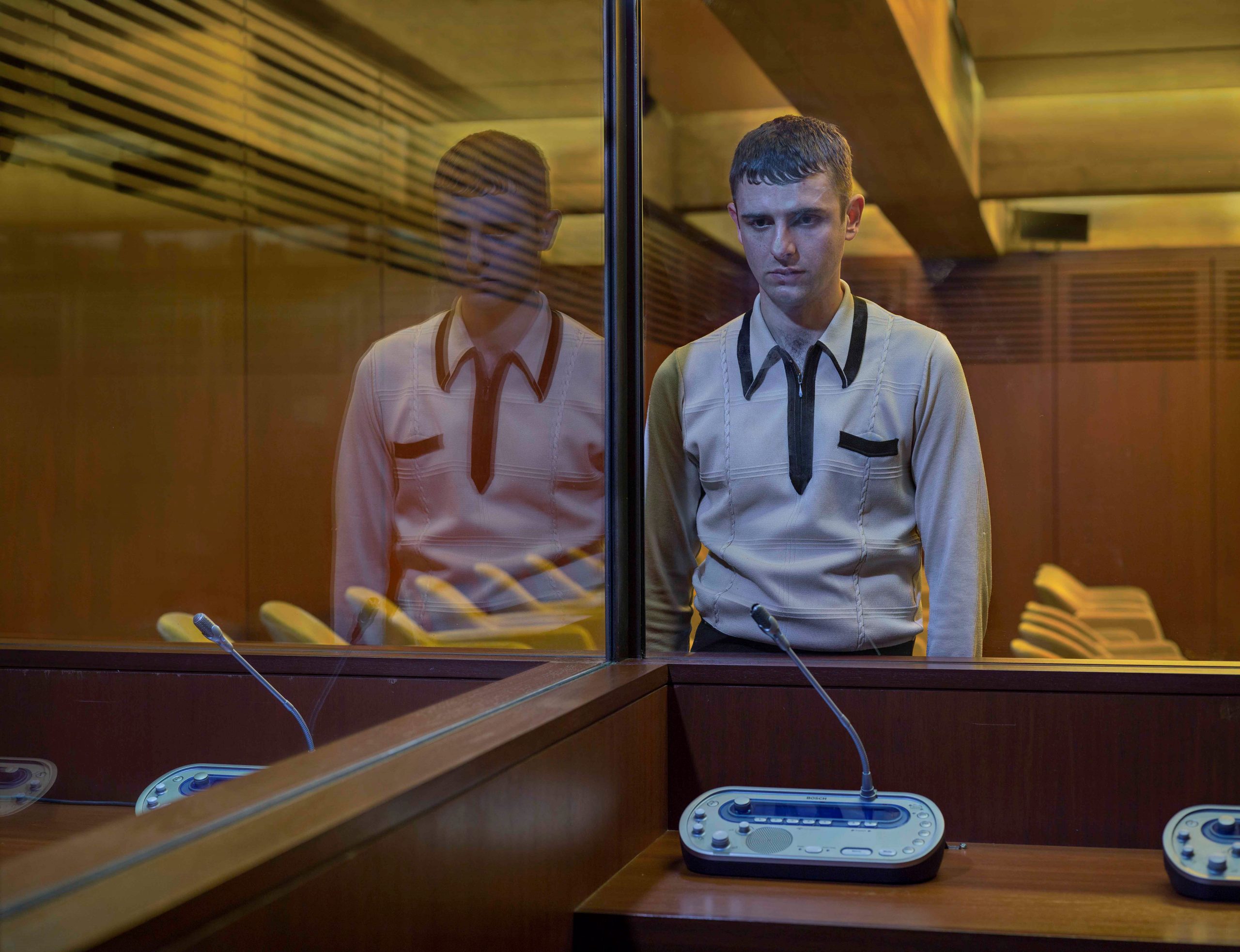 Jaime Welsh (Goldsmiths, University of London)
Recently selected for the latest round of Bloomberg New Contemporaries, Lisbon-born Jaime Welsh creates speculative, ambiguous photographic scenes, relying heavily on character-formation and the introspective possibilities of interior space.
For his MFA graduate showcase at Goldsmiths, Welsh presented For Laura, a series of enlarged photographic prints depicting characters' interactions with mid-century-style spaces which, depending on how the subjects occupy them, hover somewhere between the public and private. A figure moves around an auditorium with an air of near-obsessive intensity, at once solitary and yet doubled and reflected by the space's features, illustrating Welsh's eye for architectural line and partition. (Ravi Ghosh)
Amber Franks (University of Brighton)
In an honest, intimate and heart-breaking portrayal of life during lockdown, Amber Franks managed to produce a stunning portrait of her grandmother, who struggled with dementia while isolating. Franks created this visual diary while completing her Master's in Fine Art at Brighton University, and while other students (and creatives at large) took to a digital universe, she turned to the interiors of the home.
Her black-and-white shots range from glamorous portraits in the garden, to shots of doing the dishes or having a nap. Each image is accompanied by brief text that articulates the struggles and joys of the everyday. The result is poignant and at times devastating. Unsurprisingly, one of Frank's images entered Historic England's Picturing Lockdown Collection, which "forms a permanent visual record of this unusual time in history".  (Holly Black)
Ross Pole (Camberwell College of Art, UAL)
Squishy, foamy and intensely sticky. The sculptures of Ross Pole (a graduating student in Camberwell College of Art's sculpture BA) are attentive to the materiality of the industrial environment that makes up much of our contemporary reality, from polystyrene packaging to plastic wrappers. The artist employs the "excess material waste which our society provides", creating pastel-toned series built from the discarded detritus of a world increasingly operating on the packing and shipping of low-value items.
Whether it's Amazon parcels or eBay deliveries, that awareness of a larger collective responsibility is never far away, as the unique texture of crumbling polystyrene creates an apt base for layers of faded neon pink, blue and yellow hues. Pole's latest 30-day Snacks series saw him produce 30 ephemeral sculptures from scavenged materials, an exploration of our tactile relationship to synthetic manufactured materials. (Louise Benson)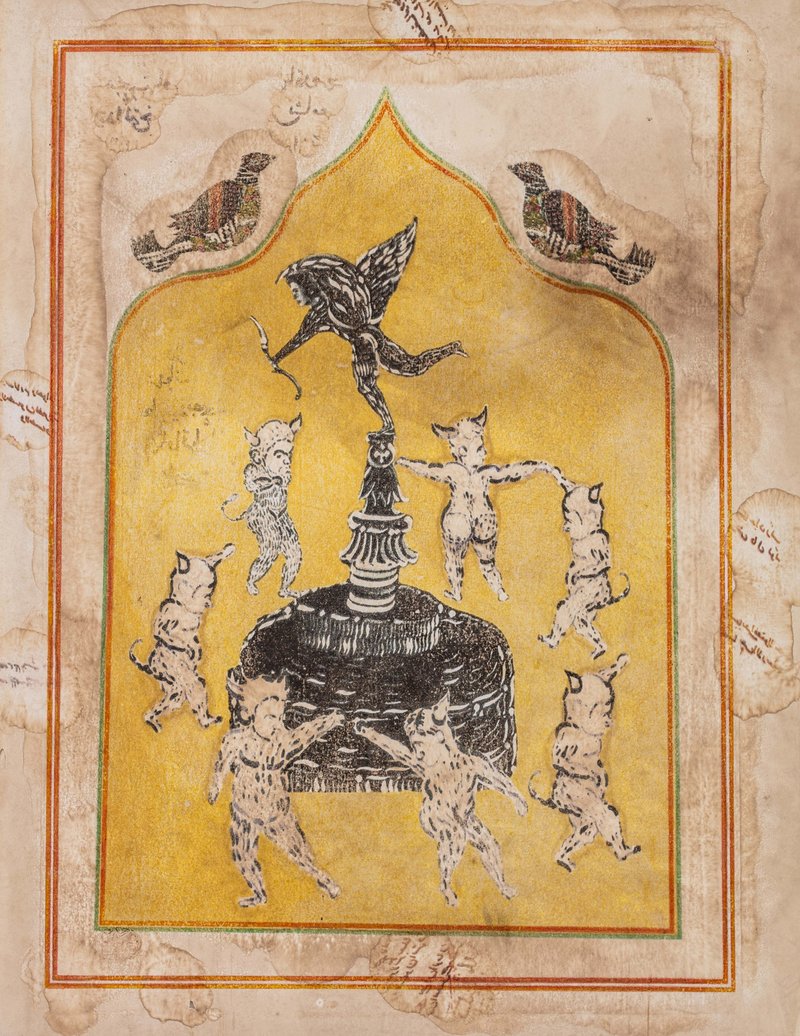 The postgraduate year at London's Royal Drawing School always produces an exciting selection of student work, with a strong focus on technique, experimentation and hands-on methods. Mohammad Barrangi has been a standout in this year's group of graduates. The Iranian artist previously studied graphic design and book illustration, and he brings together influences from Persian miniature painting and narrative-driven art in his latest pieces.
His intricate and at times humorous works utilise Iranian calligraphic techniques to create drawings, which are then scanned, collaged and printed. He sometimes explores his own disability through his artwork, depicting figures with "lost" appendages, and he features women who have been important in his life. "I will often combine them with animals or mythical creatures, as my work often focuses on journeys and travelling," he explains. (Emily Steer)
A graduate of Leeds University's Fashion Photography BA, Lauryn-Alexi Ipinson-Fleming works in photography and moving image. She has already carved out a signature style, influenced by Skate culture, Californian skies, streetwear, and her own friends and family.
Her close-up and spine-tingly images are frequently of subjects emotionally close to her, whether it's her younger siblings, best friend or dad. Her final project took the form of a photobook, a self-portrait of sorts through others using important male figures in her life, connected to a broader interest in masculinity, beauty and vulnerability. (Charlotte Jansen)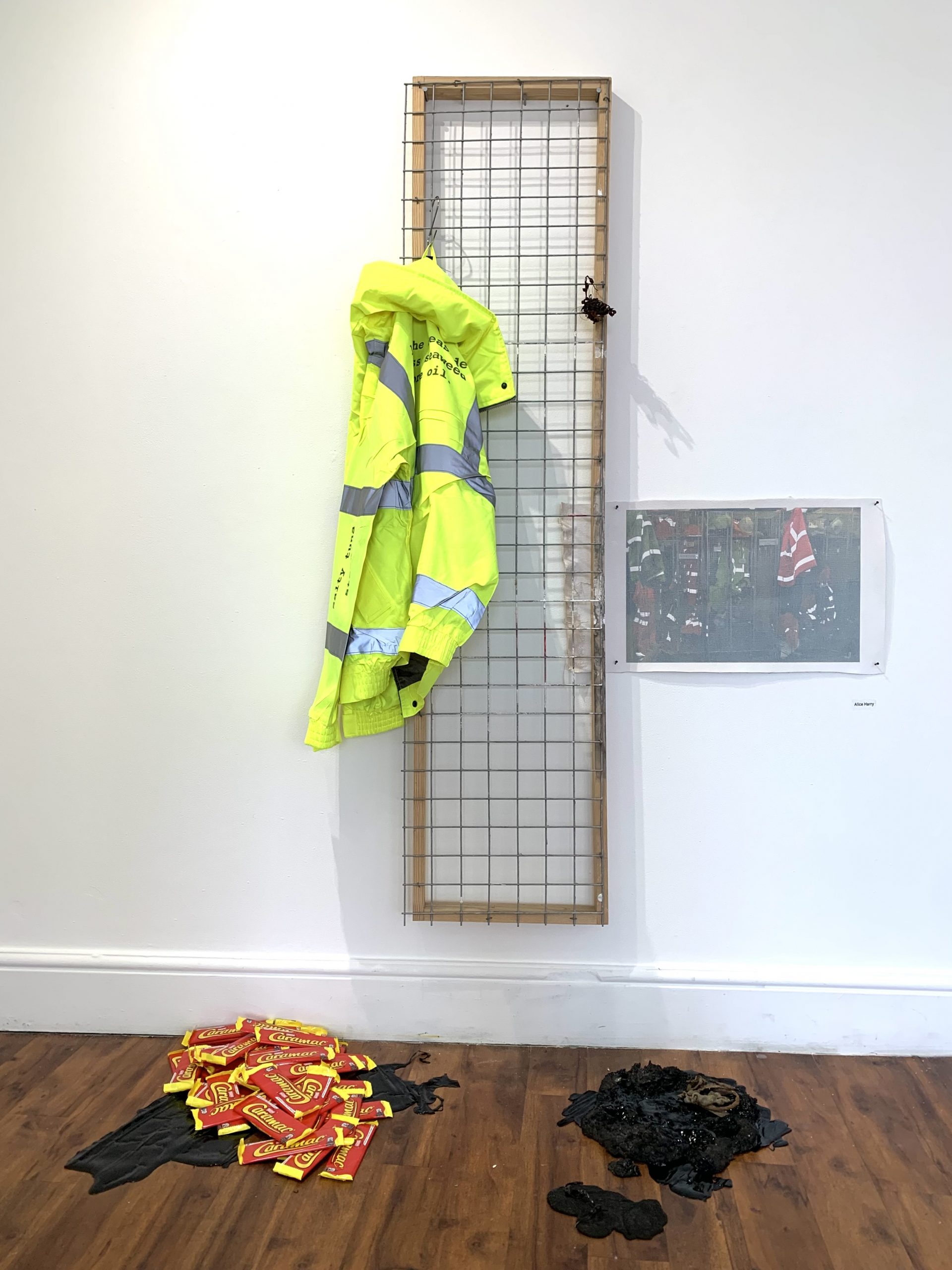 Alice Harry (Royal College of Art)
With a multidisciplinary practice that spans sculpture, photography, digital drawing and painting , Alice Harry seeks to question the visual and physical evocations of memory and thought. A graduate of the Royal College of Art, Harry uses playful gestures and accumulative sculpture, layering bars of soap or Caramac bars to itemise memories of individuals (in this case, her father) before reconstituting them through spoken word performance.
Wearing a high-vis jacket and turning away from the audience at her graduate showcase at Hoxton 253, the work's seemingly unmoored use of language ('Salty tuna steak' is emblazoned on the jacket sleeve) is sensitively contextualised, painting a picture of intimacy between parent and child. (Ravi Ghosh)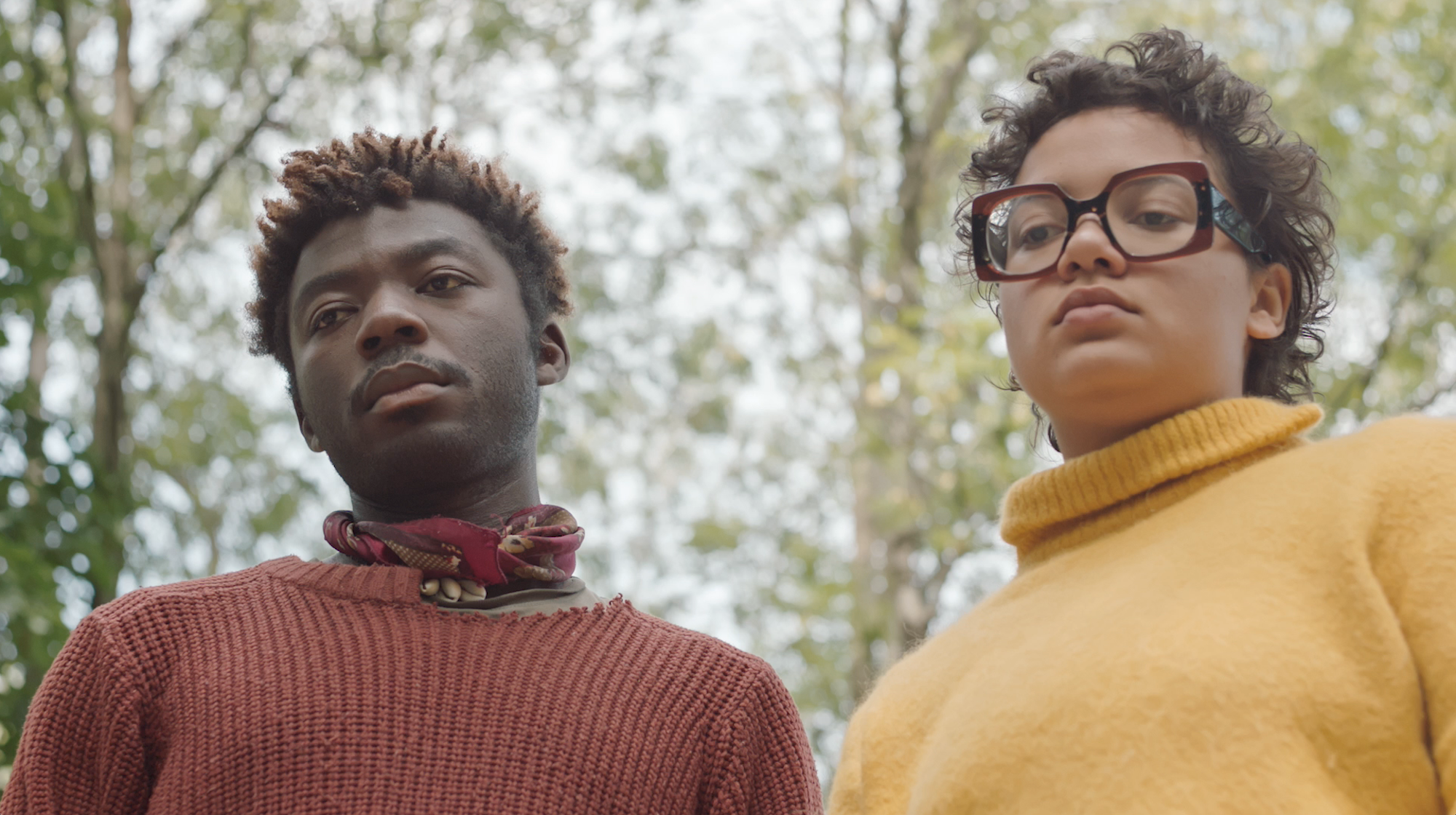 Filmmaking is at the centre of Ayo Akingbade's practice, but as her end of year presentation at the RA Schools proved, it's by no means the only medium she's interested in. Akingbade doesn't deal in limitations, and her work is about boundless curiosity and possibility in the world: exactly the kind of space art creates but that is sadly often lost in today's society.
Enjoy her cornucopia of conscious references and pay close attention: Akingbade is unstoppable. If you missed the RA Schools exhibition, there's a chance to see two of her recent films at the Whitechapel Gallery, London, until 15 August. (Charlotte Jansen)
Ione Rail (Falmouth University)
While studying at Falmouth University, illustration graduate Ione Rail developed a distinct style that is mostly hewn digitally, yet her works never seem flat. She balances painterly elements with the textures she produces by hand in the form of rapid "reportage sketches".
Rail uses the signifiers of everyday life to tell a story that reaches beyond the surface. For example, a seemingly glamorous gal reveals her stubbly legs while chowing down on a baked potato, while in a darker yet all-too-familiar scene, another woman walks along a darkened street clutching her phone, with her keys in her fist. (Holly Black)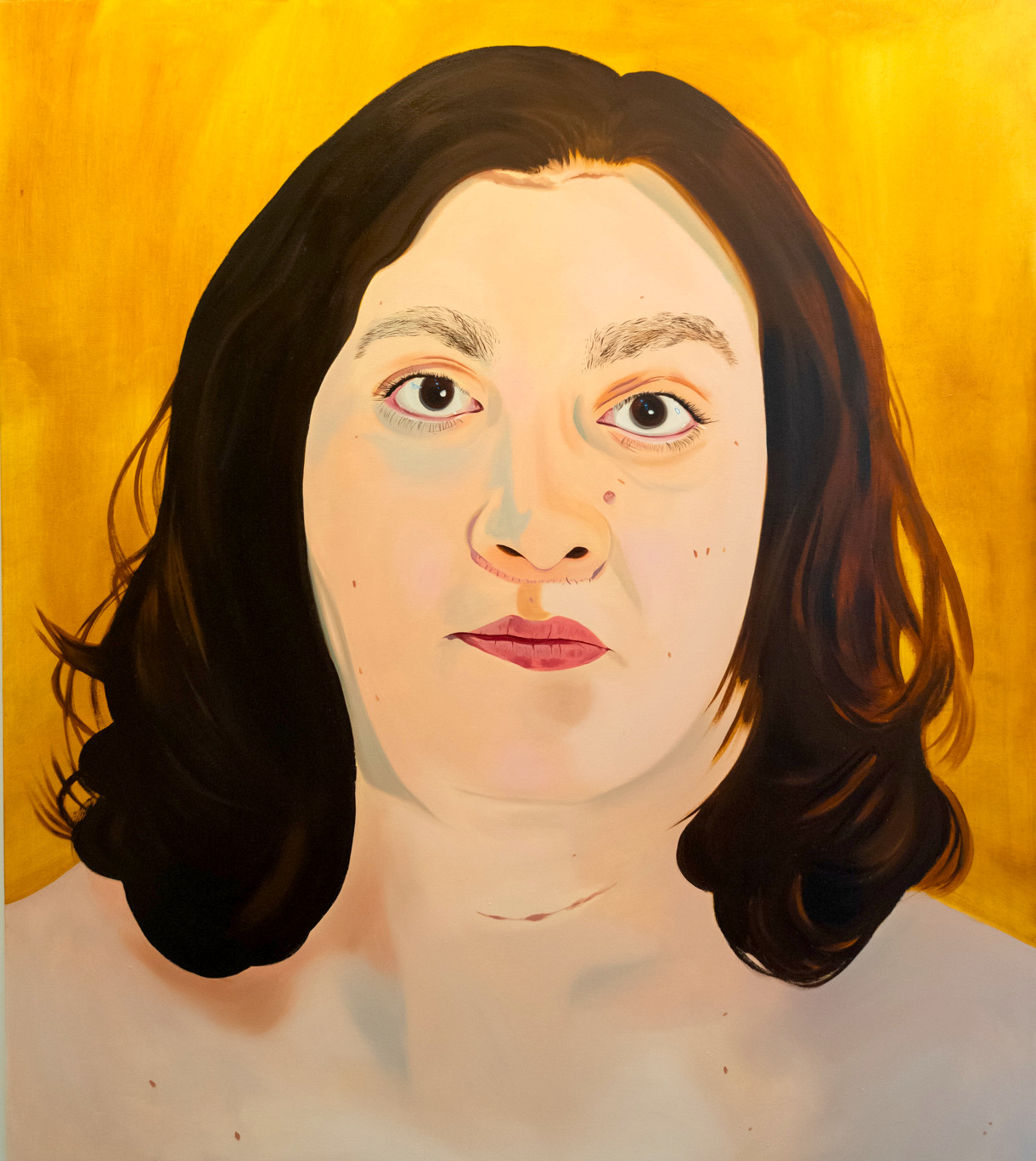 Victoria Cantons' large-scale, pared-back portraits question what it means to be a woman, and how people shape their beliefs. Her exploration of self-portraiture, as a 50-year-old transgender woman, carries with it wider questions of identity, representation and the purpose of painting itself. A recent series of portraits of others, titled Family Album, carries a similar complexity: one work of two figures painted in blue tones and looking directly at the viewer conceals the vertical stripes of the LGBTQ flag in its underpainting.
In other works, Cantons uses text written on the canvas to explore ideas around how we protect and conceal ourselves. "What we as individuals present to the world is multifaceted and not always visible," the Slade painting graduate writes, "a continuous evolution in response to experience and in relationship to each other." (Emily Steer)