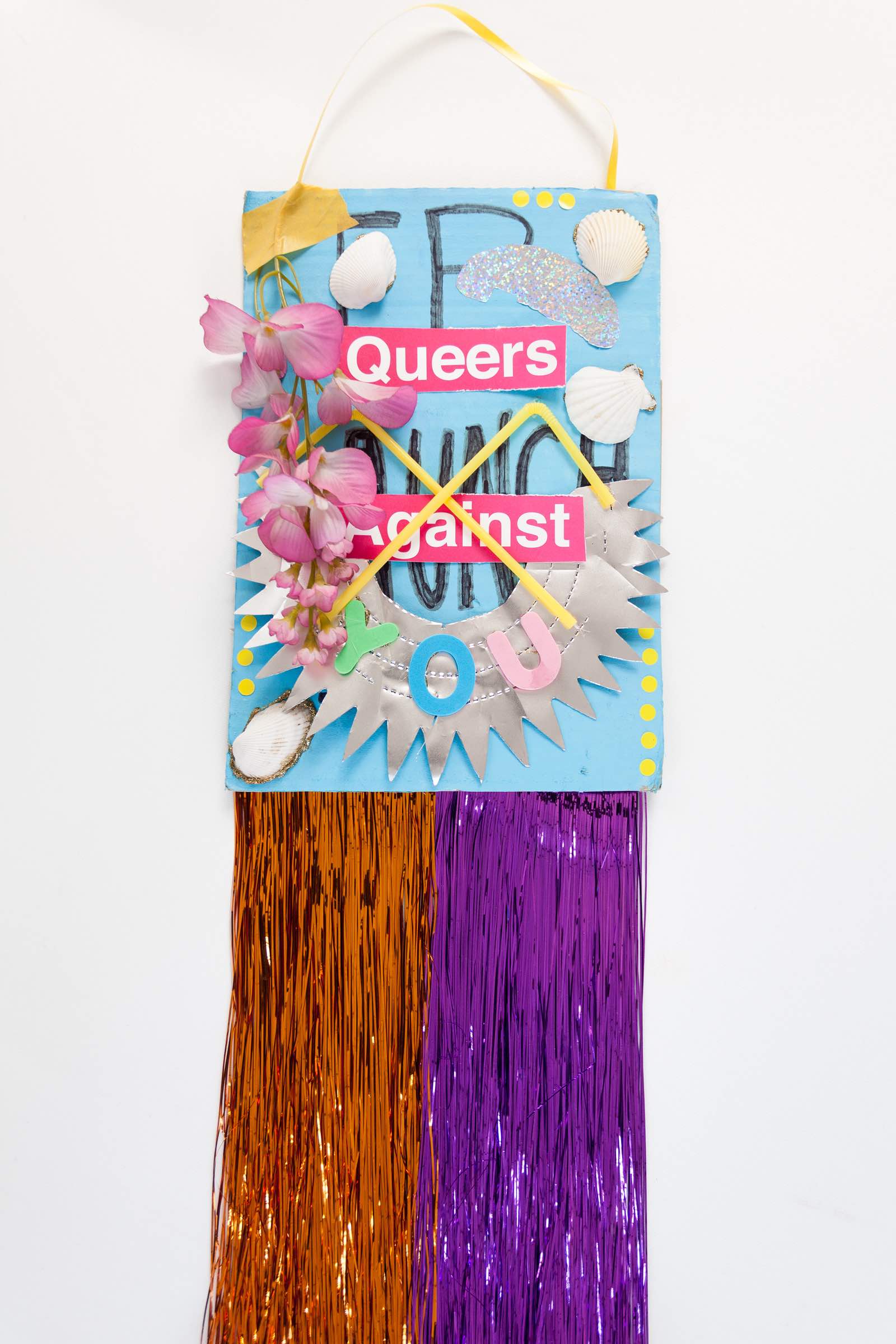 "The whole music-art crossover thing is something I've been thinking about for the past thirty years," says a cheery Ross Sinclair, a Glaswegian artist/writer/musician whose catalogue whole-heartedly embodies said crossover. In the mid-1980s, the young Sinclair was a founding member of jangly Scottish indie-pop outfit The Soup Dragons, before he left in 1990 to resume his studies at Glasgow School of Art. These days, he's a Reader in Contemporary Art Practice at the school and is recognised for works that contrast extraordinary and everyday elements. His Real Life project has comprised performances and installations for over two decades––beginning with the decision to have the words "REAL LIFE" tattooed across his back in 1994. Sinclair's "twin passions" form the pulse of his latest project; he has curated 100 contributors for Artists Who Make Music Musicians Who Make Art at Queens Park Railway Club.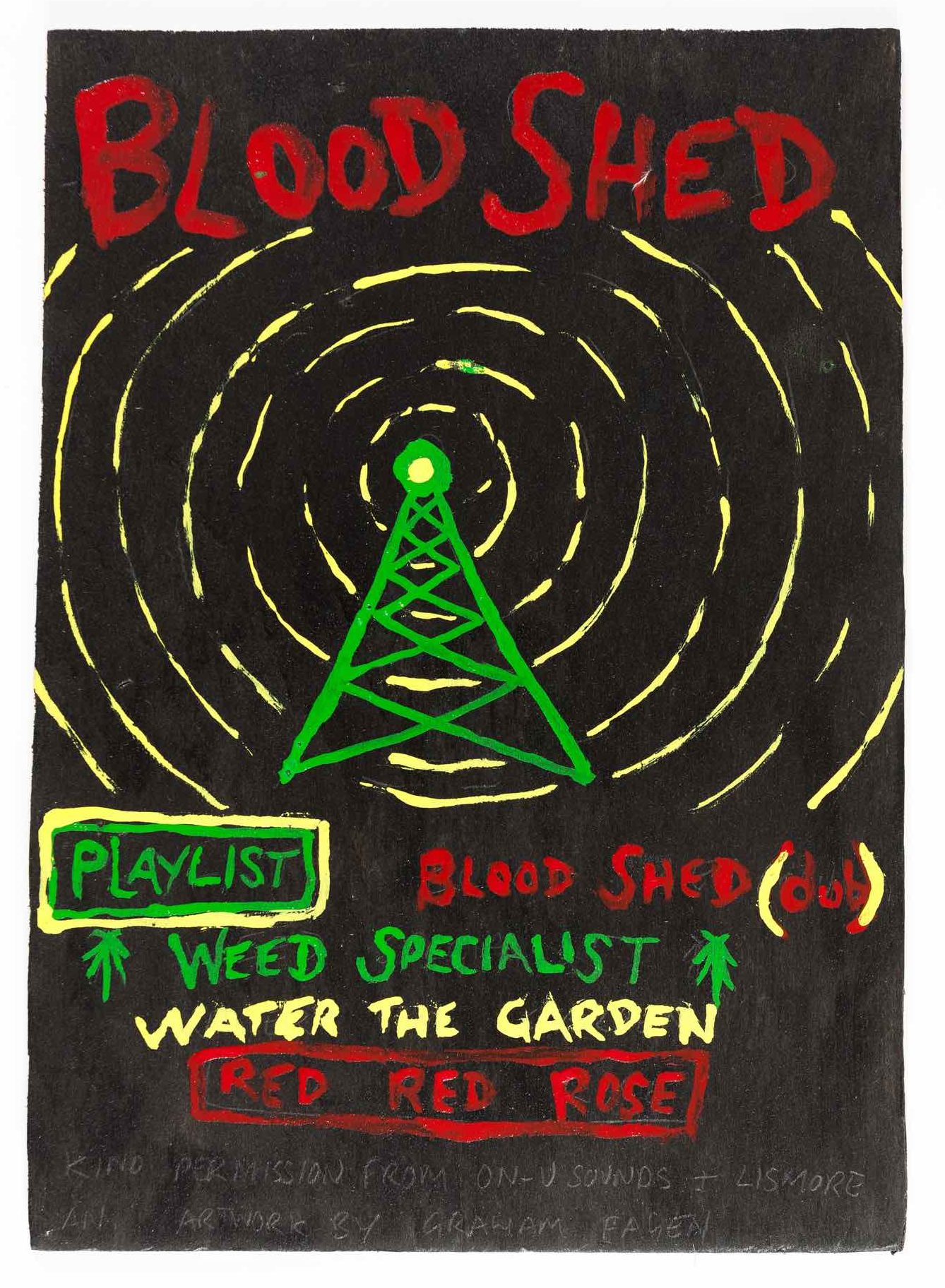 "I really liked the easy relationship with the audience when I was in a band; doing record covers and artwork. It can be hard to get that same level of engagement within the art world," he admits. "Art and music have always been really good bedfellows, with fruitful connections––but for this, I wanted to explore the slightly invisible community of people creating different art forms, yet not really knowing each other."
"For my generation, the Glasgow music scene, Orange Juice and Postcard Records was the start of everything after punk."
Both Sinclair's approach and the setting seem charmingly informal. The artist-run gallery is located literally on the platform of Queens Park station, on the south side of Glasgow. The set list of artists and musicians, all personally invited by Sinclair to submit an example of their work and a piece of music to be played in the venue, span an excitingly broad range. The visual artists include Turner Prize-winners Douglas Gordon, Simon Starling, Susan Philipsz, Martin Boyce and Martin Creed, as well as David Shrigley, Bob and Roberta Smith, Vicki Morton, and some of Sinclair's own students, including Millie Angel, Lin Zheng and Iain McCall. The multi-genre musicians include the likes of Dougie Payne (Travis), Jill Bryson (Strawberry Switchblade), Eugene Kelly (Vaselines), Brendan O'Hare (Teenage Fanclub), the KLF's Bill Drummond (reading short plays, accompanied by actor Tam Dean Burn), and Franz Ferdinand bassist Bob Hardy. His photography project documents every hotel room he has stayed in since 2004 (when his band's debut album was released).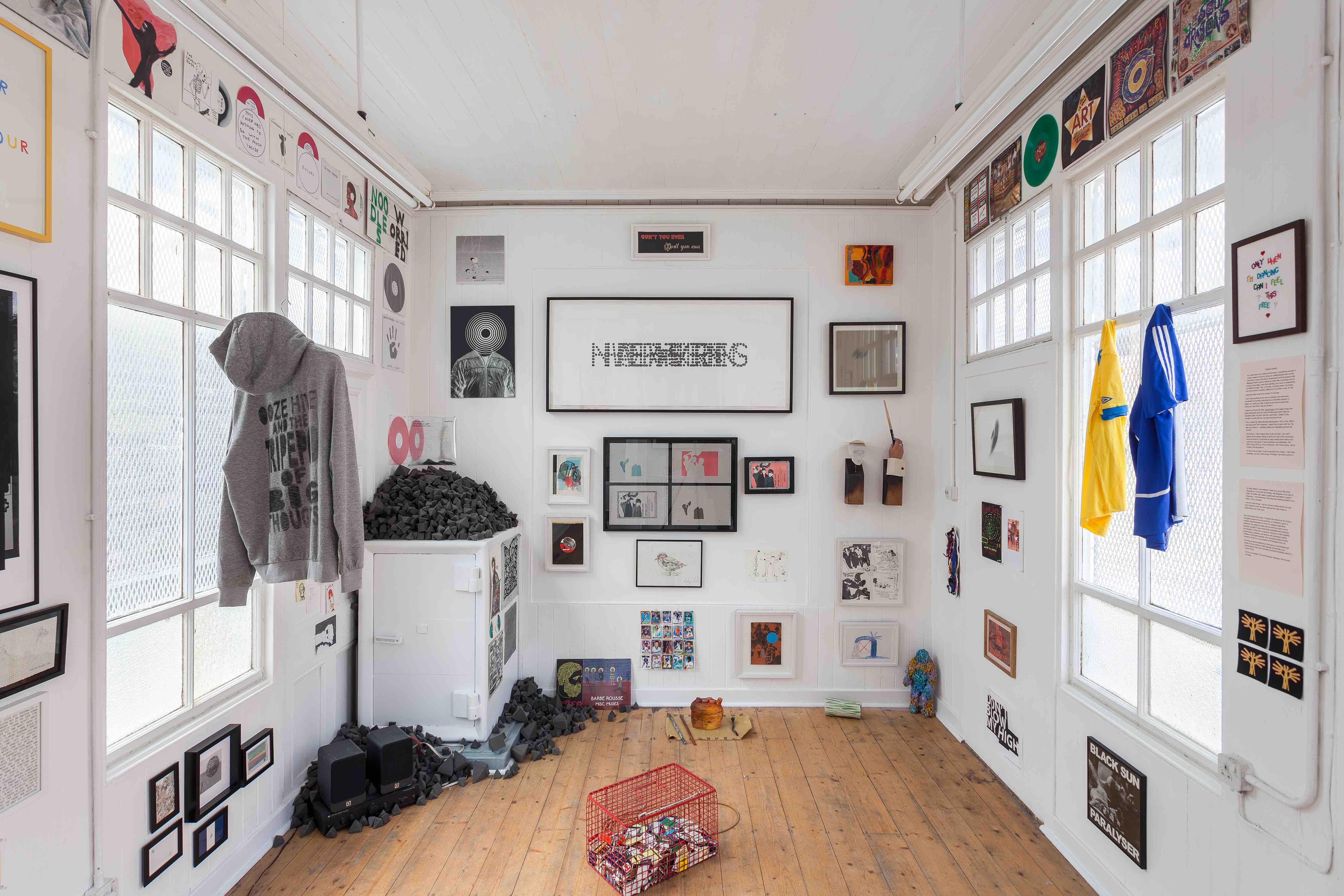 Sinclair describes the overall "motif" of the show with reference to the Litho printing plates from the artwork of Orange Juice's 1980 debut single Falling And Laughing (contributed by original bassist David McClymont). The track also launched the legendary indie label Postcard Records. "For my generation, the Glasgow music scene, Orange Juice and Postcard Records was the start of everything after punk," he enthuses.
A spirit of music fandom prevails in this multimedia mix, whether in Martin Boyce's hand-painted imagined covers for New Order records; Penny Anderson's Epic Soundtrack embroidery (a hand-stitched lyric from Madonna's 1985 smash hit, Into The Groove); or David Shrigley's toy-like MDF guitar templates. Sinclair has taken pains with the overall composition and the collective conversation runs deep.
"Often, with my own work, things can be very dynamic and busy," says Sinclair. "This time, I was keen to give all the pieces room to breathe, oscillate and vibrate. "I like the idea that it's a blend of people I've known for years, alongside the younger artists in the show, who bring a very different experience and sensibility about music, including a resurgence of electronic styles."
It's notable that more than sixty percent of the residency's contributors graduated from Glasgow School of Art and that ever since Orange Juice played their debut show there the city's music-art symbiosis has proved to be a constantly evolving, far-reaching force. Sinclair gives a wry nod to the "so-called Glasgow Miracle"––a term coined by Hans-Ulrich Obrist in the mid-1990s to describe the city's booming arts scene, seemingly against the odds.
"My generation decided to stay and do something in this city," says Sinclair. "It might be something about being away from London, but the scene has always had its own sense of self-determination, DIY support, and grass-roots connections––maybe that's the real miracle here."
Artists Who Make Music Musicians Who Make Art
Until 25 March at Queens Park Railway Club
VISIT WEBSITE