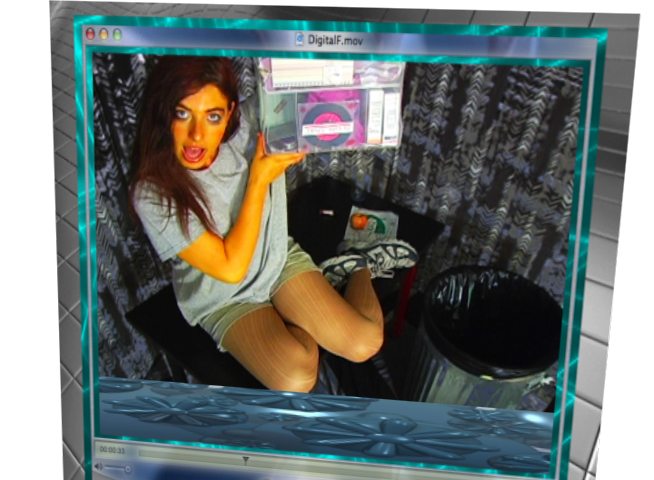 I watched this film last week for the second time with a friend. It was 3am, we couldn't sleep and were watching old Vine compilations, and it reminded me of I-Be Area. From about five minutes into the feature-length production, we were in hysterics and we couldn't stop. When my friend said to me "I'm so glad you made me watch this," I got that feeling of stupid pride you get when you think you've made an Incredibly Valuable Contribution to someone's life, even if it is endorsing an unhealthy sleeping pattern.
Trecartin made I-Be Area during his masters degree at Rhode Island School of Design in 2007. It was a whole eleven years ago, and yet it embodies so many things about the current humour of the internet. Maybe he foresaw it, or maybe it's always been this way. We assume the internet's landscape is changing massively every year, if not every minute, and yet it has always been in flux—its timeline not working in the same way as that of the physical world.
I-Be Area is bubbling over with the speech of Twitter and the late Vine. The characters speak fast—their words are heavy with sarcasm, hyperbole and metaphor—and usually with a Southern US twang. Along with a lot of internet humour, it draws massively from the drama and bravado of reality TV drag culture, and also a kind of black humour. It's about theatre, fantasy, self-presentation and being everyone at once.
Artist Lizzie Fitch is the long-time collaborator of Trecartin, often co-directing and making the sets that give the films their look, and the installations for the artists' gallery exhibitions. She also plays a number of roles in I-Be Area. One of them is a pregnant teacher figure named Jamie who gives up the classroom in order to join a death metal band. There are moments when the organized chaos of what seems like an endless stream of completely profound one-liners does break down into actual chaos: the set is smashed to pieces, everyone is screaming. The cast look like they're having a really great time. As the viewer you dip in and out of comprehension of the story. But, for all the anarchy and wild colours, the seasick handheld camera technique and erratic jump-cuts, Trecartin's videos are, at their core, poetry. "I started to see the script as the base language and everything else is just an extension of the words being spoken," Trecartin explains in a video interview published by The Pew Center for Arts & Heritage.
"I need to feel endless in both directions. It's personal."
"Psych! I never go to sleep, which makes me twice my age."
"I'm just tryna be me and it's so hard."
Almost every line is funny because it just makes sense, and because it feels like an inside joke of our generation. But Trecartin's films are so rich because they're not just about the internet, they feel ridiculously human and experiential, they're all of life with a super fast connection. Trecartin said in an interview with The White Review "The real internet is inside you." I-Be Area's story is about relationships between people in many senses, people selling their lives to other bodies, people being copy and pasted, kids making audition tapes to be adopted, a committee of mothers having business meetings about which kids to adopt. Life is a constant audition and plea for acceptance, and yet everyone is an adolescent struggling to define and present their particular selfhood, whether on image-based social media or not.
That I-Be Area feels new, fresh with things to talk about, is testament to its enduring importance, and indeed the importance of Trecartin and Fitch's work since.
SaveSaveSaveSave