It's a chilly morning in Oxford when I meet with Saad Qureshi at OVADA (the Oxford Visual Arts Development Agency), a reconverted warehouse now home to five artist's studios. Built in 1929 as the Skin and Hide Market Place for the neighbouring Oxpens Cattle Market at the time, the spartan building maintains that character, with its central open space and wooden ceiling.
Saad Qureshi greets me warmly, initiating a kind and welcoming conversation while we walk to his studio: a large wide room neatly packed with experimental works, tools and books. The walls are fresh and white, the ceiling is high and the room is completed by a long wooden desk and suspended bookshelf.
"In a way, it all started from materials, because textiles are the reason I was born in this country and they are what my family history is rooted in"
After preparing two consecutive shows last year, one at Gazelli Art House in London and one at Aicon in New York, Qureshi is now experimenting and developing new ideas, relieved from the pressure of imminent shows. We begin the interview at his desk whilst sipping a cup of instant coffee.
Upon completion of your MFA at the Slade School of Art in 2010, you immediately found representation with Gazelli Art House and Aicon. How did you find such success at this early stage?
I was born and raised in Bradford in Yorkshire in the North of England. It felt like growing up in a very isolated community with a majority of south-eastern Asian immigrants. I came from a very humble background and from a family of Pakistani immigrants. Mine was really a very repressed childhood, and it was further complicated by the fact that I was a very materialistic child, as my family could not afford to buy a lot of things for me. My parents weren't wealthy. On top of that, I don't hold a single happy memory of my racially mixed school in Bradford, where I experienced a lot of individual bullying as the child of immigrants in an environment dominated by fighting, drugs, racism and sexism. But the art teacher was the only one that could see me as an individual, and in her class I flourished and became able to completely express my individuality without fear. Everything started with art from that very young age.
When did you choose to become an artist and what made you decide to apply to the fine art school in Oxford, rather than other schools in the UK?
It was intrinsic, I never reached a point where I decided I wanted to become an artist. Somehow I just needed to develop my skills and confidence to make an informed decision of something that was already there. But the life-changing moment was when my art teacher, Mrs Robinson, persuaded my parents to enroll me to the Bradford Art College from the age of twelve, instead of pushing me towards a more profitable qualification in their eyes. I just needed the encouragement. Art school definitely meant a lot to me and opened up a more fulfilling phase in my life. I then decided to apply to an art school somewhere else in the country, because there is no art community in Bradford and as a young artist I felt isolated. I was keen on Oxford Brookes for my degree because the art department offers twenty-four-hour access to the studios and I had the chance to leave Bradford behind.
The creative time spent in the studio is unique to each artist. How is your typical working day and how is it working in the isolation of the studio for you?
There is no typical day in my artistic practice. I managed to create a studio that is a welcoming place to come to work and experiment with my ideas, but I don't see it as a nine-to-five job. It doesn't work that way for me. It was a struggle initially when I left art school and had no element of the competition when working shoulder to shoulder with other arts students. There was something in the isolation of the studio that I couldn't bear. But that helped to resolve my issue with lack of confidence in my own judgement. When you leave art schools, a new game unfolds. We leave art schools totally unprepared for that game most of the time. It was a learning experience and I can now say that I make the most of my studio.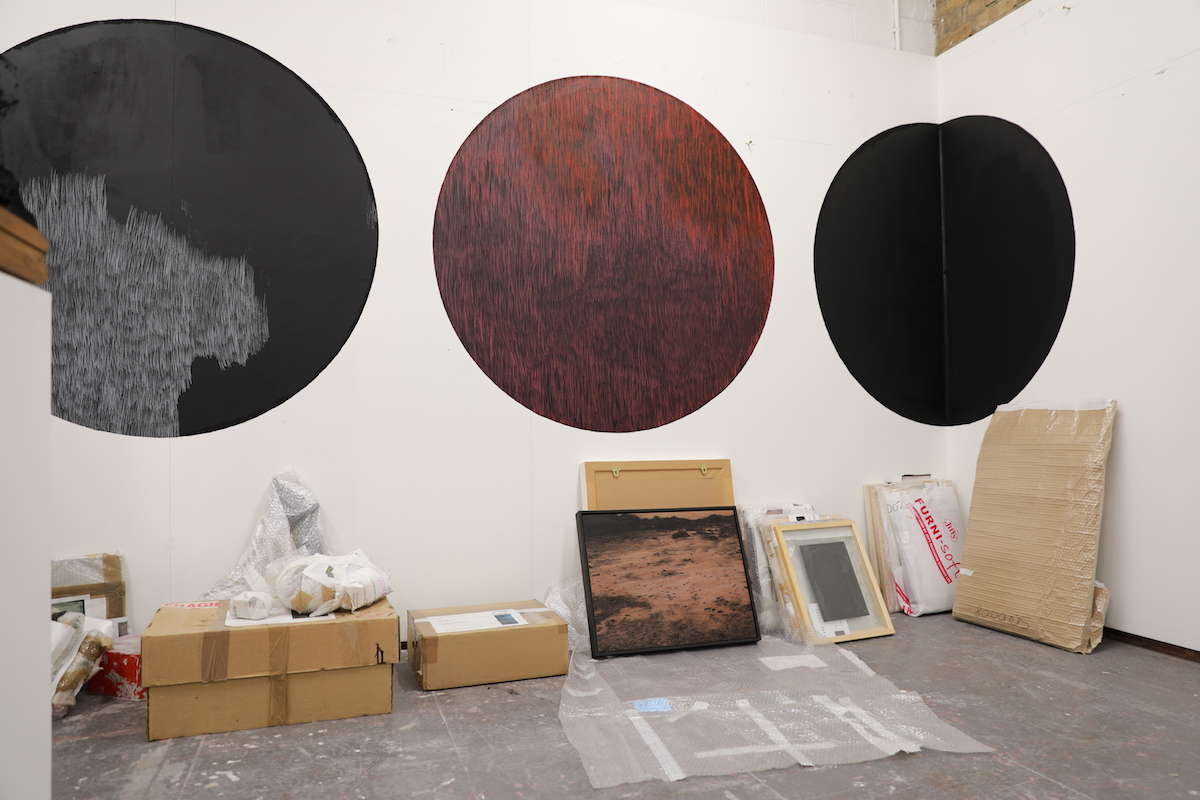 You use a wide range of materials and tools, from ground red bricks in the recent series Mindscape, to a soldering iron, to creating drawings by burning the surface of thick paper. Are materials the central piece of your work or do they serve the ideas?
Drawing is such a seductive medium and allows me to be so expressive. I love the action of drawing, it's always worked for me. I was naturally drawn to it, as I am naturally drawn to the choice of unexpected materials. In a way, it all started from materials, because textiles are the reason I was born in this country and they are what my family history is rooted in. My grandfather used to be a tailor for the British Army. He used to make their uniforms back in Pakistan and then he went on to work for the British Army. Because of that he relocated with the family to the UK.
Therefore I have a feeling for materials, but I am totally an ideas-driven artist, and the materiality is secondary. When I'm in the studio there are times that I forget about everything and start playing with my ideas, and I feel the joy of making the artworks. Now I finally trust myself, and I trust that something I am working on will eventually become what I want to put out there in the world.
SaveSaveSaveSave