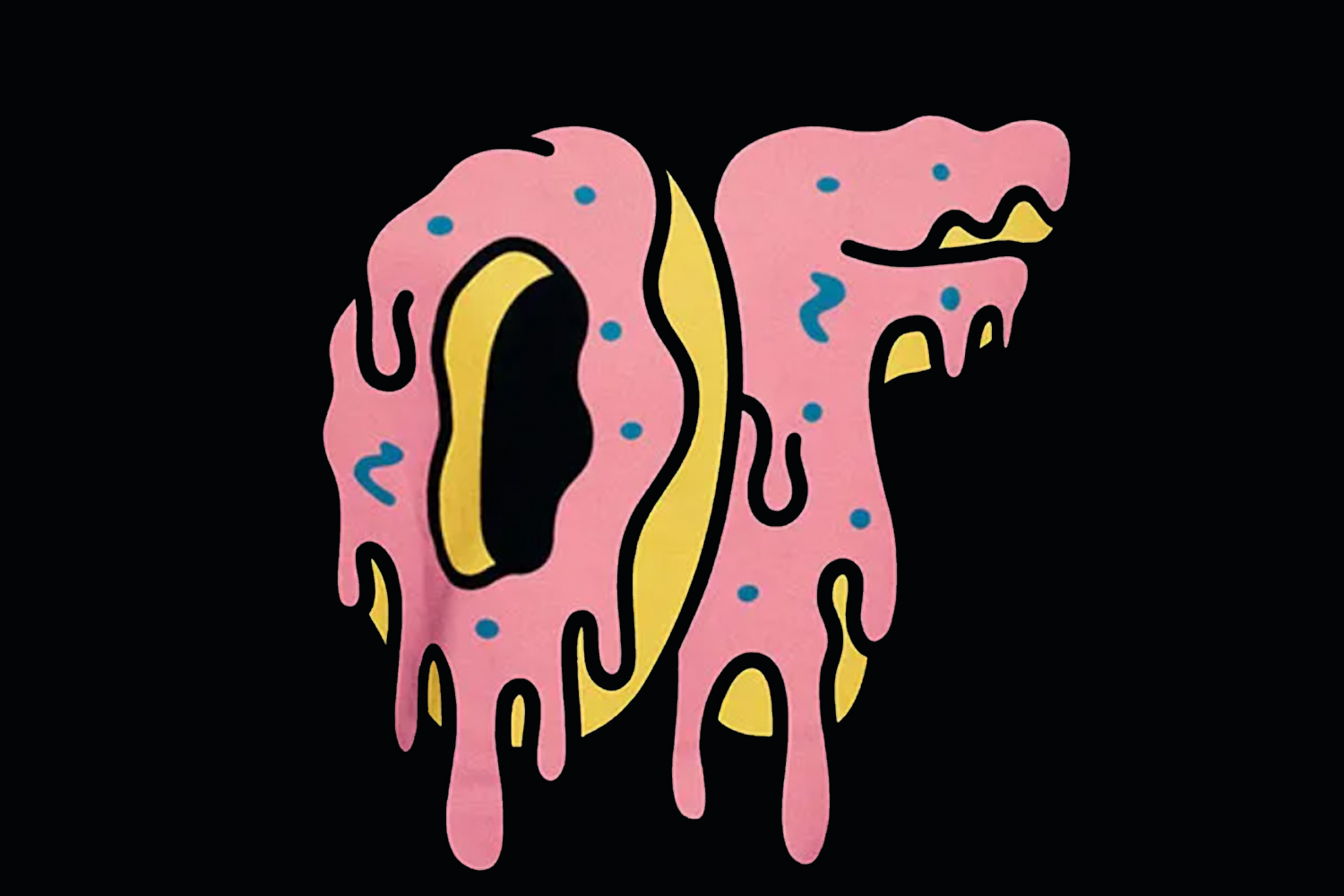 Most bands have a logo of sorts, or at least a single image that acts as a succinct visual shorthand for who they are. It also says something about who you are too. You can't see those wavy monochrome horizontal lines without thinking of Joy Division, for instance. And the much memeified logotype of two chunky rectangles that enclose the thick, strident all-caps letterforms spelling out "Black Flag" has become almost as recognisable as Nike's swoosh.
A much more recent, but no less striking addition to this canon is the bright pink, sprinkles-coated donut lettering OF, short for Odd Future—a hip-hop collective formed in LA back in 2007. Youthful, boisterous and often deliberately provocative, the group released one studio album (though dozens and dozens of DIY releases), and is largely thought to have now disbanded—the collective as a whole has been pretty much inactive since 2015.
"Since their formation OF have been savvy to the power of aesthetics as much as music, forming a playful lexicon of icons"
However, the logo's popularity shows no sign of dwindling, despite the fact that its original designer––rapper, musician and visual artist Tyler, the Creator––hasn't had entirely favourable press over the past few years. When Odd Future was due to support Eminem at New Zealand's Rapture Festival in 2014, an anti-sexual violence lobbying group campaigned against their appearance in light of lyrics described as promoting "murder fantasies" and which "glorify rape and rape culture". Then in August 2015 Tyler, The Creator was banned from entering the UK because of lyrics he'd written in 2009, according to Tyler and his manager Christian Clancy—although the artist had been allowed entry just a couple of months previously.
And there is no denying that there are some pretty horrendous lyrics in there. A snippet of the lyrics on Goblin, from Tyler's track in collaboration with OF member Jasper Dolphin: "Smoke a blunt, fuck a bitch in the butt… Don't give a fuck…I should poke you in your eye, bitch…You dead, bitch."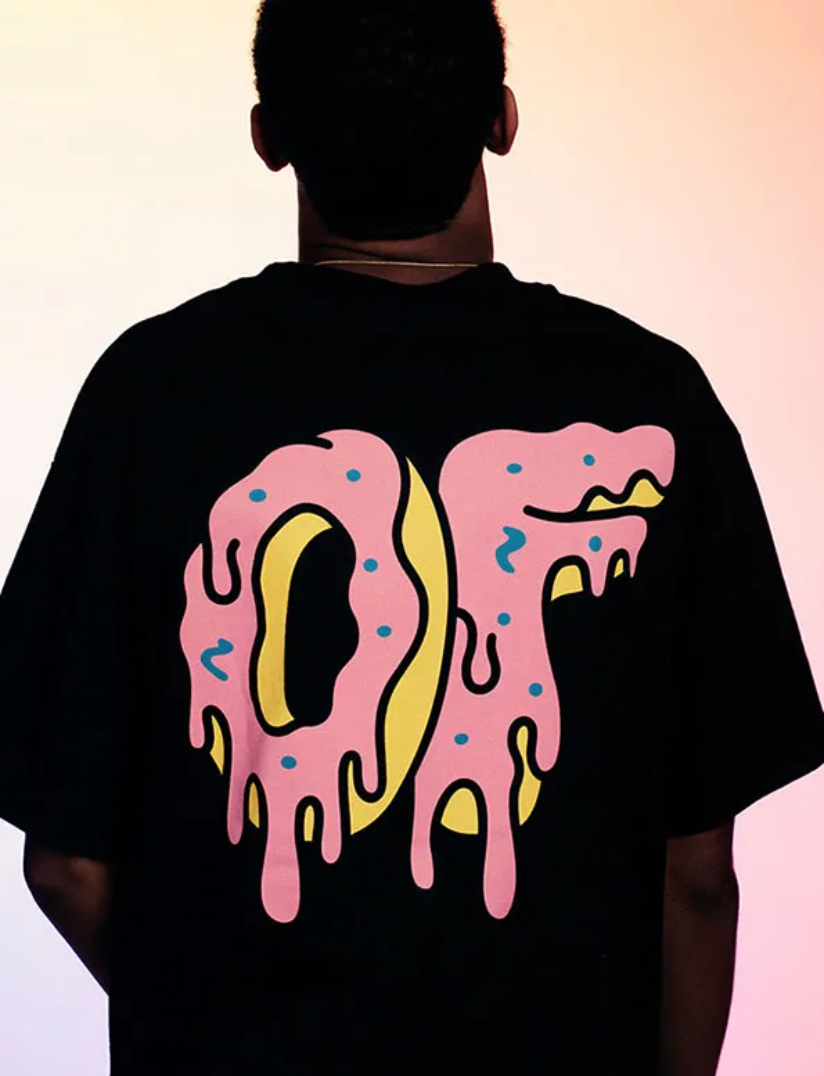 It is, as with any arguments around censure and creative endeavours, worth acknowledging some of the counters to the general abhorrence of lyrics like this. Rappers, as with any performers, are to some extent playing a character; inhabiting a role befitting of their work—whether the intention of that work is to please, amuse or shock. Many fans at the time argued that Odd Future and their lyrics were mocking white, hipsterish stereotypes of what black hip-hop culture is all about. They essentially suggested this was all just overblown caricature or satire, and perhaps, that any outrage from the media or the middle classes was playing into exactly what the band expects of them. "It's fucking art," said Tyler, "listen to the fucking story."
All this complexity makes it all the more interesting as to why OF merch just keeps on flying. For one, it's simply great design: a striking, simple two-letter monogram in Insta-friendly bright pink, referencing the equally Insta-friendly image of a sticky, saccharine donut.  Since their formation OF have been savvy to the power of aesthetics as much as music, forming a playful lexicon of icons that includes not just the donut logomark, but also inverted cartoon crosses and, that perennial internet favourite, the cute kitten (albeit with hollowed out eyes, backlit by laser-like colours.) They seamlessly both mock and profit from the notion of "swag".
In 2017, Odd Future took their smart and distinctly DIY brand of selling out even further as a deal was struck between LA bakery Randy's Donuts and streetwear retailer Zumiez. This meant that the band worked with Randy's (which boasts a logo that more than likely informed OF's) to create various lines of clothing and accessories, for distribution exclusively at contemporary streetwear retailer Zumiez' online store.
The lion's share of the designs were created in increments since the formation of the band; Tyler, the Creator coined the yellow and pink donut icon, and even directly namechecks Randy's in 2009 track Seven; according to Hypebeast, he even "used to draw donuts on his pants as a 15 year old in an effort to differentiate himself."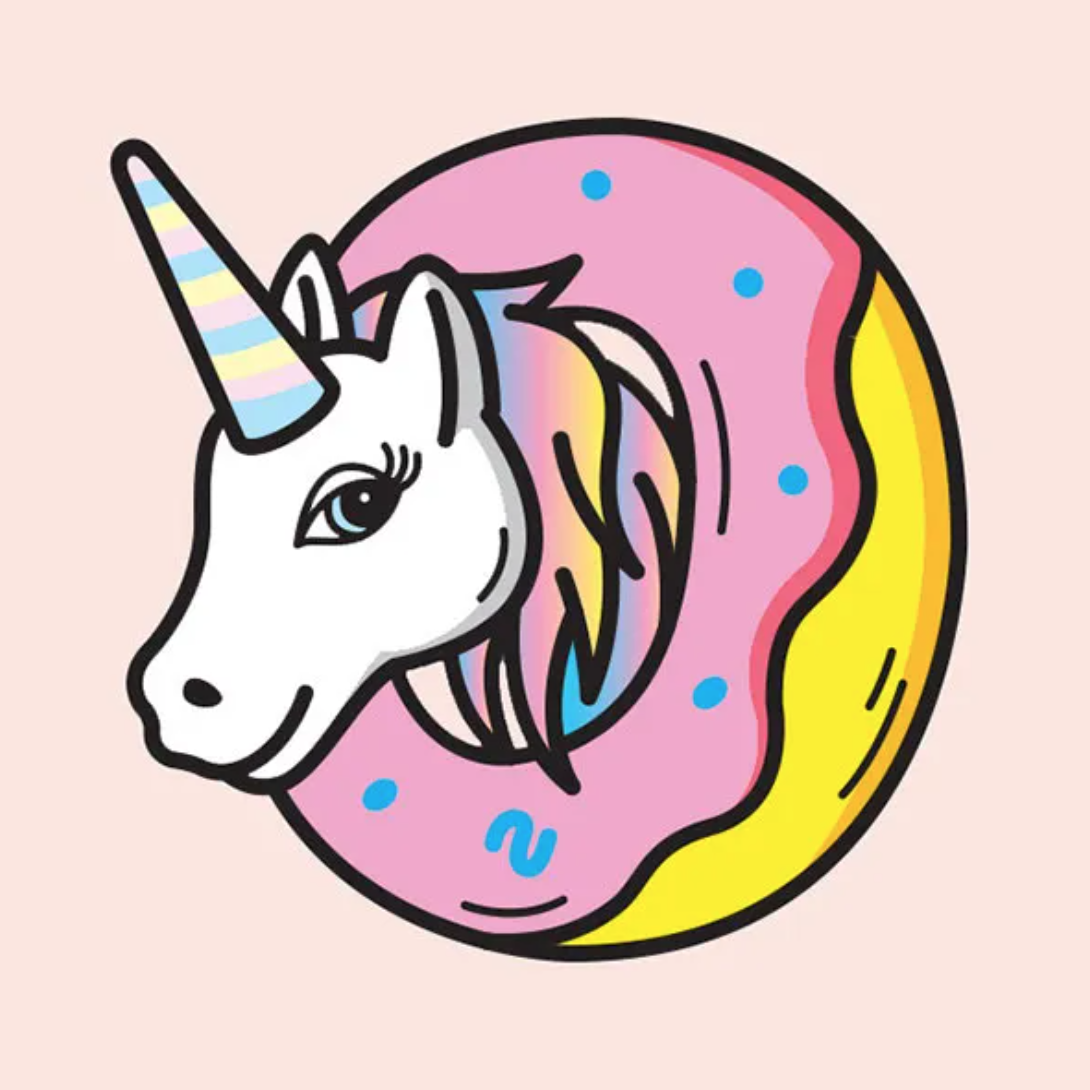 A few years down the line, though, Portland, Oregon-based designer Chris Burnett started working with the band as Tyler began to delegate design duties. Burnett worked with art director Aaron Martinez at the LA design agency, and was responsible for creating the group's apparel, maintaining their website and online store, and creating event graphics for shows, events and pop-up shops.
"The members of OF would come in and pitch us ideas for graphics, often turning into a hangout session with them," Burnett told It's Nice That. "We would jokingly recall what they gave us and do our best to try and visualise their imaginations, no matter how crazy. It was like a melting pot of craziness, some of the ideas were theirs, and some we would come up with on our own to show them."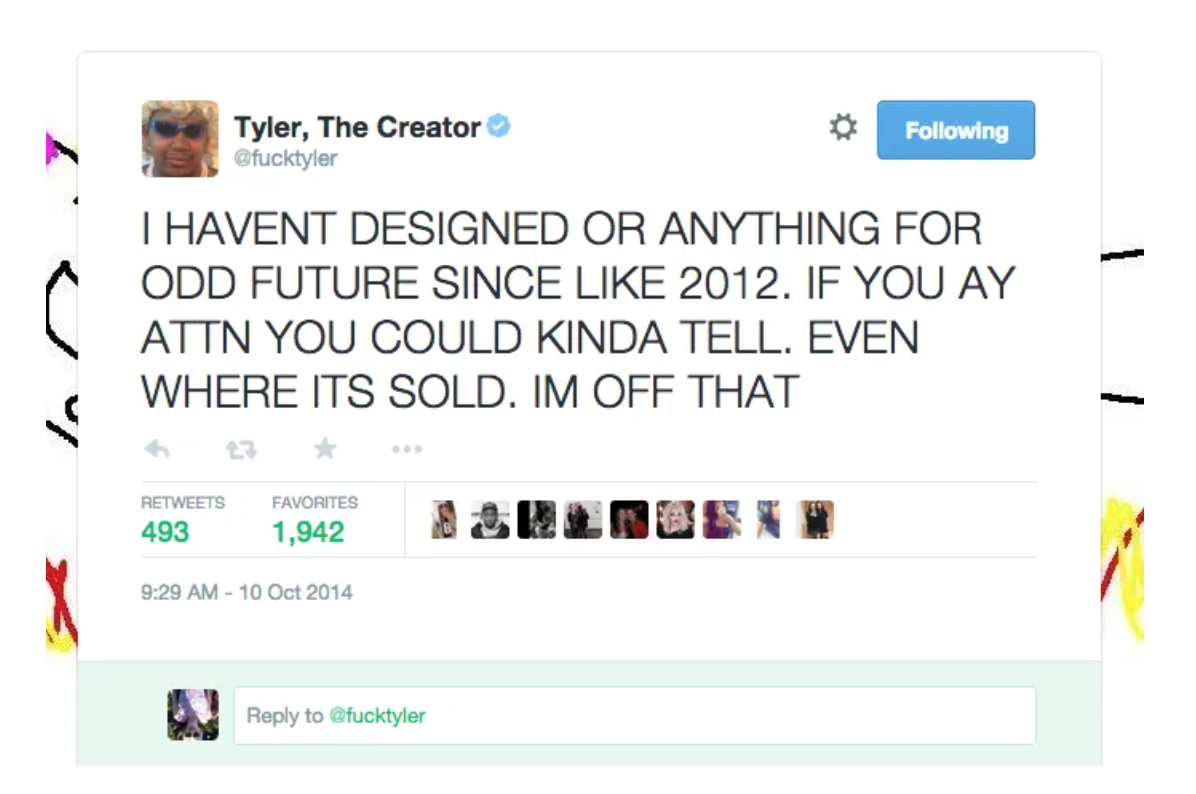 "They seamlessly both mock and profit from the notion of 'swag'"
Among the standout pieces he worked on for the group were a Drippy Donut T-Shirt, which was partially born of he and Tyler's shared love of clothing line Icecream, and the Empire Dolphin T-Shirt, initiated when Odd Future member Jasper Dolphin wanted to recreate a classic King Kong scene for a T-shirt, replacing a gorilla with a giant dolphin. Burnett also worked on what started as a dream project, and ended up being a shelved one: the Golfwang x Hello Kitty Collection: "…But let's just say, some Sanrio execs weren't too fond of sharing in Odd Future's cultural image after they did some further research," Burnett recounts.
All this makes it all the more intriguing that the controversy around the band has certainly not damaged the profit margins on their merchandise, it seems. If anything, it may have actually aided them. And it also begs the question: is it even merch any more when there is no longer a band to actually merchandise?