Sana Badri has been going to Church Street market, in North West London, since she was eight. "My parents moved to London from Tunisia with me when I was one, as asylum seekers, and we were always moving house as they struggled to find a place to settle, with evictions and so on," she says. "So I don't have one particular area I grew up in, but I anchor my childhood in this city and in these personal landmarks like Church Street and Shepherd's Bush Market, Finsbury Park and Ladbroke Grove mosques. Places that were constants while we were always packing our things and moving."
Photographs too, have helped root the British Tunisian artist amid a life of transience and uncertainty. "A lot of how I try to engage with people photographically stems from the first photos I was emotionally attached to, and those included family photos at a photo studio in Algeria before we took our final flight to London," she reflects.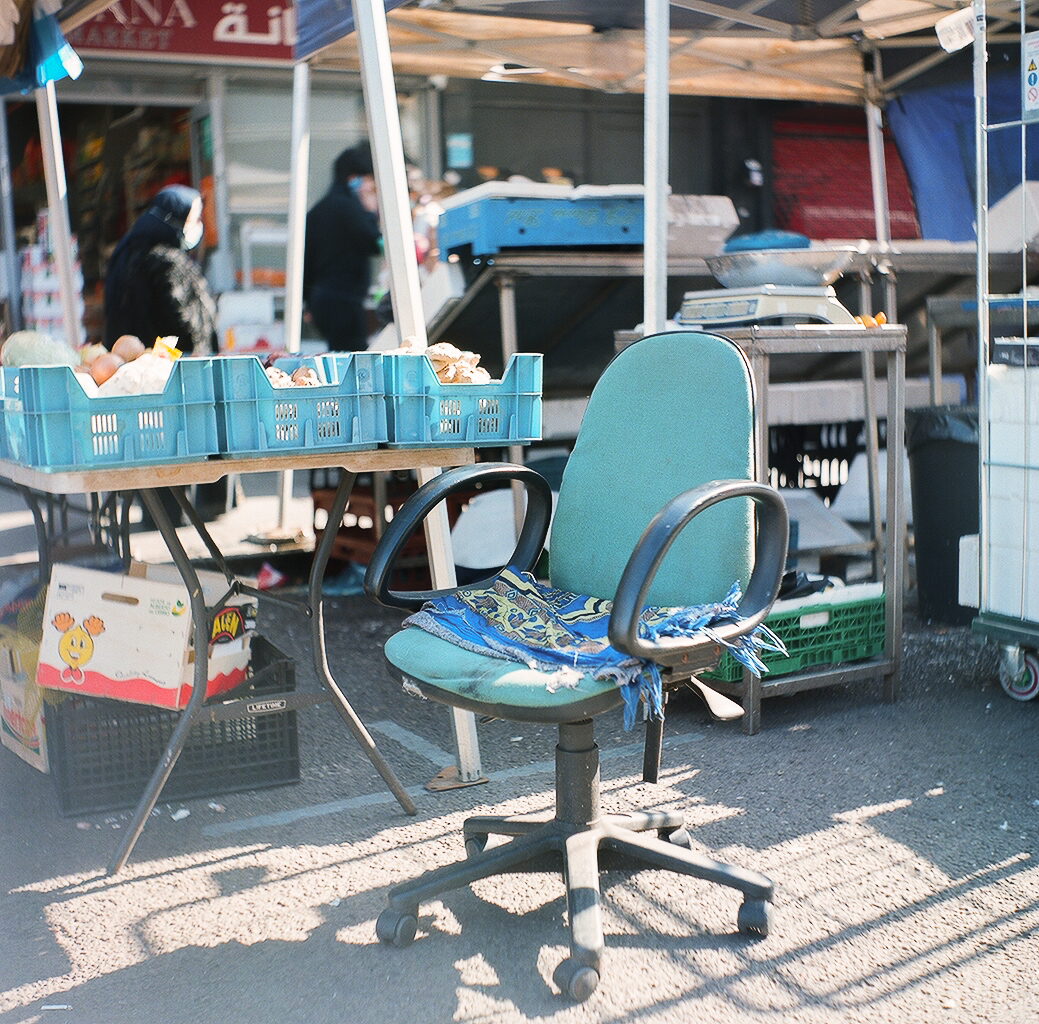 Three years ago, the artist decided to consecrate her relationship with these places through photographs of the people who belong to Church Street's predominantly North African community. The project also began as the local council's regeneration team moved into the area to begin consultation on the redevelopment of the bustling market and its surroundings. "I'm very worried about how it will impact the current community," Badri says.
"I don't have one particular area I grew up in, but I anchor my childhood in this city and in these personal landmarks"
There is indeed a sense of wistfulness to these pictures, the texture of the analogue film inevitably lending an atmosphere of nostalgia for the present as it passes in the moment, while making something tangible and certain from it. It is affirmative, a living document: the market is not just attractive for its wealth of sensory offerings, replete with produce and food for sale, but also a social space where "people gather, sit and hang out, get lunch, buy their groceries… it's a special place", as Badri puts it.
It's in this way that Badri's project connects to something outside the place and people it pays such close attention to. It tells a story of how communities exist in urban centres, how they thrive, defying the view that metropoles swallow up these ways of life, the market emerging as a multigenerational, multicultural meeting point.
Artists have long been inspired by the endless hustle, the bustle, the coming together, the particular liveliness of the market, and its ever-changing rhythm, even with its familiar faces. The overload of sights, shouts and smells, the mix of the perfunctory, the everyday and the magnificent. There's something resoundingly human about it all, and photography is the perfect medium to capture the chaos, to allow you to experience the market at a slower pace, to see all the things you inevitably miss in the moment.
It's not only the photogenic quality of markets, but what they represent, that makes them such a popular subject. As Badri expresses in her long relationship with Church Street, they are a social ritual that has passed down generations.
One of the most striking things about Badri's series of portraits on Church Street is how everything happens side by side. A bored trader sits on his phone; another pair share a joke, an embrace. A woman browses for clothes as a fishmonger washes the catch of the day. A father smiles as his baby takes precarious steps, teenagers play ping pong. And then suddenly, an empty, well-worn chair. The errant stallholder, nowhere in sight.
All images courtesy Sana Badri