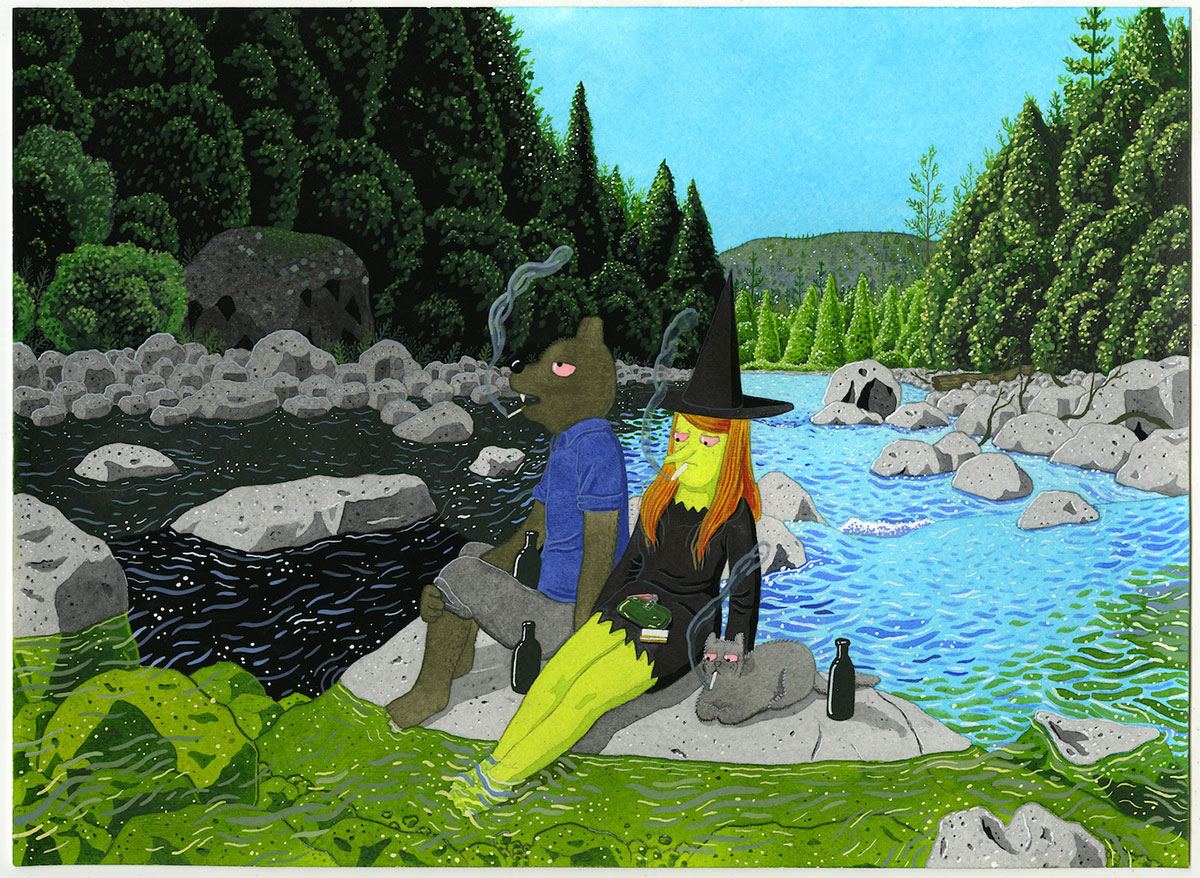 Hopefully, few will be able to completely relate to the cast of strange characters in Simon Hansellman's beloved ongoing comics series Megg, Mogg and Owl. Yet, somehow for all their foibles, issues and questionable moral/parenting choices, they are actually rather charming, and somehow, we do see little bits of ourselves in there, our anxieties around love, sex, drugs, work-shyness et al mirrored and magnified within them. At the very least, we can recognize snippets of dialogue from overheard conversations or see someone we know in the troubled Megg; slackerish, needy Mogg; straight-guy Owl; or the other fringe characters like narcotic-selling/quaffing, out-of-control Werewolf Jones or lovelorn, pimple-faced Booger.
The series takes its name loosely from beloved 1970s children's book series Meg and Mog, written by Helen Nicoll and illustrated by Jan Pieńkowski, which is little known in the US but has been hugely popular in the UK and in Hanselmann's native Australia. But the name, and the trio of a witch, cat and owl is very much the only similarity: where Meg and Mog's issues involve crises such as a broken teapot or going to bed without any supper, Megg, Mogg and Owl delves deep and dark into issues around addiction, mental health problems, the consequences of fucking everyone in your friendship group and a lot more deviant-leaning antics. We very much doubt any of them own a teapot, and if they did, it would surely soon be pawned for weed money.
Simon Hanselmann's first Megg, Mogg and Owl comic for Vice
The comic was first serialized on the Vice site in 2014, and the publication summed it up neatly as "Megg is a witch, Mogg is her cat/boyfriend. Together they get high and are a constant source of frustration for their roommate, Owl, who is trying his very hardest to hold it together." The comic ran pretty much weekly for a year or so and soon developed a rabid following that's come to encompass more than the average stoner kid, Reddit-surfing teen dude: today, Hanselmann has said that the sort of people who come to his signings range from older men to teen girls and everyone in between. It's not unusual for people to go to pretty impressive lengths to emulate the characters in cosplay at events like Comic-Con (one year, he told Eye on Design, someone turned up as Booger—an occasional lover of Megg's who Hanselmann has described as a "gender-illusionist bogeyman"—which must have taken a lot of effort to emulate.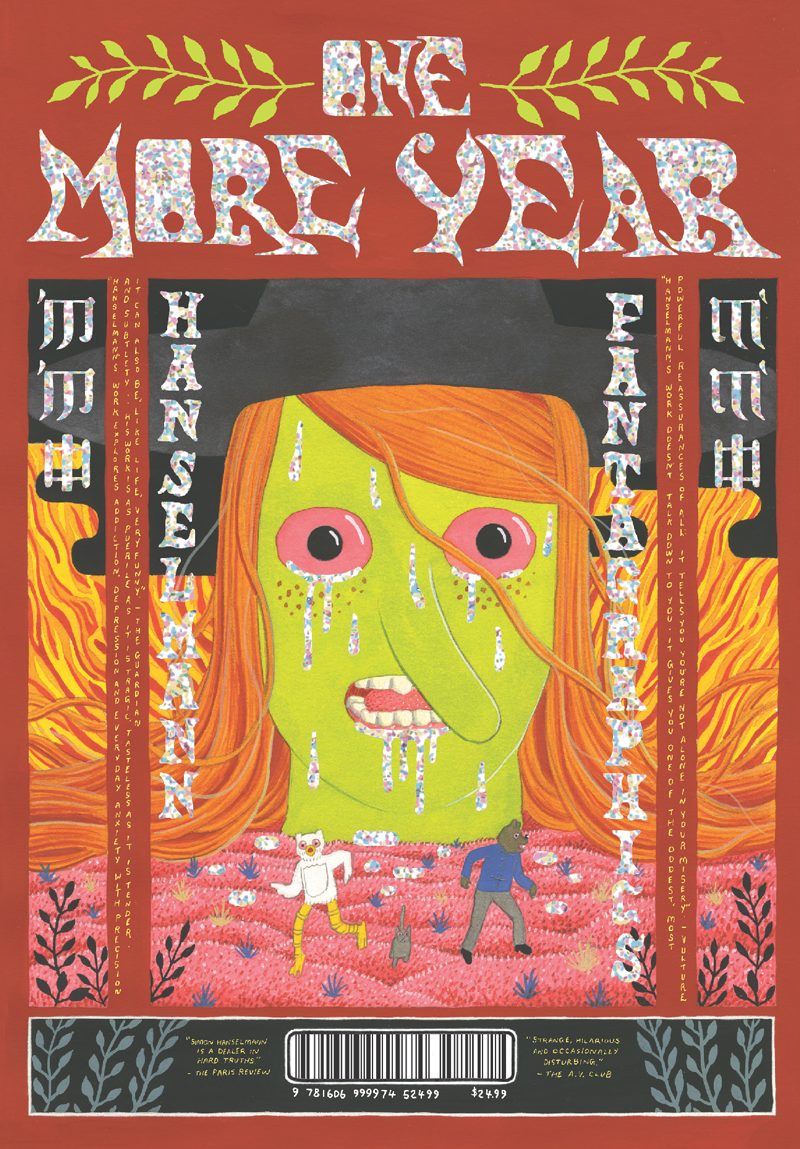 Megg, Mogg and Owl have since starred in a number of books, including 2014's Megahex—the first collection of Hanselmann's work offline; Megg & Mogg in Amsterdam and Other Stories from 2016 (in which, in the words of publisher Fantagraphics, "Megg and Mogg decide to take a trip to Amsterdam for some quality couple time, although the trip gets off to a rocky start when they forget their antidepressants"); 2017's One More Year; and most recently, Bad Gateway, described as "the magnum opus" that those books have been building towards. Things certainly take a darker turn here; and result in a realization for Megg that a life of reality-avoidance, drug abuse and so on isn't perhaps as sustainable as it once seemed, when she visits her heroin-addicted mother.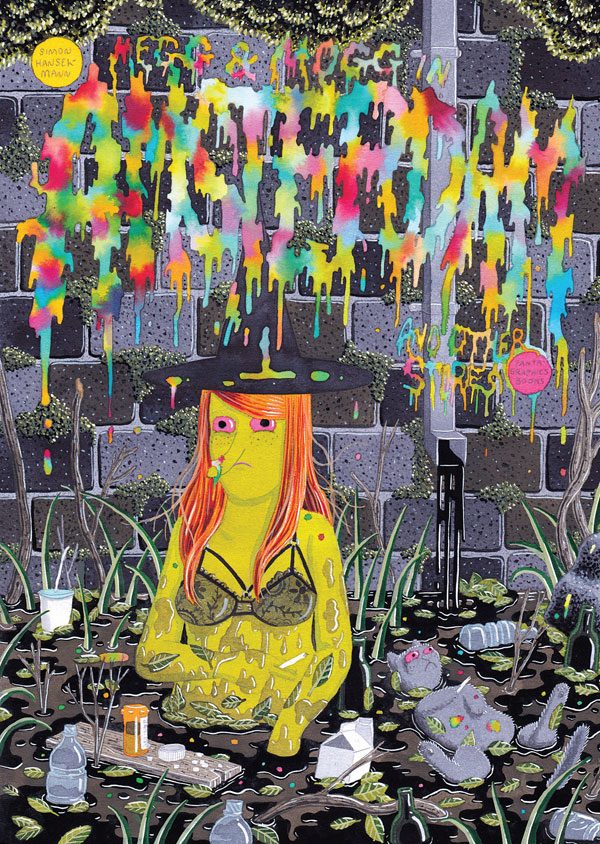 Hanselmann has been very open in various interviews about the fact that much of the series is based on his own experiences of growing up in a chaotic, benefits-reliant household with a heroin addict mother, biker dad and a grandmother plagued with serious mental health problems; as well as tragic instances among his friends and peers that loom large. He lost a very close friend and bandmate to an overdose in the same year that his former art dealer committed suicide. It's fair to say he's not had it easy.
Yet there's so much humour here, and beautifully wrought, witty observations: "You've never seen one of my performances, have you?" asks Booger to Megg in Bad Gateway, desperate to reconnect with her former lover. That's before we even get to the superbly well-crafted drawing, which has markedly evolved over the years. Resolutely analogue, Hanselmann creates and colours the work by hand and using simple tools: namely mechanical pencils, watercolours, Windsor & Newton neutral tint and a lot of food colouring for his pinks and yellows, as Hanselmann told The Comics Journal. In short, his artistic arsenal is for the most part cheap, accessible and democratic.
Simon Hanselmann, Bad Gateway, 2019
That sense of democracy—almost, a "this is all shite, but we're in it together"—attitude is what makes Hanselmann's series so universally appealing and wonderful. We may all not suffer with crippling, catatonic bouts of depression as Megg does; or have lived through the stuff the artist has had to deal with (and that's something to be incredibly grateful for), but only the most earnest, chipper (delusional?) among us wouldn't admit that life can be pretty damn hard sometimes. And bleak as it can be, it's art like this that makes that sort of ok.