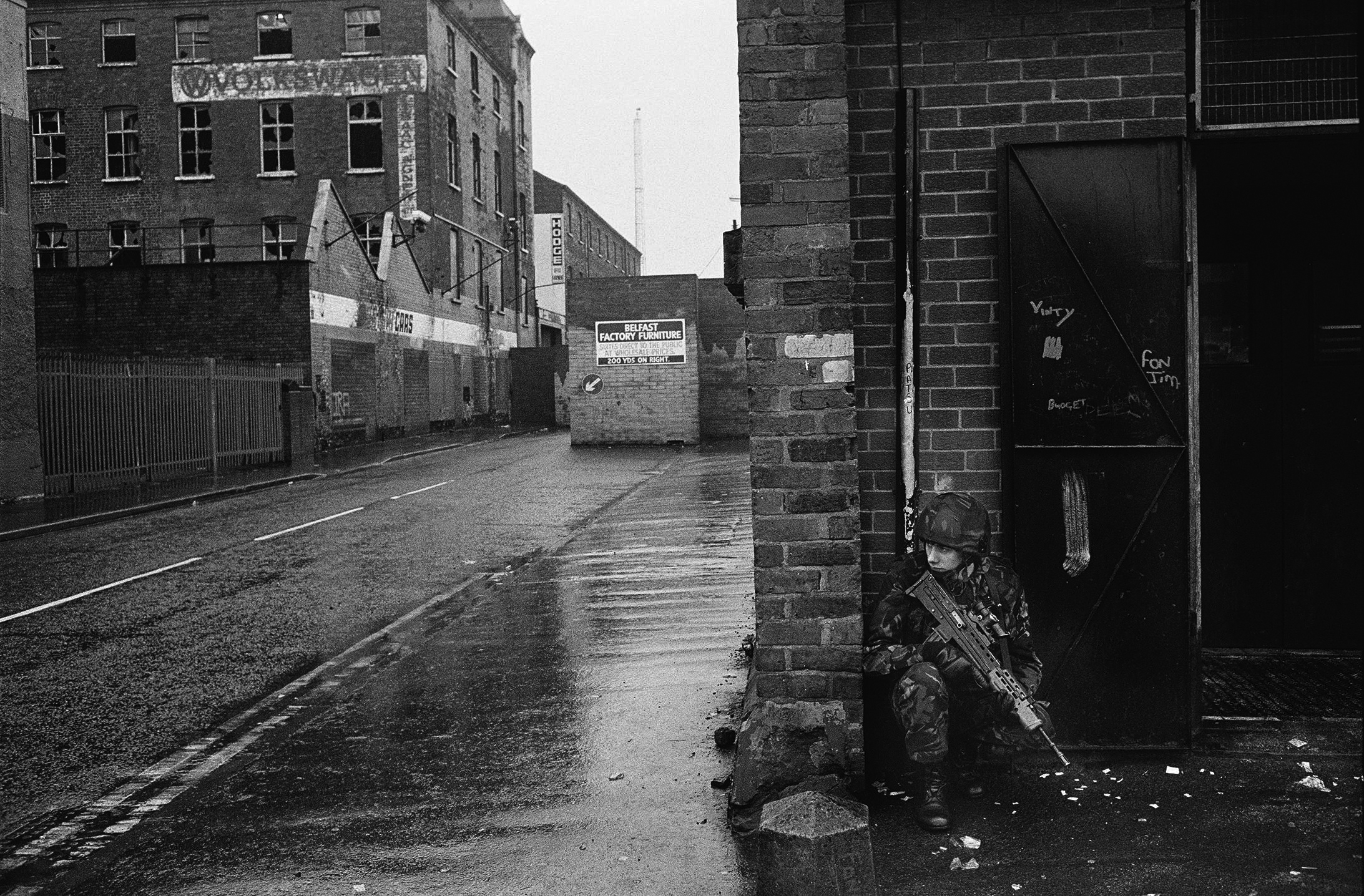 Before he travelled to Belfast in February 1991, photographer Krass Clement had been working all across Ireland, a feat made possible by a residency invitation from the Tyrone Guthrie Centre in Annaghmakerrig, County Monaghan. The Danish artist shot his first Irish work in the nearby village of Drum, accompanying an elderly man as he spent the evening in a pub.
The photographs from that night evoke the steady blur of a long drinking session with their soft focus and mixture of seated and lopsided perspectives, the revelry distinct and unvarnished. Shot on just three and a half rolls of film, the images were published in photobook form in 1996, the drinkers frozen in one iteration of a lifelong ritual.
Clement then went south to Dublin, where a similar eye for motion created apparitions out of wandering citizens, as they walked briskly down high streets or past a dozing figure on a nearby pavement. His black-and-white images of damp, darkened terraces seem to invite the Joycean parallels so beloved by foreigners visiting the city: advertisements, loiterers and daily anachronisms attract him, from a horse-drawn transport down an empty street to chimney towers longing for the city's industrial heyday. "There is a certain melancholia in my work," he admitted upon the 2017 publication of the resulting photobook.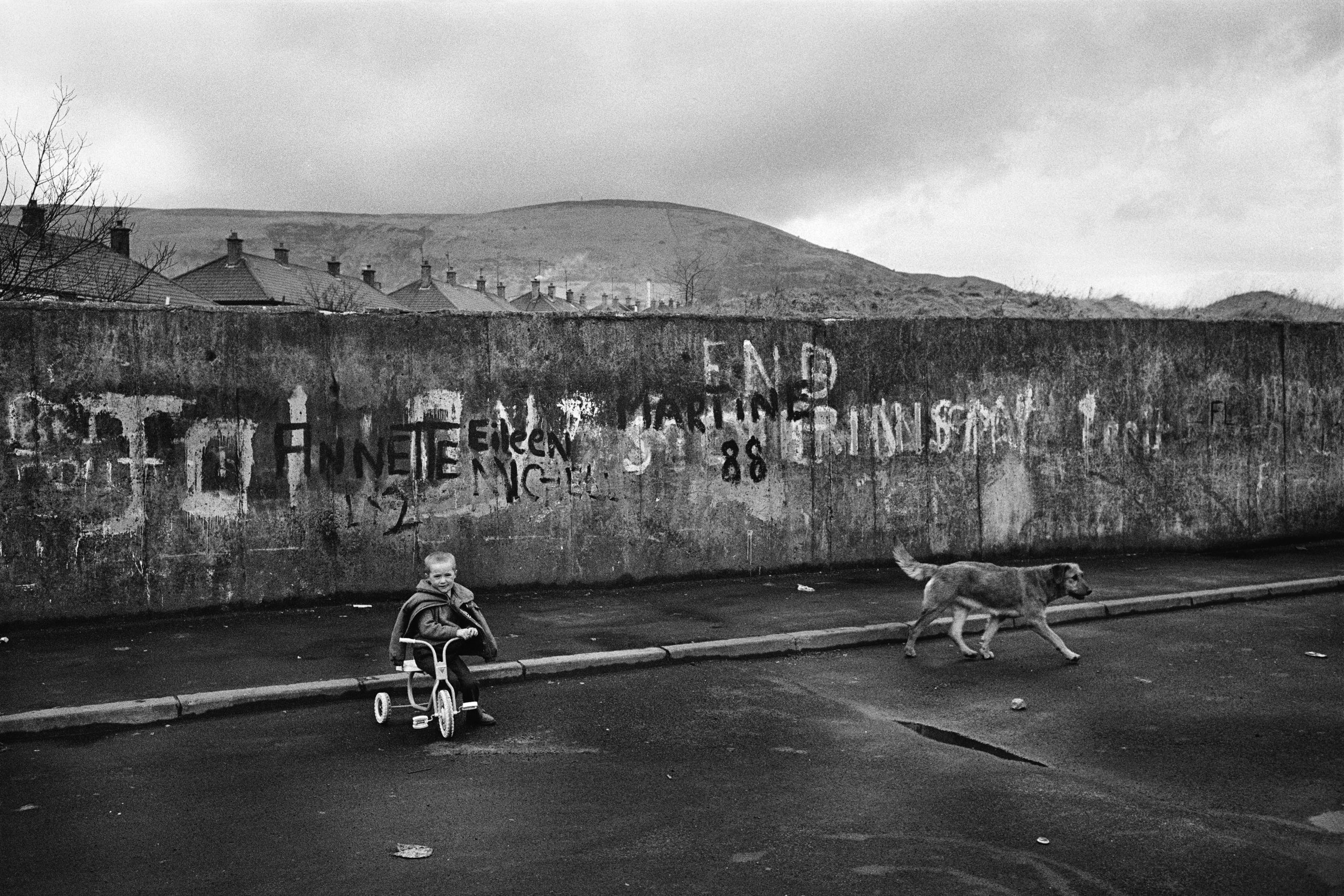 Of course, Troubles-era Belfast offered a different atmosphere and cast. In 1991, the year of Clement's arrival, roughly 11,000 British soldiers were deployed in the North. As in this photograph, they crouch, squat and stalk the quiet streets, radios on their backs and rifles poised in perpetual paranoia. Here and throughout the book of 114 photographs, the conflict's universal rule is adhered to: by the time soldiers appear, the streets are already empty of civilians, Republican presence signalled only by scrawled graffiti.
In the twenty years prior, the population of Belfast had decreased by a third to just under 280,000, the result of violence and dwindling economic prospects in the city centre. The decline of the shipping industry also led to infrastructural decline, with abandoned factories and warehouses the norm. A branch of Isaac Agnew Cars, a local dealership trading since 1931, stands derelict in this image, while the soldier's attentive pose beside retail adverts speaks to past decades of attacks, and the risk of fresh ones. One of the deadliest weeks of The Troubles saw four people killed at a furniture showroom on the Shankill Road in 1971, a retaliatory attack for the bombing of McGurk's bar by Ulster loyalists which killed 15.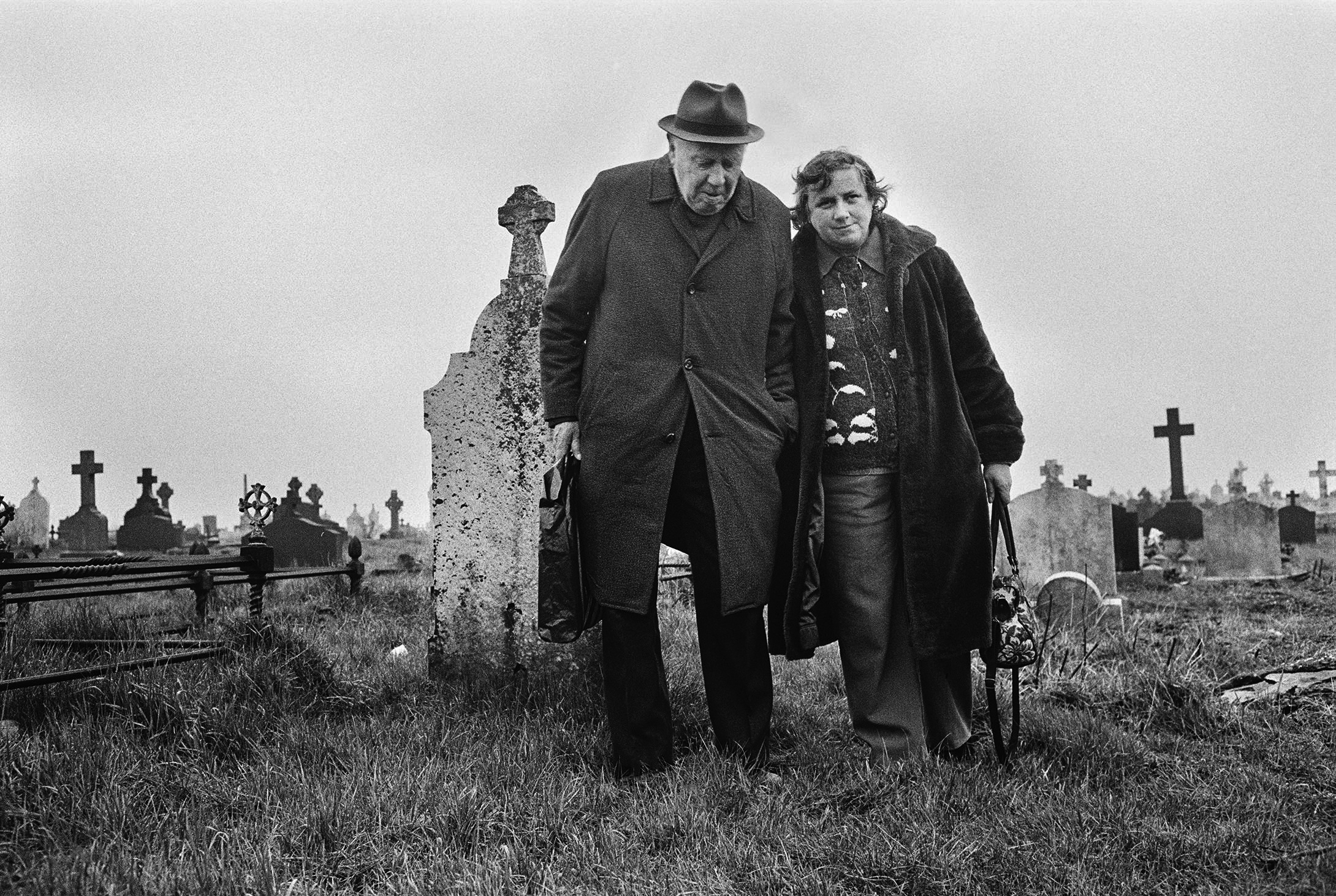 Clement's photobook doesn't shy away from this human cost, opening with 14 consecutive plates from a vast cemetery, details of nationalist martyrdom defiantly visible on the headstones ("Believing that the British government has no right in Ireland, never had any right in Ireland, and never can have any right in Ireland"). Corrugated metal fences segregate the plots while mourners and gravediggers circle solemnly.
"As in this photograph, soldiers crouch, squat and stalk the quiet streets, radios on their backs and rifles poised in perpetual paranoia"
Another image shows a social security office on Falls Road, West Belfast, fortified with the same fences and barbed wire as the nearby cordons and peace lines, a securitisation of everyday life that few citizens had control over, and fewer still had any sense of when it might end. And yet, children still play in the streets, trams and buses sustain city life, and bridesmaids shelter under umbrellas as they approach a suburban church. Life continues, a reality as important as its interruption.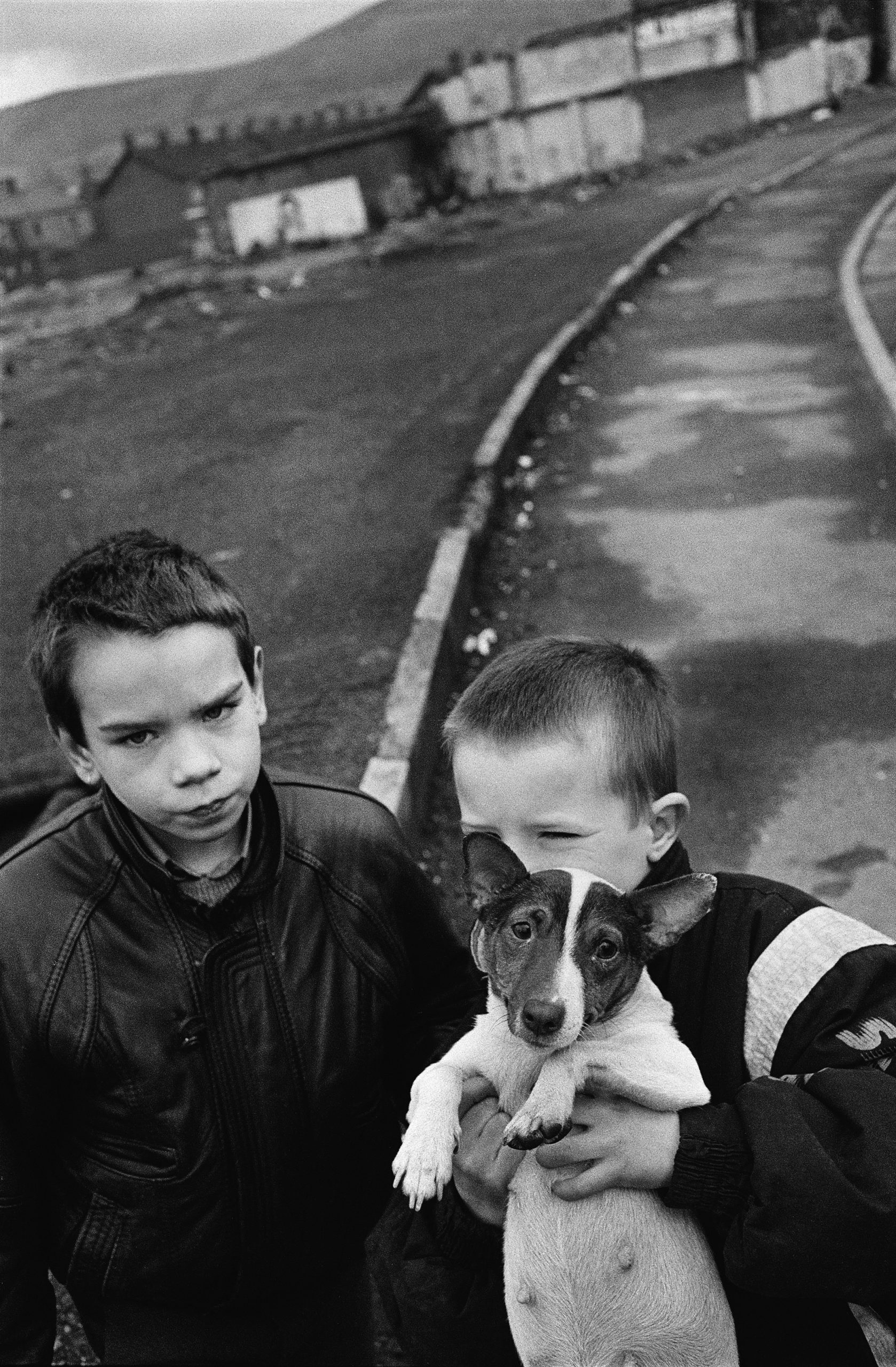 Clement cites the Parisian 'flaneur' tradition as a guiding principle of his work, a wandering rather than a prescriptive eye. His is an innocent impartiality, a welcome distance whereby political, military, and social motifs occupy the same plane. As is often the case, it is the children of conflict who reveal its true impression, their intrigue never concealed or qualified. Unlike the wary soldiers or civilians, they smirk at Clement as they run past him or hold their pets up to the camera, living simply in an era of complexity, not yet knowing the stories their eyes will tell.
Ravi Ghosh is Elephant's editorial assistant
Belfast by Krass Clement is out now (RRB Photobooks)