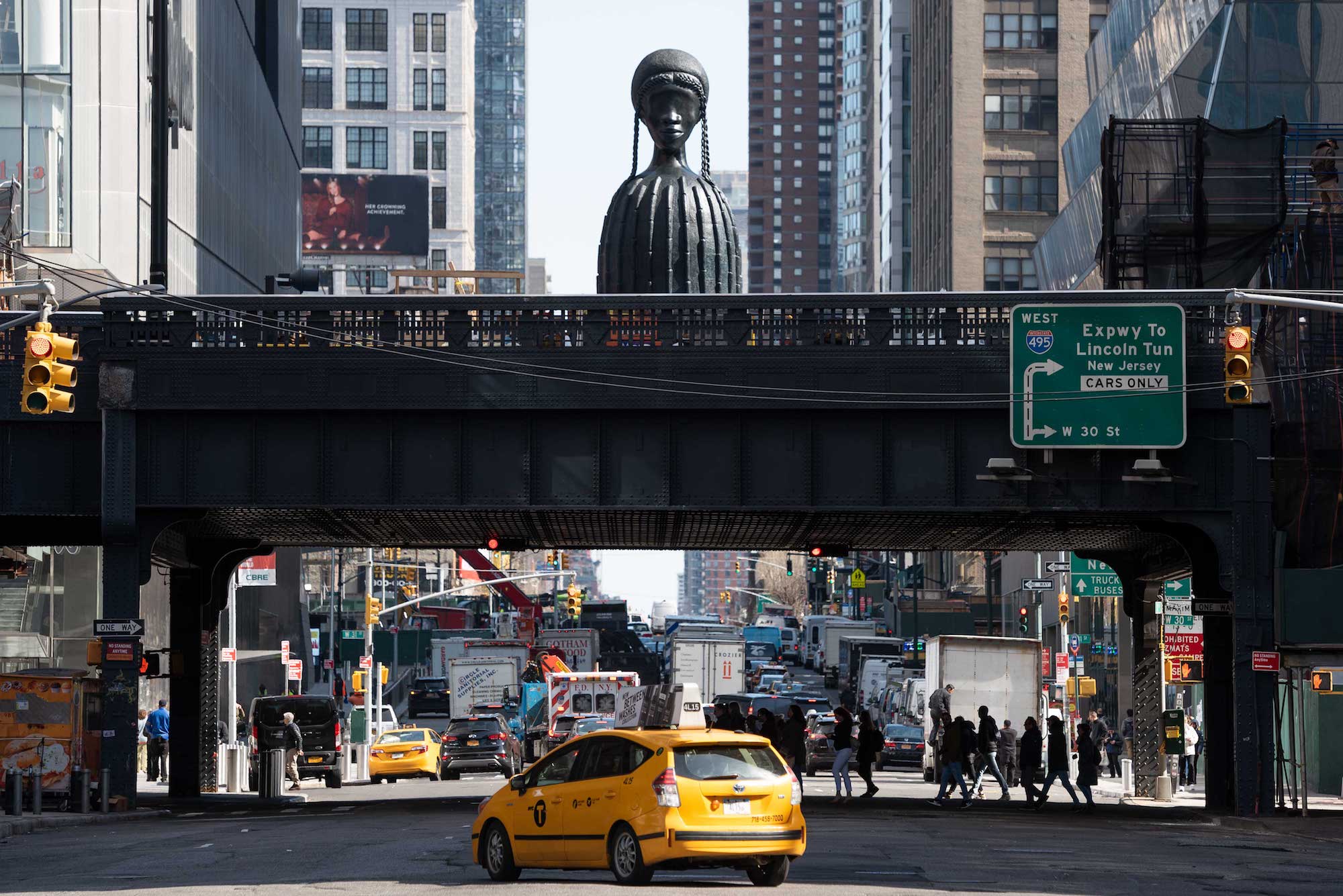 Elephant and Artsy have come together to present This Artwork Changed My Life, a creative collaboration that shares the stories of life-changing encounters with art. A new piece will be published every two weeks on both Elephant and Artsy. Together, our publications want to celebrate the personal and transformative power of art.
When I was a young girl the ritual of chemically straightening my hair, known as 'hair relaxing', was encouraged. Smearing corrosive chemicals—sodium hydroxide, ammonium and sodium thioglycolate—onto my scalp, was a norm. It was simply a 'necessary evil' in the path towards beauty. With the passage of time, my hair's texture would change, returning to its original form as it grew. Comments such as "your roots are showing"—referring to the visible curling, a natural part of the growth process in healthy hair—were used to mock and ridicule.
Part insult and part advice, "your roots are showing" was a reminder that it was once again time to go through the painful process of relaxing my hair. A relaxer and relaxing imply modification. It implies lightening, easing and diluting, things that as a Black woman living in a white hetero-patriarchal society I have been asked to do all my life. This modification is asked of me not just in terms of the grain of my hair but in my demeanour, the amplitude of my voice and the proportion of my dreams and ambitions.
Because memory takes root in gestures and objects, Simone Leigh's sculpture, Brick House, excavates memories of me as a young girl. Brick House is a 4.9-metre tall bronze bust that sits on New York city's linear park, the High Line. The first work of this scale by the artist, it is also the first artwork presented for the High Line Plinth commission, installed in 2019. The sculpture represents the face of a Black woman with a torso shaped like a skirt, reminiscent of old rounded rondavel huts. The woman wears an afro which is framed by a string of cornrows. Afros and cornrows have long been a way in which Black girls and women have styled their hair. In Leigh's Brick House the woman's roots are showing; instead of a mockery, this is a powerful moment of resistance.
"Because memory takes root in gestures and objects, Simone Leigh's sculpture excavates memories of me as a young girl"
The antecedent to my engagement with Brick House is a group exhibition, Soft Architectures staged at Goodman Gallery in Cape Town in 2019. At the time, I was living in Johannesburg and had gone down to the coast for the December holidays. Living in a city like Johannesburg, one's sensitivity to space and place is heightened—it is a difficult and loveable city that combines poverty, crime, hospitality and potential where various forms of power and resistance play out. I was excited to see an exhibition in which artists were exploring and interrogating the intersection of architecture and these unique power dynamics.
This was the first time that I saw Leigh's work in real life. The work in question was Las Meninas II (2019), a two-metre tall sculpture made with terracotta, steel, raffia and porcelain. The title alludes to Diego Velázquez's 1656 painting by the same name, a work that questions the orchestration of looking and being looked at. Here, Leigh reflects upon the body, race and beauty in a striking image of a woman in a sturdy pose, muscles taut and hands on hips. Her face is hollowed out entirely, a black hole encircled by porcelain. The empty face refers to the story of enslaved abolitionist Harriet Jacobs who, writing about her struggle for freedom, described a "loophole of retreat" from an unjust reality. Leigh's hollow face creates a condition that resists and refuses the return of the gaze.
Brick House is architectural, not only in the sense of a complex and careful structured design but also in the way that it engages feelings and memories of the Black body in space. I became acutely aware of these politics of space when I left the banking sector a few years ago. After qualifying as a chartered account and working as an equity analyst for major financial institutions I decided to leave the world of finance. A sense that I did not belong in these spaces was the main reason for my departure.
I felt I was suffocating in each office that I found myself in. What I was really feeling was an unease brought on by a long history of othering and marginalisation, reflected and embodied through the architecture. Now settled in Cape Town—a city known both for its beauty and its overt racism—Brick House affects me even more. The work speaks to the claiming of space, and is a powerful reminder of methods of survival and how to navigate difficult terrain.
Jennifer Lopez shot for Coach by Juergen Teller, 2020
"The work speaks to the holding and claiming of space, and is a powerful reminder of methods of survival and how to navigate difficult terrain"
Despite the fact that I have still not actually seen Brick House in real life, I am struck by its sheer monumentality. Made from 9000 pounds of clay and 6000 pounds of bronze, its size makes it difficult to miss—it is towering and spectacular. I am impressed by its inescapability, not just because of its physical position in New York, but because of the number of times I have encountered it on various mainstream platforms.
Recently, I was reminded of Brick House while paging through a copy of Elle. It forms the background of a campaign shot by Juergen Teller for Coach, featuring none other than Jennifer Lopez clutching the brand's Hutton bag. Lopez is wearing a red leather coat and a shimmering blue scarf, and stands directly in front of the sculpture. Both Lopez and the woman in Brick House have strong postures, grounding femininity as something solid and enduring. The sculpture is holding space both in art history and in mainstream popular culture, and is connecting Leigh to ever-larger audiences. It was recently announced that she would become the first ever Black woman to represent the United States at the 59th Venice Biennale.
Although I have scepticism towards representation and visibility, I am drawn to this work because of the nuanced interaction of the figure in relation to architecture. I'm inspired by how a woman of colour is able to claim space for herself and to receive the recognition she deserves. In an interview with CBS This Morning, broadcast in 2019, Leigh explains: "I'm stubborn…I never felt like I would be embraced by the art world at large. Many years ago I dug in my heels that I was going to do exactly what I wanted to do." Writing in 2018 in the New York Times, American curator Rashida Bumbray is quoted as stating of Leigh: "She's driving a cultural shift at large where black women are being acknowledged as aesthetic leaders. […] It feels like a moment, but it is really just that the wool has been lifted from everyone's eyes."
All images: Simone Leigh, Brick House, 2019. A High Line Plinth commission. On view June 2019 – Spring 2021. Photo by Timothy Schenck. Courtesy the High Line
Did an artwork change your life?
Artsy and Elephant are looking for new and experienced writers alike to share their own essays about one specific work of art that had a personal impact. If you'd like to contribute, send a 100-word synopsis of your story to pitches@elephant.art with the subject line "This Artwork Changed My Life."