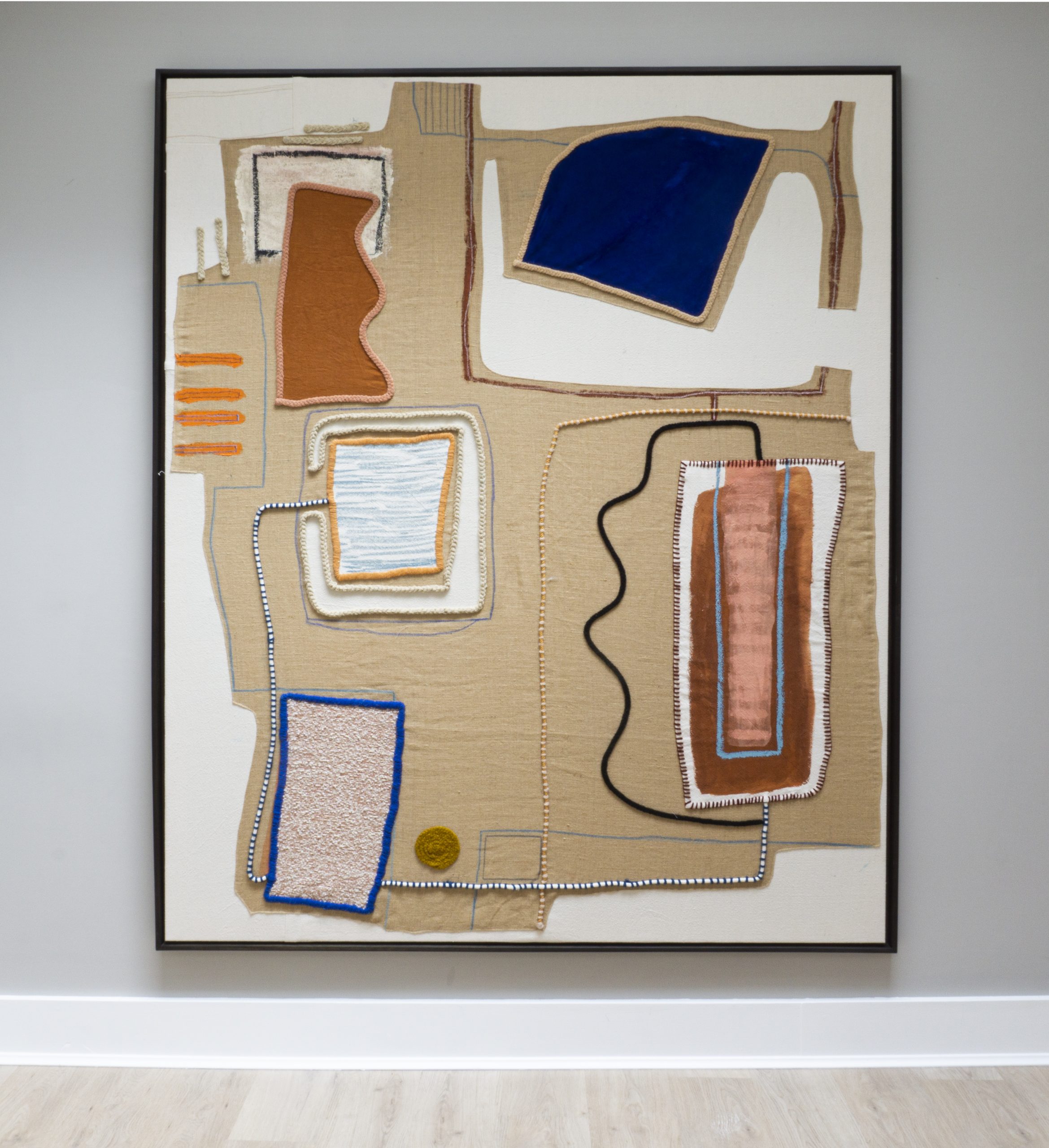 In 2015 Belgian artist and designer Laurence Leenaert decamped to Marrakesh and she's never looked back. Her studio LRNCE is now an Instagram sensation (271k followers and counting) known for playful abstract designs applied to everything from clothing to ceramics, all photographed in the irresistible Moroccan sun. More recently, Leenaert has highlighted a lesser-known side of her practice through an exhibition of paintings at Cadogan Contemporary, London.
Qalb Dari: The Heart of the Home (which ran until 12 March online) is a new body of work that looks at the structure of the riad in Marrakesh, the ancient, symmetrical, interior courtyard gardens found in houses across the country, with origins in the Mediterranean and Middle East. It also continues Leenaert's ongoing interest in what makes a home, how it can make us feel, and how the simplest shifts in hue, light and shape can bring joy and solace.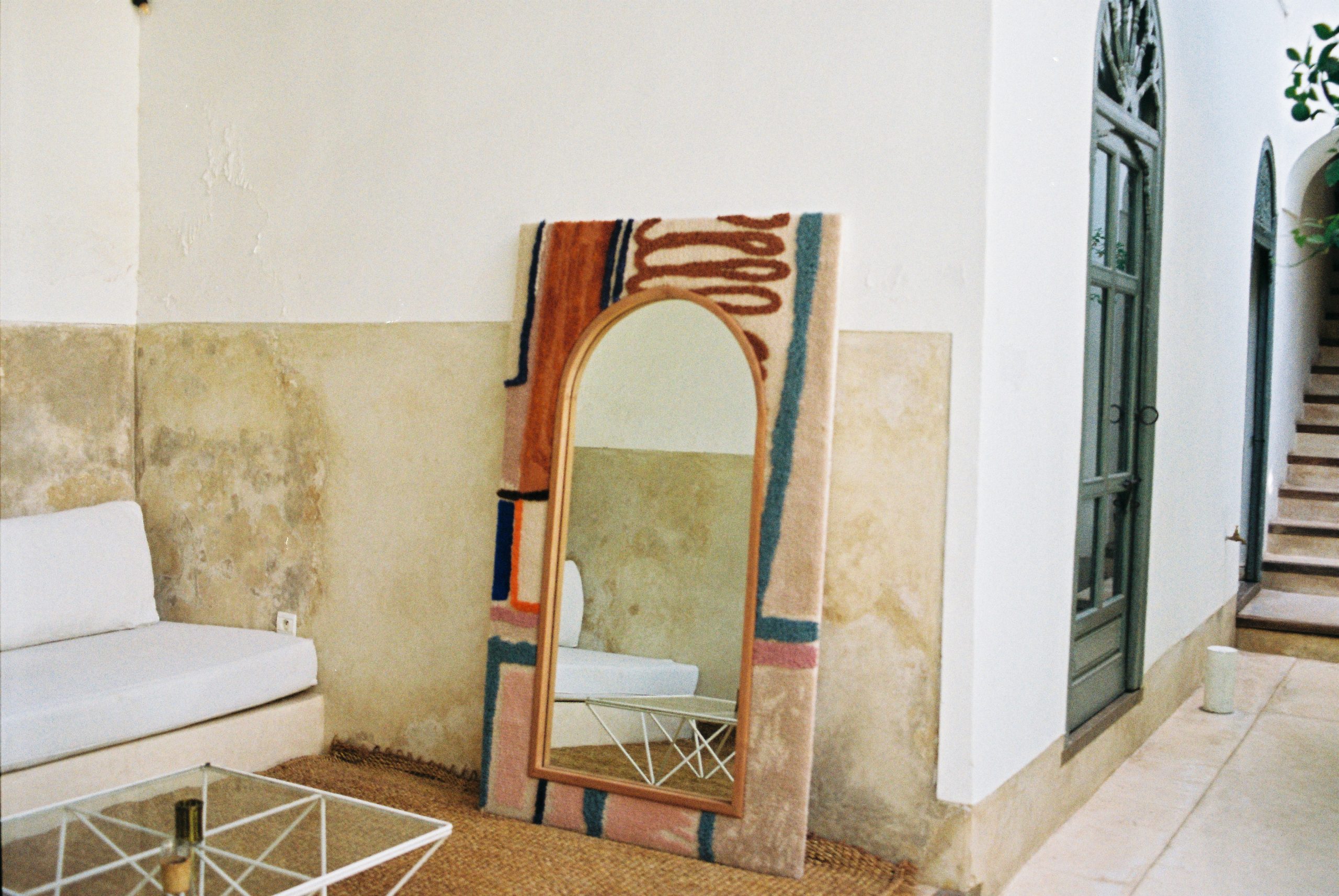 Why did you decide to relocate to Marrakech? How has Morocco influenced your work and what response does it draw there?
I spent one month in the desert of Morocco being away from 'reality' and it gave me taste of freedom, a lot of possibilities to create and just to move. Not knowing anybody in a country where the quality of life is in a way more appreciated felt right at the time.  
In the beginning it was not that easy. I was 25 years old and spoke French badly and no Darija at all: trying to explain how to change designs and just do something else with amazing local techniques took a lot of time, and I had to earn the respect of the local artisans. I think combining the two worlds—where I come from, my background of fashion and art, and living here in Morocco—gives me the energy and motivation to create more.  
I started LRNCE with the idea of making bags but meeting all these amazing artisans here and realising how good the handcraft was made me spend all my savings on making samples, tests, experimenting, discovering and translating my vision in new materials. It's still the main focus of my practice today, to explore new materials. With time you go deeper into a subject.
Your studio is incredibly popular on Instagram: did you ever anticipate that?  
Not at all, it just happened very unexpectedly, but it gave me the possibility of running my business in Marrakech and selling abroad. What's amazing thanks to Instagram is that I can reach the world. It's important for me to make something from scratch and finish, and I take the photos of the objects, textiles and paintings myself in order to understand the atmosphere and what it says. I am involved in the whole process and context.
Photos: Laurence Leenaert
You've proved so popular with LRNCE that there are even some copycats out there, aren't there? 
Unfortunately, yes. I try to ignore it but sometimes it's too obvious, just copy and paste. It's a lack of respect, if you ask me. It's frustrating but also flattering.
"The paintings express exactly who I am and what I do: they're the real 'me'"
The palette and shapes of the new abstract paintings you produced for your recent London exhibition were inspired by riads. What is it that you find so appealing about them?   
The first places I lived in Marrakech were riads, and the patio is heaven. I just love the harmony in a riad, it's all about harmony for me. The sun enters the central place of the house via the patio in a riad, that's mostly a garden with all the rooms around it. The architecture and the concept of a riad is so interesting: from the outside it's a small door and there are no windows on the street side but when you enter you have this bright place with sun, birds, garden and tiles.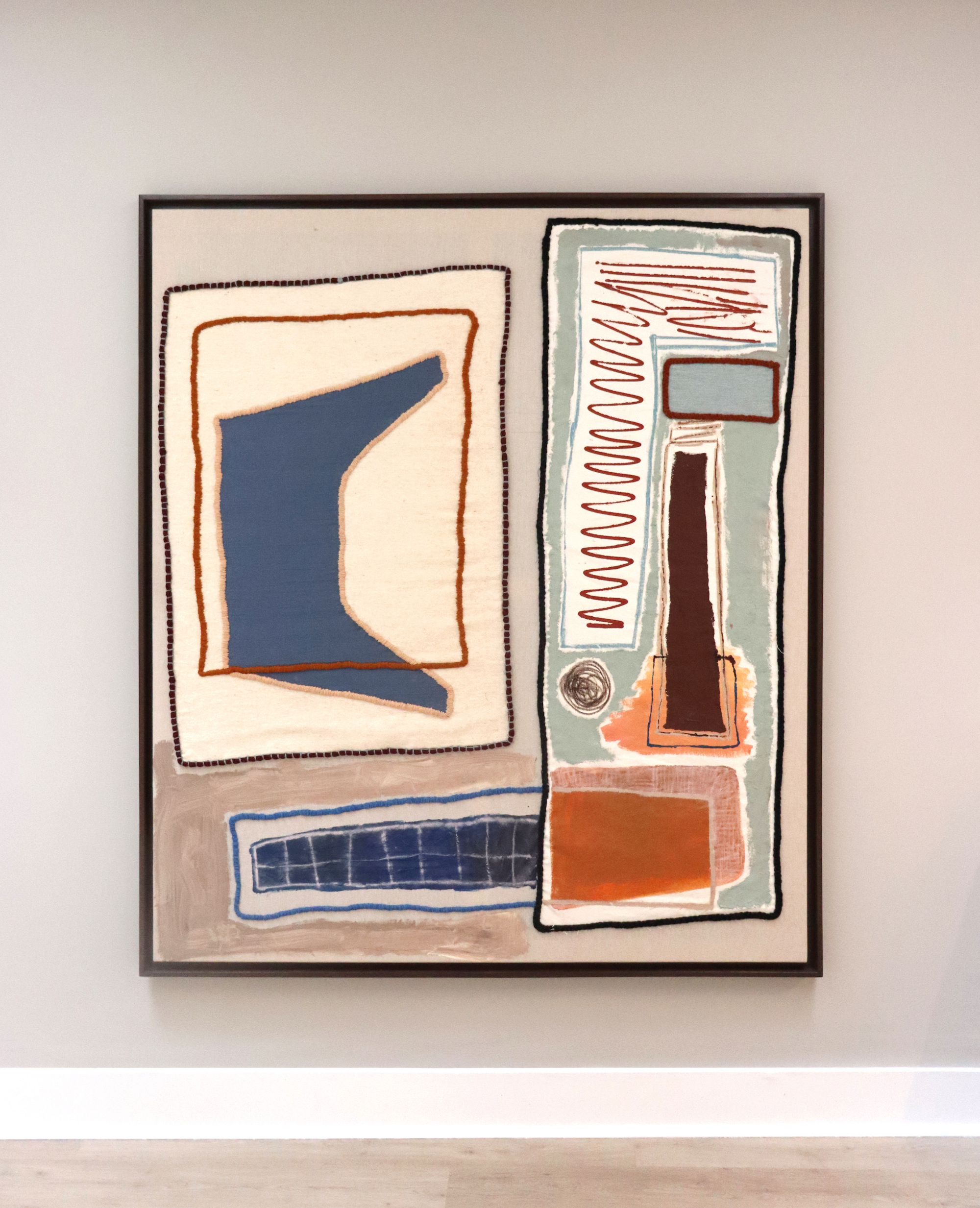 How have you found the transition from design-based work to making more traditional paintings for a gallery context?  
It's been my dream to show more of my paintings: the imperfection of the work I make, the work I make with artisans and the textiles take it to another level art. Showing it in a great gallery like Cadogan changes everything. I think I can say we had a good first show, there is a lot of demand and the paintings express exactly who I am and what I do: they're the real 'me'. I take few months to finish a work: I cut, I assemble back together, I do embroidery, I stitch, I cut, I get it back together, finding the harmony. I never know how the work will end up. This is different from what I'm doing with LRNCE: my team is begging me to have a bit of structure and planning about what we are going to make and work on. Maybe this is also a reason why I love living in Morocco and going with the flow!