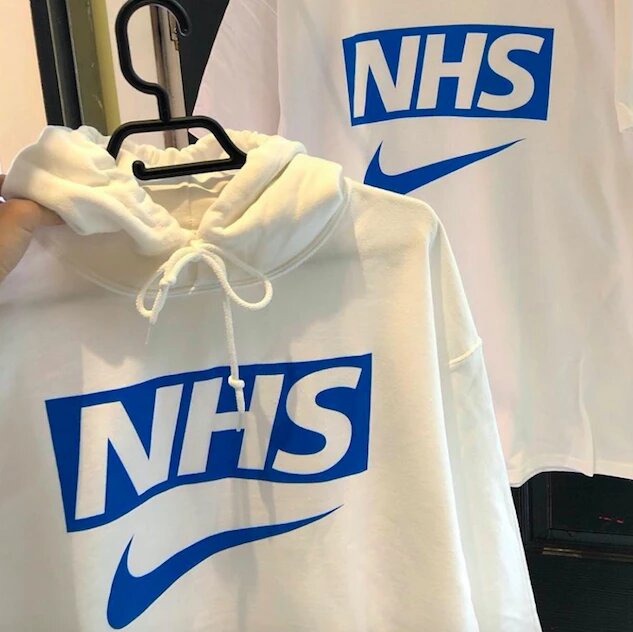 Everything that Sports Banger stands for seems to have come into synchronised relevance in our current moment. A renewed appreciation for the work of the NHS during the coronavirus pandemic has led to a surge in fundraising through art and fashion; calls have grown for a sustained mobilisation of the welfare state to alleviate poverty in the UK; an era of mass political protest is underway across the world; and, in its absence, the cultural nostalgia for 1990s and 2000s-influenced rave culture is stronger than ever.
"In a year of protest, there is an increased appetite for political statements which are less allusive, and more outwardly partisan"
The bootleg fashion house meets social project has been running since 2013 under the almost sole leadership of Jonny Banger. The label started innocuously after Banger produced a few Free Tulisa slogan t-shirts for his birthday in 2013; after they were worn by Skream and Jordan Stephens (of British duo Rizzle Kicks) at Wireless festival that year, interest in their origin—and potential future designs—snowballed. The NHS Nike swoosh t-shirt, first produced after the 2015 junior doctor strikes and now relaunched, is the most recognisable Sports Banger product. The brand's Team Nigella, upside-down Reebok logo, and peace sign neon t-shirts are also now synonymous with its DIY, tongue-in-cheek tradition of modern bootlegging.
There have been collaborations with legitimate brands along the way. The Slazenger Banger range launched to huge success in 2018, with custom trainers costing £29.99 and t-shirts £14.99, rejecting the price inflation which typically characterises limited edition brand partnerships. Sports Banger apparel is often sold in Sports Direct, which ironically can be credited with both the democratisation of sportswear in the UK over the past 30 years, and its exploitation by corporate interests. Banger positions himself in staunch opposition to an Americanised sneaker culture, which prizes exclusivity and skyrocketing prices for a limited number of items. He is just as opposed to "piss poor copy cats with no heart or passion", copying his designs, he said in 2018.
In this year of protest, there is an increased appetite for political statements which are less allusive, and more outwardly partisan. In the wake of the 2019 general election, Guts gallery in London launched a t-shirt range as part of its Grafting Under Tory State campaign, raising money for the Trussell Trust as well as its own programme. Sports Banger has followed suit: Conservatives Are Targeting Everyone and Fuck Boris t-shirts have proved popular in recent weeks, with the latter slogan attracting attention at a Black Lives Matter protest in June, when British Transport Police unlawfully instructed a woman to cover up the text. They later apologised, but not without causing a social media storm surrounding the state's willingness to silence protestors on shaky legal grounds.
Sports Banger's NHS Nike t-shirts are accompanied by the following message when sold online: "I was born in the NHS. My mum worked for the NHS. The NHS tried to save my brother's life. The NHS saved my life. The NHS saved my dad's life. The NHS tried to save my mum's life. The NHS saved my best friend's life. The NHS saved my other best friend's life. A short true story by Jonny Banger." The relaunch has raised roughly £100,000 for the delivery of healthy meals to ICU workers and community centres during the pandemic. Like Jeremy Deller's Thank God for Immigrants posters, artists with a strong underground presence are leading the culture sector's philanthropy during a time of crisis. It's a bottom-up movement that highlights the inaction of more established celebrity creatives.
"Underground artists are leading the culture sector's philanthropy during a time of crisis—a bottom-up movement that highlights the inaction of more established creatives"
Whereas Deller's work (and his 2019 documentary Everybody in the Place: An Incomplete History of Britain 1984–1992, in particular) embraces a nostalgia for an extinct rave culture, Sports Banger represents a continuation and reformulation of its original ethos. Banger himself has been involved in the free party scene for years; British tech-house and dubstep pioneer Artwork lent him money for the first major run of Free Tulisa, and he is closely connected with pioneering dubstep collective Horsepower Productions, as well as DJing and MCing on Rinse FM, Balamii radio and across London clubs over the years. Heras, a new record label run by Banger, is set to release a Neil Landstrumm EP in early September, and Banger Vision, an online platform for showcasing Sports Banger's 2020 catwalk and a cocktail of rave videos, sits neatly beside the online clothing store.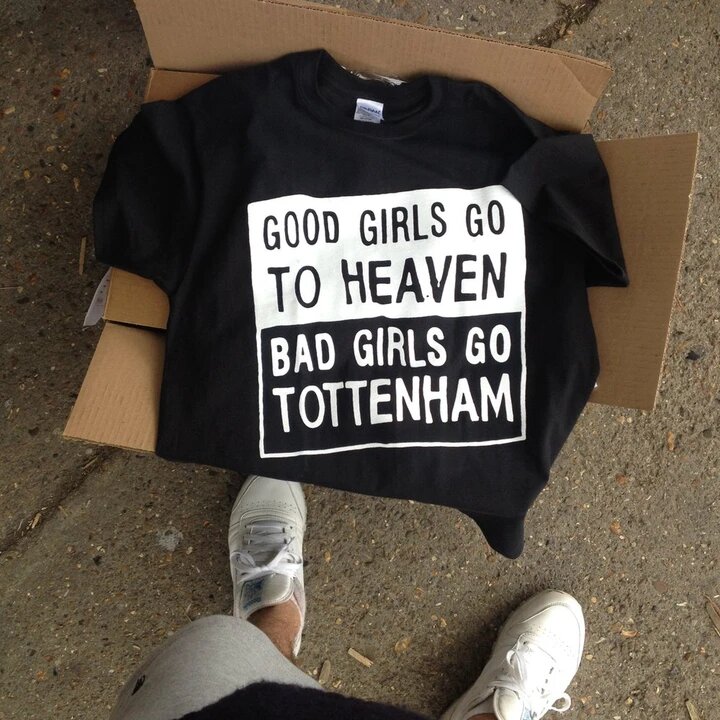 The beating heart of the project is Seven Sisters Road and the surrounding Tottenham area; Banger recently finished a proposal for an expanded space, where he hopes to widen the project's community influence. Staying local and small is crucial to Sports Banger's success. "I don't really make political t-shirts," Banger said in 2018. "I just make t-shirts with a 'say what you see' attitude. It's nice to shine a light on some of the things that piss me off and these always seem to resonate with people." In an increasingly unstable world, these resonances are growing ever stronger. From a cluttered North London shop, Sports Banger is using clothing and culture to channel the frustrations, passions, dreads and hopes of a generation.