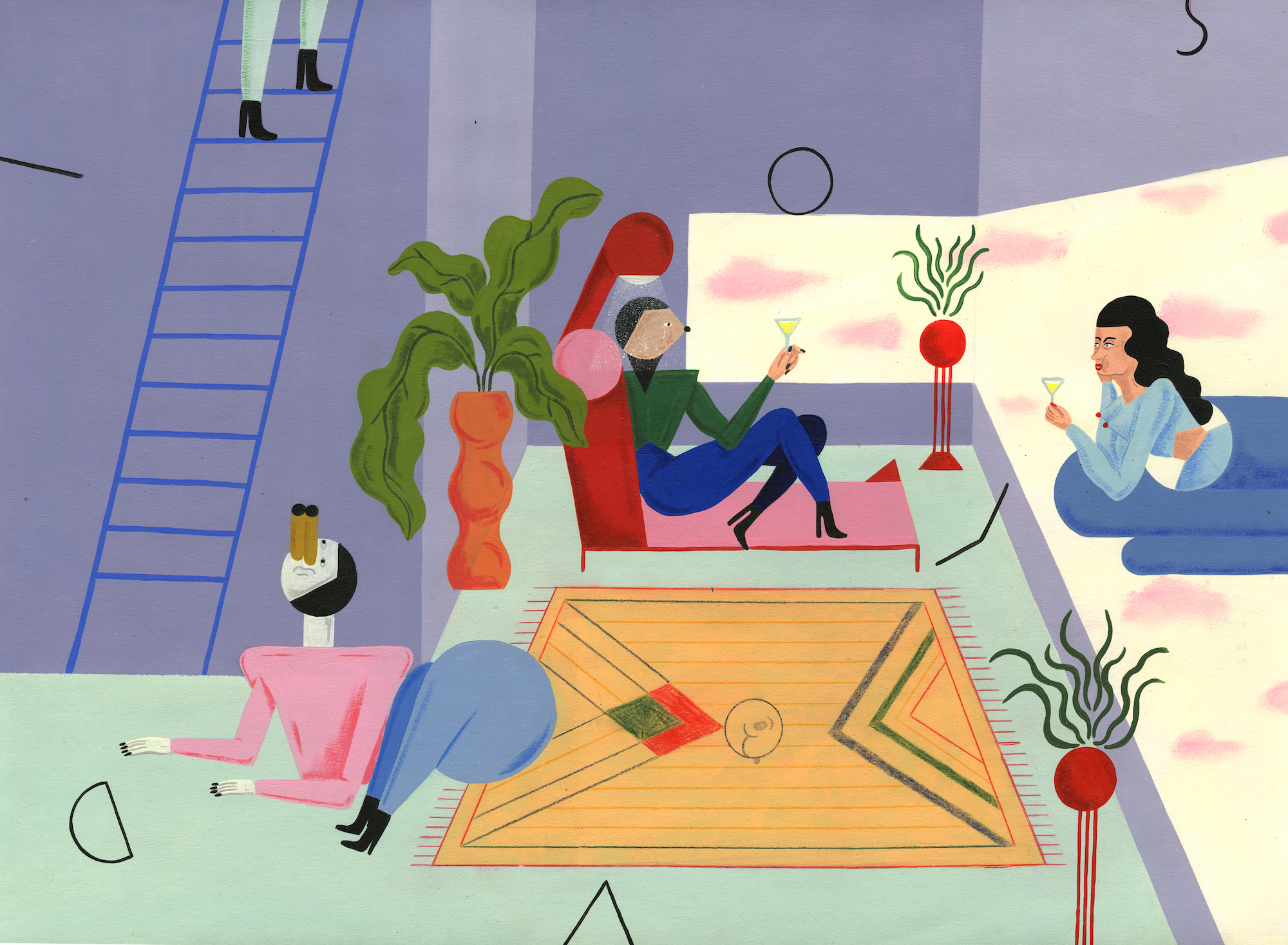 One of the first principles of learning to draw the body involves replacing body parts with circles, squares and rectangles, and breaking it down to its own unique geometry. For Stefhany Y Lozano, this technique is taken forward to create a new language of representation. In her paintings, figures contort and bend, with hands and feet gesturing impossibly in energetic motion. Her compositions are rich with bold colour; sharp red lips and nails punctuate soft pastels and graphic patterns.
Drawing inspiration from the aesthetic sensibilities of the 1980s, and particularly the world of design (the Memphis Group is an important influence), Lozano divides her time between her work as a painter and illustrator. Based in Leipzig, Germany, she brings together her own heritage and experience abroad to unpick the visual connections that we each carry and accumulate over time.
The women in your paintings and illustrations often take on strange, graphic shapes that are more loosely representative of the female body than strictly accurate. Why do you draw this connection between women and geometric shapes and forms, such as circles and triangles?
The connection is not just with women; I draw all my characters like that. For a while I've been drawn to geometric shapes and, little by little, I started working with them to create my characters and compositions. I have a collection of rulers that I use to draw all the time; I like the idea of creating organic figures out of something so rigid and precise as a ruler. I like to play with the composition by measuring the space and the symmetry of it and the figures that I draw.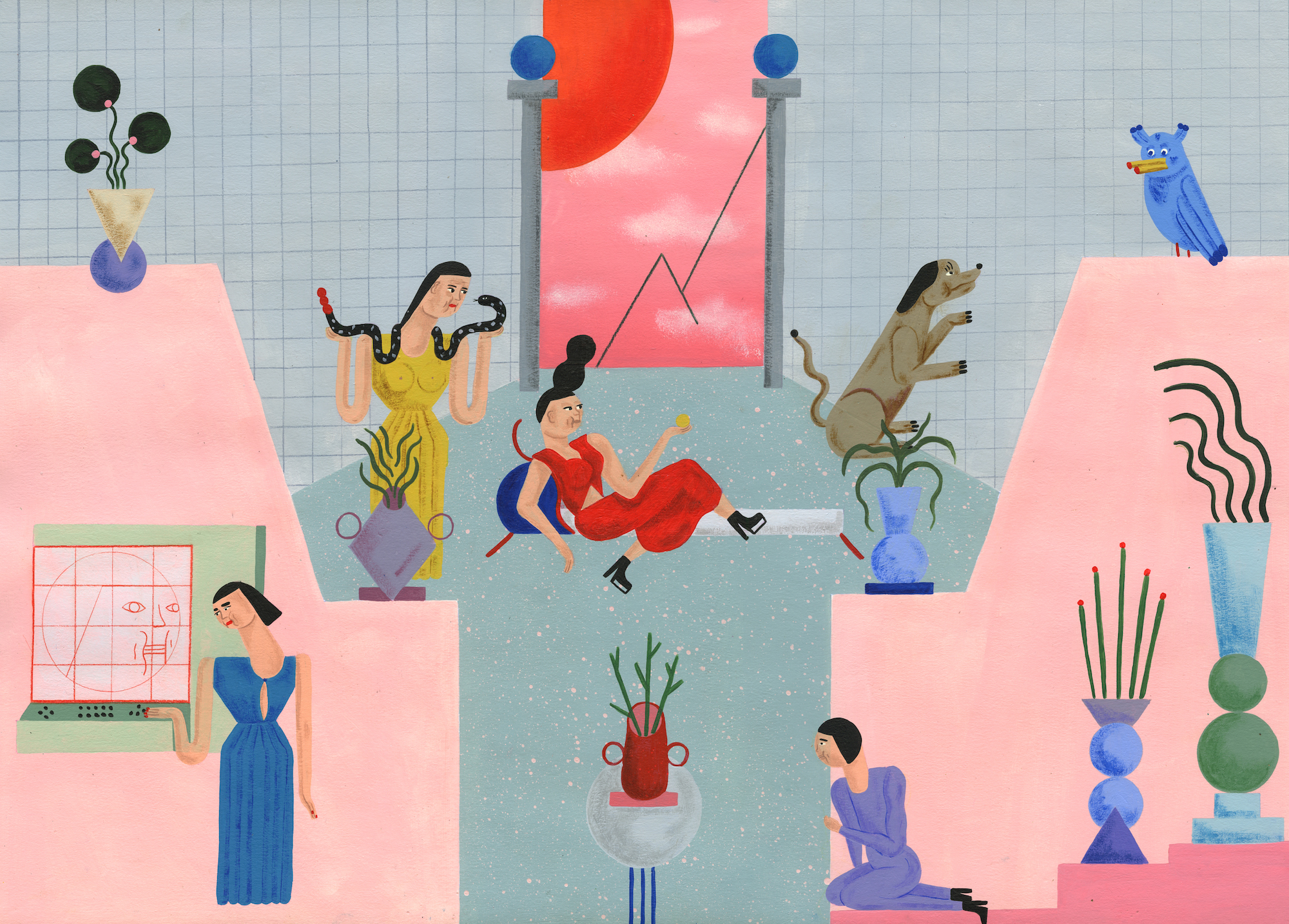 "I like the idea of creating organic figures out of something so rigid and precise as a ruler"
Where do you draw inspiration from for the colours, patterns and distinctive styles of the clothes and shoes that these women wear?
One of my biggest inspirations has been the 1980s. I did a series based on it called Electrica Salsa. I love that decade because of how over the top everything was, the music, the fashion, everything really! I grew up among adults who loved the eighties, so I remember very well my family wearing crazy hair styles, listing to amazing music and wearing beautiful, colourful clothes.
Also many artists, like Ettore Sottsass and the Memphis group, as well as the Bauhaus, have also inspired the colours, shapes and patterns that I use. Filmmakers from the eighties are also a huge inspiration from me, especially Pedro Almodovar's movies from that time; all of his characters are so amazingly bold and extravagant, especially the women. After finishing the series Electrica Salsa, I kept working with the patterns and colour palette and from there it has developed into the work I'm doing right now.
The subjects in your work frequently have painted nails and wear strong make-up. What interests you about these cosmetic elements of female self-presentation? 
Colombian women are very vain. We love to look good wherever we go. I remember watching my mother applying make-up every day; I had a fascination with her lipsticks when I was a kid. I really like the idea of applying colour in your face and hands. I do have quite a big collection of nail polishes and lipsticks myself, which I'm not really proud of… they are too many! But applying make-up for me is not meant to be just for female characters representation. In my last series of paintings, Kurz Davor, all my characters are wearing make-up and they are actually neither male nor female. I like the idea of using red lips to highlight the expressions of my characters faces, which are so important for this series alongside their hands and the role that they play in the composition.
How do you balance your output as an artist and as an illustrator? Is there a difference between the two roles for you?
I am constantly surfing between the two of them, which something I really enjoy. For me, there is a big difference between my work as an artist, which is my personal work, and my work as an illustrator, which is my commissioned one. Many people don't agree with it but is just the way I see it. Just the simple fact that the idea comes from me makes a huge difference. I realize I put a lot more pressure on my personal work than the commissioned one—it has to be a good and interesting enough idea for me to work for a long period of time on it. An idea that also moves my heart into making it.
Meanwhile, the commissioned work gives me somehow more freedom, the opportunity to experiment with shapes, colors and ideas I didn't think off before; I am faster and I can make more mistakes and fix them in Photoshop. Many things that I have experimented with in my commissioned work, I have used later in my paintings. Nevertheless, both are me. Something else that separates them from each other is the space where they are exhibited. I only show my personal work in galleries and art spaces. My commissioned work is displayed in magazines, books, newspapers or commercial spaces.
"I remember watching my mother applying make-up every day; I had a fascination with her lipsticks when I was a kid"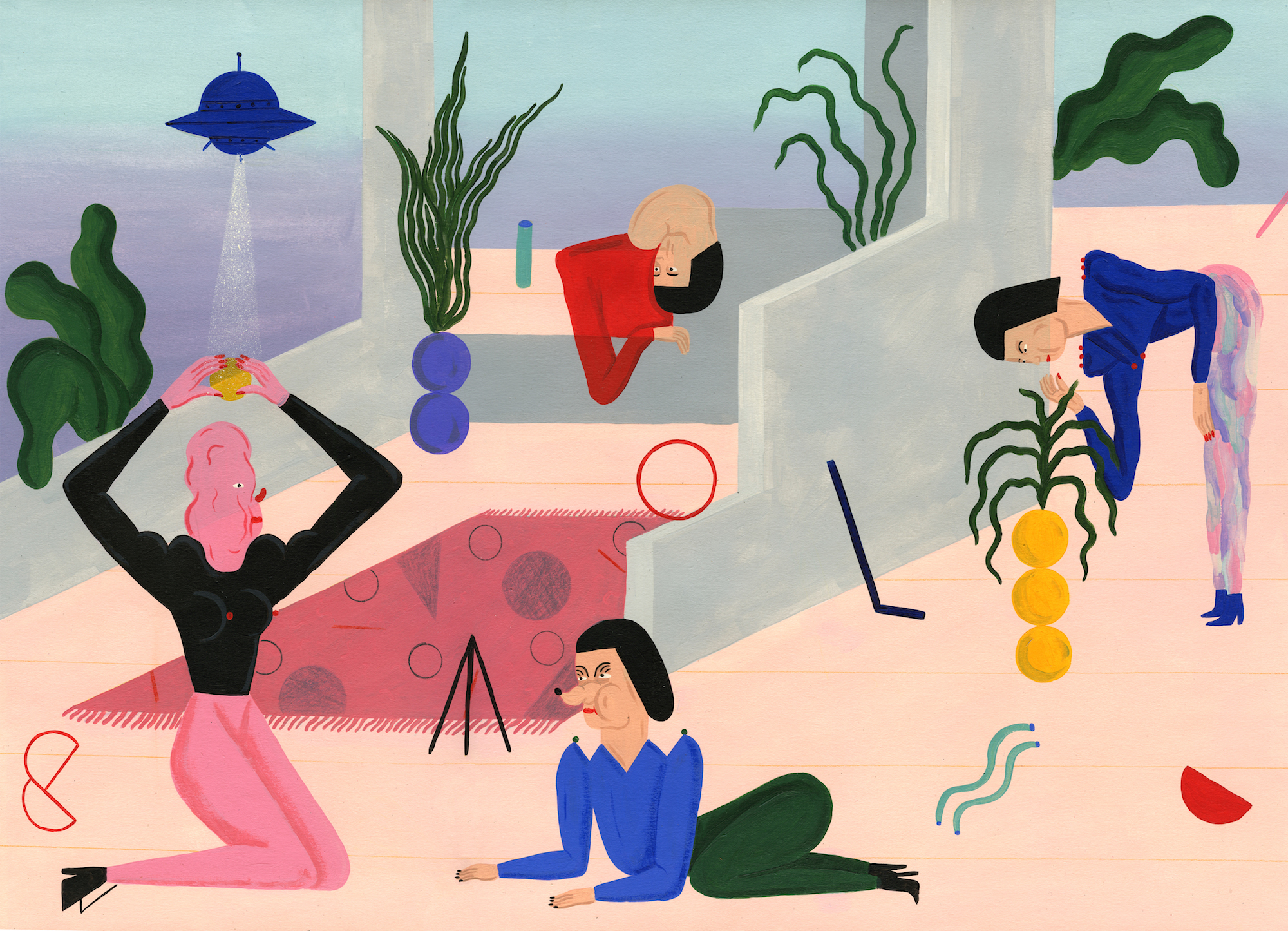 What has been your experience of living in Germany, and specifically Leipzig, having grown up in Bogota, Colombia? How has this influenced your work?
Coming to Germany was one of the best opportunities I've ever been given in my life. When I arrived here, I was able to see that you can actually make a living from your art and I decide to give it a try. Travelling so easily around Europe has given me the chance to get to know so many wonderful artists who have inspired me to show my work in many places.
After my studies in Germany, I wanted to go back to Colombia. I felt I could do so many things there with all the knowledge and experience I had gained abroad, but ultimately I fell in love and stayed here. I always try to keep in touch with my home country, but it hasn't been easy because of the distance. Unfortunately, the longer I am in Germany the more distant I feel from my country, but I have never stop feeling very proud of where I come from. Being Colombian gives me the chance to look at things very differently from the people that are around me, and I think you can see this in my work as well.
I've lived in Leipzig for almost four years, and it has been a great place for me to grow as an artist. It is a small but beautiful place where many different art scenes are developing. Great artists, specially painters and illustrators, live and work here. I am surrounded by these great people who I have been able to build a network with. I also love the size of Leipzig, I can travel everywhere by bike and it won't take longer than thirty minutes. I also love how green Leipzig is! This is the city where I want to stay.