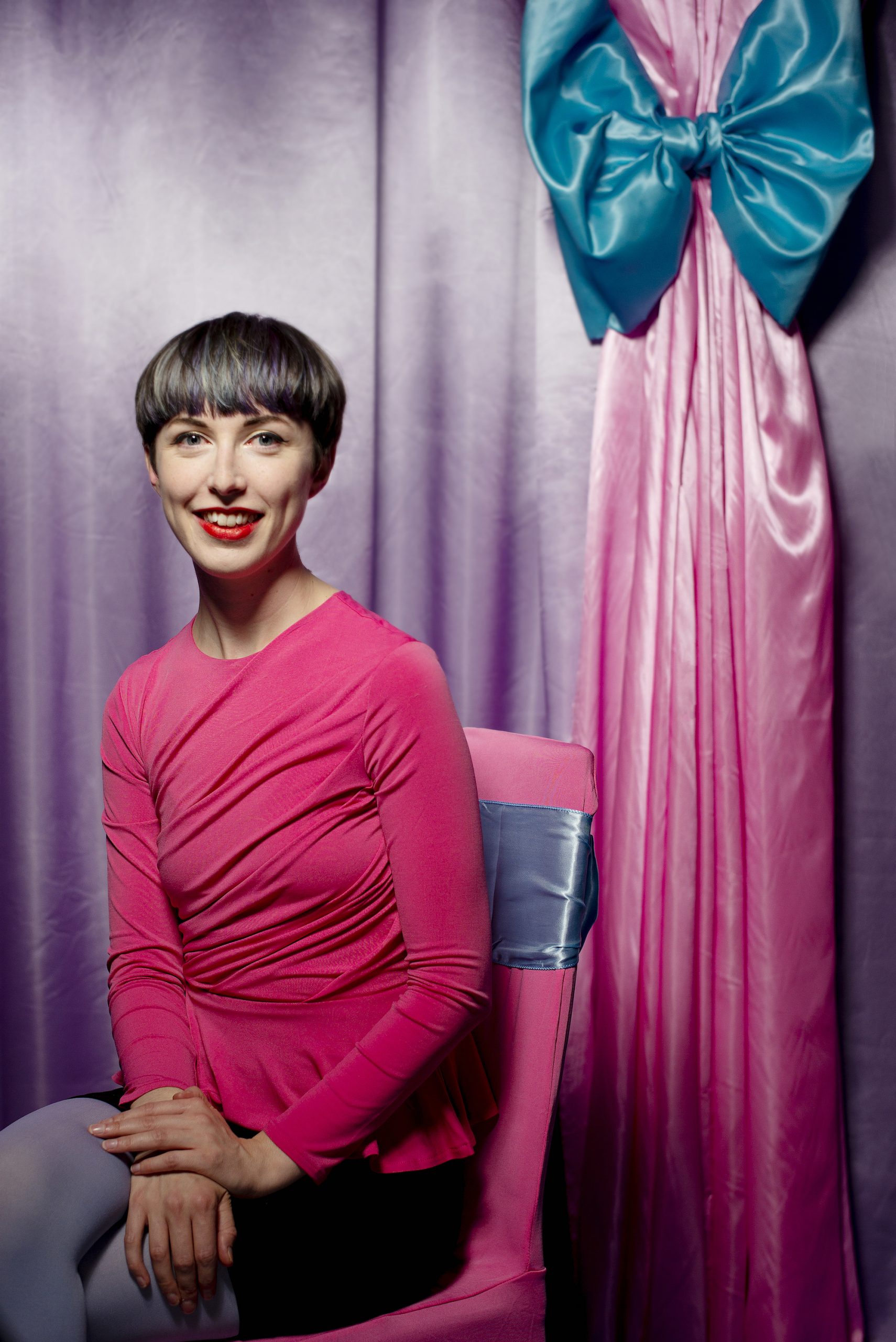 You walk into a Scottish wood. There's the hint of dappled sunlight on the forest floor playing against the pink paving slabs you are made to follow. You soon come to a toy shop, apparently abandoned, its walls covered with stacks of a single doll in 1990s packaging, thin laminate cover and font filling the rest of the space. But the room is upside down, chandelier on the floor. An animation plays, showing Mimi, a Disney-style princess, asking a mirror for reassurance about how cute she is. The mirror responds by seeking to change her via injections and implants. A grey, aged inversion of herself tries to escape from under her dress.
This warped fairyland is in fact an exhibition titled, upside mimi ᴉɯᴉɯ uʍop, by Scottish multimedia artist Rachel Maclean. Three years ago Maclean, 33, was invited by Jupiter Artland (a gallery and sculpture park four miles outside Edinburgh) to take part in a programme that would engage young people from around Scotland with her work. "They were tasked with thinking about how they would curate me, what themes they were interested in," Maclean says, "A lot of them talked about the idea of growing up in towns where the shops were closing, high streets with buildings boarded up."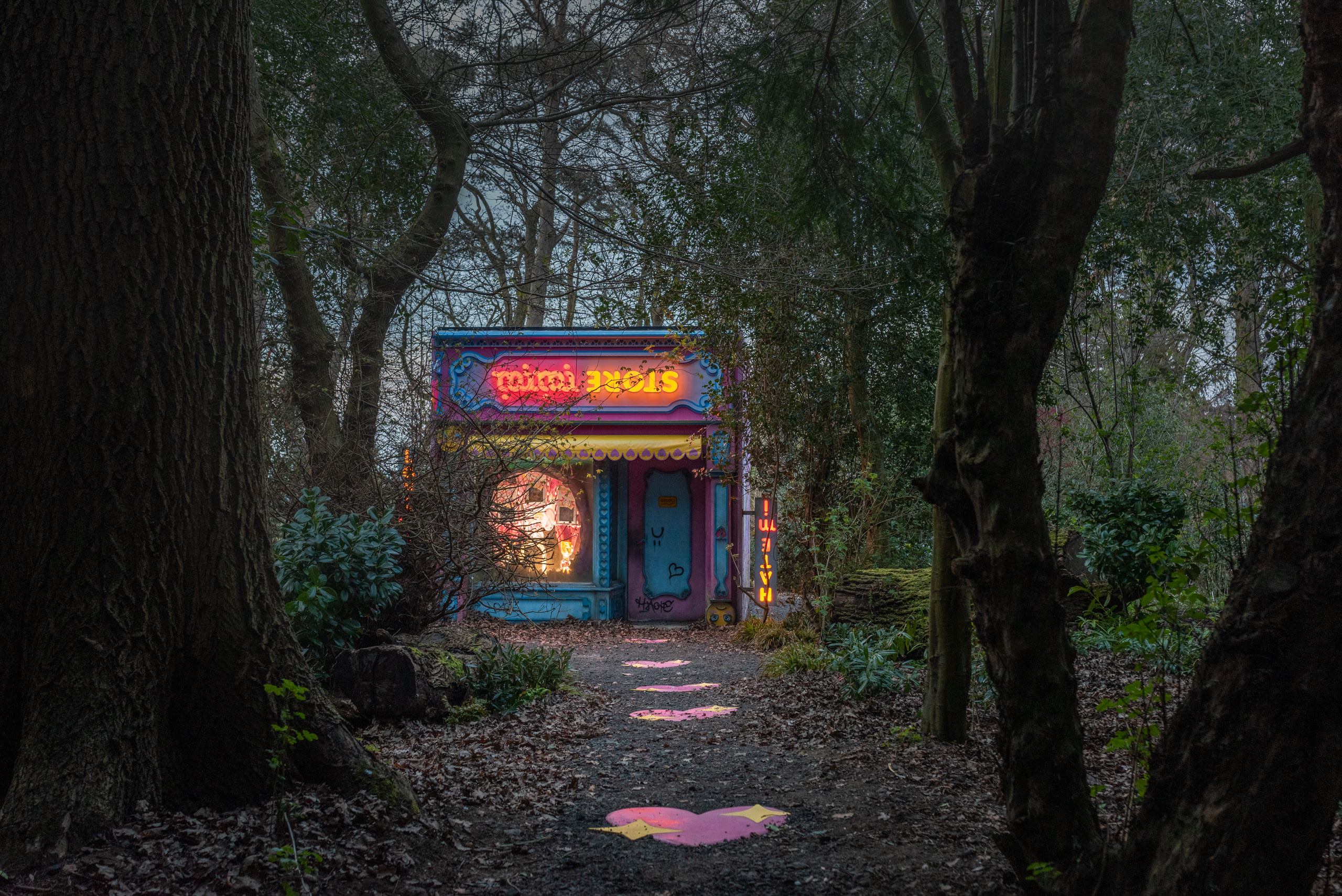 It's an eerie coincidence that this came long before the pandemic. "There was already the feeling of things shutting down," Maclean explains. "The 1990s, when I grew up, felt like a time of things being built. Psychologically it's a very different experience to feel like you're born into a high street that's already shut. I wanted to capture the feeling of something that you could tell was once new, but isn't anymore."
Maclean's attention to detail is meticulous. The shop was built to be pristine, then "degraded" consciously, with graffiti and dirty windows. Seeing it so worn when it displays the very contemporary visual marks of our own era, such as emojis, is unsettling. It's as if we are in the future looking back at the remains of our age gone to seed.
"A Disney-style princess asks a mirror for reassurance about how cute she is. The mirror responds with injections and implants"
Maclean's work bears similarities to Ed Atkins, Heather Phillipson and Ryan Trecartin: on the surface it is hyper-real and fluorescent, but behind the work's visual language of childhood bedrooms, sweetness and optimistic digital ephemera is a darker story that communicates political allegory. She is now the mother of an 18-month-old daughter who, she says, likes the Mimi animation. "Her granny got her a sticker-pack of characters and she pointed at them and said 'Mimi'. I found it interesting that she's maybe experiencing the satirical version of this thing as the original."
Rachel Maclean, Eyes 2 Me, 2015 (left); The Lion and the Unicorn, 2012 (right)
In Maclean's early pieces she played all the characters, wearing wigs and costumes and lip syncing to archive audio or voice actors. For Make Me Up (2018), an hour-long film screened on BBC4, she spoke in neon drag, miming the voice of the historian Kenneth Clark from the arts documentary Civilisation to congregations of robotic-seeming women, Siris and Alexas, who can't speak in their own voice. For The Lion and The Unicorn, also screened at Jupiter, she dressed up in royal Georgian get-up and animal heads. She vocalised Jeremy Paxman interviewing Alex Salmond about Scottish independence and bits from David Cameron speeches. Once again the work has only become more resonant over time.
Maclean isn't in her latest work, however. She has opted instead for total animation: something she'd been wanting to do for a while, and which Covid-19 made more expedient than shooting a live-action film. The resulting bright-edged graphics have the air of a video game such as Legend of Zelda.
"Behind the visual language of sweetness and optimistic digital ephemera is a darker story that communicates political allegory"
Maclean's work often seems to imply that we are both the consumer and the product. The magic mirror in her most recent animation plays the role of personal device, telling the user how to look, how to feel and what to desire. Works in her 2019 show, Too Cute! examined the inane content people share to reassure each other, while in a 2017 exhibition at Tate Britain WOT U 🙂 ABOUT? yellow-faced creatures posed with smartphones in an almost Rococo style, all Boucher-esque pink clouds and polystyrene coffee cups. In 2018, Maclean spent a month sleeping, eating and working in a Birmingham shopping centre for a residency. The subsequent Channel 4 documentary about the process revealed that a GPS tracker in her furry pink backpack was monitored by a security guard.
These works present a sceptical view of what shopping centres represent and how consumer capitalism operates, but it's hard not to see her most recent project as pondering what's left when people don't have the social spaces that shopping malls and arcades offer.
How does she feel now about these spaces? "There's a sadness to anything being closed," she says. "Even if when it was open you weren't on board. I do love shopping and buying things and spent a lot of my childhood in shopping centres. I understand the draw of that: that's the language that I'm working in. But shopping centres are only public spaces if you are likely to buy something. I don't know if the pandemic is going to make people more aware of needing genuinely public spaces. And genuine public services that aren't entirely about making you buy things." It's the complexity of that feeling that interests Maclean: "What happens when all that's gone and what do you replace it with?"
Well, what do you replace it with? Maclean laughs. "I can't tell you."
Rachel Maclean, upside mimi ᴉɯᴉɯ uʍop
Permanent display at Jupiter Artland, with a supporting exhibition of Maclean's work until July 18
VISIT WEBSITE