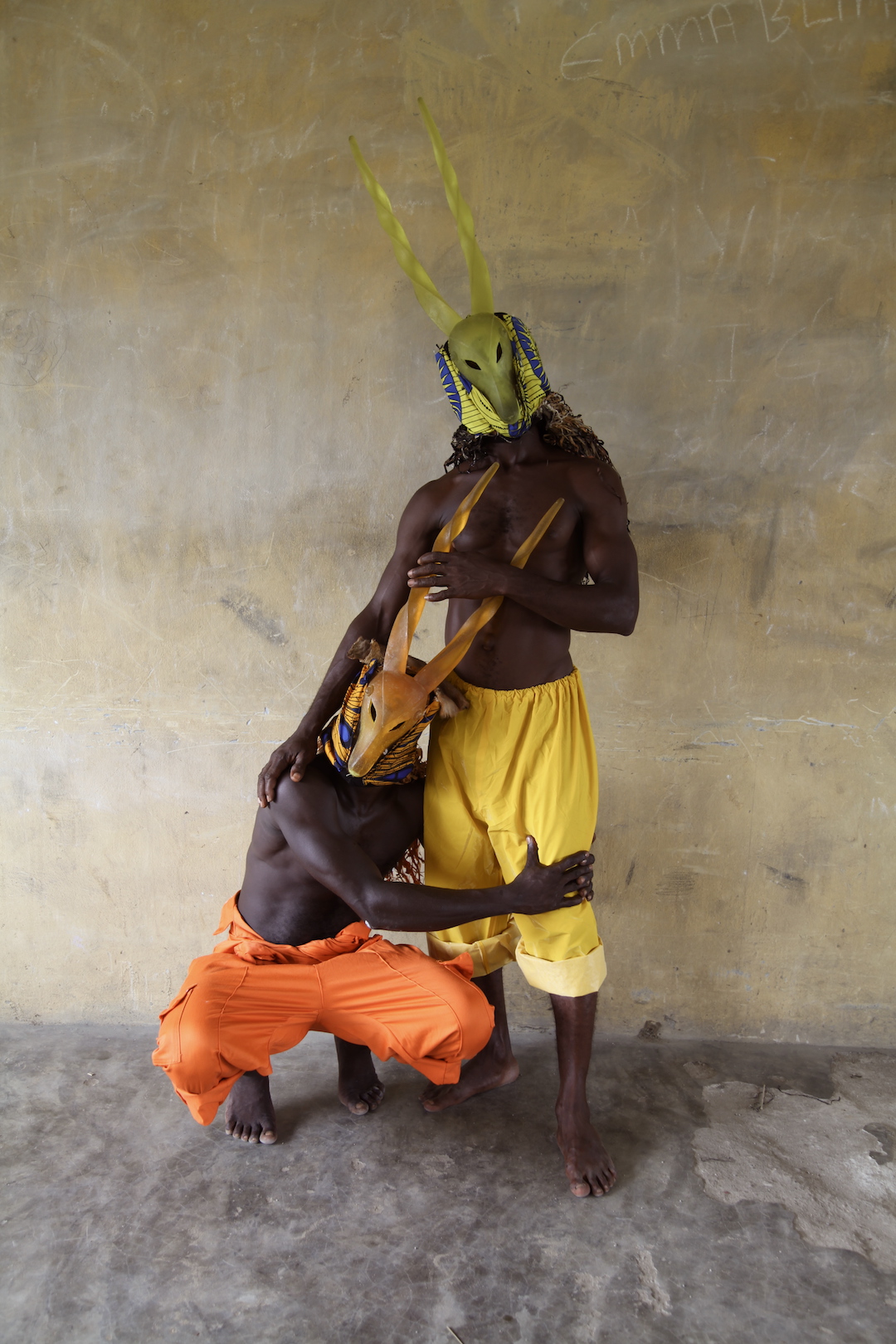 In 1995 Zina Saro-Wiwa's father, Ken Saro-Wiwa, was executed by the military dictatorship of General Sani Abacha, falsely accused of assassinating Ogoni leaders. Saro-Wiwa was a world-renowned environmental activist who lead major non-violent campaigns against the devastating damage caused by crude oil extraction in his native Ogoniland in the Niger Delta. At the time of her father's death, Zina was still at school in the UK. "His death is what turned me into an artist I would say," she tells me. Out of this travesty, Zina has brought hope with her art and her foundation and project space in Port Harcourt, where few foreign visitors land. Her work on the culture and traditions of the Niger Delta region is both a personal reconciliation and a journey of discovery, traveling deep into the place of her birth and challenging history as it is told and retold. A new solo exhibition opening at Tiwani Contemporary next week (her first in Europe) presents recent film and video works, including a five-channel installation, Karikpo Pipeline, shot in Ogoniland.
Can you tell me more about the title of your upcoming London solo exhibition, 
The Turquoise Meat Inside?
The Turquoise Meat Inside happens to be the title for the show but it is also a work in itself. It is a poem, a sculpture, an idea, a refrain, an agent. It encompasses so much about what I feel about the Niger Delta. It refers to a sea snail indigenous to the Niger Delta. It has a hard, dark brown, outer shell with a startling turquoise-coloured sea snail on the inside. The shells, called periwinkles, are sometimes used as building materials and are near sacred to some Niger Delta ethnic groups and the snails are eaten in soups and stews. I love that the unassuming outer shell hides this fantastic surprise on the inside. But I also love that the outer shell is so strong and on closer inspection its texture is so intricate and beautiful. It is a lesson in how we approach a difficult region like the Niger Delta. My brother once told me my father said to him that our gifts were all to be found in this region if you invest in it. I have found this to be true from an art perspective. So the periwinkle is a recurring motif in my work that comes and goes in different ways. Once I filled a gallery floor with them and placed TV monitors on top. There are no actual periwinkle shells physically in this particular London show but the title infuses the show with this motif and this text will appear again in further works.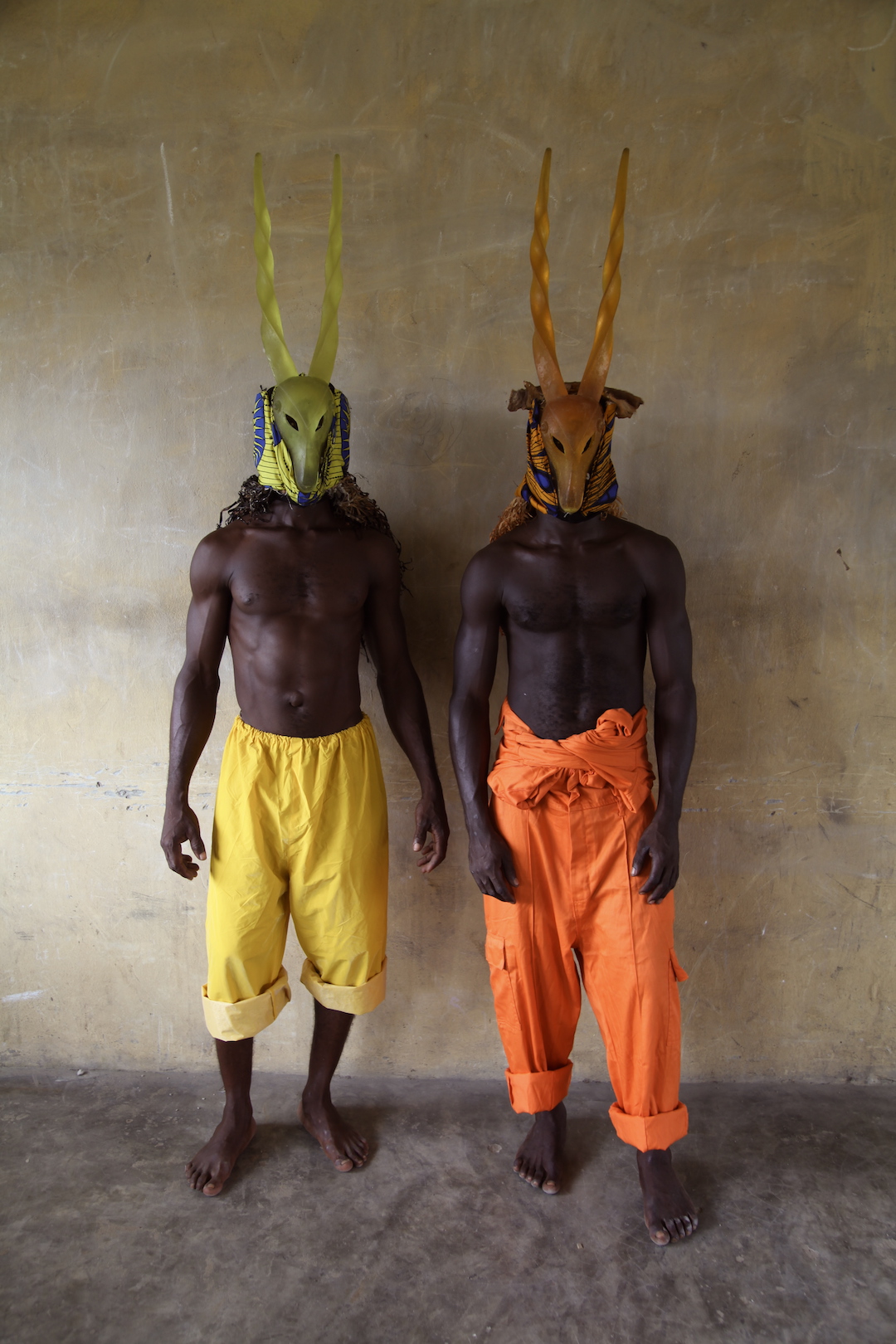 Your father Ken has, I imagine, influenced your work to quite an extent. What was it like growing up with an activist father? 
His death is what turned me into an artist I would say. His death has affected how I have moved in the world. Growing up he was away in Nigeria a lot and we were at boarding school in the UK so there was not this day-to-day exposure to him though he had an incredible power over our everyday lives and had a potent personality. But what happened is an injustice that I don't think will ever be fully corrected. The death lodged something in me and it is not a matter of removing it. It is more like a seed that has its own biology. The seed lodged in me has grown into an entity that interrogates environmentalism. It digs into invisible ecosystems and attempts to drag them to the surface of the conversation about environmentalism. It asks questions about the nature of memory and it uses food as a strategy to uncover and redefine relationships between self and environment in the region. So I have been coming up with my own strategies to begin the work of straightening out the imbalances and injustices of the region. But it does not come from a surface or political place. It does not look like what came before me. We have deep work to do.
Using art to propose change seems to be crucial to you in your wider practice. Can you tell me more about how you came to establish Boys' Quarters Project Space, and Mangrove Arts Foundation, and the work you've been doing there? 
Art is the language that is available to me to reframe my relationship with the Niger Delta and it can be a similar tool for other artists. Before I made art my only way of understanding the region was through a political and activist lens which did not take me far. This is why I established the gallery, to assist with transforming the storytelling in the region. To give a platform for locally-made art that is not market driven and is more conceptual and also to expose local people to international art practices. Few people from outside Nigeria visit Port Harcourt because there is not much going on and it is seen as dangerous. Lagos and Abuja are the main draw. So it is my pleasure to bring the work of artists such as John Akomfrah, Allora & Calzadilla and Kader Attia to the Niger Delta. Mangrove Arts Foundation is my new foundation and exists to support Boys' Quarters Project Space but also to support and expand art making in rural areas. So we are looking at the incredible mask-making traditions or ceramic-making and finding ways for them to find contemporary resonances and markets. I feel that the act of making a work of art has powerful consequences in terms of binding us to our environment and connecting us with our history and sense of self. It's a way of forging an identity in the Niger Delta that isn't based on loss, violence and despair but rather creativity and strength.
"I make food to tell stories," you have said. I'm fascinated by this—how food can connect cultures and carry so much about heritage and history. I have some colonial recipe books once used by my Sri Lankan grandmother, including things like how to prepare cucumber sandwiches. They speak so much about heritage and history, and colonialism in Sri Lanka—as well as the traditional dishes she used to prepare, like string hoppers and chicken curry. Can you tell me more about your part-recipe book, Did You Know We Taught Them How to Dance?, and how food has become a fundamental part of your work in general?
Did You Know We Taught Them How to Dance? is my first ever monograph and almost on a whim I decided to put some recipes in the back of the book. Food always insists on inserting itself into my work. If I leave it out, it finds its way in. Writing the recipes allowed me to express myself in a nuanced fashion and say something about my childhood and my feelings about my relationship to the land. Also, I think that in the Niger Delta we don't have much control over what comes out of the ground when it comes to petroleum, but with agriculture there is a greater measure of control. So I think this is why it attracts me. I see more opportunity for freedom, self-expression and growth through food. But just generally there is something mysterious about the act of growing, preparing and eating food that we take for granted. I explore the mystery of it in my work.
Your work is very much rooted in the Niger Delta, in its geography, people and culture. What makes this region so special? 
This region of Nigeria is mysterious still in many ways. It is known mainly for oil, violence, pollution and corruption but it has a rich history and culture that is not explicit and is not always on the surface. Entering into this space as an artist is exciting for this reason. There is so much potential work to be made out there. So much history and culture to uncover. The region is very different from somewhere like Lagos which feels very cosmopolitan and always has been. A lot of the cultural stories that come out of Lagos feel part of an "Afropolitan" worldview. There is something very old-school Nigerian about the Niger Delta. It feels highly indigenous and unique. A bit dangerous. Fertile territory for image-making and meaning-making. The fact that I was born there also make is special to me. This is an opportunity for self-discovery.
Zina Saro-Wiwa, The Turquoise Meat Inside
From 13 September to 27 October at Tiwani Contemporary, London
VISIT WEBSITE