In recent years, Stuart Semple has perhaps been best known for his hilarious spat with Anish Kapoor in response to the latter's purchase of exclusive artistic rights to the "world's blackest material", Vantablack, in 2016. Semple's response? To release "the world's pinkest pink"; available to buy to everyone, except Kapoor. "We all remember kids at school who wouldn't share their colouring pencils, but then they ended up on their own with no friends," Semple said. "It's cool, Anish can have his black. But the rest of us will be playing with the rainbow!" Those purchasing the pigment had to make a legal declaration at the online checkout confirming that "you are not Anish Kapoor, you are in no way affiliated to Anish Kapoor, you are not purchasing this item on behalf of Anish Kapoor or an associate of Anish Kapoor. To the best of your knowledge, information and belief this paint will not make its way into that hands of Anish Kapoor."
However, throughout his oeuvre there's a hell of a lot more than paint peeves. Semple's themes often relate to ideas around happiness, mental health and music; and it doesn't take Columbo to figure out just how vital music is to painter his life and art. His pantings have often been known to directly include lyrics taken directly from tracks; many works are named after songs; and in the past he's collaborated directly with the band Subliminal Girls to release a "concept single" limited-edition box set that sold for £1410, was shown at a number of galleries across the world.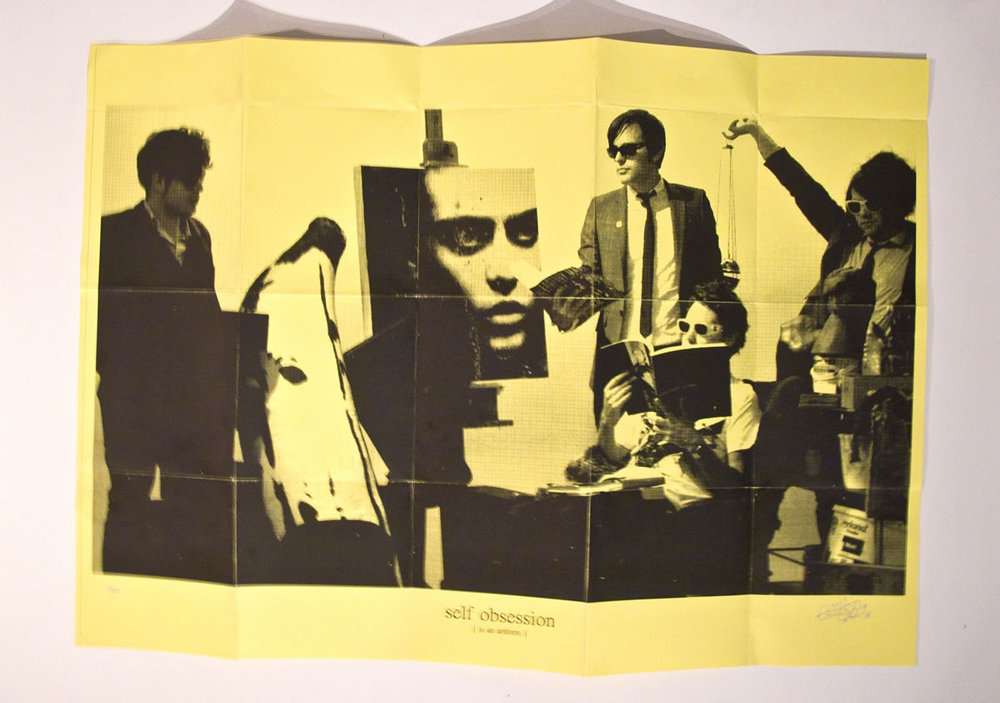 Semple is currently showing his work from the past twenty years in a show—fittingly, titled Dancing on My Own: Selected Works 1999-2019—at Bermondsey Project Space in London, exhibiting paintings, sculptures, digital pieces and moving image work including his well-known pieces like Happy Cloud, the "Kapoor Art War" and Pounding Outside Poundland alongside lesser-known paintings, sculptures, Internet works, film pieces and early drawings, many of which have never been seen before. Here, Semple shares a few of his favourite tracks, and explains why music and painting are inextricably linked for him.
"Music can really influence the way I make gestures. It sounds weird, but there's a way that the emotion of a song can come through into a painting"
"I use music in quite a specific way, so I find that when I'm painting it can really influence the way I make gestures. It sounds weird, but there's a way that the emotion of a song can come through into a painting. I think if I'm totally honest, when I was a kid I dreamed of being a rockstar—but sadly I have no musical skill at all, so I've had an idea for a while about making paintings that work more like songs. Weirdly my process of making paintings is so much like songwriting. I compose the paintings in my home studio on my computer and in my sketchbook. Once they are ready and I like them I will take them into the studio and almost 'record' them. I do think about them in terms of layers and sounds."
"I really like lyrics, so I have a big blackboard in the studio, and I will have music on and every now and then I'll run over and write a phrase on the blackboard—often these start the initial idea of paintings. Often the paintings are named after songs. When I was growing up on the south coast of England, most of the art I saw was on album covers and the poetry I found was lyrics, so it's kind of in everything I do." 
"Musicians are people I admire a lot because their work is direct: music seems to hit me emotionally more than paintings do, and I've always wished paintings could do that. I'm obsessed with documentaries and biographies on musicians and how they work. I think the biggest impact it had was that I could identify with music like grunge and the Smiths and stuff. Being a bit of an arty loner in a small town, it just made me feel that how I felt wasn't weird."
"When I was growing up on the south coast of England, most of the art I saw was on album covers and the poetry I found was lyrics, so it's kind of in everything I do"
"Bowie's Starman is one of my first memories of music. I literally remember being about six or seven and playing it non-stop, and looking out the widow waiting to see if I could see a spaceship. Then when I was eight, for my birthday I got this bright red ghetto blaster and it just opened my mind. Radio came into my life and I'd be glued to the chart show every week doing the cliche tape recording and pressing pause between the songs, then playing that thing non-stop all week. I remember hearing Placebo for the first time and just feeling electrified. I suppose my teenage years were interesting musically because there was so much going on at the same time: hip hop was interesting, rave was real and then Britpop was amazing. I was pretty much unhealthily obsessed with Blur and Pulp. I probably still am!"
Stuart Semple, Dancing On My Own: Selected Works 1999 – 2019
Until 7 September at Bermondsey Project Space, London
VISIT WEBSITE