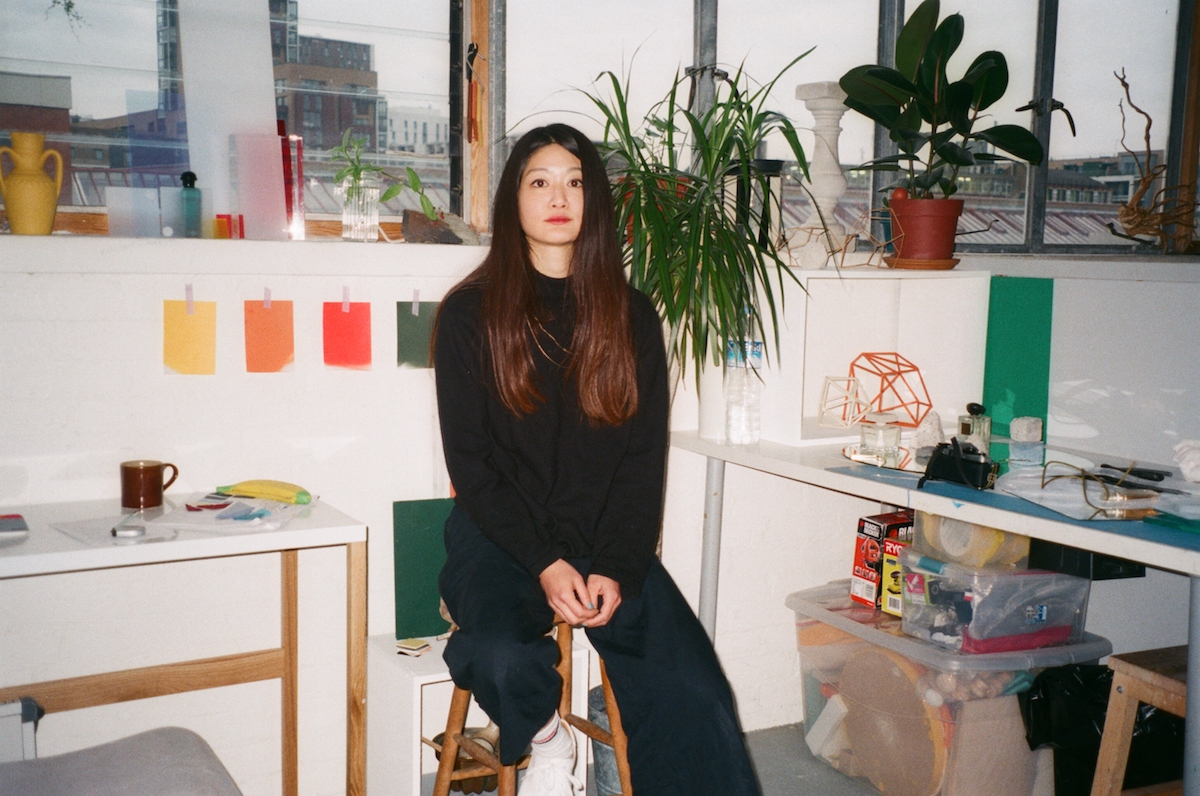 If you've been travelling on the London underground in the past few months, you're likely to have noticed the striking yellow and blue of the advertisements for the Wellcome Collection's current exhibition, Ayurvedic Man: Encounters with Indian Medicine. Yoshino was one of the pairs of eyes behind this elegant image. She has worked with a number of brands and institutions, such as Lacoste, Manolo Blahnik and Selfridges on projects for print, online and installation, and the images she creates always seem to have a sense of serenity. I visited the artist in her studio overlooking the bustling Ridley Road Market.
So you're an art director, set designer and prop stylist. Can you tell me a little about what that means?
I look after all the aspects within an environment for photoshoots and displays, starting from the development of the concept, art directing, curating a selection of materials and props to more hands-on tasks such as the building and crafting of the set. It's a funny job because in one way, it is super creative and imaginative but it also has a strong production aspect, involving a lot of planning and logistic management. I constantly find myself going back and forth between the different parts of the brain.
How did you get in to set designing and styling?
I was a fine art graduate and for a few years I was working in museums and galleries, until one day my friend asked if I could cover her, she was assisting a freelance set designer. I thought "Okay yeah, that sounds interesting", and it was a photo shoot of a kids' brand. They were making a giant book out of paper that children could sleep in, and it was so fun I fell in love with the job that day. I didn't even know this job actually existed until that day, but I was always wondering who makes these amazing Selfridges windows, and these amazing worlds in fashion magazines. I landed on it by accident.
So after you did a fine art degree, how did you make that transition into the design world? Or do you think it's not so separate?
Interesting topic. I know in the west there is a strong division between art and craft, and craft being about design. But in Japan, traditionally there was no distinction between art and craft, or design, and I come strongly from that background, so it was a struggle in university when I did a fine art degree. What I think the institute wanted was art for art's sake, whereas I naturally don't have the division between art and craft. I didn't feel what I wanted to do fit in with what was accepted as fine art practice in western art school. I tried to challenge the boundary of what's just pleasing to the eyes, almost the biological meaning of the art. What does the pleasant picture do to you, psychologically? Where does that strong feeling come from? I felt those kinds of things were the essence of the art that I liked and wanted to do. I tried to carry on practising more traditional art and illustration, and teachers didn't like it. I can totally understand their point of view as well, especially now that I'm older, but I couldn't stop wondering about the purpose of art, almost in the neuroscientific level: what it does to our brain when we encounter art that moves us. From this question I got into installation art during university, creating environments to experience. Now I think my job is really in between, which is perfect, it's something I believe in.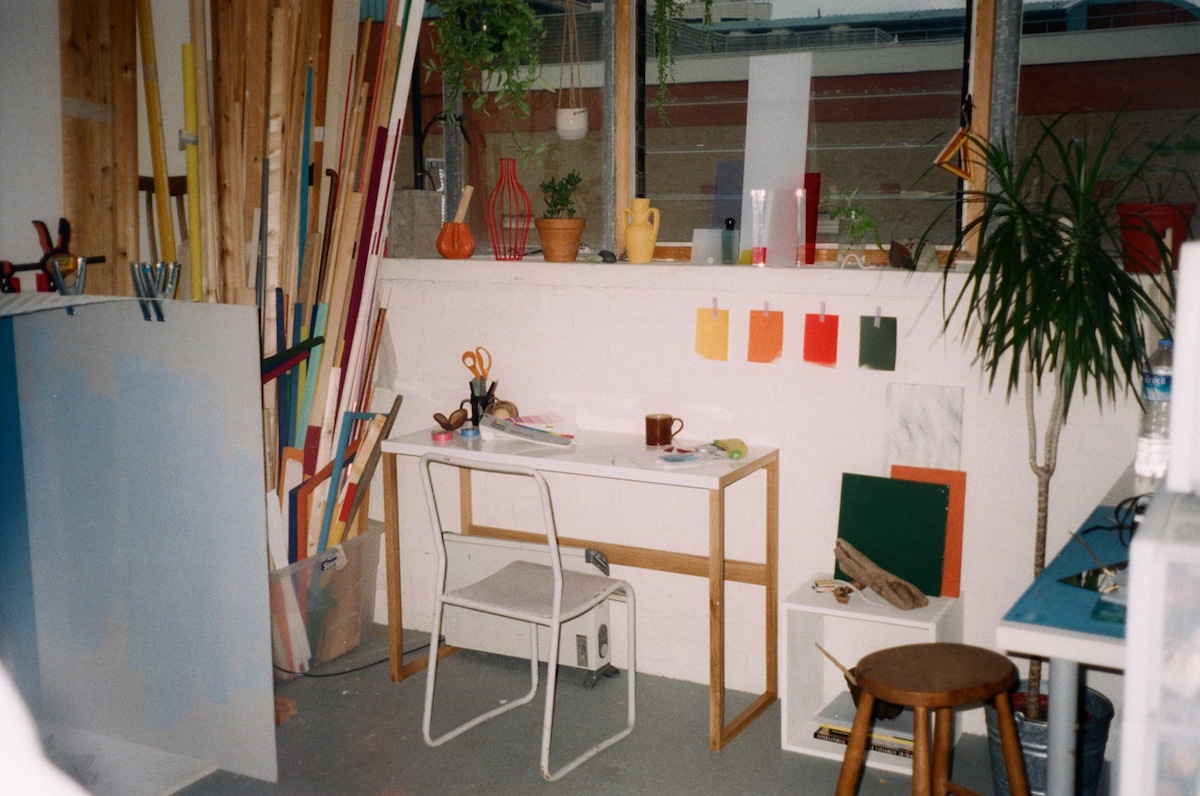 What's your favourite kind of project to work on?
I enjoy still life shoots more than anything. I've been obsessed with "things" since I was little so it is a joy for me to think of different interpretations and visual play with the objects. Out of all the processes involved in my job, styling is the most fun. It's almost like the cherry on a cake after all the planning and production process. Things look surprisingly different just with one-millimetre angle difference in the camera and I love the time I get to work with this chemistry.  It's fulfilling when I feel like I've found the right expressions for each object.
"The way I find inspiration, it's almost like a game for me."
Can you tell me about any projects you've been working on recently?
Recently we shot for Wired magazine with photographer James Day and art director Gem Fletcher. The image hasn't come out yet but I'm looking forward to seeing it released. It was a still life series of iconic products of Dieter Rams from the museum archive. We really wanted the set to be something special to reflect the spirit of Rams. I had loads of fun planning this project, and it was nice that we allowed time for experiments. The trial and error process is so precious, it's the part I enjoy the most as a maker. It was also great that I got back into the joy of painting through this project, so the production process was much more tranquil than usual and I loved it.
You have an amazing place here on Ridley Road. How long have you been here?
About six years. I can talk a lot about Ridley Road, I really love it. I get a lot of inspiration from this road because it's so lively and has the special energy that is hard to find anywhere else. It's a fruit and veg market every day, full of sound, music, smell and such a mixture of cultures. It feels like time passes a bit differently here. Whenever I walk around I find something really interesting, usually they are different forms of rubbish but I often find them beautiful. The colours of this street are more like Africa, it's so strong. Part of my aesthetic is developed from here. When I walk around here, I've realized, with my eyes I crop things out from mundane, ordinary rubbish, whatever…
Like a scanner?
Yeah, or a scavenger! Curiosity and appreciation is my drive, I feel everything around us can be turned into something inspiring. The way I find inspiration, it's almost like a game for me. I realized a pattern in me this summer actually. I'm still playing this game, this school assignment I had when I was in primary school in Japan. It was a voluntary assignment called I Found It which was like a picture diary of whatever you find each day. You could write as much or as little as you wanted. I used to love it so much, every morning going to school I could already write ten things, and I'd find it so fascinating, describing the details of the things, even if it's the same as yesterday, there's something different to describe. I still work in that way. I carry on finding things, feeling fresh about it, getting excited.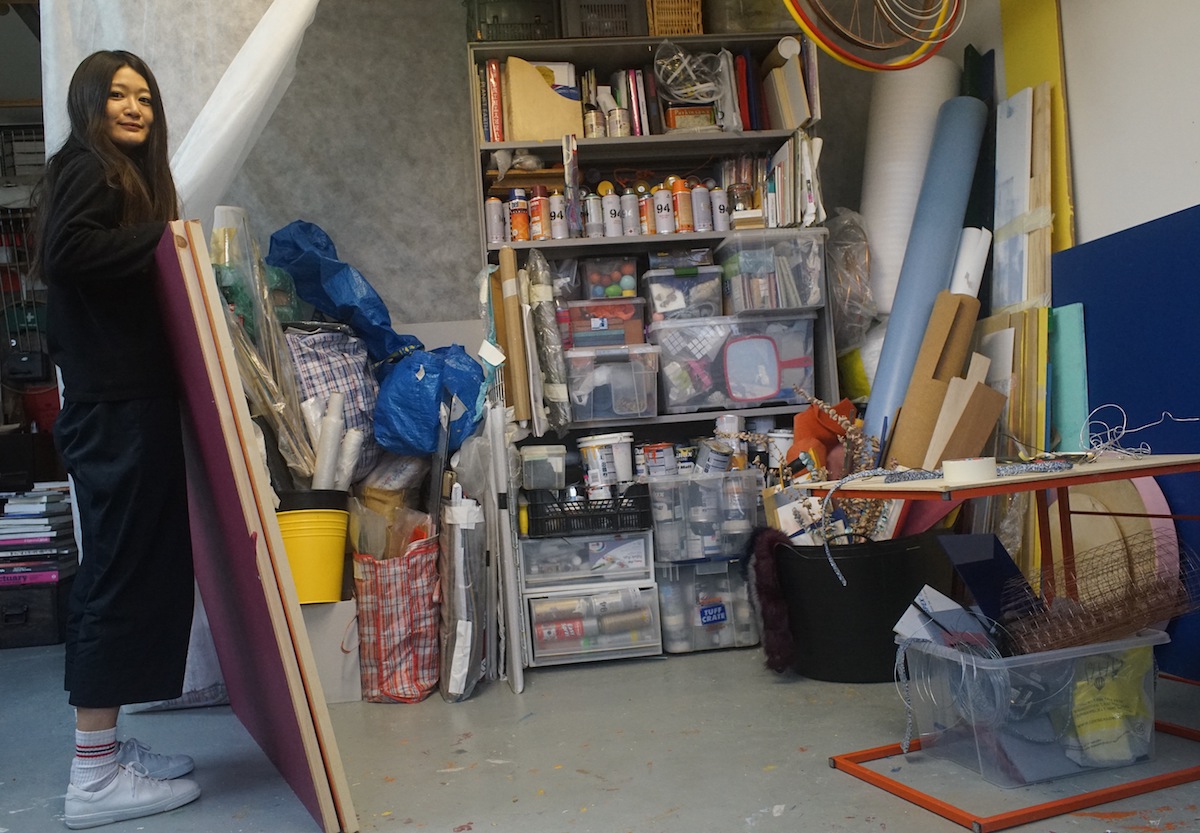 Do you keep quite a lot of stuff in sketchbooks?
No, I don't actually, because I have too many ideas. I write on a fresh piece of paper. I write and write and write, and I go through my ideas and then I chuck most of them. If I kept them as a book, I'd need millions of pages! Each idea is not precious, I just want to let it out and then go from there. Most of the ideas are rubbish.
"I believe a lot in spontaneous magic, a lot of times when things are placed without any intentions they look most beautiful."
What do you feel is the most rewarding and most difficult part of freelance work?
Maybe it's two sides of the same coin: the freedom and the insecurity. It's really rewarding that we can be instinctive about what we want to do creatively, and you get to work with so many amazing people.  But obviously, we have no security.
Sometimes I get frustrated with my own limitations. Being the set designer, I'd have to rely on other people's vision to produce the final artwork as photographs. So there can be a gap between the idea and execution. As much as I love collaborating, not having the means to complete my own creativity can get me feeling lost about my own vision.
I had a phase where I focussed on learning to adapt my skills to what was required. It was really important that I developed drawers of versatile skills to be able to understand and cater for a variety of aesthetics. But after a while, I realized what it also does. Since then, I've been more careful to understand my own creative vision and keep practising and experimenting more with the making, which is the root of my creativity.
Could you describe your aesthetic?
You might laugh, but there is some sort of zen at the core of my aesthetics.
When you start a project, do you have an idea and do a lot of planning, or do you go straight into arranging spaces?
It happens both ways. I believe a lot in spontaneous magic, a lot of times when things are placed without any intentions they look most beautiful. So I always try not to over style or over think it. When I don't know what to do, I bring everything in and see it in the shot, and then subtract everything that's not necessary, because things just look so different to the eyes than in the photograph.
Are there any particular objects, that if you're stuck with a project, you'd bring it in and try it out?
One of them is my most favourite stone. It's almost like my protection. I always bring it in, but I never use it. There are a few objects like that, where I just like it, and it makes me feel safe to have it, even though I know it's not going to be used, it's just for the feeling.
Photography © Bar Alon.