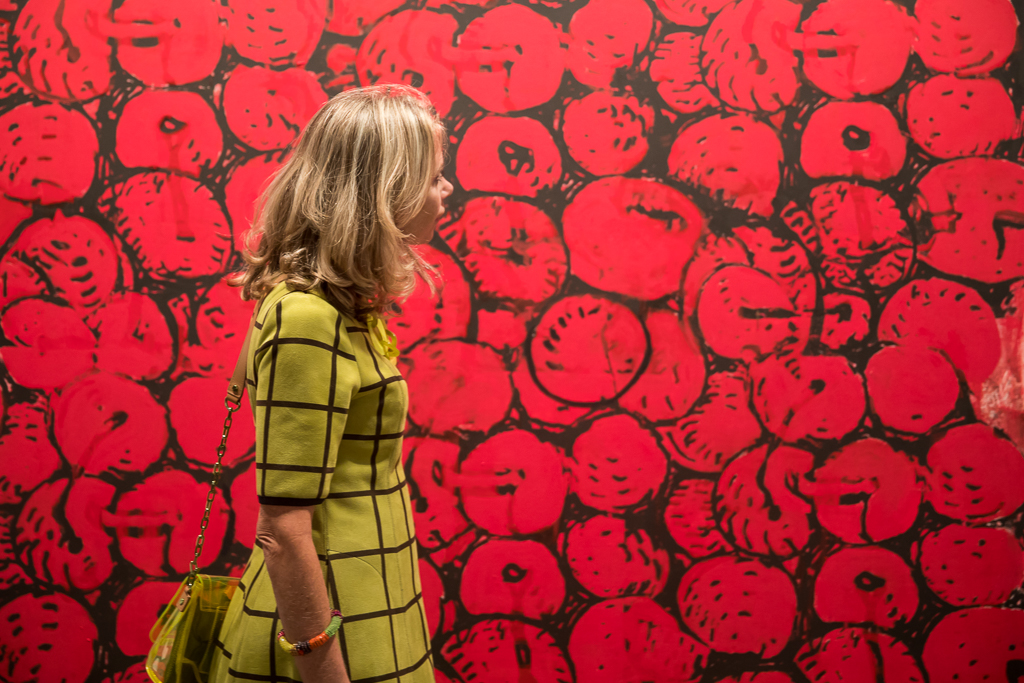 Fall has breathed its first gentle sigh upon the Windy City, and yet there is something exotic about Expo Chicago. The Midwestern art fair has opted for a vibrant display of bright, flashy colour. The tone is set (quite literally) by Derrick Adams with Rhona Hoffman Gallery—his Floater 76 features a black woman lying on a California-eqsue pink flamingo buoy—and Tony Tasset at Kavi Gupta Gallery—his rainbow-tainted Mood Sculpture reminds me of Ugo Rondinone's Miami Mountain which currently sits in front of the Bass Museum, but with smileys instead of rocks. Summer lingers on at Navy Pier, where Expo successfully returned in 2016 under the aegis of Tony Karman.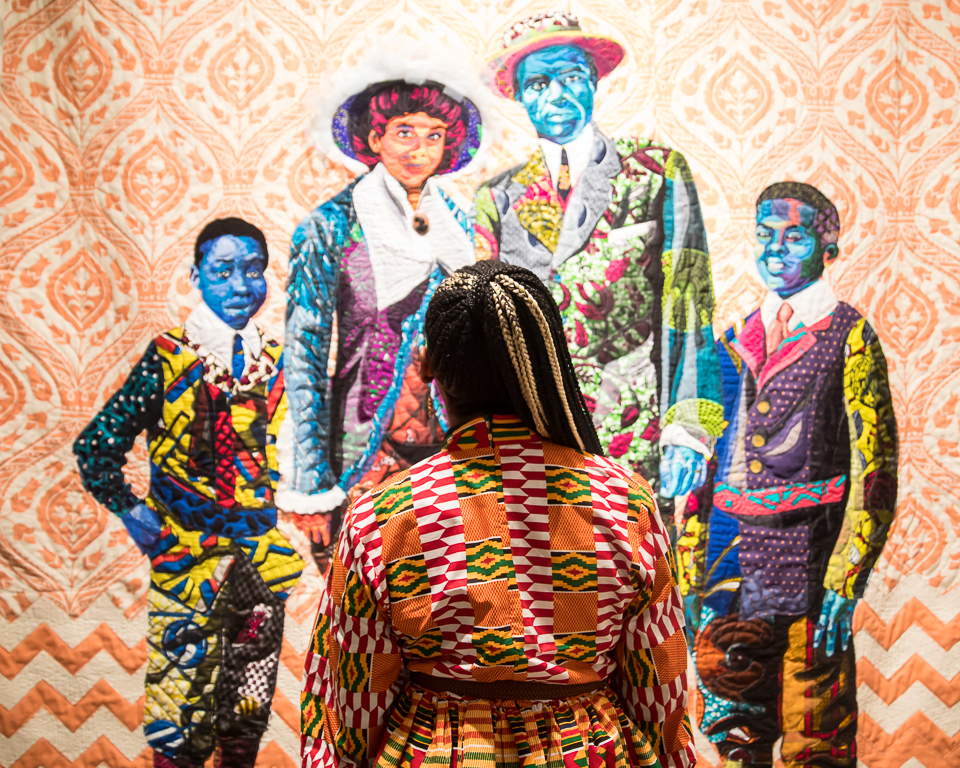 Speaking of whom… No sooner had the galleries opened than the president of the fair was announcing a partnership with Snarkitecture, which will result in the presentation of an immersive installation called The Beach at next year's fair. Iván Navarro's in-situ work at the entrance seems to echo this announcement, although what looked like a glowing pool chair at first, turns out to be a piece of the artist's Metallic Arm Chairs series.
Adjacent to this deceptive design is Muro, a brick wall which leads the way for the wide range of sculptures which are spread throughout the exhibition hall. This massive block was made by Bosco Sodi, who describes his creative process as "controlled chaos", often utilizing raw materials and vivid pigments. His name emerges again a little further into the fair at Kasmin Gallery's booth, which includes one of his famous tower-like pieces made of clay cubes.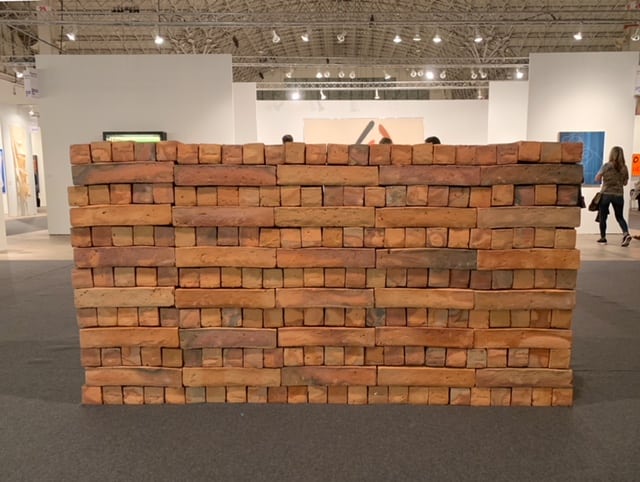 The New-York-based gallery is also showing fabric-made compositions, including one variation of Naama Tsabar's Work on Felt, which fits with the irrefutable materiality of Expo's display as a whole, although this particular ongoing series actually has more to do with hearing—the gazer is invited to pluck the strings on it to create sound—than touch.
This leads us to the Praz Delavallade booth, which features a giant black glove sprinkled with various hues of paint. There are numerous other textiles which are presented simply, as they are. Take Big Mr. Elephant by Margaret Honda at Grice Bench. This installation consists of a tall white board covered with two checked cotton and silk sheets, which looks as though it could have landed quite naturally from a fed-up spring cleaner wrapping up their chores.
Fabric keeps threading its way through Expo. Turiya Magadlela, whose works can be seen at Jenkins Johnson Gallery's booth, is famous for pinning nylon pantyhose onto blank canvases—stockings represent all the unheard women who have been subject to abuse, a subject which is highly present in the US right now for obvious reasons. Hank Willis Thomas's compositions look far more comfortable—his duvet-based patchwork with a reproduction of Matisse's Icarus on it is shown with Maruani Mercier Gallery.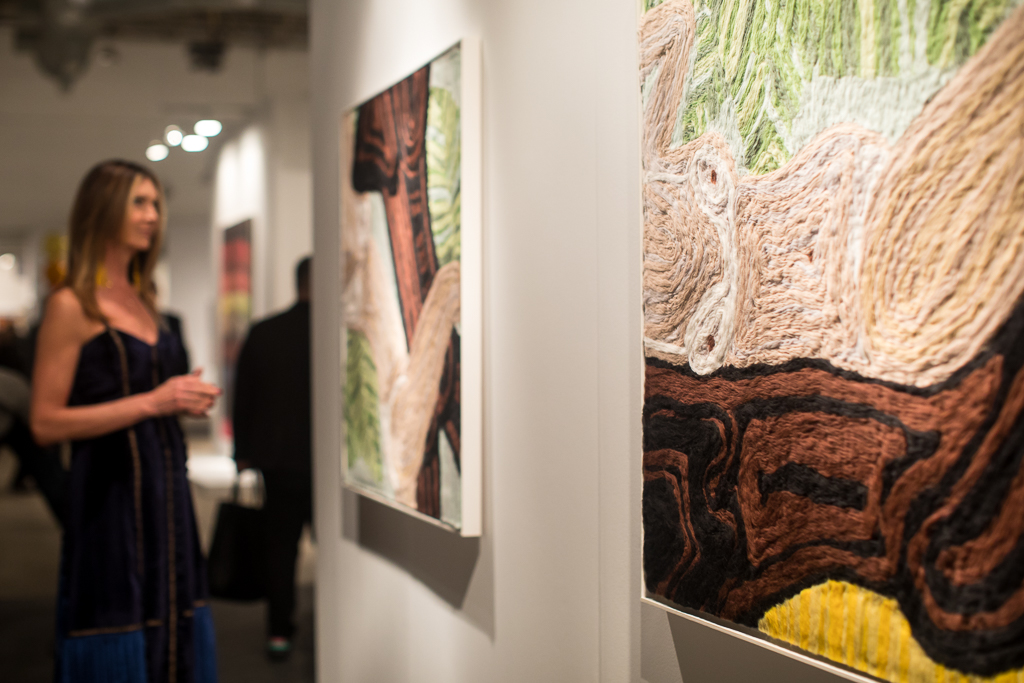 Other tributes are worth mentioning in passing. Given my French roots, I could not help but notice Liu Bolin's Hiding in the City at Edwynn Houk Gallery. This print was inspired by Eugene Delacroix's Liberty Leading the People. Similarly, Vik Muniz's Apples, Peaches, Pears and Grapes was made explicitly made "After Cezanne". As for The Practice, Take One by Dutch artist Folkert de Jong with Marc Straus, it resembles Degas's Little Dancer of Fourteen Years Old, except that the former sculpture is made of wood and wears a skirt in pigmented polyurethane.
There are also numerous garment-oriented pieces. Esmaa Mohamoud's One of the Boys, showing with Georgia Sherman Projets, could be the work of a fashion designer. Who would not want to try on this Chicago Bulls jersey extended by a scarlet pannier? Although I am more of a tennis and baseball fan myself. In Faltenwurf (Oliv), a photograph by Wolfgang Tillmans which is showing with David Zwirner Gallery, a pair of pants are seen drying off on a heater. While some artists include clothes in their works, others try to convey the impression of fabric through their technique. For Aesyle, Dan Colen had a page from a clothing catalogue enlarged just to be able to paint over it. The picture shows a pile of folded sweaters, which symbolizes the transition of this usually non-materialist artist into adulthood. James Cohan Antonio Santín's oil on canvas Coral Greed, shown with Marc Straus, looks like a creased Provençal tablecloth.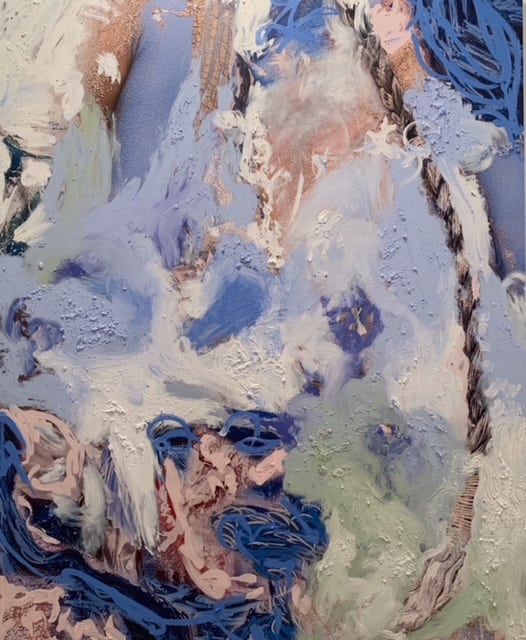 More than textile, Expo is about texture. Some paintings show rare density. Known for slow-paced, body-focused performances, Donna Huanca places the body at the centre of her work. And it's true there is something organic about her Yveando, one of Peres Projects' picks. This oil on canvas really seems to have a body, a skin, a life of its own. Darrell Roberts's Open Window at McCormick Gallery is marked by even broader brushstrokes, the palpable flow of which conjure the image of a tumultuous flamboyant sea.
Abstract geometry thrives in a great deal of the works, whether they are two- or three-dimensional. Ben Tinsley's Pipe Dream at McCormick Gallery, Federico Herrero's Parlante at James Cohan and Franz Ackerman's Going Nowhere at Templon, for instance, are powerful graphic compositions which do not fail to catch the eye. Though somehow symmetrical, Katsumi Nakai's series of acrylics on plywood at Ronchini Gallery defies description. Holton Rower's psychedelic paintings at The Hole are shaped like oysters, whereas Miguel Florida has lent the mollusk's colour to a diamond-cut monochrome called Our Bond.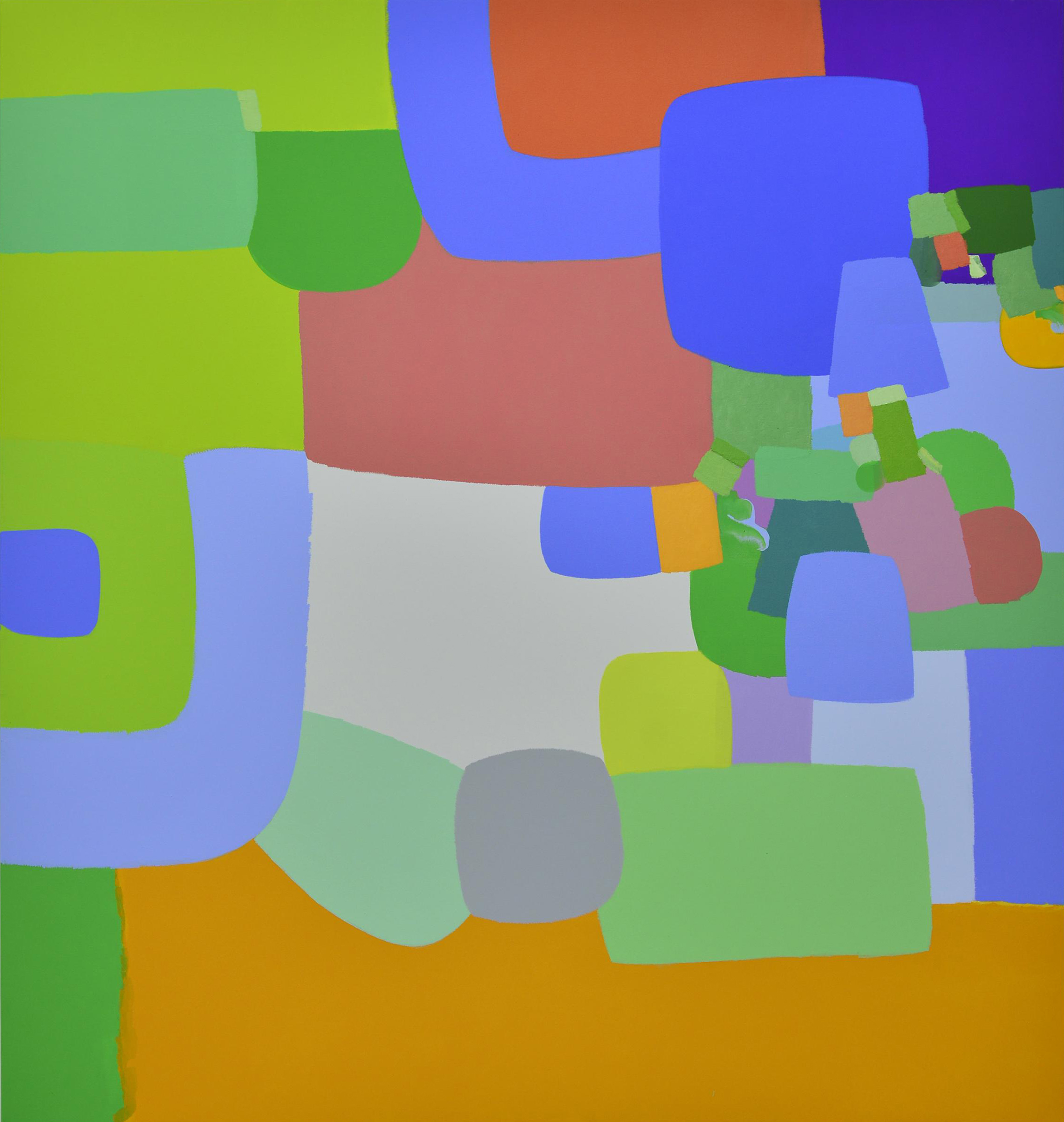 And materiality is matched by verticality. We are in the United States, the county of skyscrapers, after all. While a majority of sculptures stretch up to the sky, numerous paintings appear on long, rather than large, canvases. Brian Wills's Tomato Red, Blue, Turquoise, Lime Green and Yellow and Helen Frankenthaler's Mirror are cases in point. A relatively small version of Laura Asia in White by Jaume Plensa almost meets the ceiling. John Storr's Study in Form No. 1 from Richard Gray Gallery could pass for a sacred totem. Stuart Shave/ Modern Art is home to a stick-like sculpture by Ricky Swallow.
Expo Chicago, which takes place in the impressive-looking city partly designed by Frank Lloyd Wright, certainly makes a strong statement.
Expo Chicago
Until 30 September at Navy Pier, Chicago
VISIT WEBSITE