The grass is always greener on the other side: something which certainly applies to The Bass Museum of Art, Miami which started out in Collins Park as a museum of fine arts. Closed in 2015 for a second renovation (the first one took place in 2001), it now unveils an entirely transformed space mainly dedicated to contemporary art, including four new galleries, a museum store and café, a creativity centre and an education facility.
On the fully preserved art deco façade of the building, Sylvie Fleury's site-specific work Eternity Now glows; the contrast between the slabs of coral and the turquoise neon fixed to them catches the eye. Originally commissioned as a temporary installation, this unique piece is now part of the Bass's contemporary collection. The work's title seems to send a significant message about the museum itself, as the institution moves forward in its new form.
Let's not forget that the Bass was once primarily a museum of fine arts. Founded in 1964 by the City of Miami Beach, thanks to the donation of residents John and Johanna Bass, the institution was marred by scandal soon after it opened, because most of the "masterpieces" on display were said to be fakes. The Adulteress by Vermeer is a case in point: it was in fact painted by Han Van Meegeren, who sold it for $1million to Herman Goering, after being accused of collaborating with the Nazis. The satisfaction of being able to dupe a buyer caused him to repeat his crime over and over again. Acquitted on the collaboration charge, he was found guilty of fraud. Rumour also has it that Pablo Picasso sent Mr Bass a photograph of one of his wrongly-attributed paintings, on which he had scratched out his own signature and scribbled "faux".
"It turned out that seventy-seven of Bass's so-called masterpieces were 'outright fakes'."
Art historians were eventually allowed to conduct an investigation. It turned out that seventy-seven of Bass's so-called masterpieces were "outright fakes". The museum had to close temporarily. Some canvases "by" were relabelled "attributed to". Yet the reopening, which took place three months later, was a huge success.
This is why, as Sylvie Fleury's sign suggests, there was no starting from scratch; the past is as much part of the museum's story as the present. And perhaps, had it remained scandal-free, the Bass would never have turned to contemporary art. The appointment of director and chief curator Silvia Karman Cubiña also marks this essential shift. "I specialize in video and performances. When I was appointed director, the idea was already to convert the Bass into a contemporary art museum," she says.
Taking a left as soon as you enter the building, after Karen Rifas's The Infinite Potential of 360 on 6 x 6 Grid and at the end of a short hallway are the museum's newest acquisitions, among them, Dial-A-Poem, John Giorno's emblematic rotary phone on which eighty writers perform an intimate reading of their poems, as well as Petrified Petrol Pump (Pemex II) by Puerto Rico-based duo Jennifer Allora and Guillermo Calzadilla, a gasoline-pump-like installation made of black lava and travertine stone.
Retrace your steps up to the main entrance, and keep going all the way down to reach a gallery dedicated to Davide Balula's performance Mimed Sculptures. Above empty plinths of various sizes, a group of mimes mould the air with their hands. They are in fact reproducing iconic sculptures by Alberto Giacometti, Barbara Hepworth, David and Tony Smith. "Since we have a lot of palpable works on display, I thought bringing some abstracts into play would be interesting for a change," explains Karman Cubiña.
Invited artists are invited to dialogue with the institution's founding collection, but do not have to: Pascale Marthine Tayou, however, has accepted the challenge. Throughout the artist's exhibition, Beautiful (until April 2), works by the Cameroon-born artist interact with canvases by Hyacinthe Rigaud, Hans Makart, Jacob Jordaens, El Greco, Anthony van Dyck, but also with a tapestry, an Egyptian sarcophagus and a retable. This dialogue between old and new speaks to Tayou's overall practice, which consists of incorporating found objects, encountered randomly or from his immediate surroundings, into his installation works.
The café and the shop are at the centre of the ground floor. On the left is Tayou's Welcome Wall, seventy animated LED "welcome" signs in many languages, which the museum "hope to make permanent". On the right is a new patio. "This courtyard is where all three architectures come together," says architect David Gauld, who lead the design for the new museum, "the original structure by Pancoast, the wing designed by Isozaki, whom I assisted in the 2001 renovation, and my own contribution to the place". Adjacent to the Tayou-invested gallery is the creativity centre, with teaching spaces, a former hallway punctually reserved for board meetings, a former retail shop changed into a perfectly circular rotunda, and a third classroom, which overlooks a ballet studio. "Kids from each side of the street may end up waving at each other," adds Karman Cubiña.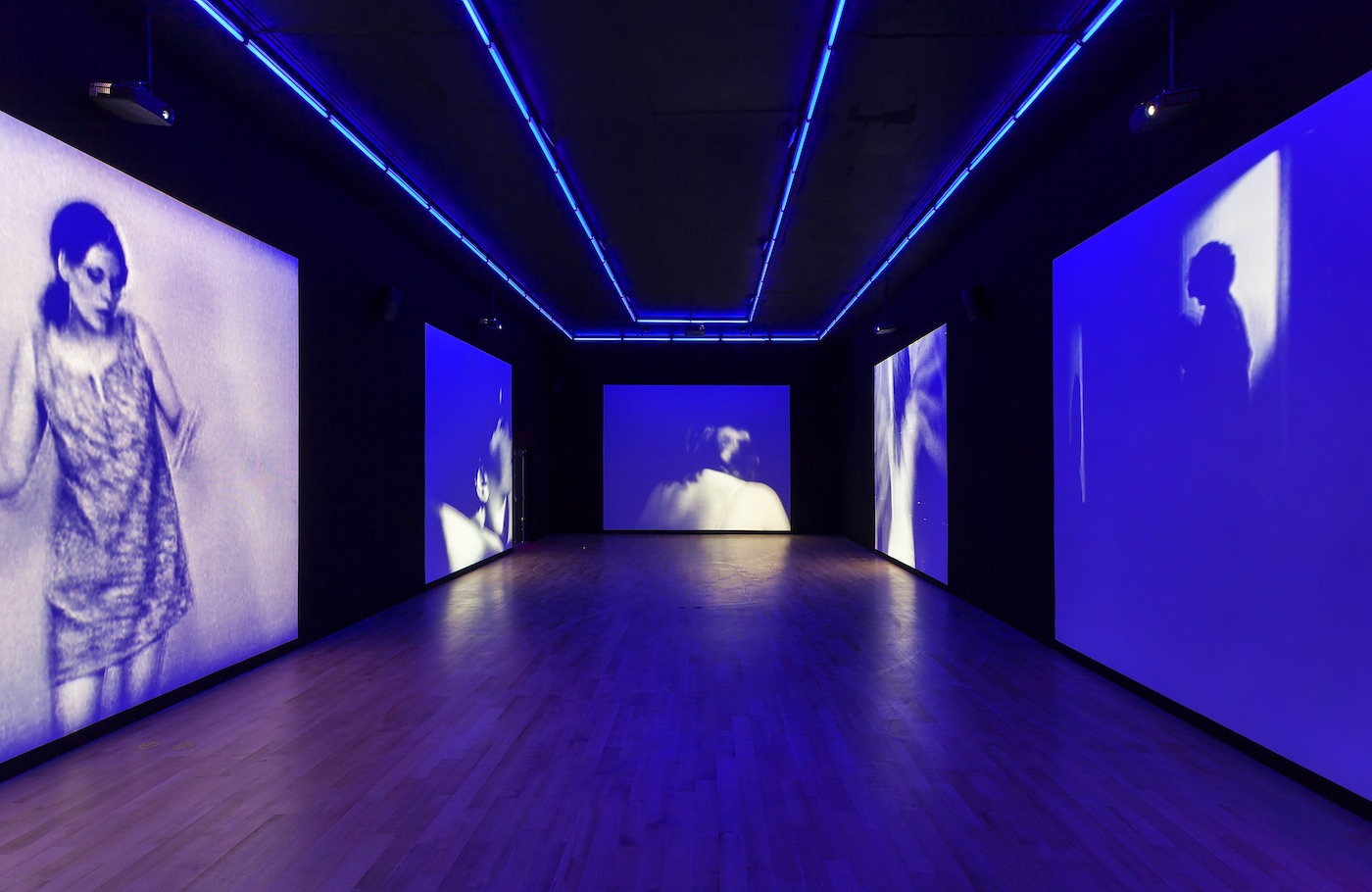 The entirely redesigned second floor of the museum is currently home to the renowned mixed-media artist Ugo Rondinone. It is the last stop of the five-part travelling retrospective Good Evening Beautiful Blue (until February 19), which spans three decades of his career. The exhibition begins with Clockwork for Oracles II (2008), made up of fifty-two coloured mirrored windows (representing the number of weeks in a year) hung on a backdrop of recent newspapers. When you get a closer to look at it, your reflection seems to blend into pages from the Miami Herald, as if it was you hitting the headlines. The show continues with an immersive six-screen video installation, where you can see a woman's head bouncing off her pillow, another dancing rather sensually and a man getting out of his car.
Last but not least are the forty-five sculptures gathered under the title Vocabulary of Solitude. They all personify actions we may be performing throughout the day while no one is watching. The walls were sprayed by a Disney-related company with colours of the Miami sunset. In fact, it's time I went to the beach to enjoy the spectacle of the rays slowly flowing out towards the horizon.
The Bass Museum of Art
2100 Collins Avenue, Miami
thebass.org