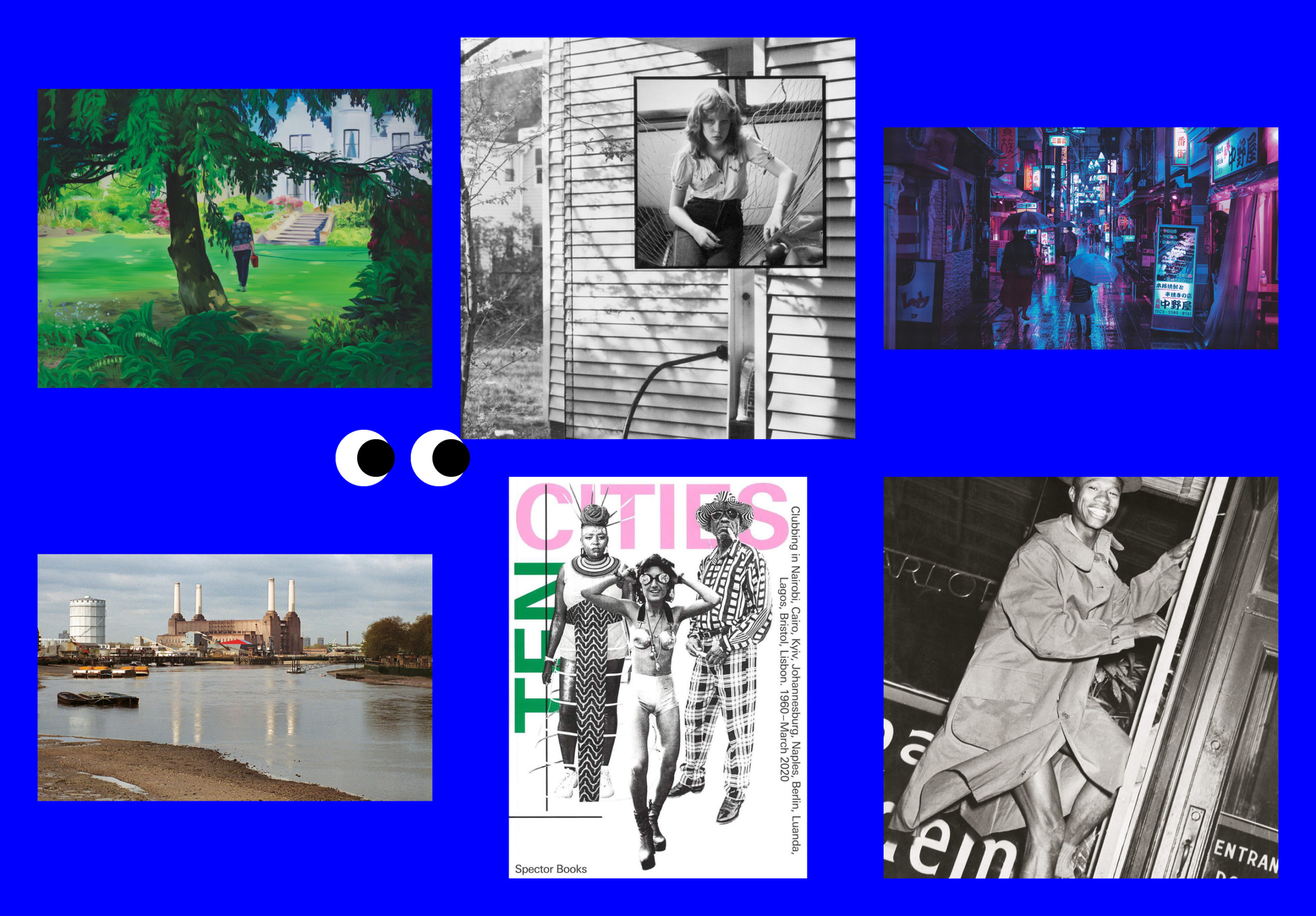 A Sense of Place
Fuel
A new book presents Patrick Keiller's 1994 seminal psychogeographic film essay as a series of stills alongside its entire dialogue, and is a total joy. Where more traditional script-led films might feel flat and compromised when reduced to the printed page, London is perfectly suited to it: the stills act as illustrations for a coherent monologue that is both banal and beautifully compelling. 
Spector Books
In a year when clubs and music venues have remained eerily empty due to the global pandemic, it couldn't be a more timely moment to celebrate the communities that make them. Ten Cities tells the story of club culture in ten urban centres across Africa and Europe from 1960 to March 2020, offering a diverse portrait of nocturnal subcultures around the world. 
Damiani
The renowned Ukrainian photographer's raucous take on New York was buzzy, alive and totally unexpected. As this book of images (first released in 1945) shows, he saw the beauty of the city, even in its most debauched and disorderly moments. The images he shot tore off the stuffy, posed rigidity of photography in previous decades. Instead, he and his camera went to the very human core of all that urban living entails. 
"In a year when music venues have remained eerily empty, it couldn't be a more timely moment to celebrate the communities that make them"
Thames & Hudson
Video-game designer turned photographer Liam Wong presents stunning images of the futuristic Japanese city by night, capturing the cinematic essence of Tokyo. He uses hyper-saturation and digital manipulation to build images that are so textural that they might be mistaken for paintings, or the very distinct craft of "concept art", where illustrations are used to set the tone from which a movie or game scene is built.
Picture Window, Caroline Walker
Anomie
A new monograph that chronicles painter Caroline Walker's prolific output since graduating from the Royal College of Art in 2009 reclaim the gaze. From Palm Springs condos to London nail bars and temporary homes for refugees, this collection of images shows how the artist portrays women going about their day-to-day business in cinematic images that empower and seduce. 
Stanley Barker 
The focus of photographer Judith Black is the domestic stage of the home, and she has spent four decades turning her gaze inward. Her move to Cambridge, Massachusetts in 1979 with her four children is documented in Pleasant Street, as she captures her new life as a single mother in the city over the next two decades.
Selfhood
Rough Trade Books
This literary collective has been making waves on the poetry scene since joining forces in 2018. Their tongue-in-cheek name wryly anticipates any mention of their South Asian background, instead spelling it out in big block capital letters. Roshni Goyate, Sharan Hunjan, Sheena Patel and Sunnah Khan are the four writers in question, and now bring their radical, polyphonic performance style to a new series of pamphlets released by Rough Trade Books as a set. 
André Frère Éditions
A new book from the master-masquerader hones in on a tourist stereotype, in all its kitschy best and narcissistic worst. Inserting herself as the primary performer in the gaudy hotel resorts of Miami and Cancún, Roy—director, photographer and subject all at once—enacts the episodes of a desperate dreamer going all out on her holiday of a lifetime. After the copious fake tan fades away, what can we learn about vanity's collusion with the camera? 
The Illusion of an Everlasting Summer, Alessandra Sanguinetti
MACK Books
Lost innocence and fractured dreams are chronicled by photographer Alessandra Sanguinetti, returning to rural Argentina to document the psychological, emotional and physical transformations of two cousins drifting from girlhood to womanhood over the course of a decade. She coaxes out the subtle emotional shifts from day-to-day, year-by-year to capture the inner lives of girls and an affecting tale of female destiny. 
Wendy: Master of Art, Walter Scott
Drawn and Quarterly
Art school cliches are satirised in this playful portrait of creative aspiration. Walter Scott delivers a searingly witty yet tender satire on art world introspection and millennial tendencies. With an economic drawing style that delights in cartoonish proportions, every page will smack any art student in the face with its often-ugly familiarity. 
"Inserting herself in the gaudy hotel resorts of Miami, Roy enacts a desperate dreamer going all out on her holiday of a lifetime"
I Can Make You Feel Good, Tyler Mitchell
Prestel
In the acclaimed photographer's debut monograph, he creates scenes of visual abundance as a counterpoint to what he dubs "white fun" and the "notion that Black people can't have the same". As he explains in his introduction to the book, "My work comes from a place of wanting to push back against this lack." These images thrum with colour and life, creating an utopia that is immersive but inevitably bordered by the lingering reality of what it means to be Black in an unequal society. 
Siglio Press
The American artist and poet spent one month in 1971 photographing her day-to-day life in minute detail, sharing both intimate and mundane moments, and delving into the slippery nature of memory. In her obsessive capturing of the banal and even the boring, she predicted our contemporary obsession with self-documentation.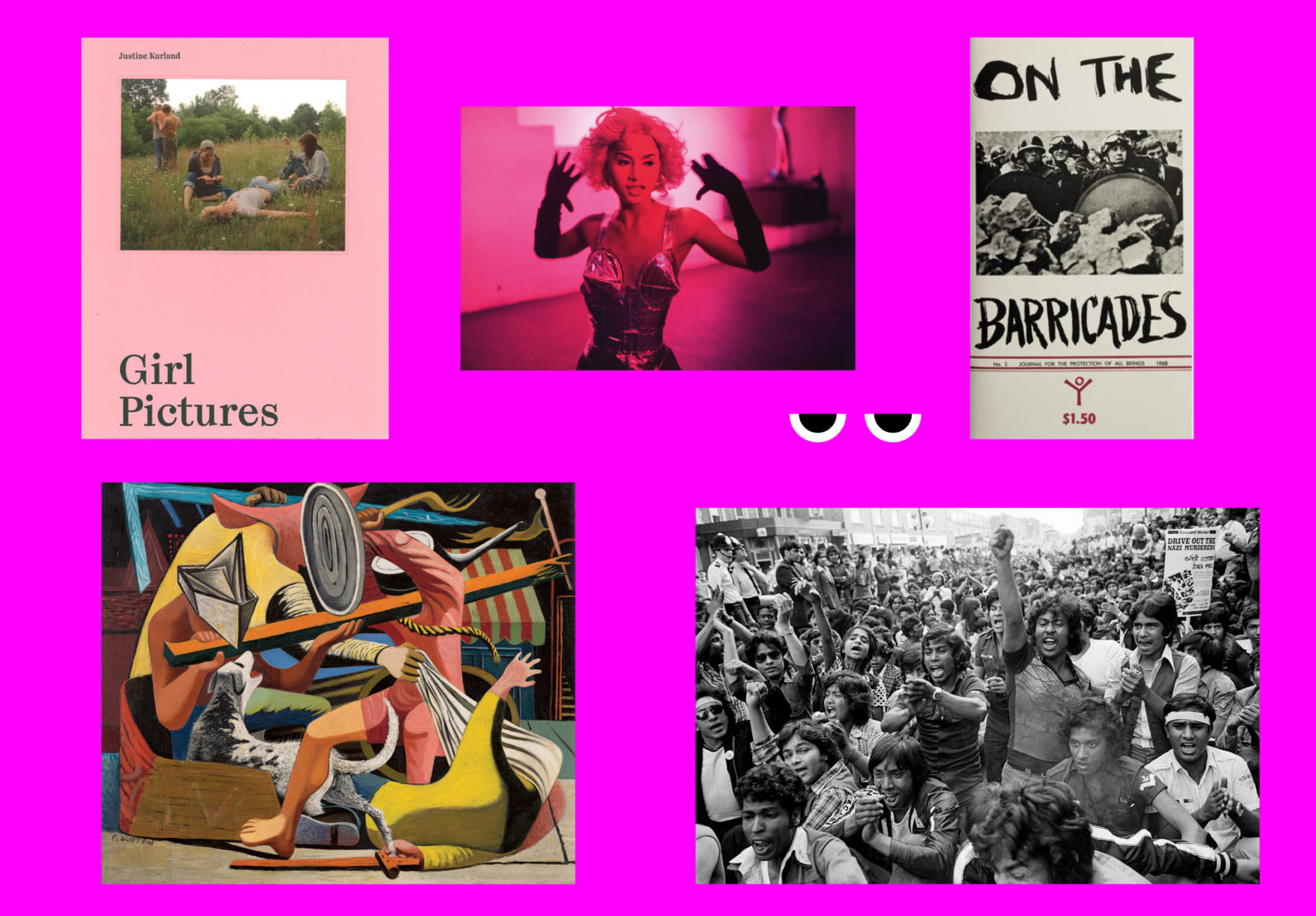 Protest
Photography of Protest and Community, Noni Stacey
Lund Humphries
Shining a light on an era of dissident art making, historian Noni Stacey collates first-hand interviews, newly discovered images and archival material to chart the influence and impact of London's radical collectives. This comprehensive book pieces together the legacies of these grassroots organisations, which seems every more pertinent at a time when support for the arts is increasingly under threat. 
Morel Books
On The Barricades, originally published on Bastille Day in 1968, has been reproduced in its entirety. It pairs stark black and white imagery with spare usage of text, and packs a visual punch with its stark reflections of revolution and repression. In a year that has seen some of the biggest protests of a generation in America and beyond, it is more relevant than ever. 
Aperture
A female utopia is dreamed up by Justine Kurland in these photographs of young women in the American wilderness. The photographer shot them on a series of road trips between 1997 and 2002, imagining a group of girls left to fend for themselves. "I staged the girls as a standing army of teenaged runaways in resistance to patriarchal ideals," says Kurland. Twenty years on, the series has been republished in its entirety, alongside newly discovered images. 
"In a year that has seen some of the biggest protests of a generation, On the Barricades is more relevant than ever"
Philip Guston: A Life Spent Painting, Robert Storr
Laurence King
A major retrospective on the work of Philip Guston was controversially pushed back to 2024 earlier this year over concerns about the Ku Klux Klan imagery that frequently appears in his work as part of his message on social and racial equality, something he was deeply concerned with his whole life. This new book is a stunning survey by Robert Storr, who has spent three decades researching Guston, and defiantly gives him his dues even where institutions have shied away.
Steidl
Nan Goldin's tender photographs of friends, lovers and strangers alike explore the personas and vulnerabilities that we each assume in public and in private. Her seminal book The Other Side, first published in 1993 and re-released this year, traces the very real transition between selves experienced by her transgender friends during the 1970s as drag exploded as a social phenomenon, photographed in nighttime performances. Their quiet ease and sense of community is shown as a form of resistance.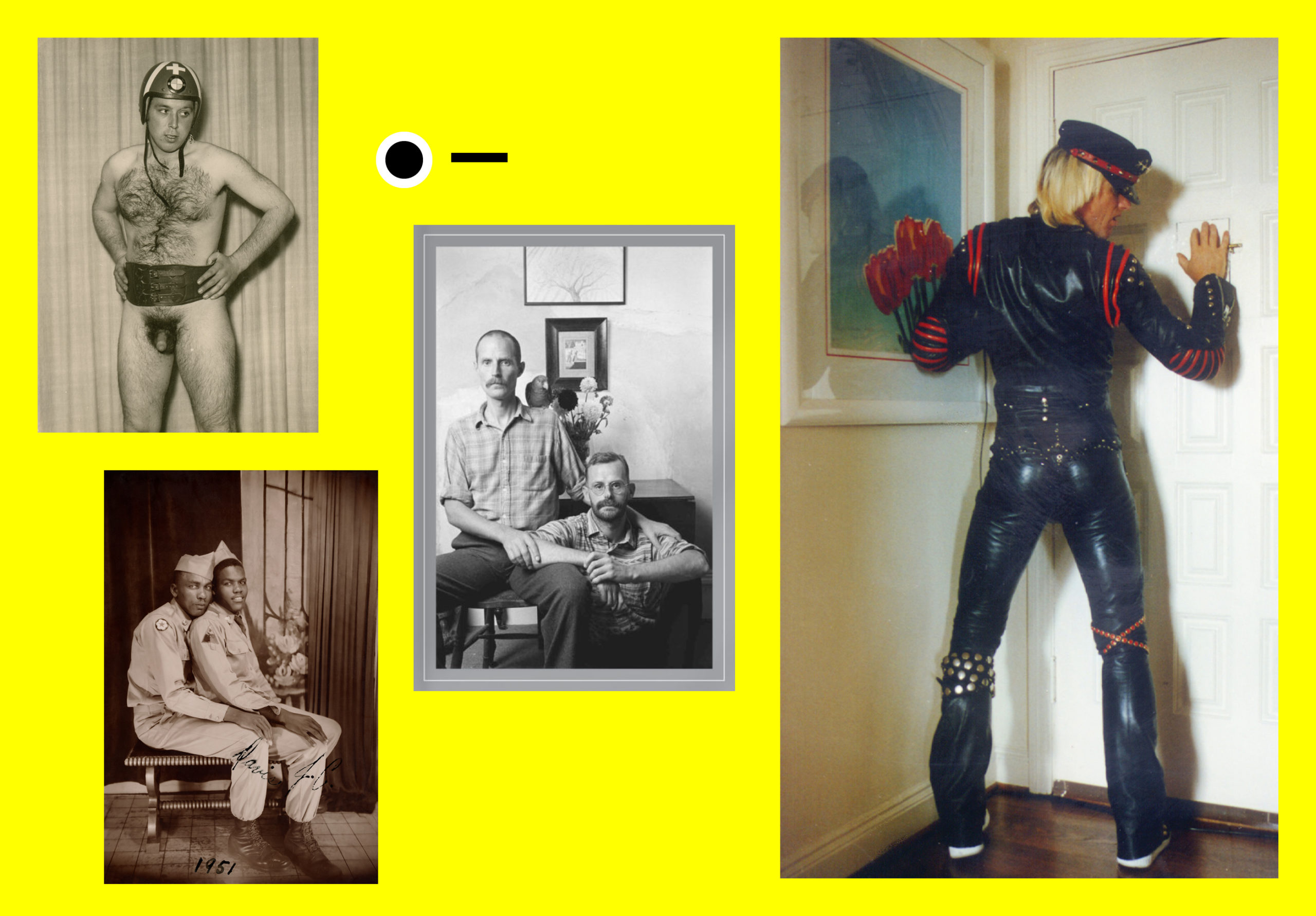 Queer Histories
Loving: A Photographic History of Men in Love, 1850s-1950s 
5 Continents Editions
Male partnerships that were largely illegal in the subjects' lifetimes are showcased in this book, evoking joy, pathos, pride, fear, sadness and most things in between. The photos are drawn from the personal collection of Hugh Nini and Neal Treadwell, who have spent the past two decades scouring the likes of flea markets, estate sales, family archives and online auctions to amass prints hailing from all over the world. 
Lovers: 10 Years On, Sunil Gupta
Stanley Barker
In this series, Gupta sought to understand the dynamics of young gay couples living in London in the 1980s. The images present a sensitive portrait of gay sexuality during an era often overshadowed by the devastation of the AIDs crisis. Comprised of around thirty photographs, it was only presented once in public, as part of a group exhibition in 1984, until it was acquired by the Tate in 2018.
"The self-made porn star's photographs are finally being given the credit they deserve in a book that prefigures everything from selfies to Grindr"
Peter Berlin: Artist, Icon, Photosexual
Damiani
The self-made porn star, artist and fashion icon's photographs are finally being given the credit and space they deserve in a book that prefigures everything from selfies to Grindr. A sex symbol who was photographed by Robert Mapplethorpe and Andy Warhol and drawn by Tom of Finland, he also documented his muscular physique in hundreds of self-portraits, now brought together in this joyfully narcissistic tome. 
Karlheinz Weinberger: Photographs Together & Alone
The Song Cave
The Swiss photographer brought a tender, uncritical eye to his portraiture of builders, street vendors and bicycle messengers. Shot in his own home in a makeshift studio, they are a testament to an unwavering artistic vision beyond the mainstream. This book brings together previously unseen works by Weinberger and gives new insight into his erotic male gaze.
Eclectic Ephemera
High on Design: The New Cannabis Culture
Gestalten
Cannabis culture has moved from the domain of teenage boys and firmly into the lifestyle category in recent years. In response, the design world has seen a swathe of branding projects, products and slick publications that remodel blazing into something sleek and aspirational. This is largely thanks to the legalisation of cannabis in several countries, and a new book from Gestalten dives into all things green through a series of interviews, case studies, and examinations of the cultural relevance of cannabis throughout history. 
Designing Graphic Props for Filmmaking, Annie Atkins
Phaidon
Renowned graphic designer Annie Atkins, best known for bringing the whimsical world of Wes Anderson to life through handcrafted Mendl's boxes and taped-up telegrams, invites the reader to partake in a journey behind-the-scenes of a meticulously designed film set. Witness the intricacies of Atkins' creative process, where she weaves reality into handwritten letters and sumptuous packaging. An extraordinary read for any film buff or budding designer. 
"Cannabis culture has moved from the domain of teenage boys and firmly into the lifestyle category in recent years"
John Cage: A Mycological Foray – Variations on Mushrooms
Atelier Editions
A new book full of drawings, photographs and diary entries celebrates the composer's love of fungal forms. The publication has a lot to say about how to find joy through simply being in the world. For John Cage, not only a foundational figure in the development of Western contemporary art but a skilled and passionate forager and cook, mushrooming was a life-affirming act.
Hoxton Mini Press
Pilot turned photographer Bill Young was fascinated by hotel carpets, so he started documenting them. Their gaudy yet banal patterns, showcased in this book, have led to surprisingly festive images. They resonate in a year of lockdown, when even the most mundane aspects of travel have come to seem luxurious. 
Inventory Press
What can a pile of letters and junk mail reveal about the age we live in? This book offers documentation of Mail as it was being formulated in 2018, at The Hammer Museum in Los Angeles. Thomson asked staff to let their incoming mail accumulate, unopened, during the run of the 2018 group exhibition, Stories for Almost Everyone. The process saw a large pile amass in a dedicated corner of the gallery, forming an art piece in and of itself, which veered somewhere between timepiece, installation, archive and an exposé of museum machinations.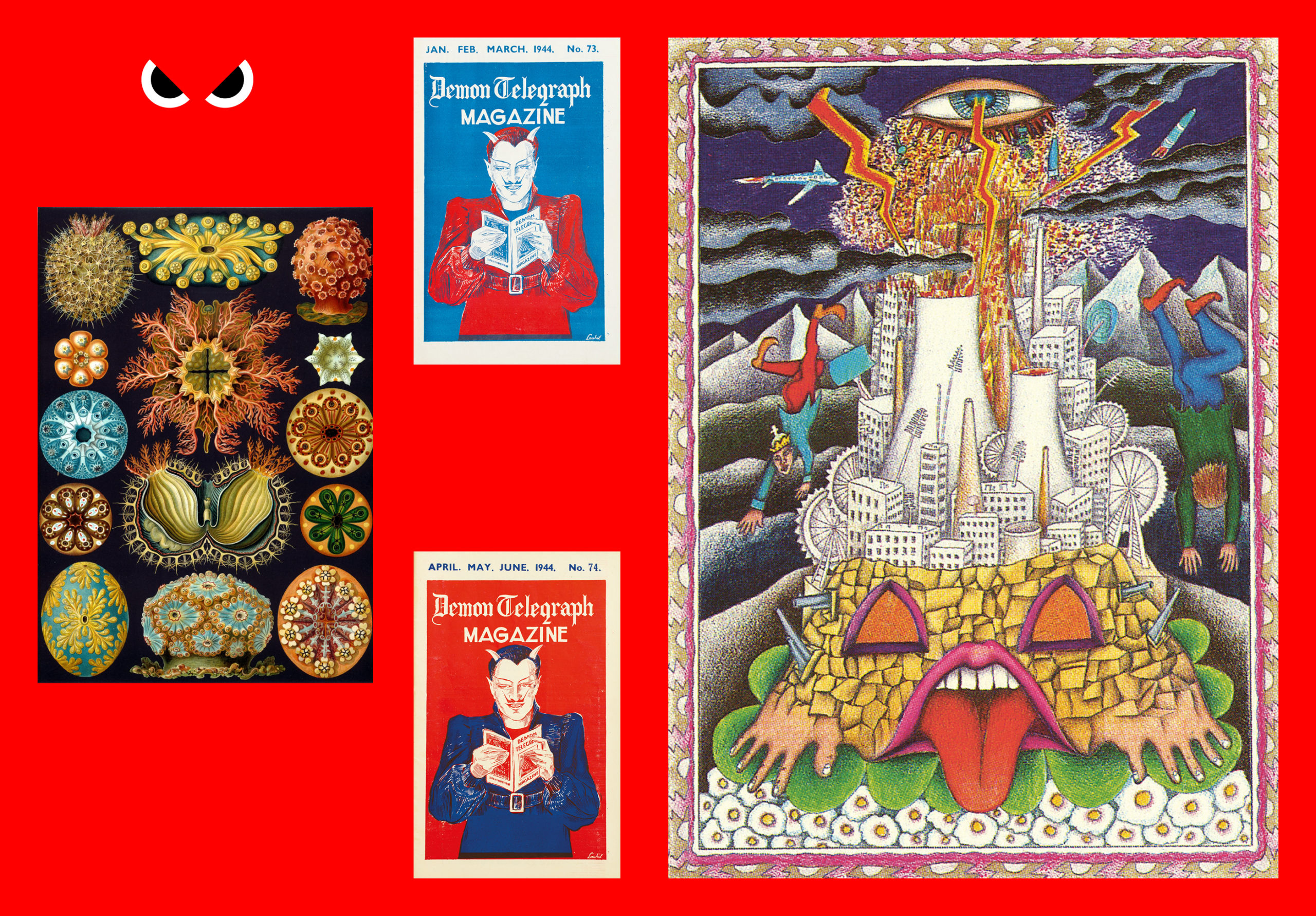 The Occult
White Lion Publishing
Described as "a visual sourcebook for the modern mystic", this richly illustrated book celebrates the pervasive presence of magic across various fields of art and design. From the enduring power of sacred geometry to the elemental force of fire, earth, wind and water, it takes an expansive look at how the occult has inspired artists. Alongside well-known works by Leonardo da Vinci, Francisco de Goya and William Blake, more contemporary examples come from Pilar Zeta, Juliana Huxtable and Shannon Taggart. 
"From the enduring power of sacred geometry to the elemental forces, it takes an expansive look at how the occult has inspired artists"
CentreCentre
Magic Papers examines the ever-intriguing world of magic through the often unregulated and rarely preserved papers that disseminated the secrets of this cryptic craft back in its heyday around 100 years ago. These papers are strikingly beautiful in their elaborate, intricate designs—the typography alone is beguiling. The book's contents was assembled from magic expert and archivist Philip David Treece's collection of journals, periodicals, books and other ephemera created for the magic community between 1890 and 1960. 
Taschen
This book chronicles how the art of Tarot has evolved and shifted throughout history, encompassing everything from ancient ritual to contemporary politics. The sheer scale of cultural divergences and interpretations within this collection proves just how pervasive Tarot reading has remained throughout the world. There are long-held connections with indigenous practices and ancient Egyptian hieroglyphs, as well as matriarchal structures and queer identities.