Since the beginning of the year, videos of Greta Thunberg have been flowing through my newsfeed, increasing in volume as Extinction Rebellion took hold of London. Primary school kids walked out on Fridays and the UK government declared a climate emergency. In one video, Thunberg is shown telling the COP24 conference last December that "Change is coming, whether you like it or not," and a feeling of something big, some worldwide change, could be felt simmering in this summer's London MFA shows as the capital experienced a particularly sticky heatwave. Yet the atmosphere is not entirely one of hellfire; maybe, here, there is opportunity to rethink and take action.
Ewan Macfarlane's work at the RA Schools is a highlight, plunging the audience into a slightly-too-warm orange light in a carpeted room. Here, between the small jesmonite sculpture of a human sticking their hand through their face, and the polished metal shield-like forms, the audience can listen to Macfarlane's EMTV Radio—The Paloma Scot Show, presented by actress Elena Saurel. It flits between crude jokes, musings on belief and contemplation of the now-bust phone company Orange's advertising techniques; drawing a link between the absurdity of their slogan "The Future is bright. The future is orange" and our absurd present situation. Maybe they were right (see Trump's fake tan).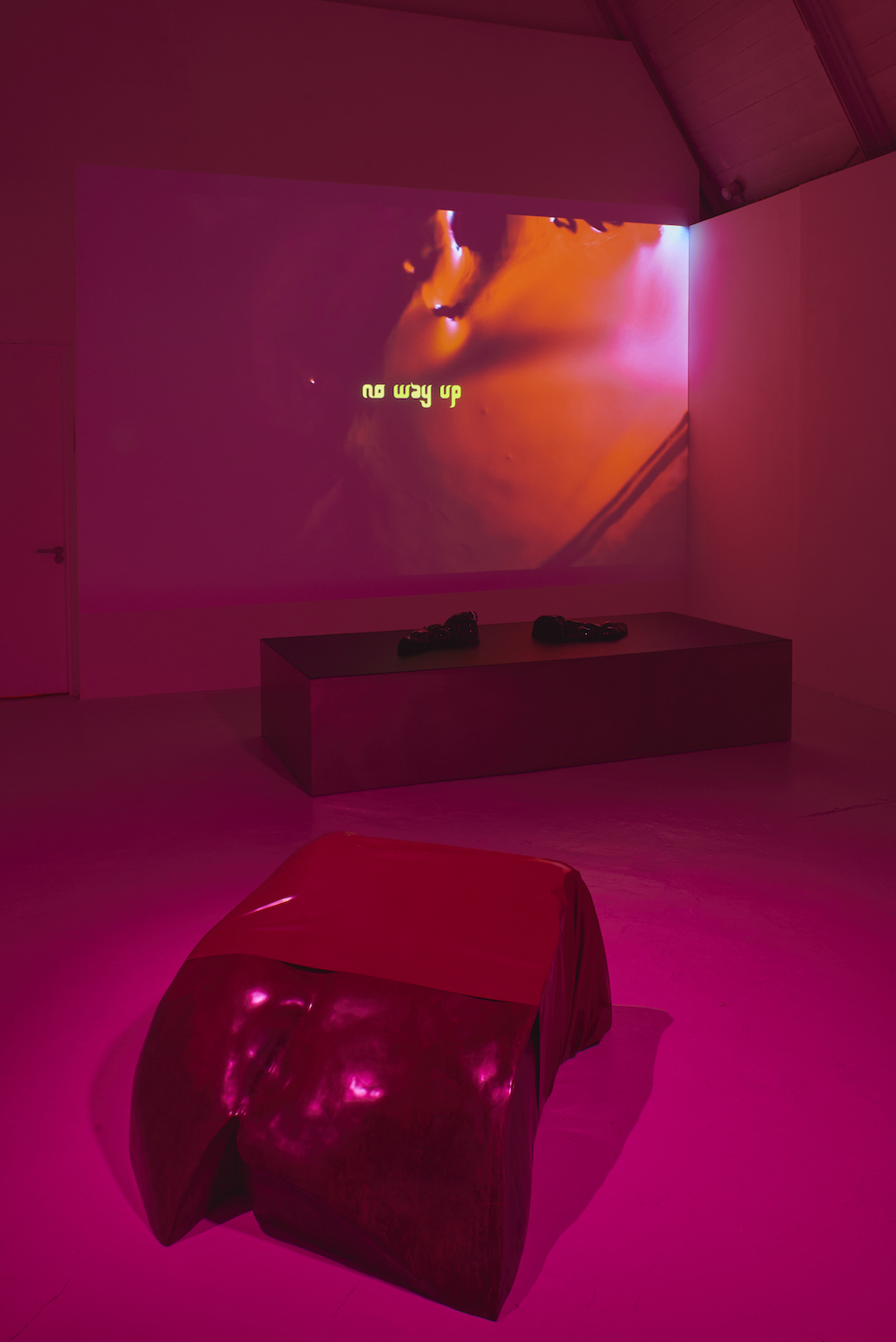 Sites of conflict appear around the shows, as next door Jala Wahid (RA Schools) pulls bodies and skins apart and makes them ambiguous, using earthy materials to hint at dismembered limbs. Dim purple spotlights illuminate a suspicious object wrapped in latex—is it part of a car or a chunk of a huge torso?—whilst the percussion from her video Fiery Father beats on. The screen describes a struggle between silt and rock "under the Jazira plains", in the Baba Gurgur oil field, which is famous for its "eternal fire", making it a site of both symbolic importance and territorial conflicts. Wahid's work captures some sense of constant unrest, of the eternal shifting of balance above and below ground.
"The atmosphere is not entirely one of hellfire; maybe, here, there is opportunity to rethink and take action"
So, too, do vestiges of battle remain in Christopher Mayer's hyperreal chunks of marshland at the Royal College of Art. Arrows and pieces of chainmail hiding amongst reeds suggest the aftermath of some old war, but the glistening resin puddles and neon arrow-tips feel straight out of a fantasy video game. Unlike Wahid's, this mud seems entirely static, frozen in time, even propped up on an examination table.
Layers of history are also evoked in the paintings of Osaretin Ugiagbe (RCA). Rusting steel clips hold together paint-soaked sheets of paper that appear solidified; on first glance they could be mistaken for sheets of worn metal collected from buildings or vehicles. Occasionally numbers or faces appear amongst the subdued purples, reds and greens; lives coming into focus amongst all the colour.
Indeed, a reconsideration of Britain's past is brought to mind by the work of Hamish Pearch (RA Schools), as the call for American and European institutions to return items plundered by colonisers intensifies—led by groups such as Decolonise This Place and Museum Detox. Pearch's installation is set up like an archive half way through a clear-out, but instead of paintings and artefacts, shelves and tables are lined with miniatures that largely evoke a notion of Anglo-American rural life, for example Bird Shit Barn: a miniature of a wooden barn painted in black, supported by stacks of archive boxes and a table.
Hamish Pearch, installation view, all works 2019, Photo by Andy Keate
The head of a sphinx with a wooden chair, resting comically on top, points to a construction of British identity that is steeped in both exchange and colonial-era looting. More generally, the role of an archive itself is examined. A steel door and wall fan remind us of the preciousness of the room's cargo, but objects are strewn around the room, under tables and stacked in wholly impractical fashion. Archives can be invaluable, but also subject histories to all kinds of irrational and biased rearrangements and omissions.
"Archives can be invaluable, but also subject histories to all kinds of irrational and biased rearrangements and omissions"
Miniatures crop up again at the RCA, in a performance by Luca George, in which the artist attaches himself to the art school's iron beams with a neon orange safety harness and looms as Icarus over a tiny London, stripped back to just its street furniture (the artist performs at 4:20pm every day until this Sunday). If There Is Something is warming and funny and hopeful, as George tells a story that holds every person and even "every ghost of every person that has ever lived in London" to account, imploring them to do something as "the whole world is melting".
According to Anna Frijstein (RCA), dressed in bright green shorts and raincoat, the world is not just melting but boiling over; it is a hot saucepan in which we are all hopping about, wondering when to jump. In her performance Hoppy Daze, Frijstein becomes a bubblegum-chewing frog, lunging around a set of foam rocks, lily pads and giant globs of gum with amphibian verve. She pushes and prods the audience to speak about their suppressed emotions, managing to extract laughs whilst pulling an art crowd firmly out of their comfort zone—one that we might all need shaking out of if we are to stand any chance of our future looking bright, not orange. These artists demonstrate that there is still hope.
Part 2 of our London MFA coverage coming soon