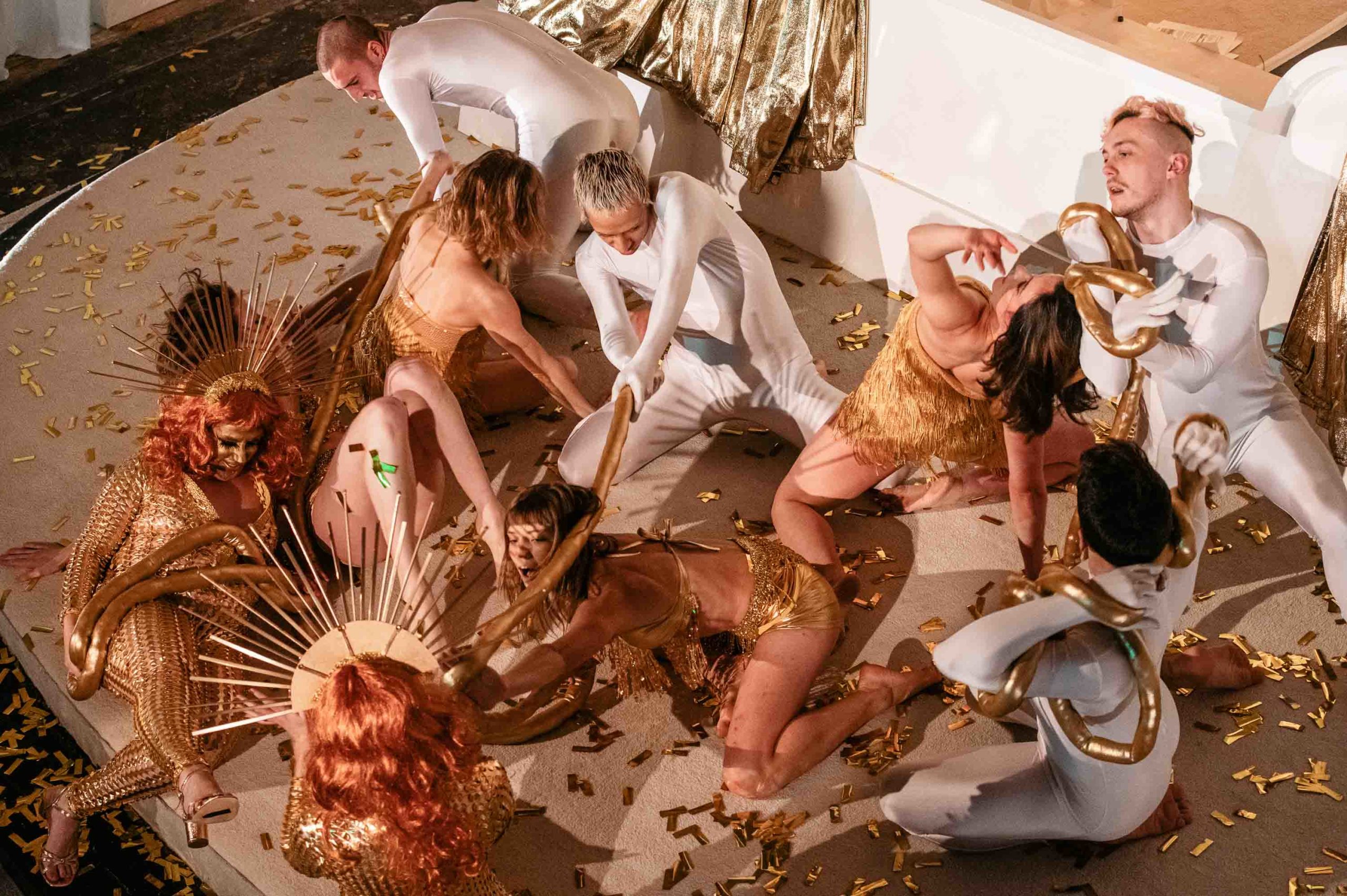 If it isn't immediately apparent from the elaborate golden entryway flanked by lactating ceramics breasts, towering corn ear totems and writhing female figures: this is a Trulee Hall production. "Most architecture you think of as being right angles. I wanted to create this other kind of version of space, that was a more female version," says the artist of her first UK exhibition at London's Zabludowicz Collection, speaking from her Los Angeles studio where she is currently riding out the Covid-19 pandemic (along with her Zoom-friendly cat, Leroy).
Visitors to the show must cross this threshold ("obviously the tunnel is representational of a vagina") before emerging in another site-specific intervention that echoes the Zabludowicz Collection's former life as a Methodist chapel. "If you're going to enter, you're entering another world, on my terms. Here's reality, here's my show—there's a separation." Spanning video, sculpture, painting and music, the exhibition presents recent work alongside her new project for the Zabludowicz Collection's Annual Commission.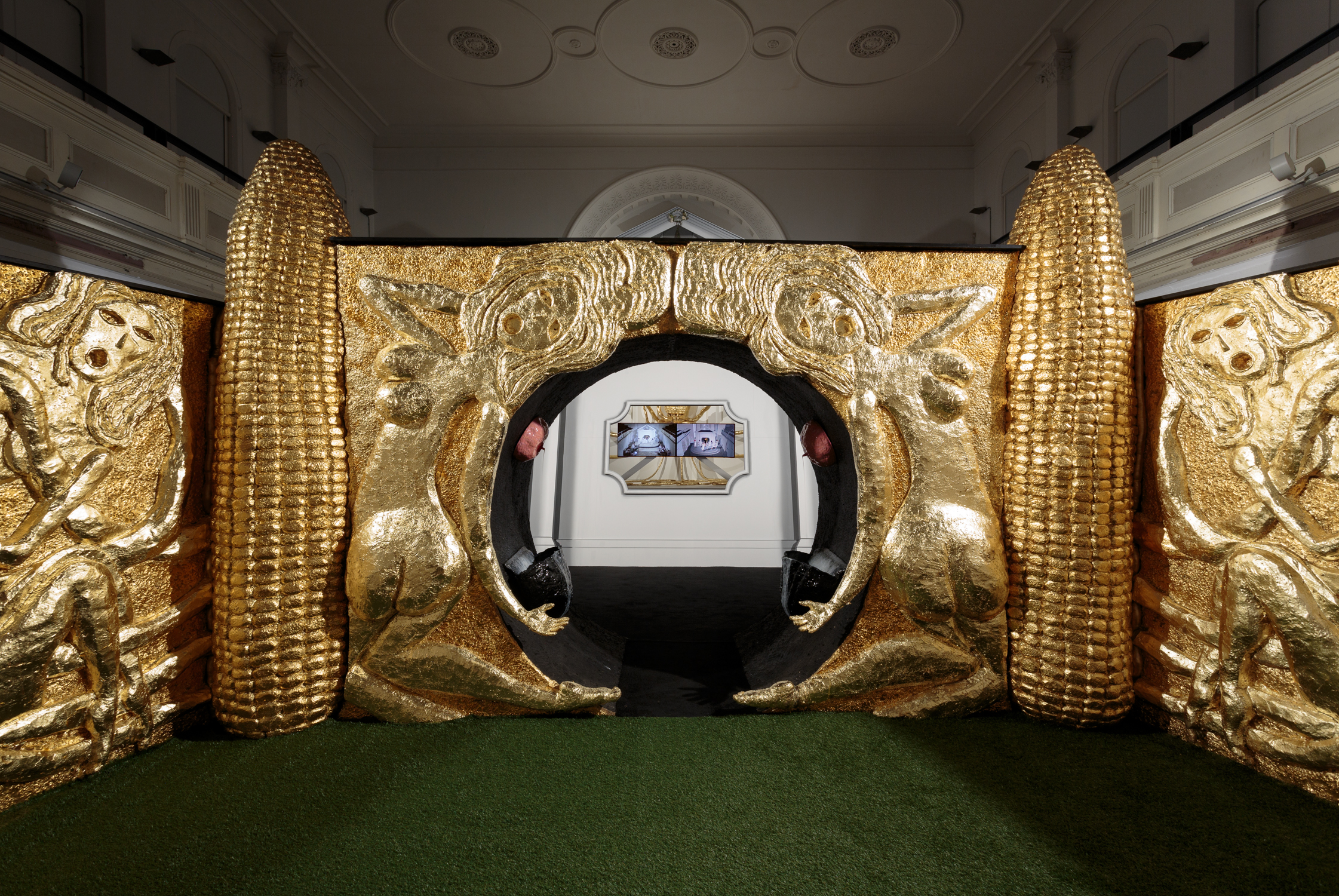 The building's architectural heritage formed the blueprint for Hall's exhibition, which sees her respond directly to the balconies, stage, altar and decorative carvings in the lofty space. "I used my own kind of interpretation, Trulee-style. I was an archaeologist asking: how would I interpret these symbols on the wall? I thought of them as being these fertility sheela na gig symbols," she explains. "There's sperm, there's worms coming out—sperm worms! So I had this perverted interpretation of the carvings on the wall, which I'm sure was not what they originally intended."
"If you're going to enter, you're entering another world, on my terms"
Hall grew up in Atlanta, Georgia, within a devoutly religious family: her grandfather was a southern Baptist preacher and her mother played piano during services. She often accompanied her aunt and uncle to their Methodist church. But the artist rejected Christianity "early on, for certain reasons"—contesting she is still "a very spiritual person". "They force-fed us religion so hard but I always had my own idea, this other 'beat to my own drum' kind of vibe," she reflects. "I was just a natural feminist. I was four or five years old when I was conscious enough to know what they were saying [about women] was not right."
Although the raucous display of erotica across the Zabludowicz Collection's galleries might suggest otherwise, reconciling her art with her own sexuality did not come easily to Hall. "Growing up in such a conservative area was really hard for me to—as an artist—become open to my own sexuality, because I felt all these feelings of shame from my family background," adds the artist, who identifies as bisexual. "It took me a long time to get to that point where I could do anything overtly sexual without worrying what my dad was going to think."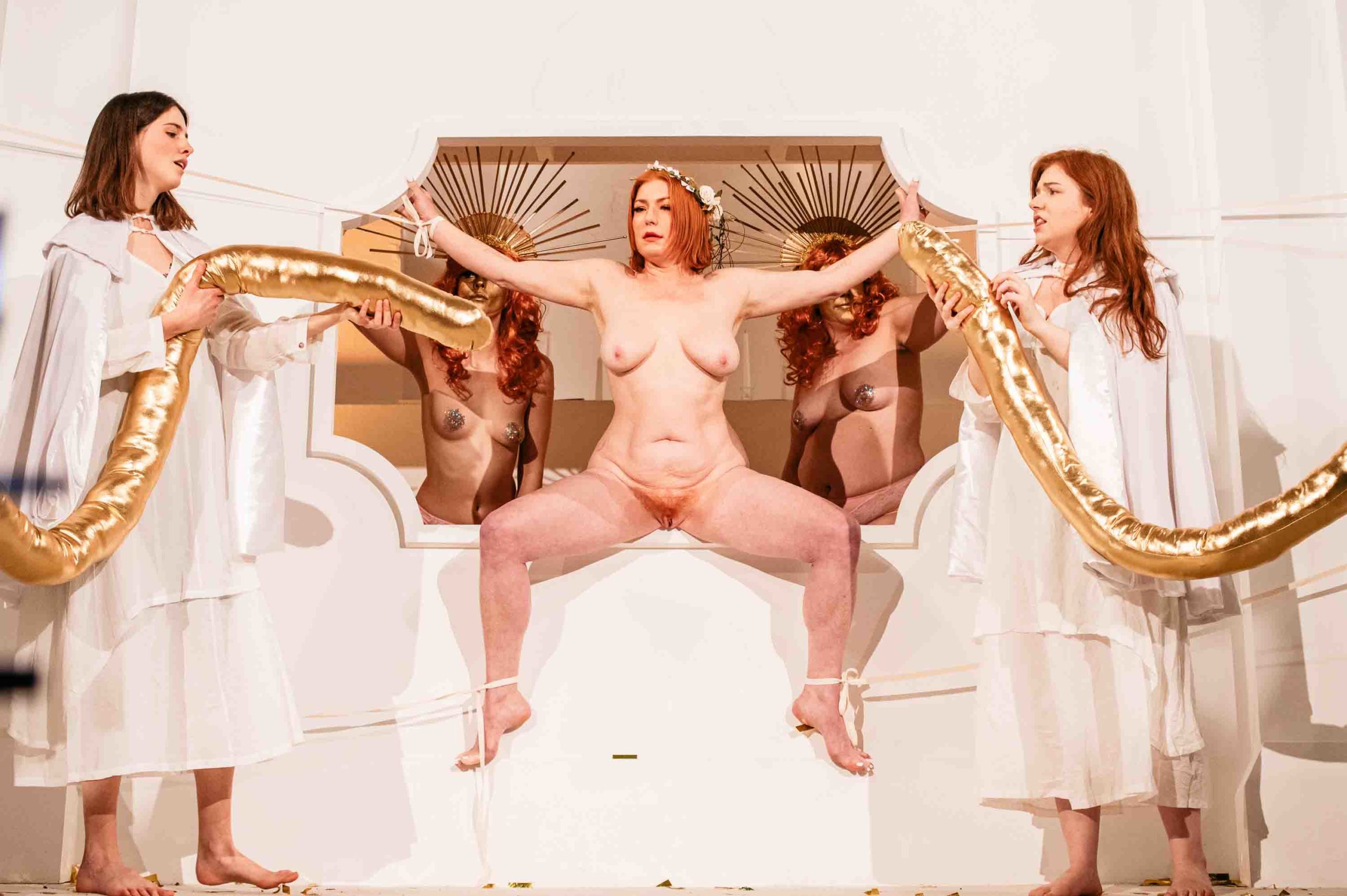 "I took that religious feeling and turned it into my own crazy religion, which ended up being more like a lesbian goddess cult"
But what an awakening for Hall. The centrepiece of the London exhibition is Tongues Duel the Corn Whores, An Opera, a commission that began as a performance of the same name, realised in the space earlier in 2020. It's a psychosexual video opera that weaves together an original score—influenced by gospel, rap, beatboxing, glossolalia, minimalist noise and pop—with bizarre costumes and choreography by long-time collaborator Jessica Emmanuel, rendered in a Hallian array of CGI, clay animation and live footage. The opera centres on two female archetypes: the conservative 'Madonna', and the hedonistic 'whore'—"moral and philosophical extremes". "I took that religious feeling [of the space] and turned it into my own crazy religion, which ended up being more like a lesbian goddess cult."
Hall's practice is informed by her various spells as a prop artist for theatres and amusement parks—and even a brief pop-rock musical career (she released three albums before pursuing her master's degree in fine art at the California Institute of Arts). But it's her yearlong stint as a pornographic film editor that ultimately changed her view. "One of my projects was to research and historicise different kinds of porn," explains Hall. "It was very interesting to dive into that world—and it made me less shy, too, as a human, but also in my own artwork. It's not so shocking to me now."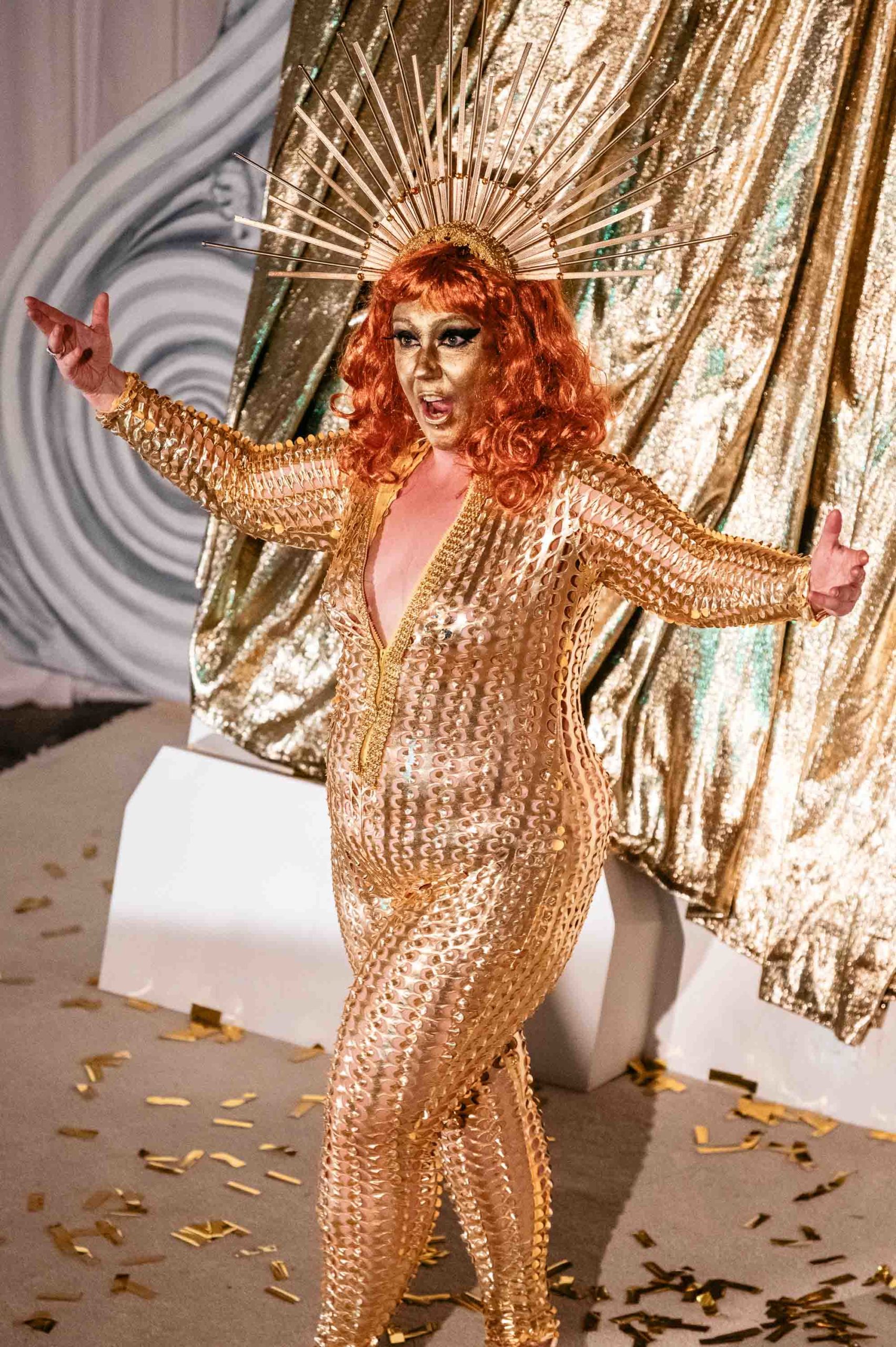 More recently, Hall has taken a detour into social issues, donating artworks to nonprofit space Los Angeles Contemporary Exhibitions (LACE) and the Black Mamas Matter Alliance. "All the recent events have really exaggerated inequality [in society]," she says. "I felt like I needed to do something besides go out and protest. So, as an artist, that's one thing you can do—if you don't have a lot of money you can donate artwork." Women, still, are ever at the forefront of her mind: "It's hard being a woman anyways, but to have kids on top—I just have a soft spot for that." To borrow Hall's lyrics: she's opened our mind to a realm divine.
Trulee Hall
Zabludowicz Collection Annual Commission
8 October 2020 to 14 March 2021
VISIT WEBSITE