Our current Beyond Gender issue was conceived to recognise and revere this landmark moment in British history, being celebrating across the arts community at exhibitions from the Tate Britain to the Walker Art Gallery, and to think about what free and fluid love is, as documented, discussed and imagined by contemporary artists over the last five decades.
As part of this, we asked a young London-based photographer, Emily Rose England, to look at her own work with East London's LGBTI community today, and pick the images that define it for her, and to connect with some of the images that have also shaped her practice along the way, from Nan Goldin and Helmut Newton to peers like Maisie Cousins and Francesca Allen.
Eugenia at Rad Festa, VFDalston, June 2017
"As women, we are expected to fit the patriarchy's vision of an ideal woman: maintaining womanly figures, curves in all the right places, sensual underneath the clothes yet modestly dressed. We are not expected to be comfortable in our own bodies, especially when they differ from that narrative. We are not expected to embrace our nudity, nor to own it outside of the male gaze perspective and objectification. Those who break the mould are vilified – and their pictures are censored. The difference between one nipple and the other is that one identifies as female and the other as male.
We are expected to maintain the image of the perfect woman: shaved armpits and legs, natural makeup, but not too much. Why would we want to wear more? That would ruin the feminine illusion. The concept of a woman doing something or wearing something because it pleases her is a concept still lost in patriarchy.
Let's remind everyone that we do not exist for patriarchy, it's about pleasure, we exist purely for ourselves."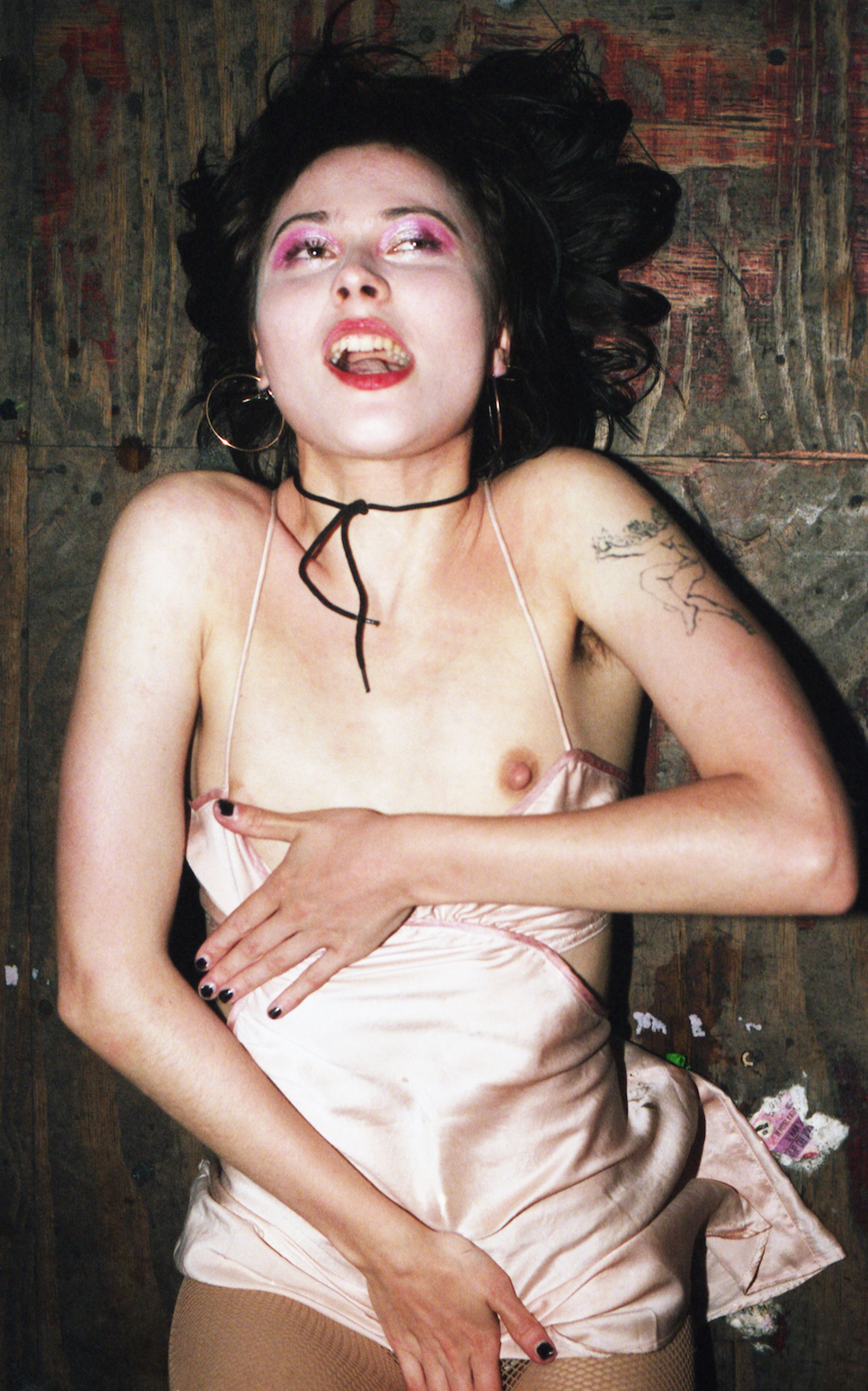 Georgie Bee Djing, The Queen Adelaide, March 2017
"We are not expected to discuss our period. We are not expected to acknowledge our periods, verbally or visually. It is a simple bodily function yet it provokes far more disgust than any other. Acknowledging our period by letting your string hang out of your jewelled pants that you wear in public, for ourselves and not for others, is a simple yet sassy act of rebellion."
Georgie Bee, The Queen Adelaide, March 2017, Emily Rose England
Georgie Bee Djing, The Queen Adelaide, March 2017, Emily Rose England
Jenkin, Slade University, June 2017
"As someone who identifies as male we are expected to be a real, traditional man. Masculinity is such a fragile thing, any hint of something associated with femininity destroys it. Men aren't expected to wear makeup. They're not expected to express themselves, their true selves, instead a mirror image of the perfect painting of masculinity."
Charles & Jack, New Cross, June 2017
"No matter our gender, we are pitted against each other. Friendships are discouraged, instead we are taught to view each other as rivals and are taught not to build close bonds. Community is such an important and precious asset, often we do not realise how important, in the fight against heteronormative society."
Nan Goldin, Misty and Paulette in a Taxi
"Sometimes we take for granted how far we have come and the struggles our predecessors have fought. In the late 80s Nan Goldin, her friends, and their community led their lives, strong and powerful, in an age of prejudice and fear of losing loved to the AIDS crisis. The AIDS crisis was ignored and censored by mainstream society, spinning it against the community vilifying them. Their community – the bonds it made, the fight they fought against heteronormative culture – lay the foundations for what we benefit from and continue to fight for today."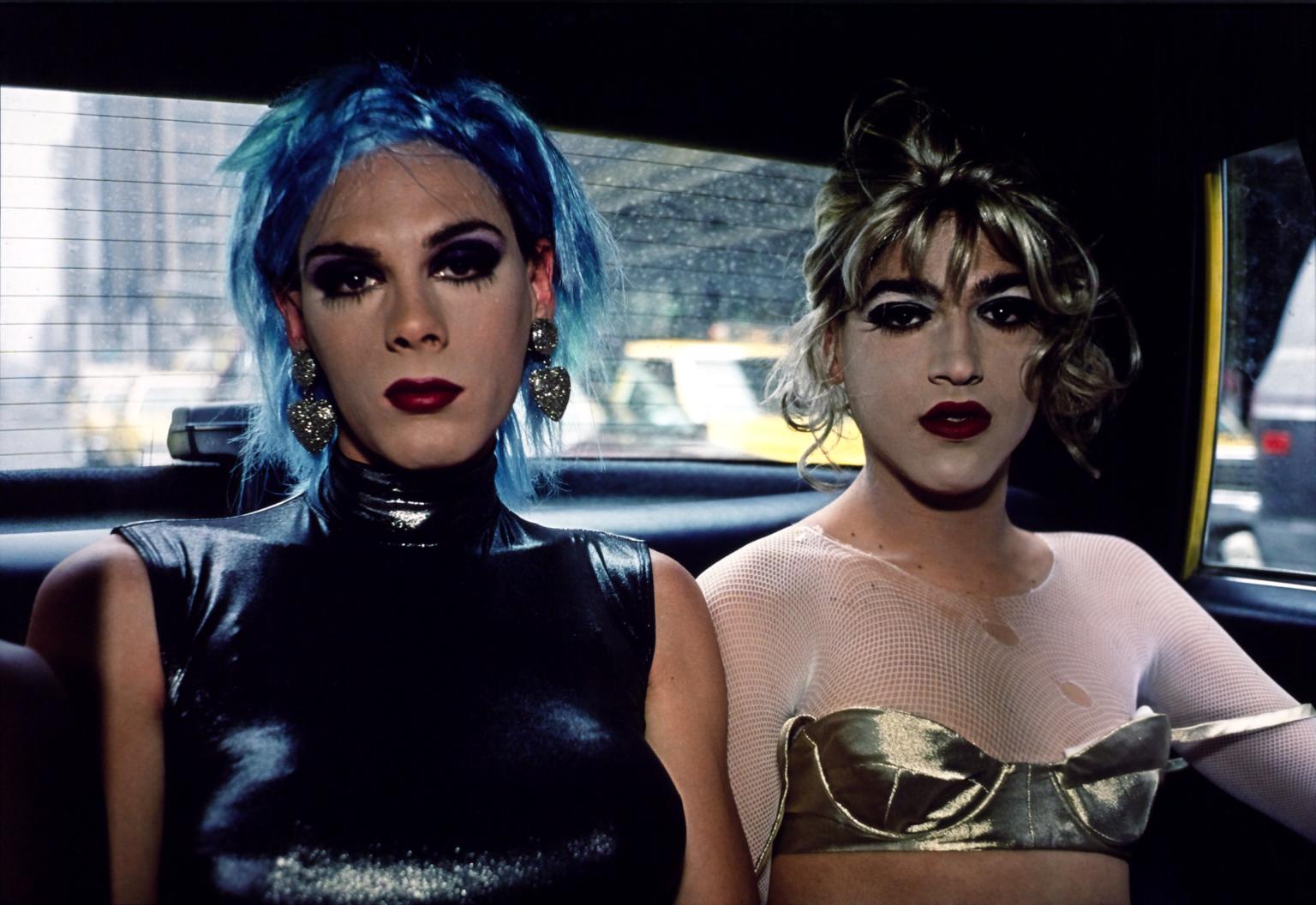 Peter Hujar, Candy Darling on her Death Bed
"Similarly Candy Darling lived in a time of prejudice and persecution. Women like Candy Darling who had the strength and courage to not only lead their lives knowing that mainstream society would never accept them, but daring to go out into the public eye, as an actress and star of Warhol's films, helped moved the transrights movement push forward and offered a role model for people within the community. Captured by Peter Hujar, an amazing photographer known for shooting people within the LGBT community, Darling is on her deathbed but she still looks strong and beautiful and not weak or freakish, as hetereonormative society would like her to be depicted."
Helmut Newton
"The thing I love about Helmut Newton's work over other photographers who explore and depict female sexuality and eroticism is that he shows the strength within the women. Rather than objectifying the subjects, Newton shows them as empowered. In this photo, Sigourney looks fearless, defiant, and unconcerned by the constraints of gender and what patriarchy demands of a woman. She is expressing her sexuality and is using it. She is in control."
Maisie Cousins, Grass, Peonie, Bum
"Maisie Cousins is a London-based photographer who looks at the female body and nature and its relationship between the grotesque and beautiful. This photo is from her first solo exhibition, grass, peonie, bum. The photo is sensual yet vulgar, nature and femininity in its full. It's a complete and fresh outlook on female sexuality, which is too often shown in a purely  sensual, erotic manner according to the male gaze. Cousins' perspective is well needed within the art world – and society as a whole."
Francesca Allen
"Francesca Allen is another young London-based photographer looking at the female form and sexuality in a different light. Photographing women, confident in themselves, regardless of the fact they may not fit into the patriarchal expectations of what a woman should look like, is what Allen does best. It's important to see more artists like Allen, who explore with female sexuality within their own community, from an insider's perspective."
More of Emily Rose England's work can be seen at: http://www.emilyroseengland.com/