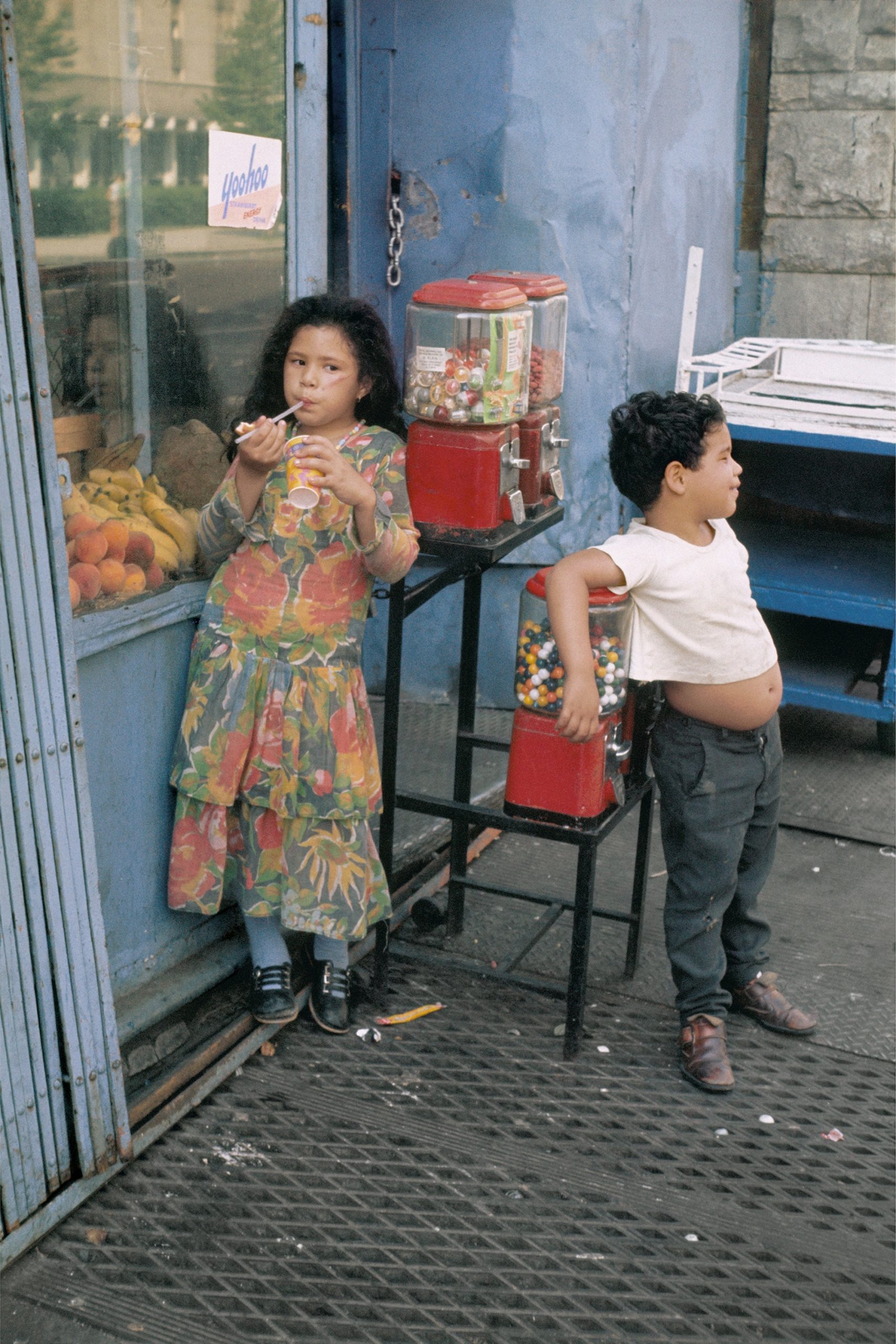 "A persistent whinge of wimmin photographers is that they are not given equal opportunities to exhibit their work." That's the opening salvo from an overview of a women's photography festival held in London in 1988, written by reviewer Brian Dee. "This is nonsense," he continues, "particularly so in the wimmin-conscious 1980s where gallery directors, curators, keepers, [and] exhibition organisers… are more likely to be wimmin than not."
Wimmin photographers, eh? What a bunch! If one were to believe this beleaguered critic, they must have been simply impossible to avoid all decade, crowding the galleries and simply drowning in attention and accolades. The festival in question featured Helen Levitt who, contrary to Mr Dee's declaration, is still pursued some thirty years later by David Levi Strauss' assessment of her in 1997 as "the most celebrated, least known photographer."
A new exhibition, Helen Levitt: In the Street (at The Photographers' Gallery) sets out to shed new light upon the American photographer, and raise her profile once more. Her work is startling. In front of her lens, children play and women clutch their hands to their chests. Her photos pulses with a "rhythm of lines, surfaces, and values" (to borrow Henri Cartier-Bresson's phrase), the busy streets of New York surveyed by Levitt's sportive eye. It is a rhythm that, through Levitt's perspective, becomes slightly off-kilter.
This is street photography as an event. She likes an unpredictable gesture, a moment that spotlights the drama of daily life. Her work, which stretches from the 1930s all the way to the 1990s, moving from black and white to rich colour, is fuelled by a spirited sense of the surreal. As her friend the writer James Agee noted, these are images that understand public space as "a theatre and a battleground."
But a body of work does not exist in isolation. It is subject to the ever-changing tastes and judgments of the time it finds itself in. What does it mean to be known as a street photographer, particularly a female one? It comes with a degree of immediate name recognition, the kind that Cartier-Bresson has received in spades, along with a host of others including Weegee, Brassaï, Walker Evans, Garry Winogrand, Robert Frank, Bruce Davidson and Joel Meyerowitz (among the women one might feasibly include Diane Arbus and Lisette Model). It means, perhaps, getting to the point where you're no longer described as an enigmatic gem constantly in the process of being discovered.
"You don't know what you will come across while walking on the streets. All the action I capture is all natural and spontaneous"
Questions of legacy and reputation are valuable right now because, in recent years, there has been a huge surge of interest in female street photographers. Alongside Levitt, we have the unassuming nanny Vivian Maier who wandered the streets of Chicago with her Rolleiflex and left behind more than 100,000 negatives in a storage container, the contents of which were sold two years prior to her death and caused a media sensation.
On this side of the Atlantic there is Salford-born Shirley Baker, who recorded post-war life in Greater Manchester with sensitivity and humour, and has recently enjoyed a number of exhibitions and books devoted to her work. All three women assiduously documented their local communities. All three died in the space of five years (Maier and  Levitt in 2009, Baker in 2014) and have experienced a posthumous leap in reputation, albeit one that still classes them, at least in the case of Levitt and Baker, as remaining on the cusp of mainstream recognition.
Does the fact that they were all women matter? There are various, obvious points to be made about how female artists have struggled to find legitimacy, whether because of material circumstance or industry barriers.
But street photography also comes with unique demands. It is an art that requires something singular from its practitioners, a willingness to go out into the world with a camera and document the life found there.
"Questions of legacy and reputation are important because there has been a huge surge of interest in female street photographers"
Some street photographers are silent ghosts, drifting around observing without ever inviting attention themselves. Others play up the machismo of it: unexpected flashbulbs going off, the shocked face incurred by invading someone else's space. Being a woman in such spaces surely changes the nature of these interactions. Potentially it invites an entirely distinct way of looking.
"I'm slightly cautious of terms like 'the female gaze', purely because I worry that their recent overuse has led to their oversimplification," says Lou Stoppard, curator, writer and editor of Shirley Baker (MACK Books). "That said, when writing about Shirley Baker, I did find it useful to think of the writing of Val Williams, who in Women Photographers: The Other Observers 1900 to the Present, writes of seeking to 'resituate' the work of known female photographers 'within a women's tradition'."