Sculpture:
Indriķis Ģelzis
Latvian artist Indriķis Ģelzis' sculptures make for a slightly nervous viewing experience. The airy, angular hangings are modernism sliced up with a sharp blade—caught between a familiar, architectural aesthetic and the chaos which pushes hard against the frame-like perimeters. Some works have figurative origins: statistical diagrams for example, but still seem to create their own field of interpretation, far removed from the urban settings their materials evoke. Steel rods jut into space as if emanating from the gallery walls: uncontainable and yet suspended in a kind of violent stillness. His debut London show has just closed at Castor gallery, London, with Still Life of a Still Life set to open this week at Tatjana Pierters in Ghent, Belgium. Earthy textile tubing distinguishes each piece, creating a mood into which fits the metallic energy of each. Red is bloody; blue: calm. These are sculptures to ponder and look through—but not without a certain unease. (Ravi Ghosh)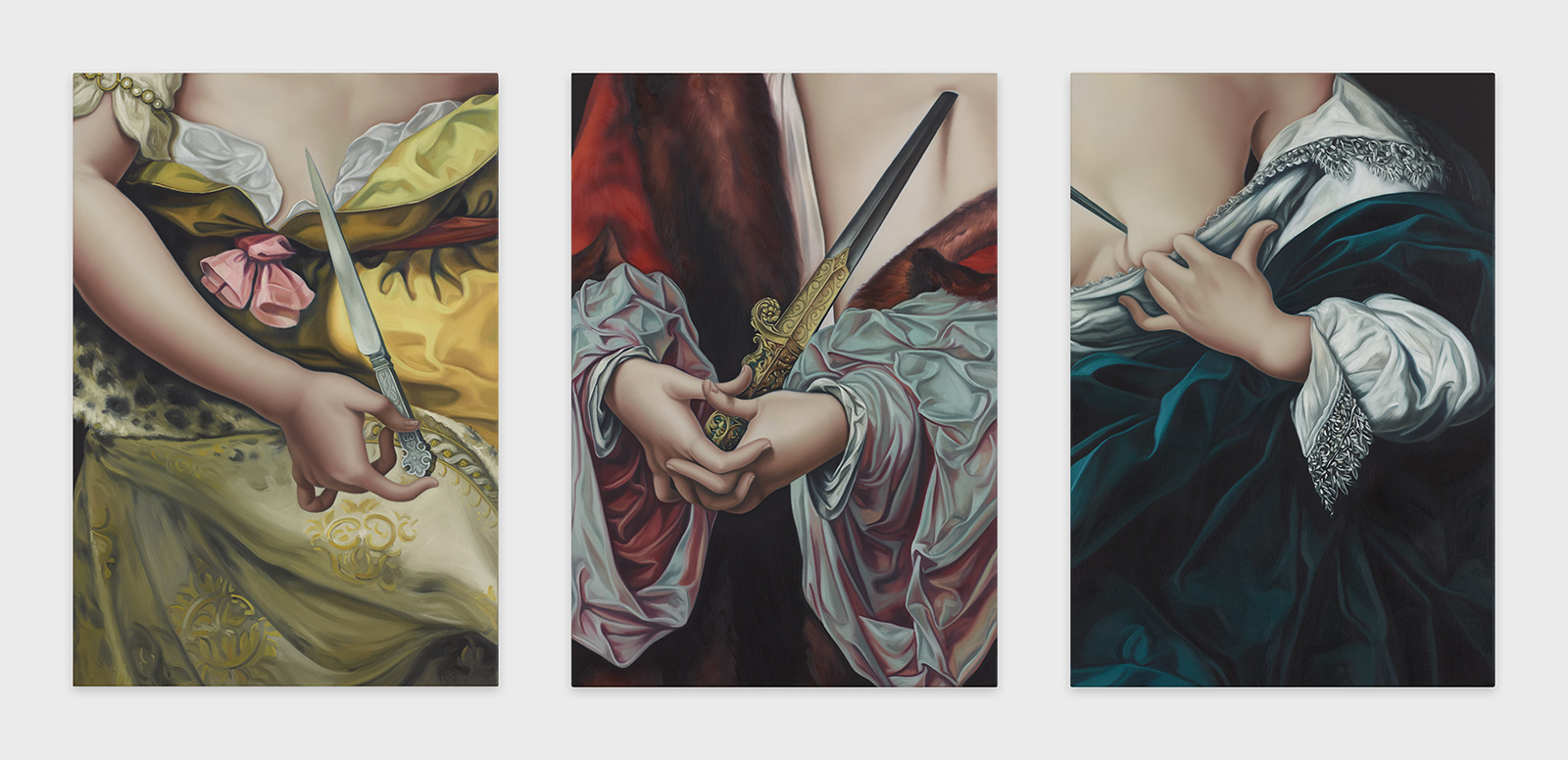 Painting: Jesse Mockrin
Jesse Mockrin is fascinated by the icons of art history. Her meticulous reimaginings of Baroque and Rococo masterpieces are faithful enough to spark instant recognition, yet offer up entirely fresh conversations around allegory, agency and gender. While her portrait of Billie Eilish as Caravaggio's Boy With a Basket of Fruit (a commission for Vogue) was an inspired contemporary substitution, it is her sliced up and violently cropped images that really interrogate how we consume the visual language of our past and present. From a montage of tight crops that show women clutching daggers to their breasts, to epic canvases that remove slabs of visual information on a grand scale, she creates schisms that reboot and reform the canon. Jesse Mockrin is exhibiting as part of Won't You Be My Neighbor, at Nathalie Karg Gallery until 31 December. (Holly Black)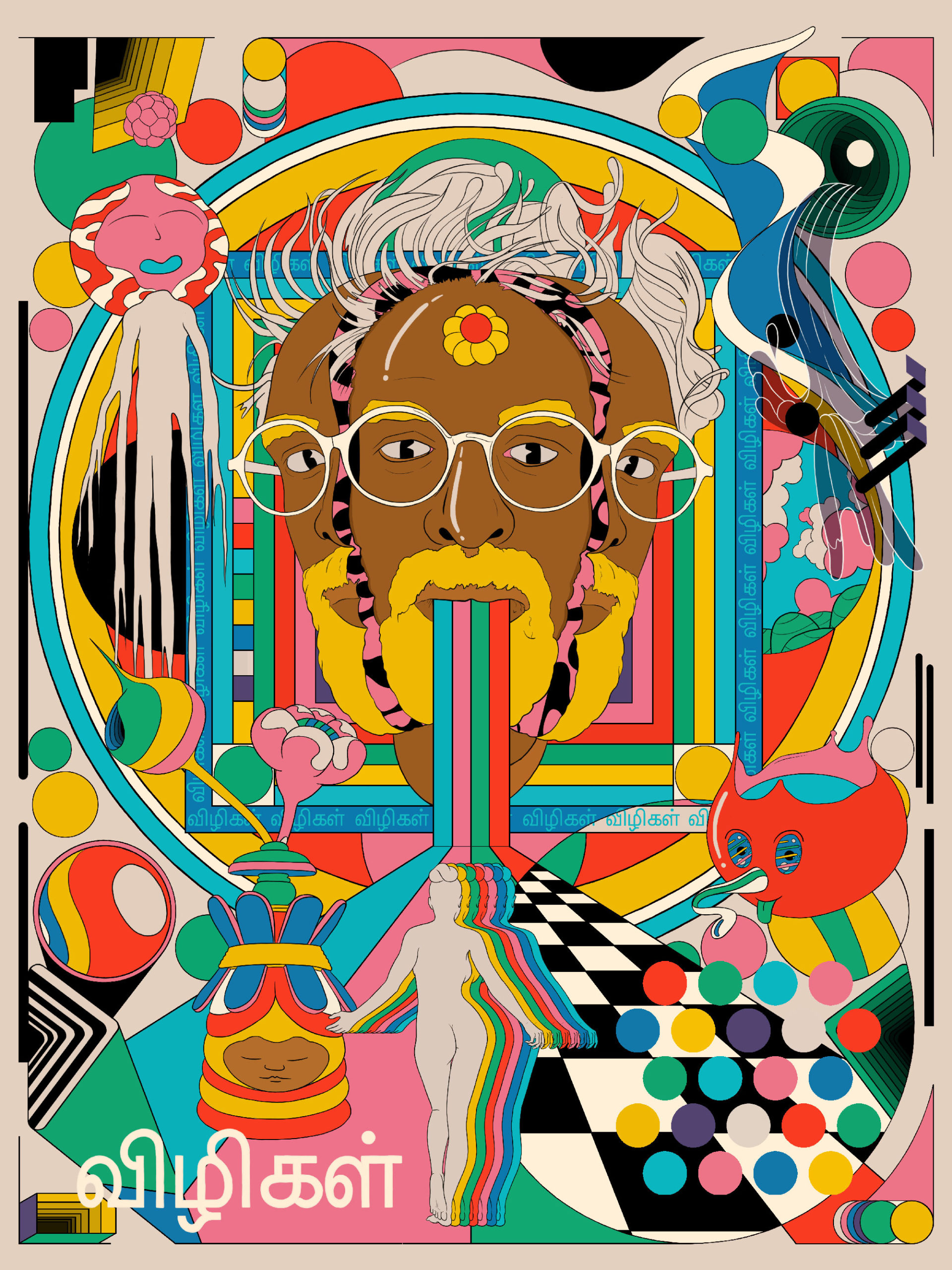 Illustration: Murugiah
Imagine you've ingested a mouthful of pastel-coloured popping candy, and you'll get a sense of the work of Welsh/Sri Lankan artist Murugiah. To enter his website involves swimming through a psychedelic daydream, where South Asian cultural references and flower-headed foetuses co-exist in perfect harmony. 2020 has been Murugiah's year—he's racked up clients from Wired to the LA Times, and it's a pleasure to watch his style evolve from one brief to the next. Between judging for the D&AD New Blood Awards and speaking at Somerset House, he's exhibited between L.A., London and Marseilles, leaving a trail of confectionery-infused colour in his wake. Wherever you encounter Murugiah's work next, I'm sure it will be magical. (Anoushka Khandwala)
Collins Objijaku, Left: Ajire, Right: Red Suit. 2020. Acrylic, oil and charcoal on paper.
Painting: Collins Obijiaku
"I can't be a pessimist, because I am alive", said James Baldwin, a phrase that introduces Collins Obijaku's exhibition at Ada, a new gallery in Accra. It chimes with the theme of Elephant's current issue, exploring what it means to be alive, and to live, in 2020, and represents the theme underscoring a series of vivacious portraits. The portraits depict friends and acquaintances, a new, more personal direction for the young artist (born in 1995) who has previously dealt with social commentary. This is, incredibly, his first solo exhibition but the work looks far more confident than that would suggest: from his panache with acrylic and oil paints; charcoal, which he adds for its textural qualities too; to his complete mastery of colour and composition—and of course, his ability to tell beguiling human stories. (Charlotte Jansen)
Video: Rebecca Moss
It's little surprise that the work of Rebecca Moss has frequently been spoken of in the same breath as Dada-inspired artists like Jim Moir (better known as Vic Reeves) thanks to its mixture of absurdist humour, playfulness, randomness and finely tuned wit. Her pieces are mostly in video and performance, and occasionally have been created through sheer, nigh-on-unbelievable circumstance rather than planning—like the time she intended to create a comedic floating art project but found herself stranded on a 65,000-tonne ship off the coast of Japan. Moss and fellow artist Rosie Gibbens have a longstanding adoration of the absurd that has manifested in an insightful blog of artworks sharing their delight in the farcical; and more recently, Moss was selected by Bristol-based artist duo Paul Harrison and John Wood (described by the Tate as an "art-world equivalent to Laurel and Hardy") as one of the ten early career artists featured in 2021 Jerwood Arts touring exhibition Survey II. (Emily Gosling)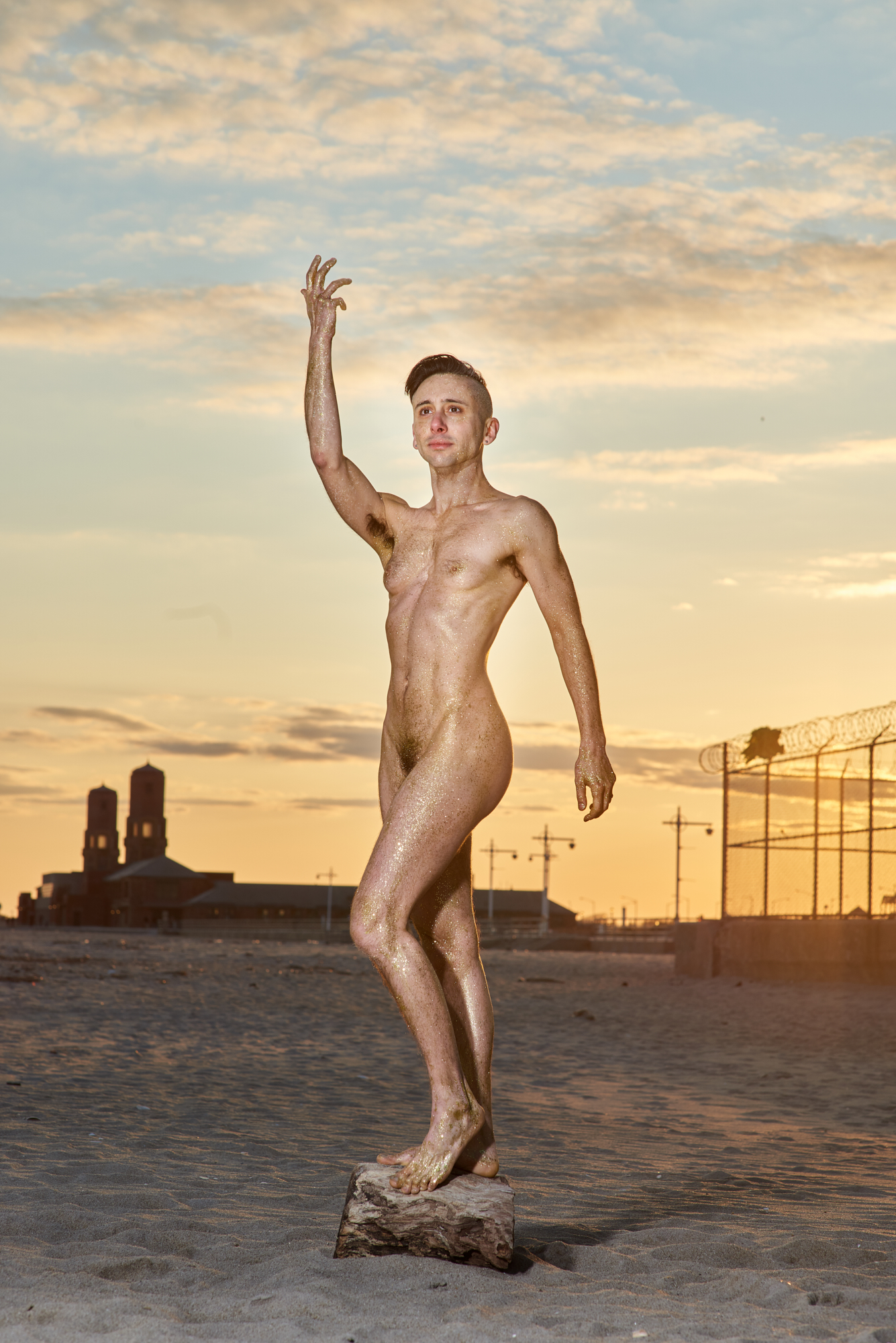 Photography: Lorenzo Triburgo
After a decade taking testosterone, artist Lorenzo Triburgo decided to stop. A new series of photographs, taken on the People's Beach in NYC by his partner Sarah Van Dyck, reimagine his nude body, which had been perceived to be cis male. Triburgo references traditional masculine poses drawn from classical sculpture and painting—but adorned in glitter, scintillating and celebratory. Various gazes thus open up and intersect: the queer gaze, on a queer body, a lover's gaze on their partner; the male gaze from history and the female gaze through the camera. The series is now on show at Baxter Street, NYC, the culmination of a residency there. (Charlotte Jansen)
Diana Ejaita, from left to right: MAwulisa, Oya #2, M.Ayim. All words courtesy of the artist
Illustration/Textile Design: Diana Ejaita
One of my favourite projects by Nigerian-heritaged, Berlin-hailing Diana Ejaita is one completed by the artist during a residency at Arthouse Foundation in Lagos. She explains that as a child of migration and interracial parents, she is "driven by the issues of colonial/postcolonial effects, racial, gender discrimination and identity research." The stark contrast between black and white comes to the fore in this body of work, where hand-inscribed typography is married to boldly delineated figures. The imperfect nature of these prints means that they dance between the boundaries of art and design, something that Ejaita doesn't shy away from in her practice as a textile designer and illustrator. She's probably best known for a recent New Yorker cover, but it's her personal practice, which strays away from the figurative into the abstract, that is worth exploring. (Anoushka Khandwala)
Painting: Mai Ta
Mai Ta's gouache on watercolour paper works are shadowy and intense, exploring the human face and body with minimal use of lines to atmospheric effect. She works as both a painter and illustrator, and her artwork is imbued with a directness of shape and form. The artist was born in Saigon and is now based in New York, and her work is influenced by her own experience of living in the Western hemisphere and her love of Vietnamese culture. She has previously stated that she wants her work to show Vietnam "for the country that it is. Not what it's been decided to be seen as." This month she is part of a group exhibition titled Memoirs, alongside Evan Halter and Rachel MacFarlane at Pablo's Birthday in New York. (Emily Steer)
Painting: Caitlin Cherry
A psychedelic-tinged, post-internet-leaning maelstrom of hypercolour, Caitlyn Cherry's work combines painting, sculpture and installation to examine Black femme bodies in relation to ideas around commodification and the nature of the art object. The Chicago-born, New York-based artist is currently showing at The Hole NYC, with a show titled Crichoues Indignation—a phrase drawn from a misspelled Kanye tweet in which "righteous" becomes nonsensical, ranting about his wife Kim K. The title reflects Cherry's examination of how syntax and codified meaning feed into notions of gender power and the commodification of female forms online. Her vividly coloured, kaleidoscopic oil paintings are formed of composites of dancers, bartenders, gamer culture, OnlyFans erotica and Instagram models working at cabarets and as online influencers; a comment on digital image culture's constant reappropriation of women's likenesses and its capacity to strip them of agency and creativity. (Emily Gosling)
Film: Sarah Wood
Stitching together found imagery, Sarah Wood creates films that consider how and why we craft a particular narrative, and the ways in which memory can intertwine with our own fictions. Her latest project, Here is Elsewhere, was commissioned by Kettle's Yard, and reflects on the impact of the pandemic on a shared sense of time, as well as the notion of stillness. Part investigation and part daydream, it brings together documentary footage that zooms in on the expansiveness of the planet as well as the intimacy of our own thoughts. The companion piece, titled The Unmade Film, is an experiment in imagination. By asking other artists, filmmakers and writers to describe a particular scene through words alone, the audience is invited to project their own idea of what it might look like onto the otherwise blank monitor. It is a strangely meditative process that alludes to both the loneliness and boredom of isolation, and our inability to stop, breath and simply daydream. (Holly Black)
Painting: Marion Charlet
As the Northern hemisphere heads towards winter, with many countries around the world facing tighter lockdown restrictions, Marion Charlet's work offers a view into a colourful, laidback world that looks especially alien right now. The French artist's paintings depict sun-drenched views of swimming pools, boats and tropical scenes, often totally devoid of human activity (as many holiday spots are right now). These scenes look as though they were created entirely for the viewer, inviting a lone dip into an empty pool, or a leisurely walk along a promenade. A new show titled …Et l'été Reviendra (…And Summer Will Come Again), opened this week at Galerie Paris-Beijing, in Paris. "She creates a universe of her own," writes the gallery. "Wandering through her paintings, we walk into Eden-like places where big interior spaces are entwined with abundant vegetation." (Emily Steer)