Los Angeles- Dominique Knowles's newest series of large-scale paintings and drawings, on display at Hannah Hoffman Gallery until July 22, offers a window into grief that is cathartic in its contradictions: it is simultaneously singular and universal, sombre and full of hope, a revelry and release of the past. 
My Beloved explores themes of intimacy, loss and queer desire framed by Knowles's memories of his horse Tazz who passed away in 2021 and his late grandfather. "If I go in with a negative, it comes out as a positive," he says. "I would go into the work thinking of a burial, but it would come out a resurrection." 
Following last month's opening, I caught up with the poet, painter, and equestrian over a video call in New York while the skies were rusted over, full of orange-tinged wildfire smoke so heavy it broke records. As our conversation flowed, Knowles's paintings, a smudged-out palette of fire and earth, seemed to reverberate in the hazy air.
Soon after we spoke, the artist set off to greener pastures: a month-long stay in North Carolina's Blue Ridge Mountains to prepare for a riding competition, the first with his new horse. During trips like this, Knowles brings his materials with him and lives and paints on the stable grounds. "It is a very interwoven life between the horses and the art," he says. When he is not travelling, The Bahamian artist lives and works from one of the two equestrian centres he belongs to in France and Florida.
For Knowles, the human and the divine are inextricable. His memories of the stable intermingle with time spent at the church with his late grandfather as a child, framed by the scent of incense and the warm flickering glow of candles at the altar. "My beloved" was a common refrain his grandfather, a politician and a poet, used to refer to everyone from the young artist himself to strangers on the street. Now, these memories have materialized in a visual eulogy across the gallery. 
All of the works in My Beloved were created within the span of a fruitful month spent between Joshua Tree and the Los Angeles gallery. Leading up to the exhibition, Knowles spent two weeks tucked away in the desert, unearthing images of horses in his mind that had built up over months based on ideas he had been developing for years. Later, he completed the works in the gallery space, adding colours and contours. "I was playing off of the window light and the wall colour to choreograph or balance the tones and relationship between each work," he says. This was the artist's first time in California. The burst of creative output that ensued was another first for Knowles. In the past, he has often taken years to finish an individual piece of work. 
He found a release in the brown and greens of the desert, where the Yucca's spiky leaves jut out against the peachy pink horizon (he painted at sunset to avoid the heat of the day and the swarm of bugs that came out at night). "It was a build-up of ritual, a sediment of memories, and I just needed to let it go through painting, a small atonement or a dance," he says, reflecting on the process.
"I had been painting my horse in a memorial way since 2016, so I was pre-mourning his death," he explains, adding that in an ideal world, he would have been able to sacrifice something (like his own life) for his beloved chestnut horse to live and get better, "but that's just not how it works outside of art or literature," he resigns. "Art gives me a space to make imagery or situations that are hard to give shape to in real life." 
While many works are a mix of memory and invention, one painting of an upside-down horse recalls a specific moment in time: Tazz's burial. "When the horse passes away, they are resurrected into the sky with a crane, so it feels like they're floating or they're having this very spiritual resurrection, but it also looks like a crucifixion because they're attached to this crane or this machine, upside down, this vertical structure," he recollects.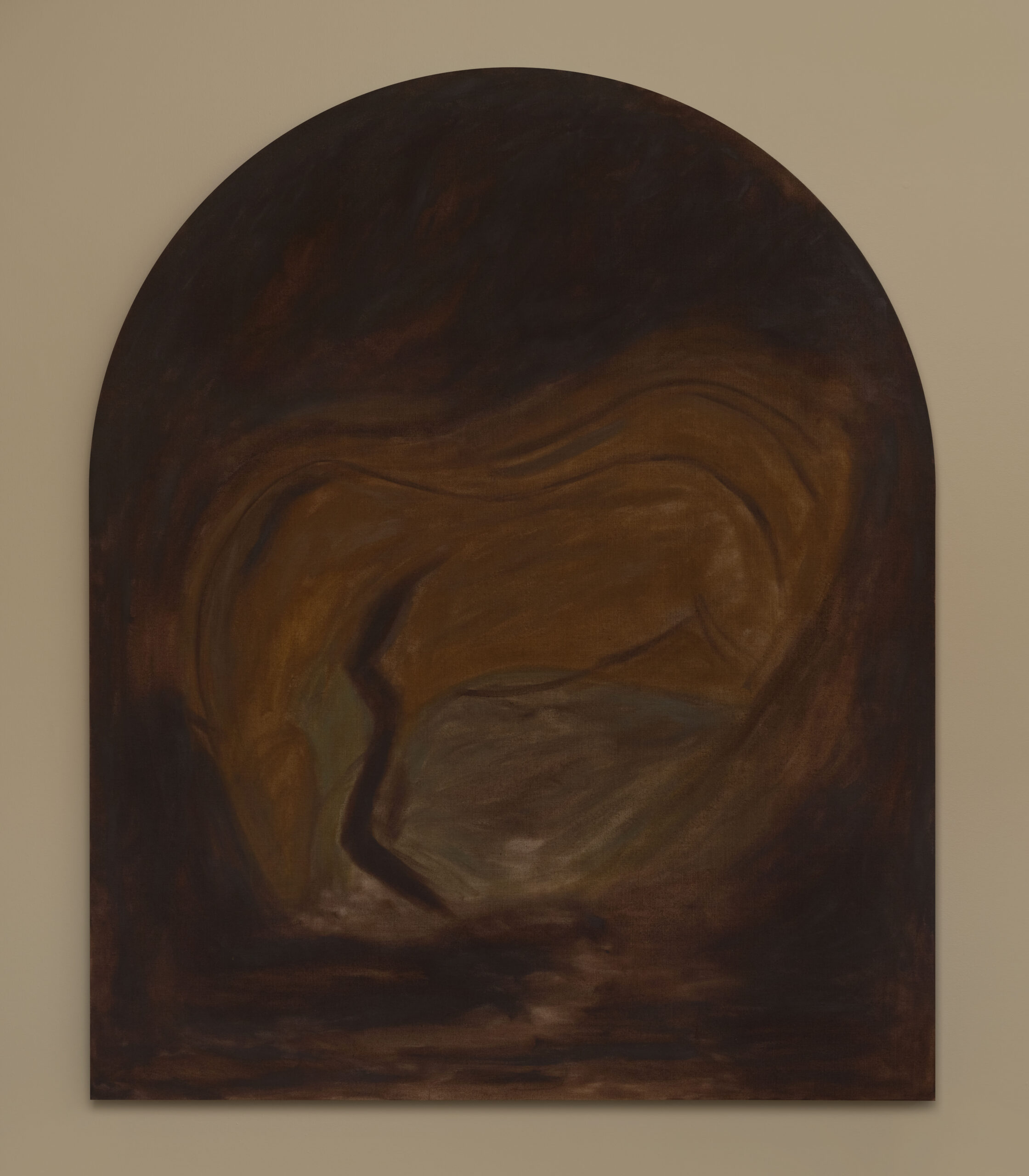 Knowles envisions a ritual that could ease the pain of losing a beloved pet in the Western world: "allowing burials of animals in the cemetery at church or allowing the priests to come and bless the horse as they do in indigenous cultures." He acknowledges that while "this is not impossible, it could be seen as a bit of a transgression or at least a weird ask." For Knowles, art offers a solution outside of societal norms. "I want to create a space for people to grieve their domestic animals through my work," he says.
Knowles began drawing horses long before he came into his own as a painter. His grandfather gifted him Tazz when he was nine years old (the elder passed away soon after). The painter grew up in the Bahamas riding his horse, surrounded by nature. "I basically saw the ocean every day and all day, from home, along the drive to school, at the stables," he says. He moved to Chicago after he graduated from high school and enrolled in college at the School of the Art Institute of Chicago to study art and film; he went on to get his master's at SAIC as well. For a while, horses were all he painted until, slowly, the contours of human forms began ebbing into his vast, ethereal swaths of earthy hues. 
His inspiration is as varied as it is pointed: Peter Paul Rubens and Hieronymus Bosch, Mark Rothko and Donald Judd, the writings of Zadie Smith, cave etchings, Renaissance paintings, man's bond with horses throughout history and art, Hinduism's practice of honouring cows, indigenous rituals for animal death. At first, his works appear abstract, but upon a longer glance, figurative shapes come to the forefront along with a slew of inquiries metabolized in the work: How is meaning transferred when an artwork moves from one place to another? When a person moves from one country to another? Or when a body moves from one realm to the next? And how does physical space mediate symbolism? Knowles probes these questions with every brush stroke. He notes that Renaissance paintings were made and displayed in churches before they were removed to be put in museums; temples were moved from their original locations in Asia or Africa and brought to Western museums.
"Galleries now, the white cube galleries, have a very agreed upon structure of mode or viewing presentation, and it's not neutral", he observes. "It's white walls and fluorescent lights. It's grey or wooden floors. And everyone's conditioned to ignore it, but I think it acts upon the work visually."
The artist made a point to use the exhibition space at Hannah Hoffman to add to his work rather than disappear behind it. "If I'm making the work outside or in the natural light in my studio at the farm, that has a specific mood. When it's placed in a doctor's office, so to speak, the mood isn't there; or it is there, but it's not all-encompassing. I bring a bit of the studio environment into the gallery space so I can keep the feeling present — also to reduce a bit of the shock for myself of moving the work from studio to gallery," says Knowles.
The walls at the gallery are aglow with an amber light cast from oil-paint-stained windows. "It was as if the paintings were backlit, as if there were glass boxes on the wall there," he says of the painted window's effect on the works. 
Initially, Knowles was thinking about showing these works in a church. "I'm not very religious; it's more about it being spiritual," he clarifies. When he envisions a church, he thinks of a luminous Caravaggio painting. 
His paintings' curved, arch-like canvases are redolent of catholic architecture: in one work, a figure rests at the pictorial plane, mirroring the compositions of Renaissance crucifixion paintings (the shape of the canvas recalls a cross).To the left of the crucifix is a triptych altar with "two sides that are half the size of the centre panel so that the painting can open or close in churches." 
There is a cosmic vibration through "My Beloved" that caused Knowles to pause to catch his breath after he finished the installation; he was overwhelmed as he stepped out from within the works. "It felt like I was looking over a cliff," he remembers. He brought in a bench to sit down and process the last month (and a lifetime of memories) sprawled out across the walls.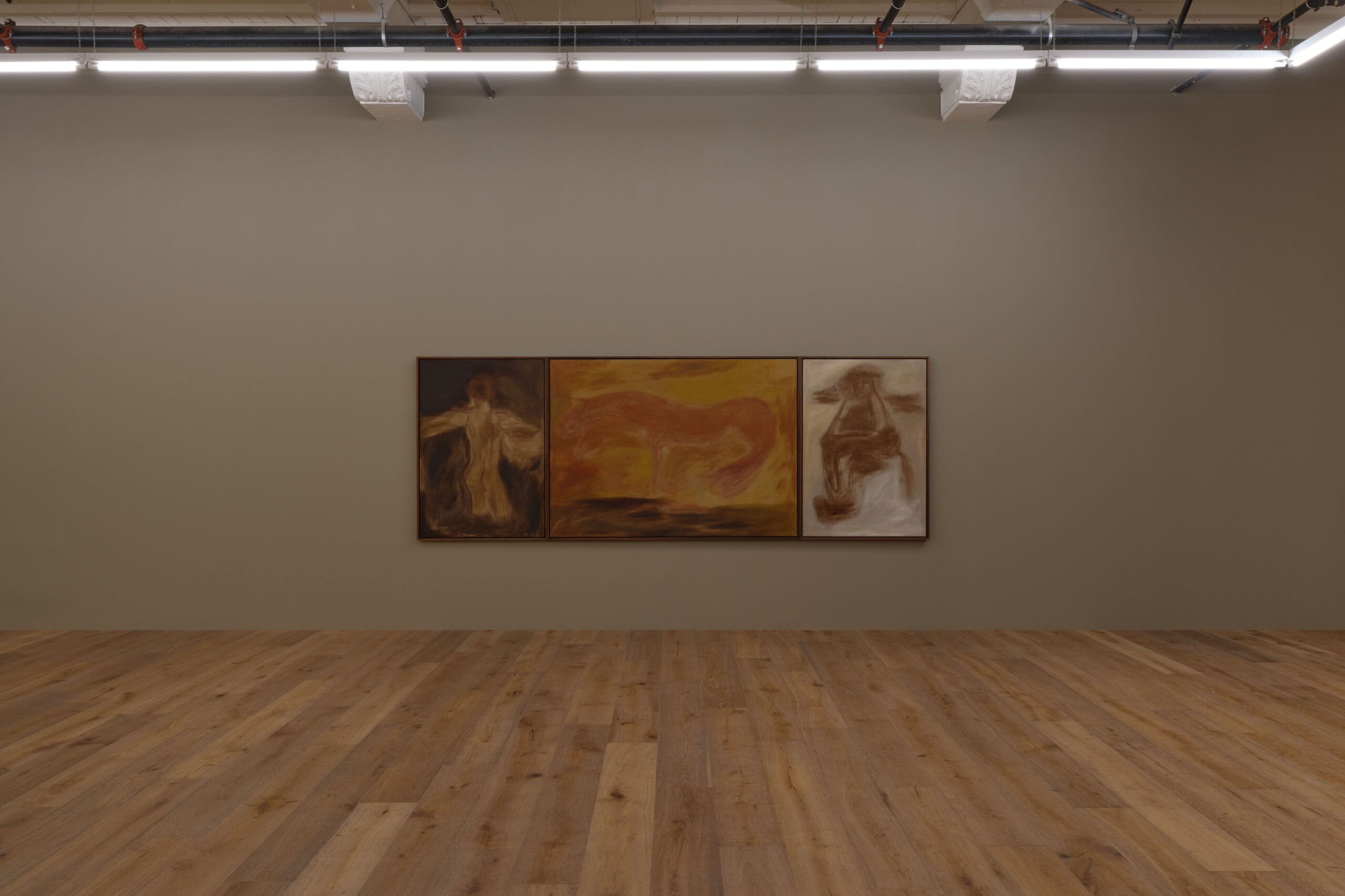 Six years earlier, when the artist was 21 years old, he was moved to tears at the Tate as he stood immersed in Rothko's Seagram murals. He walked through a display of Monets in a bright gallery space before entering the Rothko room, which he found under-lit with striking grey walls illuminated almost infrared or ultraviolet. The deep red-and-charcoal-hued works seemed to absorb and reflect the light simultaneously. "You walk in, and you see the whole thing at once, and in that shift in light and shadow, it just felt like I was being skinned alive," he recalls. "It's the same windows being painted over and over in each canvas. And as you walk around, you think you're going to enter these windows. But they're not windows. They're just walls, and you feel trapped." 
The young artist didn't know what to do as he took in the vastness, the melancholy maroon palette, the glow of the dark windows — the effect was claustrophobic as it was expansive — so he surrendered. "I sat on the bench and cried for three hours, and a lot of people on the bench were also crying," he says. The shared experience was cathartic. He left transformed. To this day, his inclination for immersive spaces informs his paintings that seem to spill out from the canvases onto the walls. 
Knowles has not finished probing these ideas around space and memory. Rather, his recent output has left him emboldened and ready to push his painterly vision further into the third dimension. "Last year, I needed a very long break after making paintings, but this year the show gave me so many ideas for new ones. It was so spiritually enriching and renewing that I just want to keep painting," he says. "I feel like a plant photosynthesizing."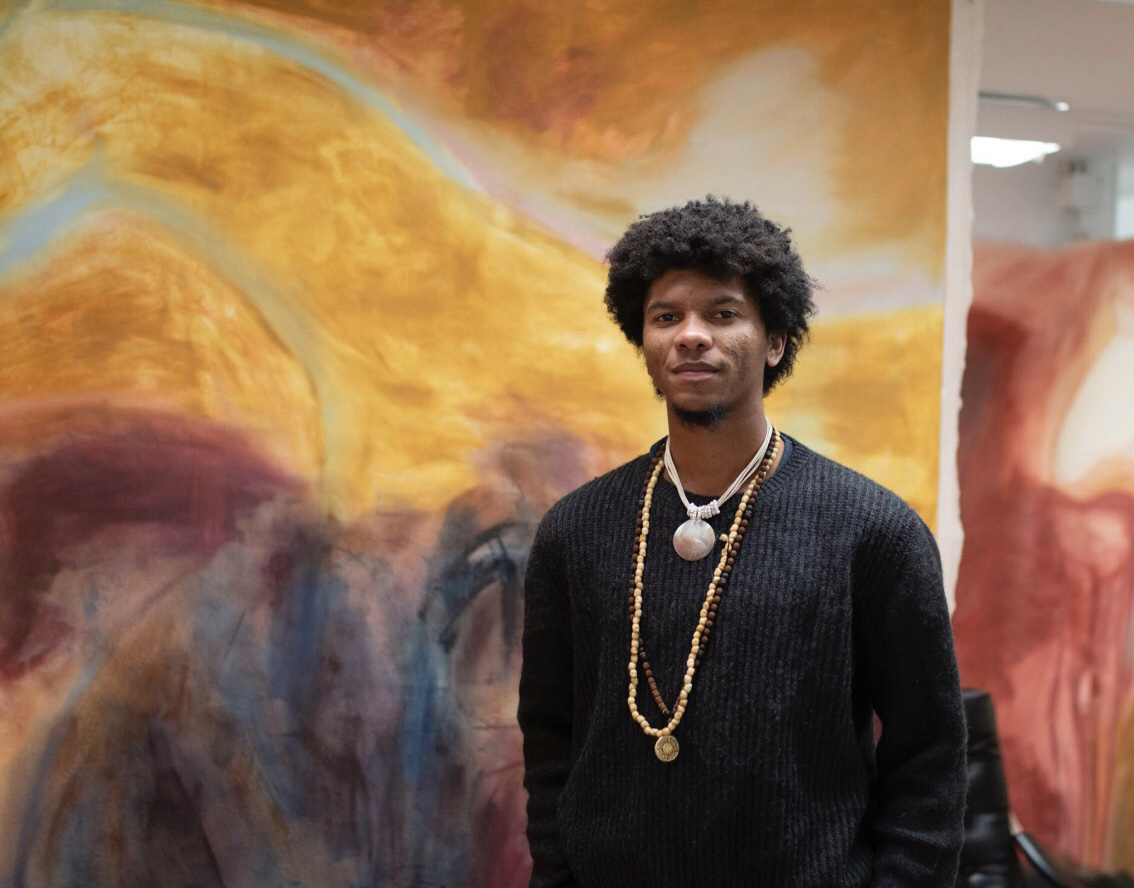 Words by Meka Boyle