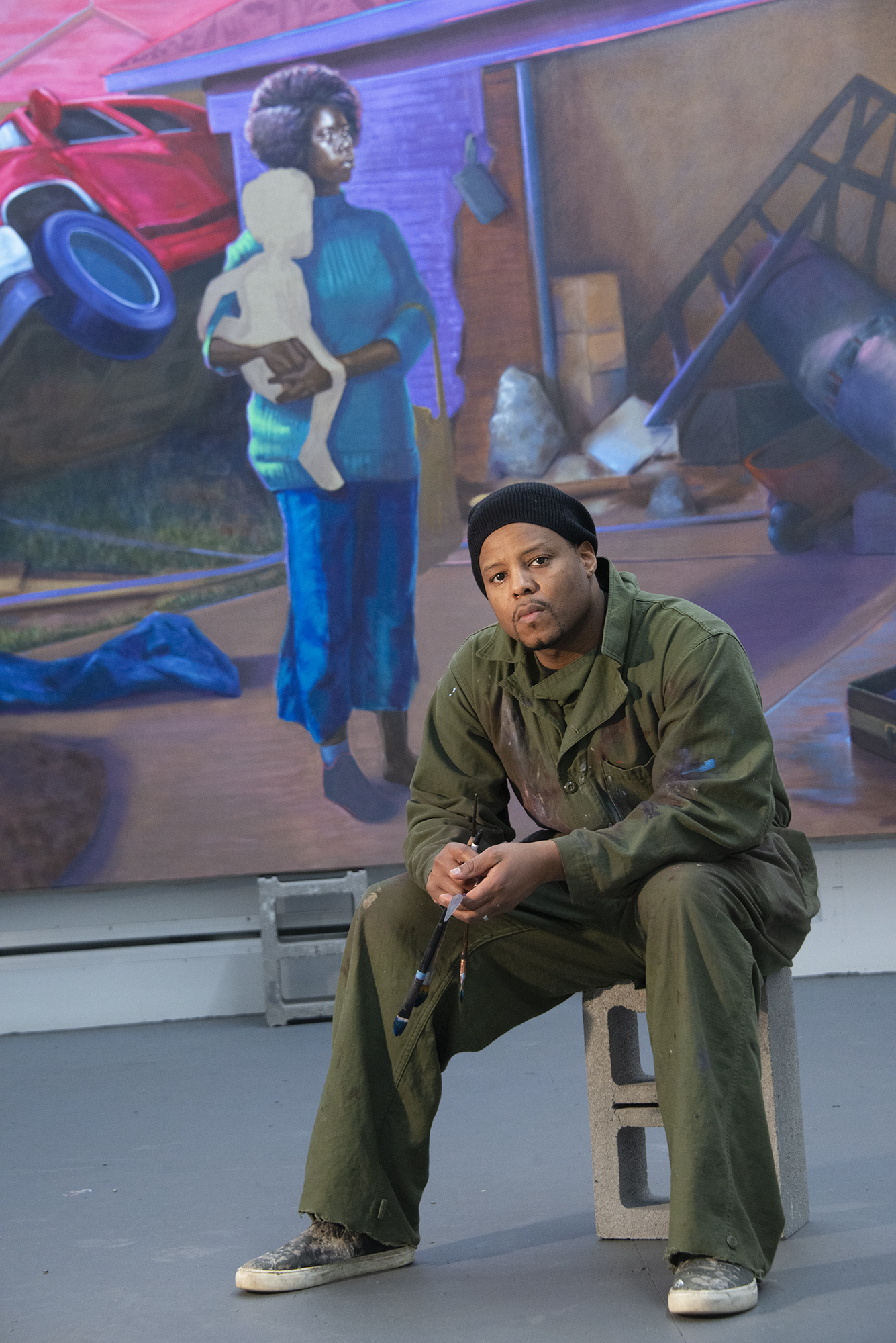 In a 2017 TED Talk, Titus Kaphar explained how his encounter with whitewashed art history had prompted him to explore techniques of amendment and correction within his practice. As a student in California, the young Kaphar was outraged when an art teacher skipped over the "Black people in art" section of his course, igniting a lifelong interest in the injustices of Western realist painting. To illustrate the episode's lasting impact to the audience, Kaphar updated his own replica of Frans Hals' Family Group in a Landscape (1648) using white paint and a diluting oil to highlight the Black subject at its centre. "What I'm trying to show you is to shift your gaze just slightly: just momentarily," he said.
The veneration of depictions of white subjects within the canon, Kaphar argued, meant that more academic research had been devoted to identifying the clothing and trinkets of white subjects than has been paid to even the basic existence of Black figures—a neglect that, when repeated so remorselessly through the ages, amounts to the almost complete erasure of Black subjectivity within art historical studies. As Kaphar's career has developed, his exploration of the collective gaze has gone far beyond the momentary. His work is a constant negotiation between the merits of presence and absence: when seeking recognition for Black subjects, does the power of accurate depiction trump the impact of intentional exclusion?
From a Tropical Space explores this very question, in what is an increasingly fraught racial landscape. Kaphar leans towards absence in these new works: all depict Black mothers tending to young children in a variety of balmy, suburban American landscapes. But where the silhouettes of the infants should sit, he has taken a scalpel to remove them entirely; only the white space of the gallery walls remain, as if time has frozen—the mothers unaware that their children have been erased with surgical precision.
"When seeking recognition for Black subjects, does the power of accurate depiction trump the impact of intentional exclusion?"
The works are unmistakably of this moment. Analogous Colors (2020) was used on the cover of TIME magazine in the wake of George Floyd's death. "In this story, there is a culmination of all of the anxiety—all of the fear—into this instant where these children disappear," Kaphar says of the show. Kaphar arguably goes further than realising the inevitable maternal fear of Black children growing up in a hostile world: by recasting every Black child as a target, rather than, say, focusing on the young Black men who are often the victims of police brutality and mass incarceration, the artist makes a near-nihilistic assessment about the possibility of Black life under white supremacy. "In her expression, I see the Black mothers who are unseen, and rendered helpless in this fury against their babies," he wrote in Analogous Colors' accompanying text. 
Whereas Kaphar's previous work has often focused on the very public act of redressing inequalities in representation (his painting, Behind the Myth of Benevolence (2014) saw a canvas of George Washington peeled back to reveal a Black female subject), From a Tropical Space includes an exploration of Black existence beyond this corrective purpose. This is rooted in the domesticity of Kaphar's settings: a mother sitting with two children in a calm living space; sisters walking prams through quiet suburban streets, themselves given a utopian hue via bold recolouring. While absence is the focus of these works, Kaphar always gestures towards a future—or perhaps, a kind of restoration—of Black life lived to the fullest.