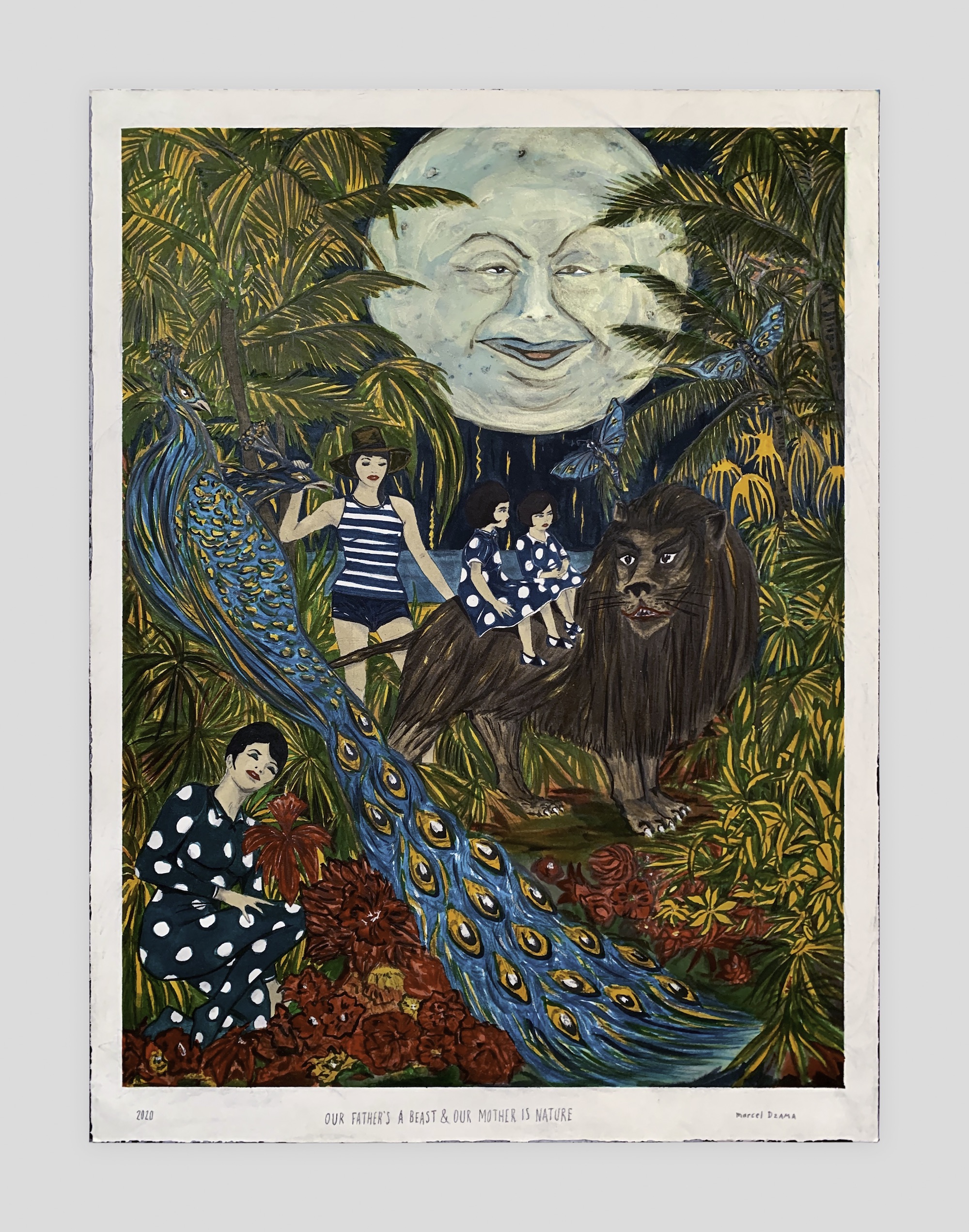 When you're alone at night in an unfamiliar city, have you ever looked up at the moon and felt closer to home? The moon is a constant, a shining orb or smiling trickster, watching over the world after dark. Even when everything else seems to change and shimmer with uncertainty, the lunar cycle marches on above.
At the start of the pandemic, artist Marcel Dzama relocated from the rising panic of a rapidly closing New York to the open spaces of Long Island. Known for his often surreal drawings with darkly fantastical undertones, the world as he knew it was shifting faster than he could ever have imagined, and even the strangest of fairytales didn't quite seem to capture the reality of the moment.
Out in Long Island, on late-night walks between his studio and his new home, Dzama would look up at the sky. The moon would look straight back at him, a familiar face amidst the sea of change. It was this period of introspection that sparked the Canadian artist's latest book, created during lockdown from March to May 2020.
Titled Pink Moon (after the 1972 song by English folk musician Nick Drake), it is a document not just of Dzama's experience of stasis, but an exploration of the moon as a portal to other places.
"Even when everything else seems to change and shimmer with uncertainty, the lunar cycle marches on above"
From Morocco to Mexico, the moon shines down brightly from above. It is these two very different countries from which Dzama draws inspiration throughout Pink Moon. He had visited both just prior to the pandemic. Upon finding himself confined to his studio and home in 2020, he began to delve once more into his memories of these trips.
"I was trying to find a bit of escapism by travelling to places that I had been before, in my mind anyway, in the drawings," he explains. "Usually my drawings are much more sinister, or almost world-weary, so I was trying to be a little more hopeful."
There is a distinct mood in Pink Moon, at once reflective, unsettling and inviting. It might be hopeful, but it is with a specifically Dzama spin on it—witty and playfully sinister. A woman in a striped bathing suit cradles a grinning monkey by a murky, turquoise pool. A boy leads a donkey under a hazy moon. Lions and bears dance in dresses beside amber-lit palm trees.
Three cats lurk under a chair in one drawing, while two perch on a towel in another. Look closely enough, and you start to realise the animals pop up throughout Pink Moon. Dzama worked on these from images taken by his young son while they were in Morocco. "I gave him a camera, and all his photos were just of stray cats," he laughs. "You get really interesting angles because I guess he's smaller. He got right in there with them."