Despite being in its twentieth year, Frieze still generates the same kind of buzz it did when it first pitched tent in Regent's Park in 2003. Spread across Frieze London, Frieze Masters and Frieze Sculpture, knowing where to begin your Frieze journey can be a challenge in itself, and that's before you've even decided what to wear! So, over the next few days, Elephant will be highlighting the best of Frieze 2023 – from inside the fair to the after-parties happening across town.
Elephant's Art Features Editor, Emily Burke, starts her visit at Frieze London: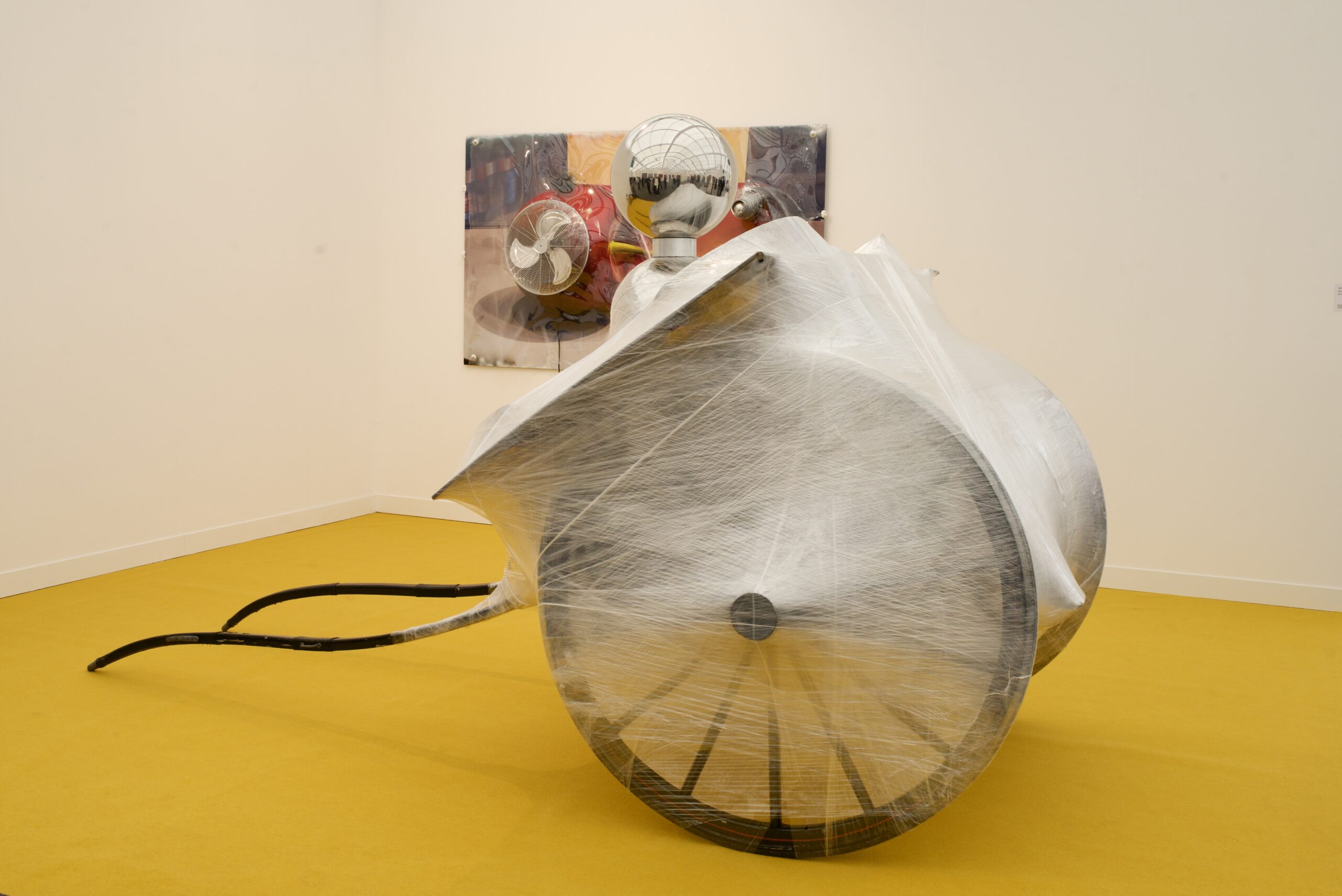 Jack O'Brien at Ginny on Frederick
It's a full circle moment for Ginny on Frederick, making their Frieze London debut this year in the Focus section, as they are showing the work of Jack O'Brien, the first artist the gallery exhibited when they opened their doors in 2020. Today, Ginny on Frederick are all grown up, and this year they have said goodbye to their now-iconic original space, which was based in an old sandwich shop. They have moved into a larger gallery space, just down the road, but their decision to present the work of O'Brien confirms that the gallery's true value lies in its consistent commitment to its cutting-edge roster of emerging artists.
O'Brien's work is all about desire. Whilst his work references architectural and industrial structures, his sculptural works are explicitly erotic and bodily – they are deliciously human beyond their polished sheen. His site-specific presentation at Frieze explores the image of the cherry: that sweet fruit sexualised, beyond reason, by late-stage capitalism.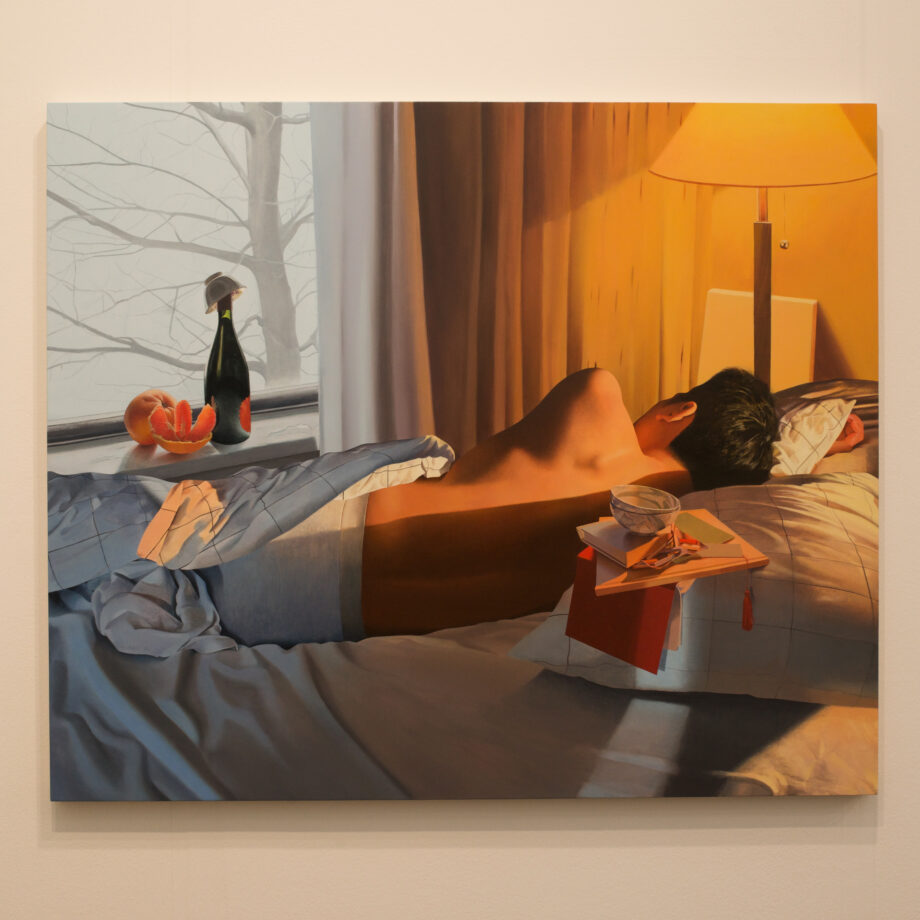 Kyle Dunn at P.P.O.W
P.P.O.W Gallery opened in 1983 and gained notoriety for its radical support of artists such as David Wojnarowicz, Martin Wong, and Carrie Mae Weems, now regarded as some of the most influential artists in recent history. The new generation of artists represented by the gallery will, undoubtedly, soon enter the same esteemed canon.
This year, at Frieze London, P.P.O.W Gallery are showing works by Grace Carney, Kyle Dunn, Ishi Glinsky, Joe Houston, Gerald Lovell, Guadalupe Maravilla, Erin M. Riley, Robin F. Williams, and Martin Wong; it's a strong line up. Dunn, in particular, is worth the visit. In his paintings, Dunn veers, with lucidity, between the extremes of domestic life: he paints a man sleeping, with a tenderness that could only be distilled by a recent lover, and then he paints a naked man staring aghast at his naked reflection in the mirror, his phone cast to the side. Dunn makes a melodrama out of the constant hum of modern-day anxieties.
Mattia Guarnera-MacCarthy and Hamed Maiye at Harlesden High Street
Harlesden High Street is about as anti-establishment as a gallery showing at Frieze can get. The gallery opened in 2020, but gallerist Jonny Tanna has been organising shows in Harlesden since 2017 – Harlesden is a far cry from the blue chip mecca of Soho. Rather, it is, as Tanna told Elephant earlier this year, 'the last place in London that hasn't been gentrified.'
Since the outset, Tanna's mission has been to make art accessible within his local community and to provide a platform for artists who otherwise may not have had the means to pursue a career in the arts. And, despite 2023 being their debut year at Frieze London, showing in the Focus section, Harlesden High Street are staying true to their ethos of accessibility by hosting their own 'non-fair', Minor Attractions, which seeks to provide an alternative fair model, with late opening hours and a relaxed social vibe.
Harlesden High Street is showing the work of Mattia Guarnera-MacCarthy and Hamed Maiye – neither artist has had a traditional art education, and now they are exhibiting at Frieze. The two artists are presenting a booth that replicates the set of The Junior Christian Teaching Bible Lesson Show, a public access television show which aired in the United States from 1988 to 2008; it consisted largely of a stage for puppets and a seat for the host, David Liebe Hart. Guarnera-MacCarthy and Maiye's work explores two new visions of religion, one centred on personal experience and storytelling, the other on contemporary fashion and the modern-day aesthetics of religion. During the course of the fair, there will be timed performances with Liebe Hart (Live at 5 with David Liebe Hart*) as well as recorded presentations of archival footage.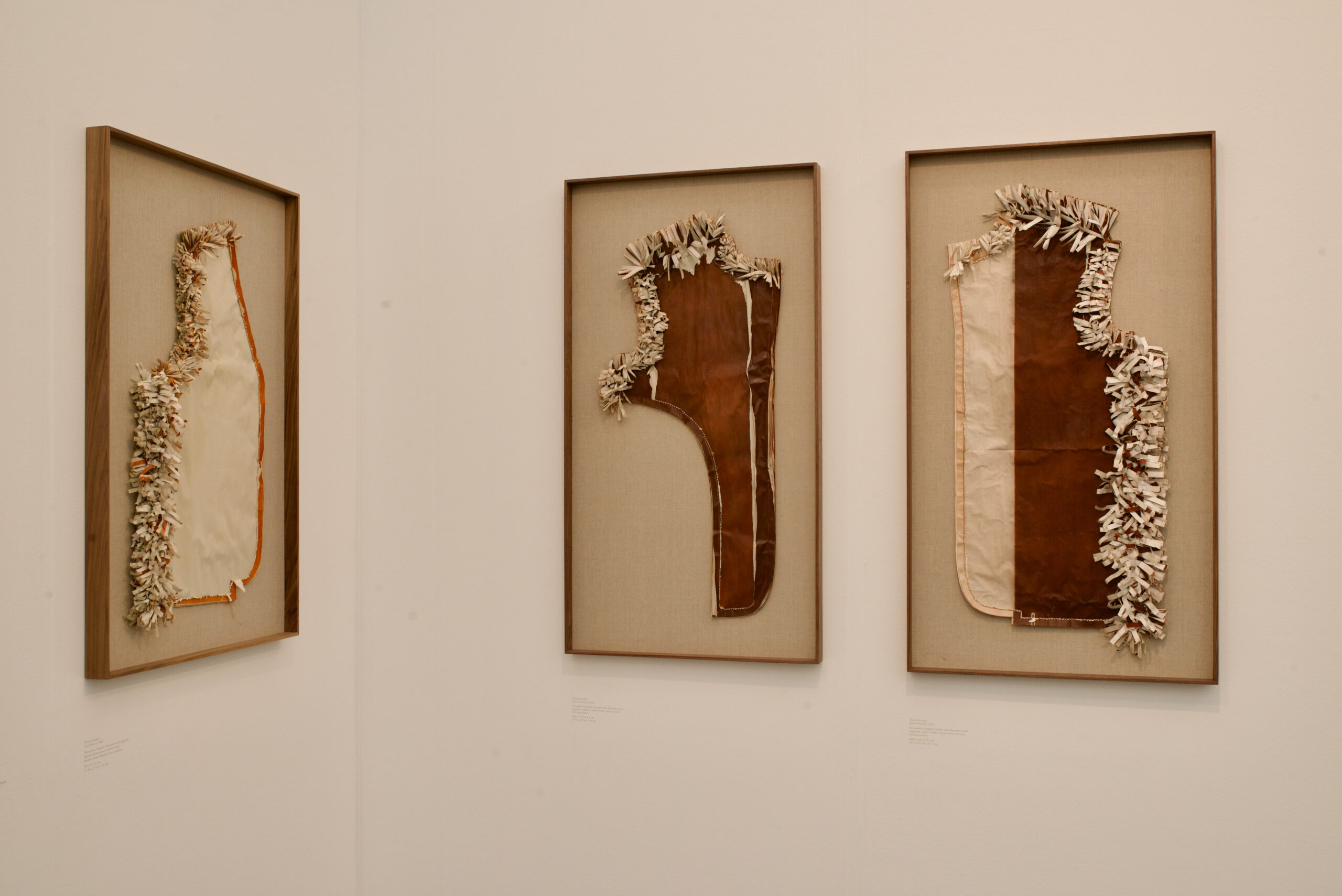 Tanoa Sasraku at Vardaxoglou
Vardaxoglou's presentation this year represents not only their debut at Frieze London, but also their first participation in an art fair. This is not for lack of interest, as the gallery has rapidly become a cult favourite on the London art scene since its opening in 2020 (like many of its Focus cohort). Vardaxoglou has taken time to refine its programme and focus on the artists that it supports. One of these artists is Tanoa Sasraku, whose work is representing the gallery at Frieze.
Sasraku is twenty-seven years old: a point worth making based on the sophistication of her work which explores the British landscape, the human body and her own familial legacy with a sensitively critical eye. Sasraku is exhibiting a new series, Terratypes, which explores the artist's personal and historical relationship with the landscape of Britain. Her process in making these works has seen her travel to a series of locations, including Dartmoor, the Jurassic Coast, and the Scottish Highlands, where she forages for earth pigments, millions of years old. She rubs these, by hand, onto blank sheets of newsprint, which she then sews, soaks and rips.
Sophie von Hellermann at Pilar Corrias
Pilar Corrias is a well-established staple of the London art scene, with two galleries in the city, and is home to some of the world's most exciting contemporary artists. One of these artists is Sophie von Hellermann, whose work is representing the gallery at Frieze London.
Best known for her large-scale, pastel-washed paintings, Von Hellermann's work explores fables, myths and literature, intertwined with current-day narratives. At Frieze, this year, her work looks at a uniquely British place of fantasy – the fairground: in particular, Dreamland, the iconic funfair in Margate where the artist lives and works. Von Hellermann's mystical scenes of disorientating funhouses, and ascending roller-coasters, might well seem sinister if their subjects weren't so joyfully painted in aqueous effervescent pastels.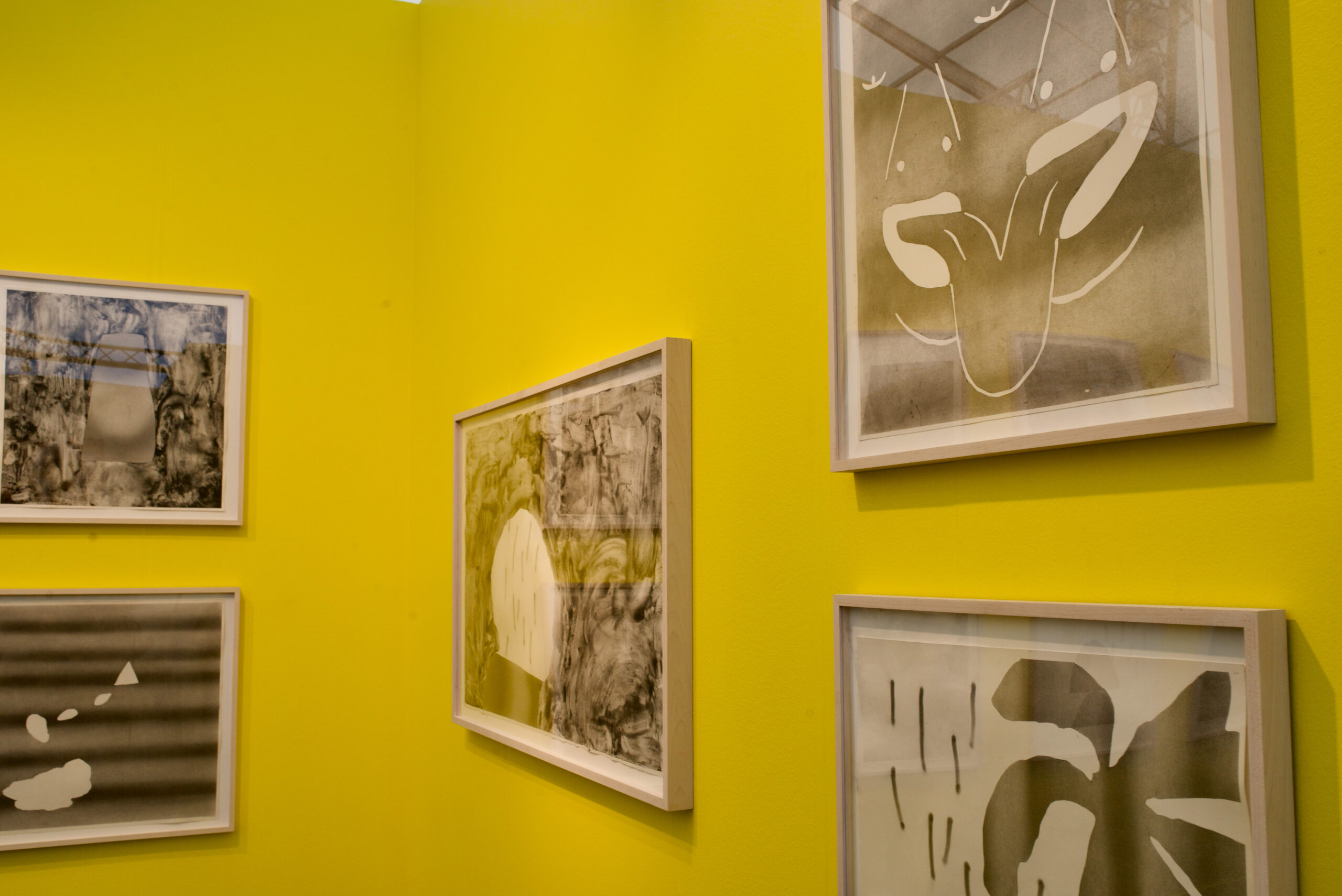 Deborah Anzinger at Nicola Vassell
Nicola Vassell was an acclaimed curator and art dealer before she opened her eponymous gallery in 2021 – the first Black-owned gallery in New York's Chelsea district. Vassell's impressive background is, undoubtedly, part of the reason that the gallery quickly established itself as a groundbreaking institution intent on shaking up the art world.
At Frieze London, Vassell is presenting the work of Deborah Anzinger, who began her career studying proto-carnivorous plants, and completed a PhD focused on HIV-neuro-pathogenesis. If this is any indication of the critical basis for Anzinger's practice, then Untitled Transmutations at Nicola Vassell's booth is further confirmation of the artist's wide-ranging interests and need to challenge what it means to create art. Untitled Transmutations is a monotone series, entirely grey, depicting various abstracted shapes made from ground charcoal. The charcoal itself is significant: in Anzinger's native Jamaica, charcoal is an essential and undervalued fuel that is critical for the survival of its people. By using charcoal, Anzinger questions what it means to transform a vital natural resource into something made for purely aesthetic consumption.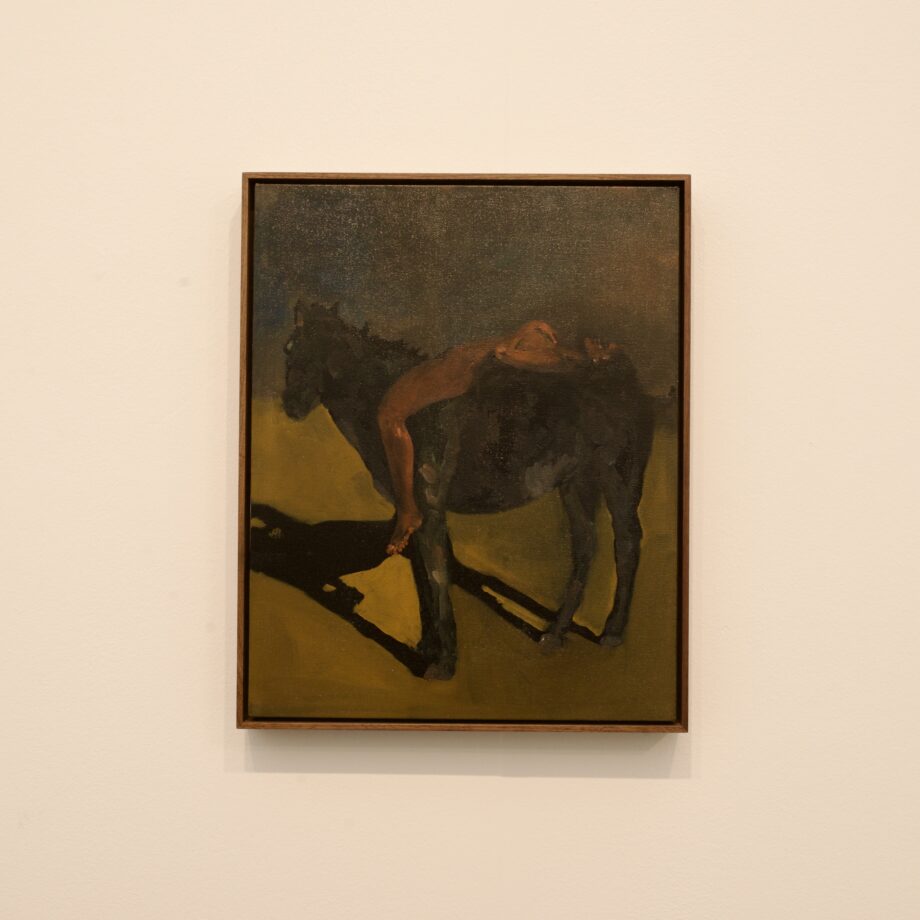 Danielle Mckinney at Marianne Boesky
Marianne Boesky Gallery was established in 1996, and has since been dedicated to supporting the work of international artists from all walks of life. Marianne Boesky is showing the work of Danielle Mckinney at Frieze London. Mckinney's atmospheric portraits re-centre Black women who are seen savouring rest, relishing their own naked bodies, and, occasionally, indulging in a cigarette. In conversation with Alexis Okeowo, for Vogue, Mckinney notes that in the western art tradition, 'Black women tend to be at work, in the background, or at the edges of the frame – almost never centred and at rest.' However, this is not to say that her works are entirely jubilant; there is a haunting sense of Hopper-esque voyeurism to the images that will play on the mind for days to come.
Jordan Strafer at Heidi and Hot Wheels
Cool kid outliers Heidi and Hot Wheels have joined forces with a shared booth in Frieze London's Focus section. They are showing Jordan Strafer's LOOPHOLE, a short film based on the true story of the 1991 trial of William Kennedy Smith (John F. Kennedy's nephew), who was accused of the rape of Patricia Bowman. Some say predictably, Smith was acquitted on all charges, and, years later, the lead defence attorney married one of the jurors. The film explores the potential of this affair to have created a loophole in the legal justice system, and ultimately highlights the incompatibility between the American justice system and rape cases. For those unfamiliar with Strafer's practice, it's a brilliant place to start as we see Strafer doing what she does best: reckoning with America.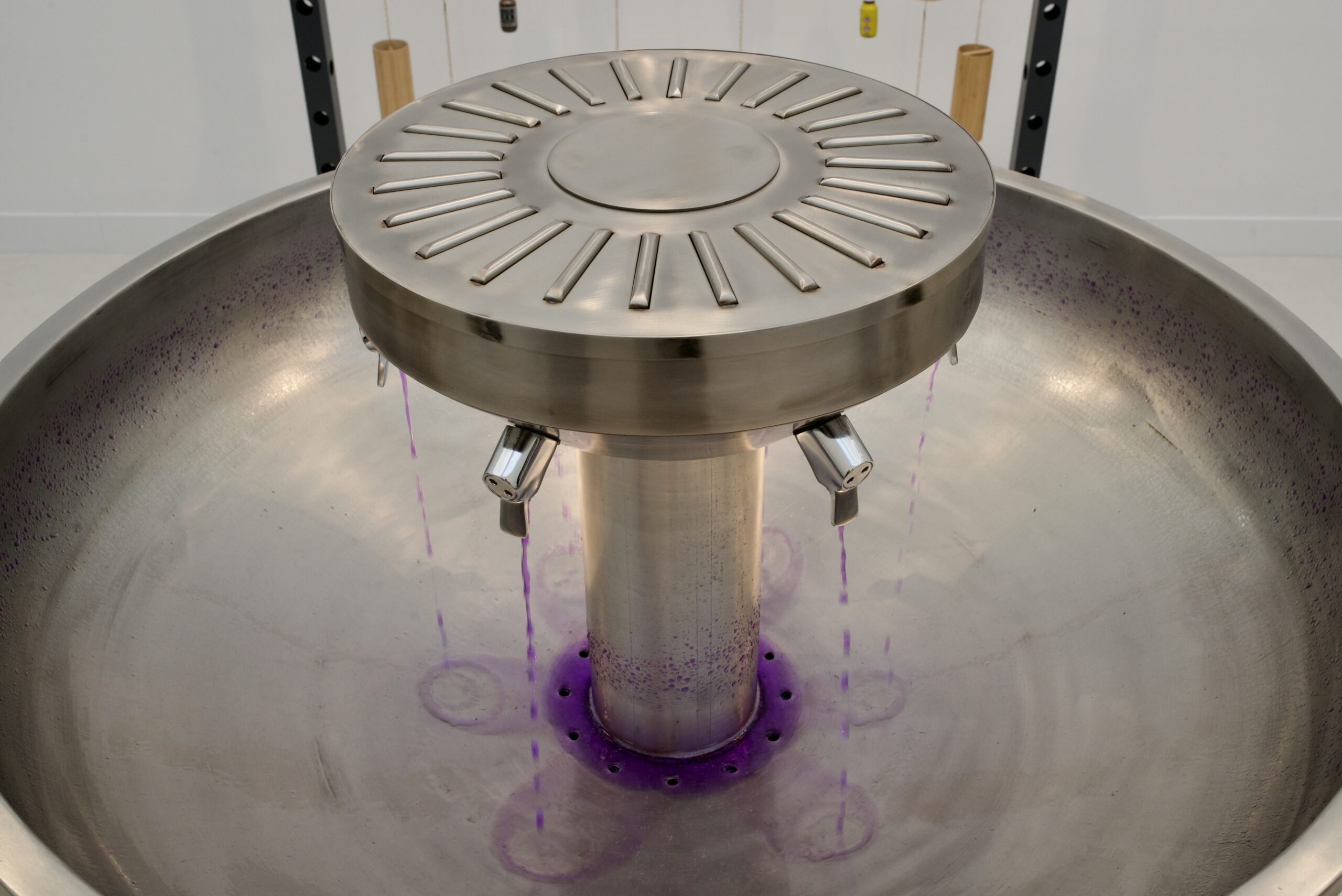 Adam Farah-Saad at Public
Public Gallery opened in Spitalfields, East London in 2020 and, as the name suggests, the gallery has made a name for itself engaging with the wider public and prioritising accessibility. This year Public Gallery is making its Frieze debut, in the Focus section, with the work of Adam Farah-Saad, whose practice utilises the unexpected (think poppers and iPods) to create a profoundly reflective poetry.
Farah-Saad invites viewers to stop, and stay a while, in his psycho-dynamic map of London. Here, a fountain (inspired by the handwashing fountain in the men's toilet in Wood Green) continually pumps KA juice, and a wind chime (made from poppers) and a wall-mounted pull-up reference the artist's reflection on addiction and healing. There is also a multi-disc CD tower mounted on a billboard print of Staples Corner, where viewers can listen to albums by Janet Jackson, Whitney Houston and Mariah Carey.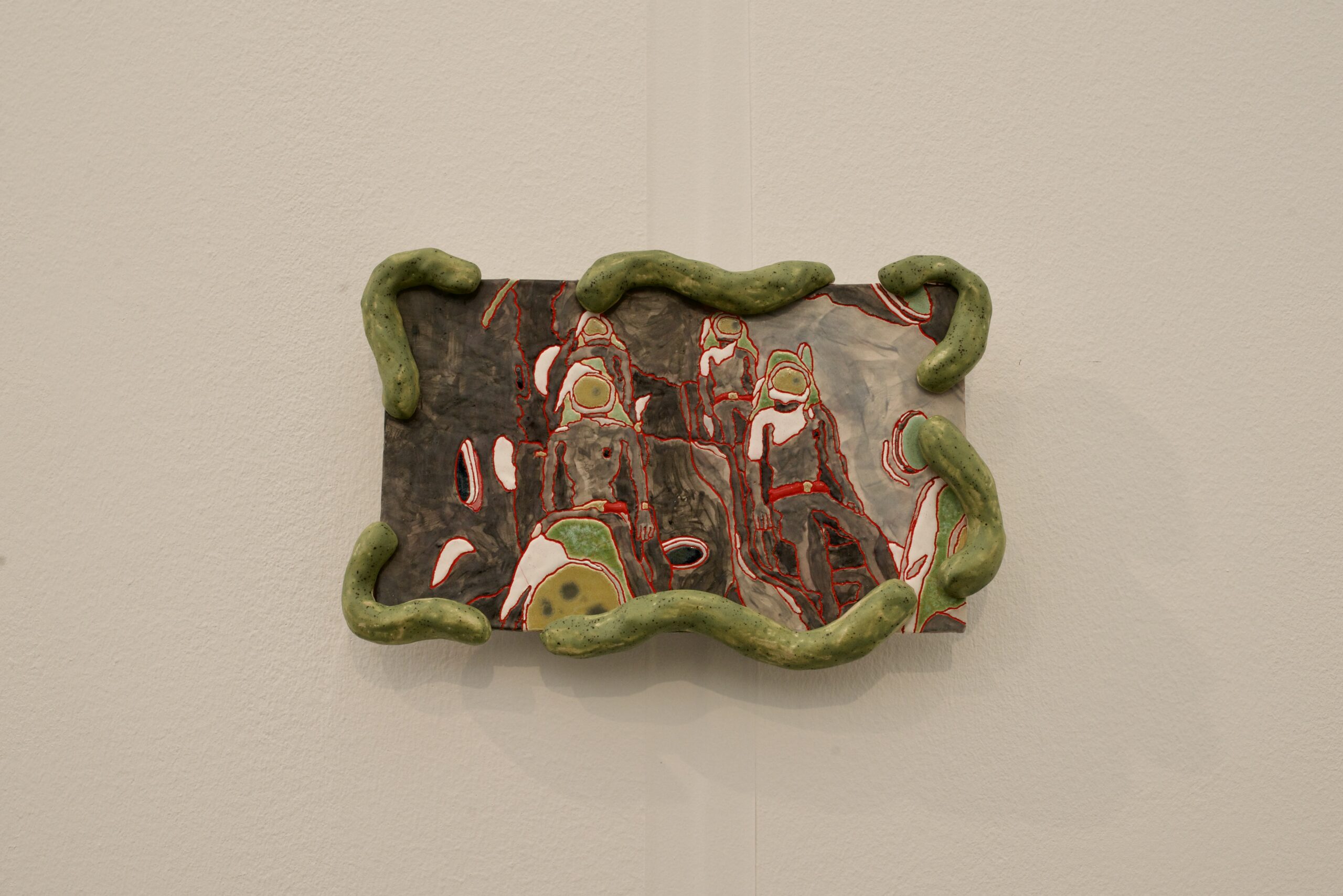 Kara Chin at Vitrine
Vitrine Gallery has made a name for itself due to a commitment to supporting emerging artists with ambitious, experimental exhibitions. Kara Chin is no exception, and this year her multi-disciplinary work is brought to Frieze with her latest series Flames Painted on the Back Cloth, which explores the bloodthirsty landscape of twenty-first century video games. It's a series rife with references to the apocalypse, and imbued with a sense of existential dread as one would expect from Chin, whose practice addresses how the constant risk of ecological and human disaster haunts the present day with the threat of the future.
Words by Emily Burke