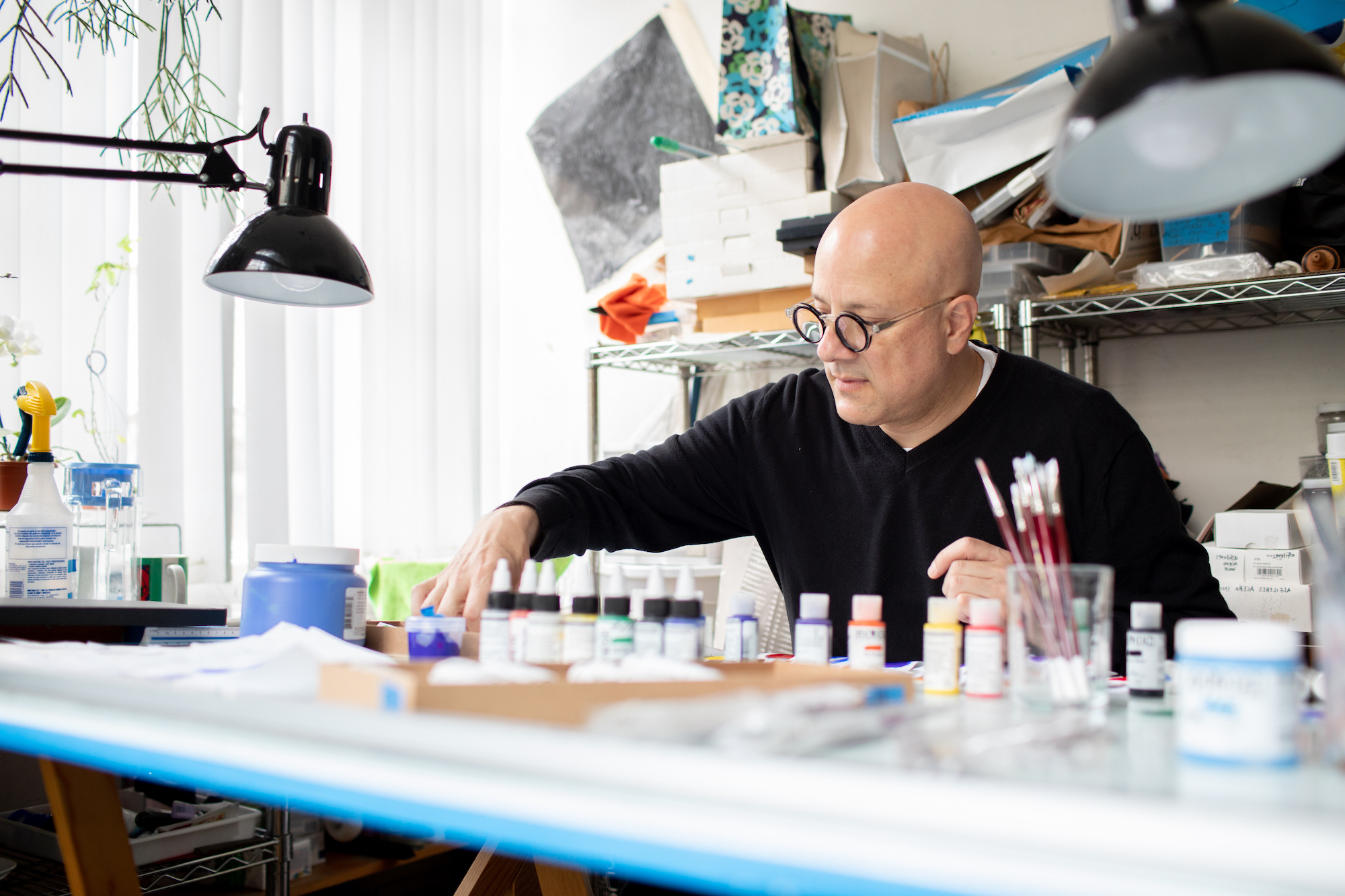 Gabriel de la Mora is smiling when we meet on a bright New York morning. He has much to celebrate this autumn, not least his first return to the city since the start of the pandemic with a new show titled Lepidoptera at Perrotin gallery. It also marks the 25th anniversary of his decision to leave his architecture career behind in order to embrace art.
De la Mora is deeply drawn to repetition, geometry and symmetry. In Lepidoptera (the scientific name for butterflies and moths) he uses the mesmerising organic material of their wings to transcend the boundaries of colour and function.
After sorting and classifying them by colour and patterns, the Mexico City-born artist cuts the wings into squares. With surgical precision and dedicated tools, he first failed before successfully prototyping. It took a year, for instance, to develop the glue to fix the material.
His scientific approach to art-making typically involves encountering objects and materials of interest and recording his thoughts in a book before trying to create anything, usually starting out on a much smaller scale than the final pieces. The resulting finished artworks convey playful artifice, texture, abstraction and metamorphosis behind carefully selected museum glass. Their thoughtful placement allows the viewer to move along with the gradations of the unique pieces.
"My best work is this, it's now, and it's the one to come. I would be sad if my best work was 20 years ago"
The chromatic palette of the works in Lepidoptera alternates between electric blues, variations of lime, citrine and iridescent emeralds. Each piece incorporates an organic specimen, communicating deep contrast between the synthetic and the natural. The numbers indicated in each work title recall the number of fragments used, while initials denote the species used (seven in total throughout the show).
Some pieces are more abstract than others. One work evokes the movement of water; another, with its evocative patterns, projects a sense of the uncanny amidst the hidden eyes of owls. For this work, the artist juxtaposed the two sides of each butterfly wing, underscoring their uniqueness and complementary tones.
The meticulous collages discuss entropy, as well as perceived and attributed worth and utility. By confounding illusion and mimicry, the colours, textures, rhythm and patterns call upon the futuristic and the indigenous. They embody the physical possibility of textile or feathers, and suggest a poetic language.
"De la Mora also nods to the cultural resonance of butterflies in ancient Aztec and Mesoamerican beliefs"
De la Mora has long ruminated about painting without paint. His practice of collecting, researching, organising and re-using discarded materials is in many ways a continuation of his 2019 exhibition TNTR AA at Perrotin New York, which used hair, egg shells, and feathers together with pigments to portray intriguing monochromes and vibrant compositions. His past creations have interrogated the value of conventionally mundane objects and materials, such as rubber soles or speaker covers, and what remains after an object has fulfilled its purpose.