Described, variously, as "the home movie from hell", "somewhere between vaudeville and viral video", and a "nightmare world of degenerate southern redneck swine" (from Chris Knipp, on IMBD, who also poses the question, "Is humping a US mailbox legal?"); Trash Humpers is Harmony Korine's most baffling, and perhaps most brilliant, offering. It's an easy concept to explain: it does what it says on the tin. It's a non-narrative, experimental film about old people humping trash.
Trash Humpers was created in 2009, when Korine had little to prove. The Nashville-raised director was still only in his twenties when he found both critical and cult success with Kids in 1995 (for which he wrote the screenplay, the film was directed by photographer Larry Clark) and Gummo in 1997, written and directed by Korine. Fast forward twelve years, and he was firmly in indie darling territory; he'd proved his chops for gritty, strange cinema that was ugly yet almost beautiful, and which tickled the underbelly of America and scratched its flea-bitten skin with grubby fingernails.
That early period of his career not only won over audiences and pulled the jackpot lever for cool-points; but also brought Korine a mentor in the shape of none other than Werner Herzog. "When I saw a piece of fried bacon fixed to the bathroom wall in Gummo, it knocked me off my chair," Herzog told the New York Times. He described Korine as "a very clear voice of a generation of filmmakers that is taking a new position. It's not going to dominate world cinema, but so what?"
So what indeed. Herzog and Korine remained close, with the former going on to play one of my favourite roles in any film, ever: the priest that leads a troupe of "miracle" nuns to jump out of an airplane in 2007's Mister Lonely. Herzog's role is key to that subplot in a film that focuses on a group of celeb lookalikes living their best (for a while) lives in a commune boasting "Madonna", "James Dean", "Marilyn Monroe" and more. Again, baffling, but rather brilliant.
Such starriness is spectacularly shelved, though, with Trash Humpers. You get the feeling Korine is very much doing this for a bit of a laugh. He's earned his stripes: now it's time to roll about with a bunch of people in hideous pensioner masks and unleash all hell. Make them yell, make them hump bins, create an almighty mess and make it all look like the grimiest old, just-about-functioning VHS you can imagine.
Korine has described Trash Humpers as being more like an "artefact" than a film, which makes a lot of sense. The idea evolved from some pictures he took of his assistant, who went around late at night in a mask "fornicating with trash cans or telephone poles, defecating on people's yards, committing very mild acts of vandalism", as Korine told Nashville Scene. These images sowed the seeds for a film based on, as Korine muses, "the creepiest thing in the world… old people who move really well."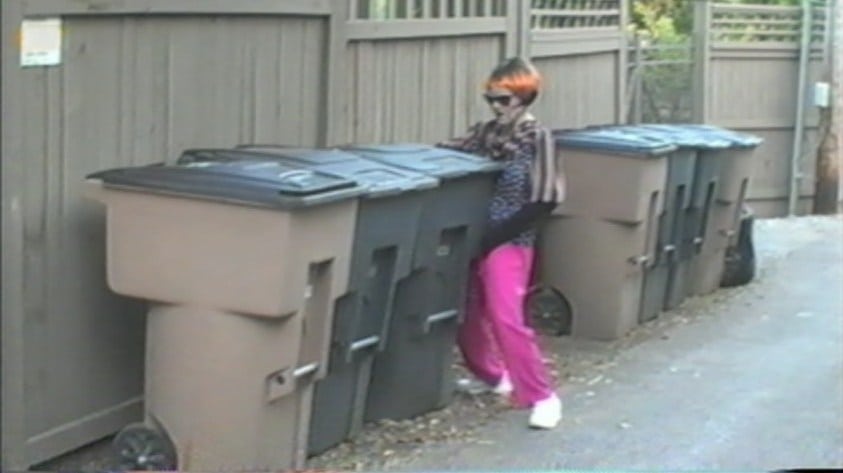 The "script" simply took the form of a bunch of photographs, given to the Trash Humper cast—a motley crew of Nashville scene locals and friends, and actor Rachel Korine (the director's wife). While there were directives that this bunch of ol' humpers would have certain actions to perform—drinking wine, bowling, generally breaking stuff—the rest was all improvised.
Working mostly at night, the film took just two weeks to shoot and was edited on stacks of VCRs. " We would take the VCR (tapes) apart and glitch them with pencils," Korine has explained. "That's how you get those glitching effects."
The microsite for the film is still very much alive, or at least as alive as it ever was, and in a typically 2009 move users can download a few of the squawking refrains that make up pretty much the only dialogue in the film as ringtones.
While some have described the film as a horror, it's far from scary—merely skin-crawlingly weird, very confusing, and ultimately hilarious—like watching elderly relatives play that horrible boardgame with a mouthpiece, when you're all bloated and half-cut and dribbling at Christmas. Once you've seen Trash Humpers, it stays with you forever in visceral, sketchy, shudder-inducing, VHS-colour detail.
"I think in some ways it's the most American movie ever made," Korine said in one interview, musing that Trash Humpers is very much a comedy, in the vein of The Three Stooges. "It's the kind of thing that I hope would be shown in public schools as mandatory viewing, as I think in some ways it shows what's great about America."