What says "Christmas" more than a bevy of bronzed babes, nipples to the camera and plump lips parted? Honestly, most things (cheese, for instance, or debit cards, or teapots) but as we approach the end of the year we're turning our Sunday Reading spectacles to that oh-so-glamorous (in many senses) institution marking the end of the year and the start of a new one: the Pirelli Calendar.
The annual publication was started by the tyre behemoth in 1964 (with a ten year hiatus from 1974), as an exclusively limited-edition gift for important clients and multifarious "VIPs". This is not just any old building-site, soft porn date-marker, of course—no Razzle-like readers' wives here—Pirelli's tits and asses have always prided themselves on being a very classy affair. The models are very much of the "super" variety: among those who've appeared the calendar are Gisele Bündchen, Naomi Campbell, Cindy Crawford, Penélope Cruz, Milla Jovovich, Heidi Klum and Kate Moss. Those shooting them, too, are of the highest calibre, with past photographers including Richard Avedon, Nick Knight, Karl Lagerfeld, Inez van Lamsweerde, Annie Leibovitz, Peter Lindbergh and Bruce Weber. Naturally Terry Richardson has, too, but best not to dwell on that one.
In 2015 to mark the calendar's fiftieth birthday, Taschen published a retrospective volume entitled Pirelli – The Calendar. 50 Years And More that opened up this famously elitist artefact to many more of us, reproducing the complete calendars and presenting rarely and never-before seen behind-the-scenes images of the shoots, the unpublished 1963 calendar, and a selection of "censored" images "deemed too risqué by the editors of the time", according to the publisher.
Naturally, the calendar—essentially, let's not forget, a marketing exercise by a company that makes tyres—has provoked no shortage of ire and sexism accusations. Although the calendar didn't actually feature any nudity until its 1973 iteration, since then (until recently) flesh has pretty much been the oiled-up and slippery foundations of the whole thing. Much chatter has been had about how at the heart of it, behind the vast production costs, A-list names and limitedness of the calendar, it's no different from a tabloid page three. Of course, sex sells, and in this instance, sex has sold Pirelli: tyres, let's be real, aren't exactly the sort of product that gets many of us hot under the collar. But brand recognition and association is gold to anyone selling anything, and Pirelli is a name we all know. Though I don't drive I'm not sure I could name another tyre brand. Dunlop, perhaps, but that makes me think of primary school PE shoes rather than anything aspirational.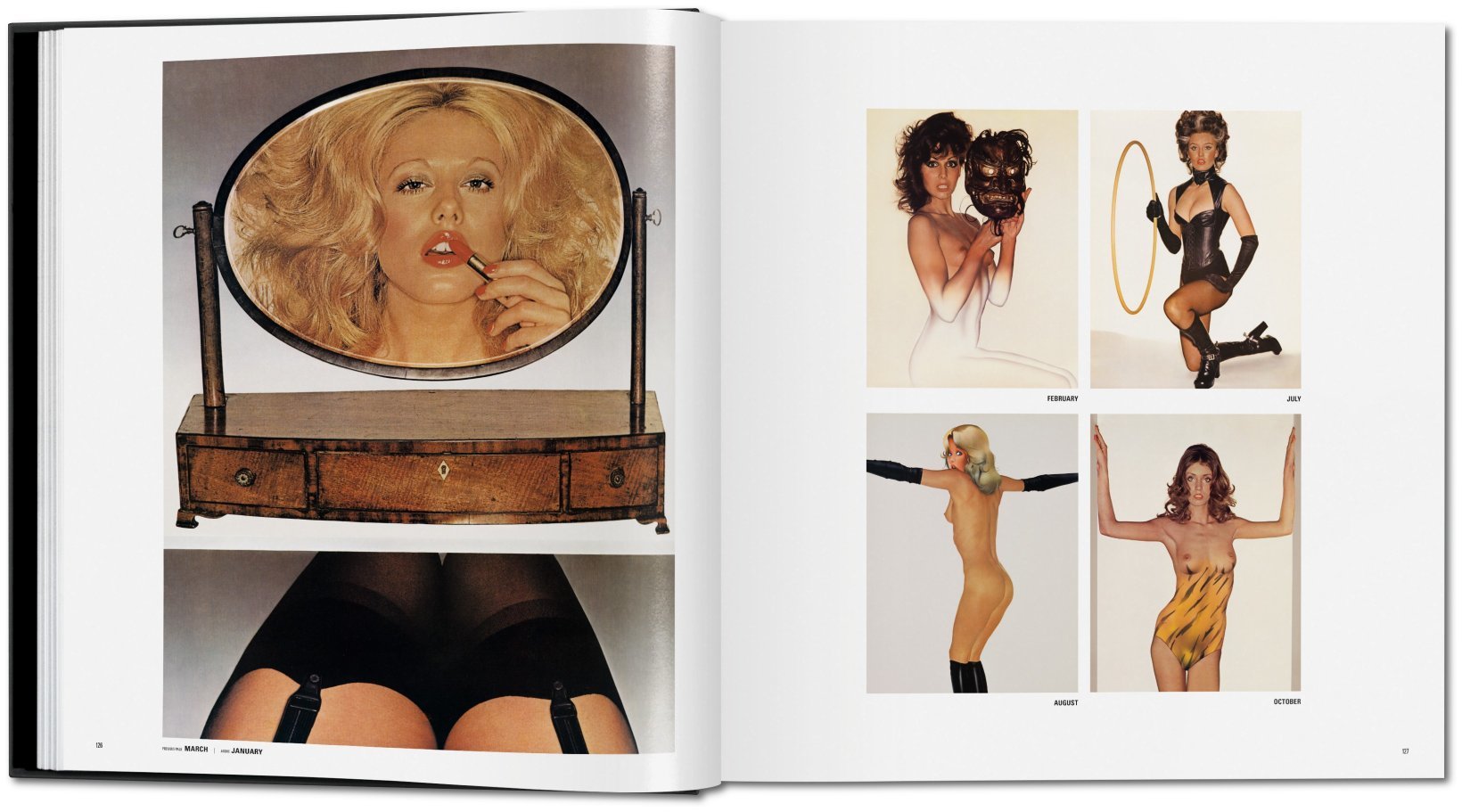 In recent years, however, Pirelli has made clear attempts to take very visible, and rather transparent strides away from being accused of sexism, and its predilection for busty, hot, predominantly white young gals. The 2016 calendar was shot by Annie Leibovitz, who made the, uh, daring move of photographing women "known not just for their beauty but also their talent as actors, comedians, musicians, athletes, and intellectuals", as Tashen put it, such as Amy Schumer, Tavi Gevinson, Serena Williams, Yoko Ono, Fran Lebowitz and Patti Smith. "And while some of the women revealed skin, most didn't, presenting their total selves, not just their bodies, for admiration." Imagine! Older women! Clever women! Sure, it's admirable, but once again, brand recognition is king here—Pirelli seems to be shouting, "Hey, we just got woke!"
Many accused the brand of "jumping on the feminist bandwagon", and writing in the Guardian, Victoria Coren Mitchell surmised: "The reason Pirelli has put Helen Mirren and Charlotte Rampling in [the 2017] calendar is because the newspapers will run excited features about 'change' and people will buy Pirelli tyres because they've seen the name in the paper… This calendar isn't a 'strike against sexist imagery'. If they wanted to strike against sexist imagery, they could just have pictures of old castles. But old castles, like the bodies of the models in 1984, wouldn't get any coverage."
For all the discussed problematic-ness of the calendars, the photographs they present are undoubtedly great: of course they're superbly shot, well art-directed, and the people within those images are gorgeous. It reminds you of the old Spinal Tap quote, when Nigel Tufnel mishears "sexist", when he's confronted with the idea that his naked woman-strewn album cover might be seen as such. "What's wrong wiv being sexy?" he says. Nothing, really, but the Pirelli model today feels a little like a relic of a time when it was normal for the boss to pinch your bum.
The 2018 calendar was shot by photographer Tim Walker and styled by then-new British Vogue editor Edward Enninful, and featured only people of colour—there were even some men in there—with models including Alpha Dia, King Owusu, RuPaul and Slick Woods. A step in the right direction, for sure; but one that's been a hell of a long time coming, and an improvement on the 1987 calendar—"a terribly embarrassing affair as Pirelli goes ethnic", as Coren Mitchell put it—"topless black women kitted out in turbans, beads, gold armlets and necklets like a sort of rude, black Sheena, Queen of the Jungle. It's so toe-curling to see these images of porny ethnicity from as recently as 1987, you have to look at them from behind the sofa like when Ed Balls is doing the samba."
The coming year's calendar, shot by Albert Watson, has just been revealed, and once again it's all about "successful and talented women," according to Pirelli. Just four models are featured (all of whom are by anyone's standards exceptionally beautiful), shot in a "series of vignettes centring on [their] dreams and aspirations". These successful and talented women, once again, have that very success and talent reduced to nothing but beautiful images, as disposable as ever, turned over or torn off into obsolescence as time cruelly passes—just like beauty itself.