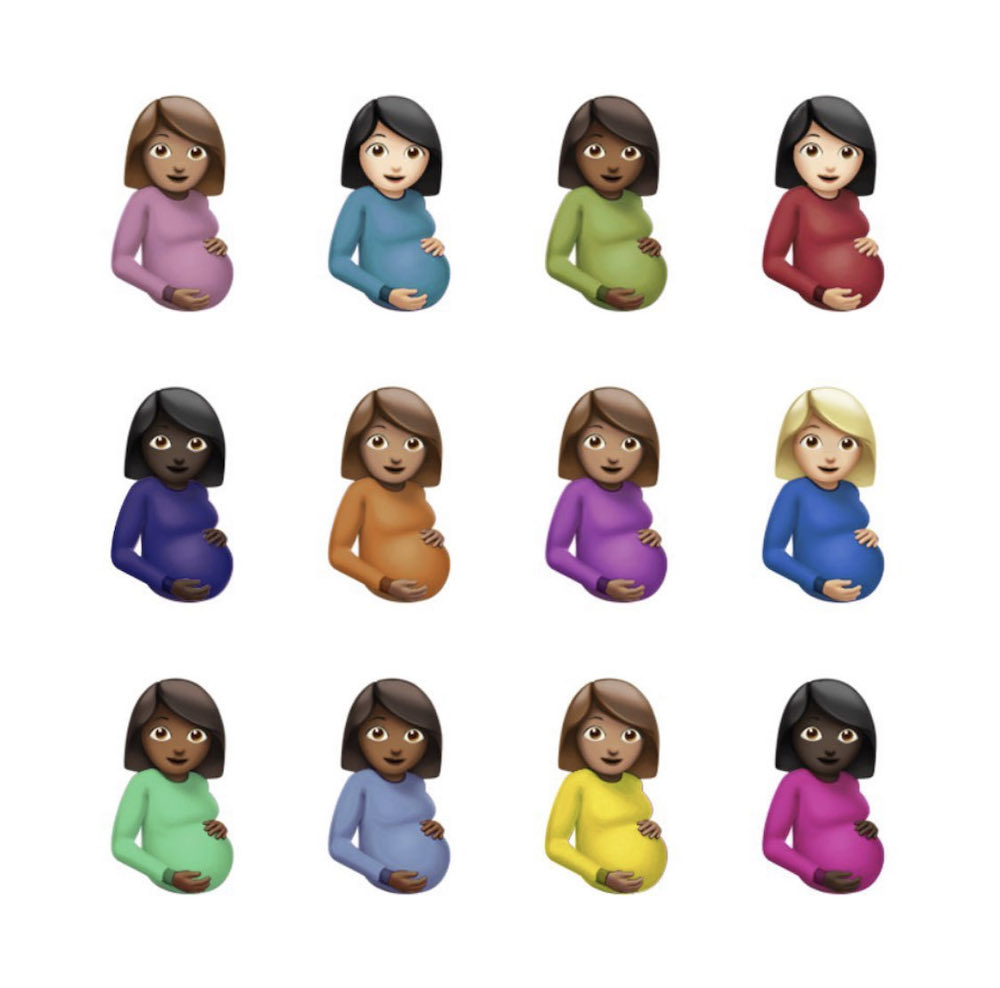 Drake has shared the album cover for his long-awaited Certified Lover Boy release and the internet has had a lot to say. Not least about the fact that the emoji-based design was created by none other than Damien Hirst.
Hirst takes a pop approach by taking an emoji of a pregnant woman and repeating it 12 times in different colourways and skin tones. There's probably some sly allusion to "baby-making" music or a reference to Drake's sexual prowess going on there, but the use of popular phone symbols also brings to mind how much music consumption has changed in the last few decades.
Where we would once buy physical records/tapes/CDs, people can now just press play on their phones and experience it through apps and social media. The reaction to Hirst's collaboration with Drake make it seem like these kinds of collaborations are a rarity, but there is a long history of fine artists working with musicians on album covers. Here are 10 of the best examples of the moments when music and art collided…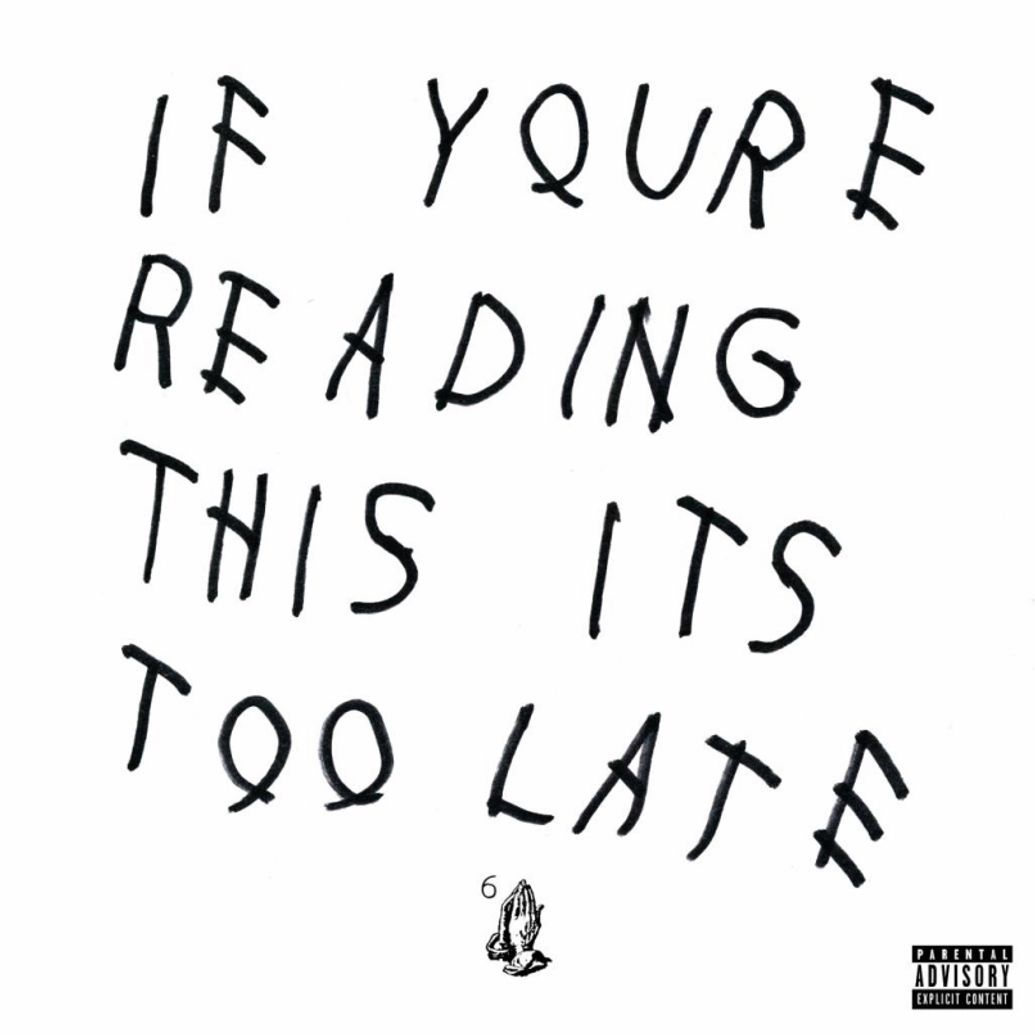 Drake – If You're Reading This It's Too Late (2015)
Artist: Jim Joe
Certified Lover Boy is not the first time Drake has worked with an artist on a cover. Canadian artist Jim Joe  cover for the musician's If You're Reading This It's Too Late mixtape is a minimalist design with black text over a pair of praying hands with a '6' floating above.
The hands (taken from a sketch by German painter and printmaker Albrecht Dürer) in combination with the number 6 refer to Drake's song and nickname '6 God'. Joe's distinct, scratchy writing echoes the lettering found in his graffiti.
Lady Gaga – Artpop (2013)
Artist: Jeff Koons
For Artpop, Lady Gaga leaned heavily into art imagery and themes. She studied with performance artist Marina Abramović, and adopted the persona of the Roman goddess Venus (referencing Botticelli's Birth of Venus) in the video for the single Applause.
For the cover, Jeff Koons placed Gaga behind a blue mirrored ball as though she were a sculpture. In the background, shards of cropped images show sections of Bernini's Apollo and Daphne and, of course, the Birth of Venus.
Aretha Franklin – Aretha (1986)
Artist: Andy Warhol
Andy Warhol was no stranger to album covers. One of the most famous is his peelable banana design for The Velvet Underground's The Velvet Underground & Nico (1967), but he worked with musicians including the Rolling Stones, Diana Ross, and, of course, Aretha Franklin.
Warhol layered colours over a photograph of Franklin with linework accenting the soul legend's facial features and hair, echoing his Reigning Queens series. Aretha was one of Warhol's last projects before his death in 1987.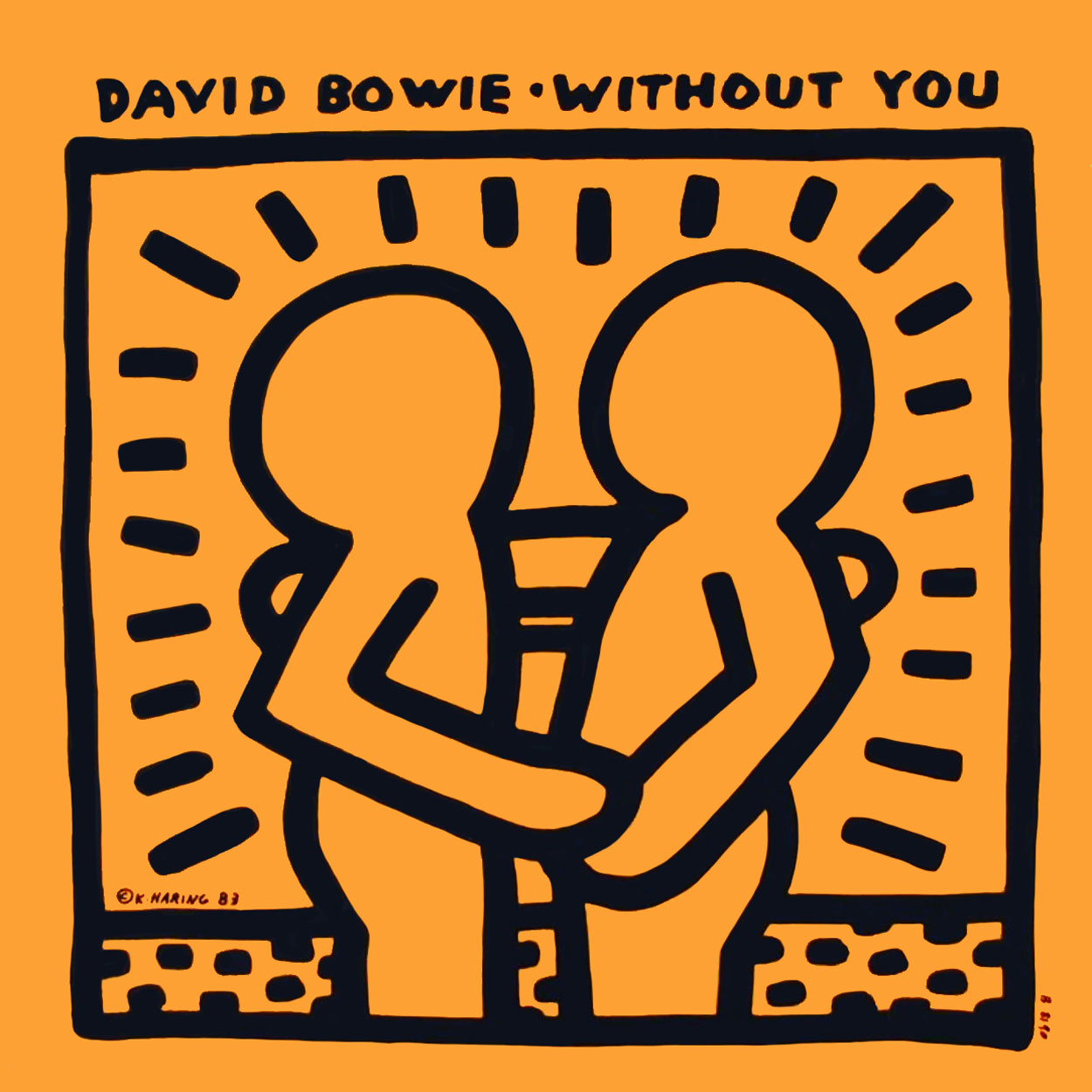 David Bowie – Without You (1983)
Artist: Keith Haring
Individual singles also required their own cover designs. David Bowie's song Without You featured on his classic Let's Dance album and the single cover was designed by Keith Haring.
The pop and graffiti artist collaborated with musicians several times, including painting Grace Jones' body for her I'm Not Perfect video and creating covers for NYC Peech Boys. His cover design for Without You shows his well-known figure outlines in a loving embrace.
Solange – True (2012)
Artist: Mickalene Thomas
Solange's music and performances have often bridged fine art and music. Her stage shows and music videos are like performance pieces, she has performed in the Guggenheim, and she's displayed digital work at Tate Modern. It should be no surprise, then, that she has worked with artists for her album covers.
In 2012, she partnered with Mickalene Thomas to create an alternative limited-edition cover for her True EP. Thomas used cuttings from vintage wallpaper and drawings to create the collage. The mixture of patterns clash deliciously against each other.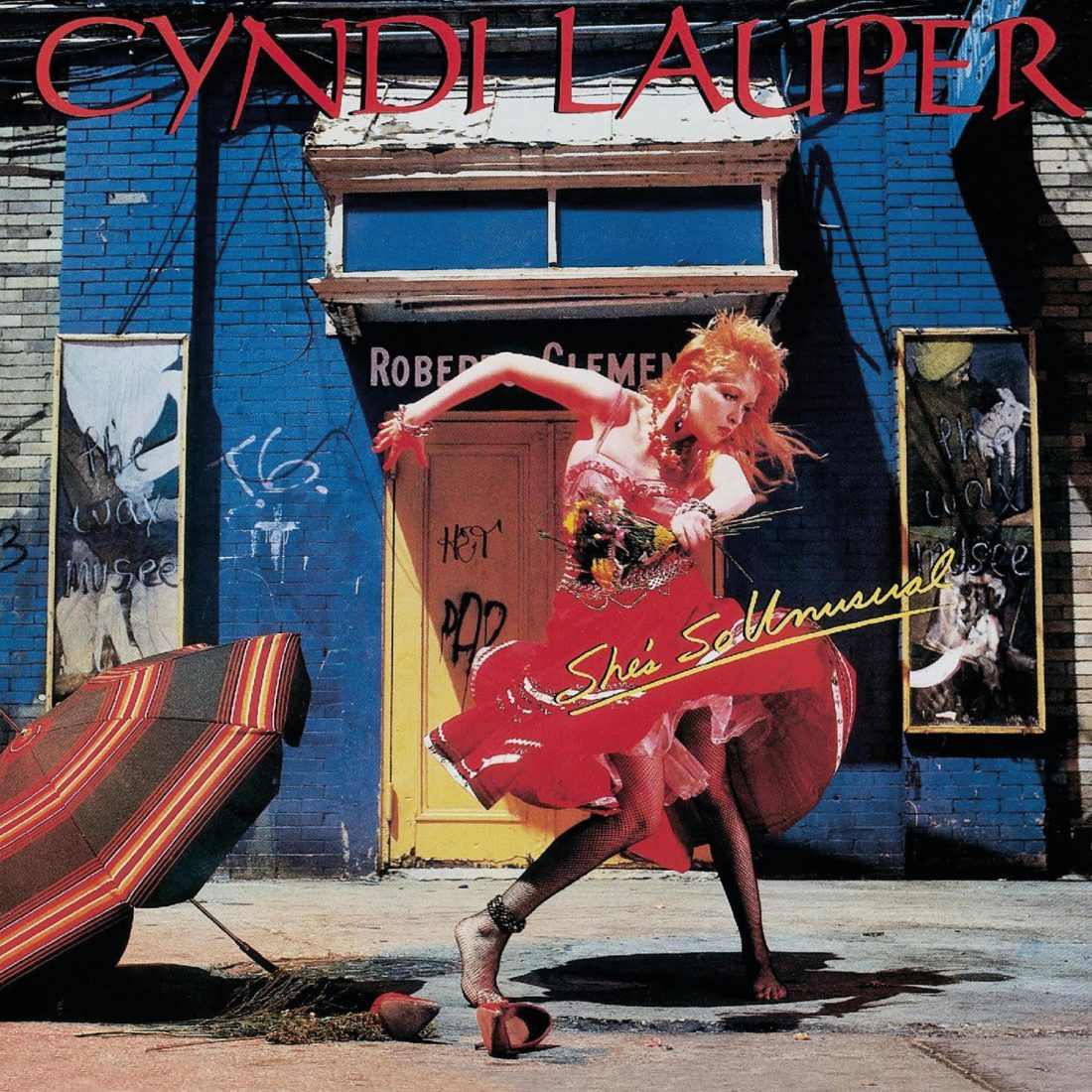 Cyndi Lauper – She's So Unusual (1983)
Artist: Annie Leibovitz
Annie Leibovitz's photograph for Cyndi Lauper's She's So Unusual encapsulates the spirit of the singer's iconic lead single Girls Just Want to Have Fun. The photograph shows Lauper in a flirty red dress as she twists with a flower bouquet in hand.
Everything about her suggests she's having a good time: she's kicked her shoes to the side and she's throwing shapes. Art director and designer Janet Perr won a Grammy Award for Best Recording Package for the design.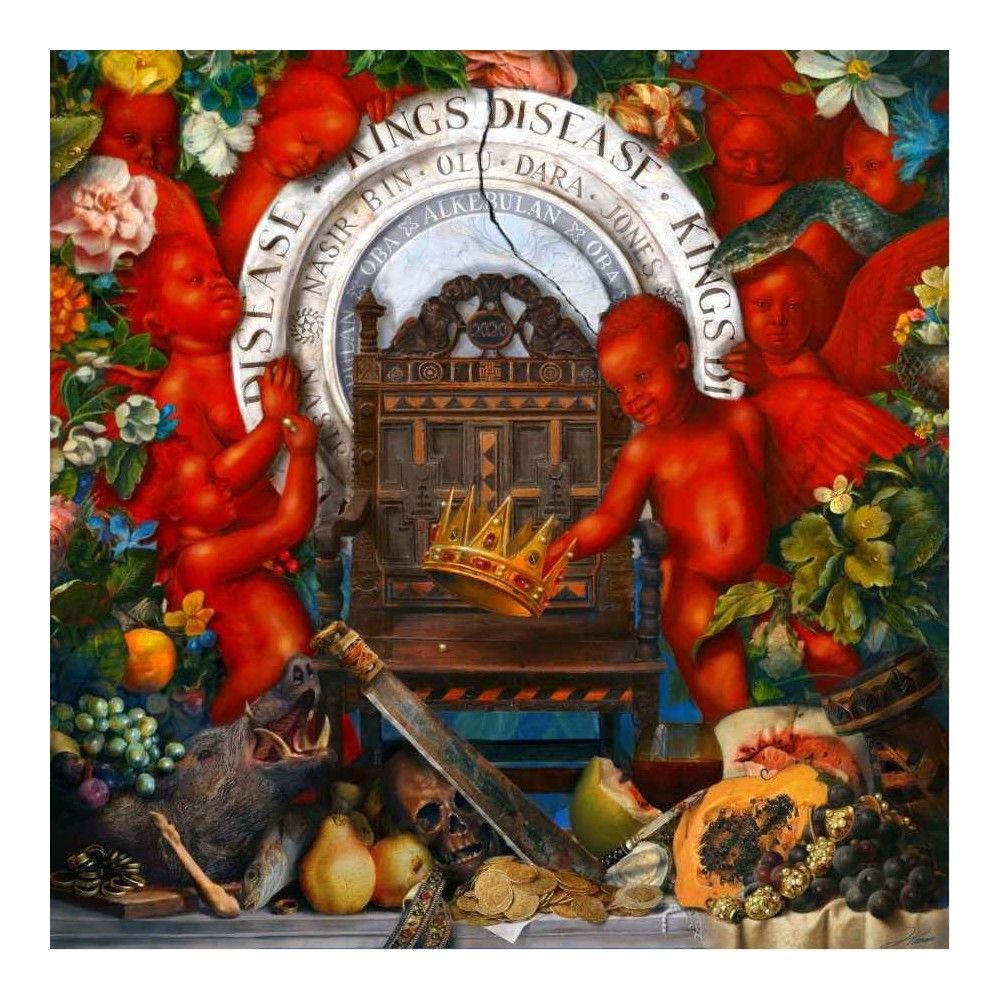 Nas – King's Disease (2020)
Artist: Harmonia Rosales
The cover for American rapper Nas' King's Disease reads like a Baroque masterpiece. Red cherubs surround an empty throne, one holding a crown. An assortment of food and objects lies at their feet and a snake hides among colourful flowers. Everywhere one looks, there's a different detail to take in
Painter Rosales is an Afro-Cuban artist who specialises in elaborate Renaissance-inspired scenes that centre Black figures. Among her other work is a version of Michelangelo's Creation of Adam that places Black women in the roles of God and the first human.
The Offs – First Record (1984)
Artist: Jean-Michel Basquiat
Musicians and brands have recently been showing a lot of love to Jean-Michel Basquiat, with a painting by the artist appearing alongside Jay Z and Beyoncé in a Tiffany and Co advertisement. In 2020, the Strokes released The New Abnormal with the cover art a crop of Basquiat's 1981 Bird on Money, originally created as a tribute to jazz musician Charlie Parker.
Basquiat created album covers for some of his musical friends, including one for K-Rob vs. Rammellzee's Beat-Bop and this one for The Offs' First Record. Both feature solid black backgrounds with white drawing and writing. He created the work for The Offs for only $400.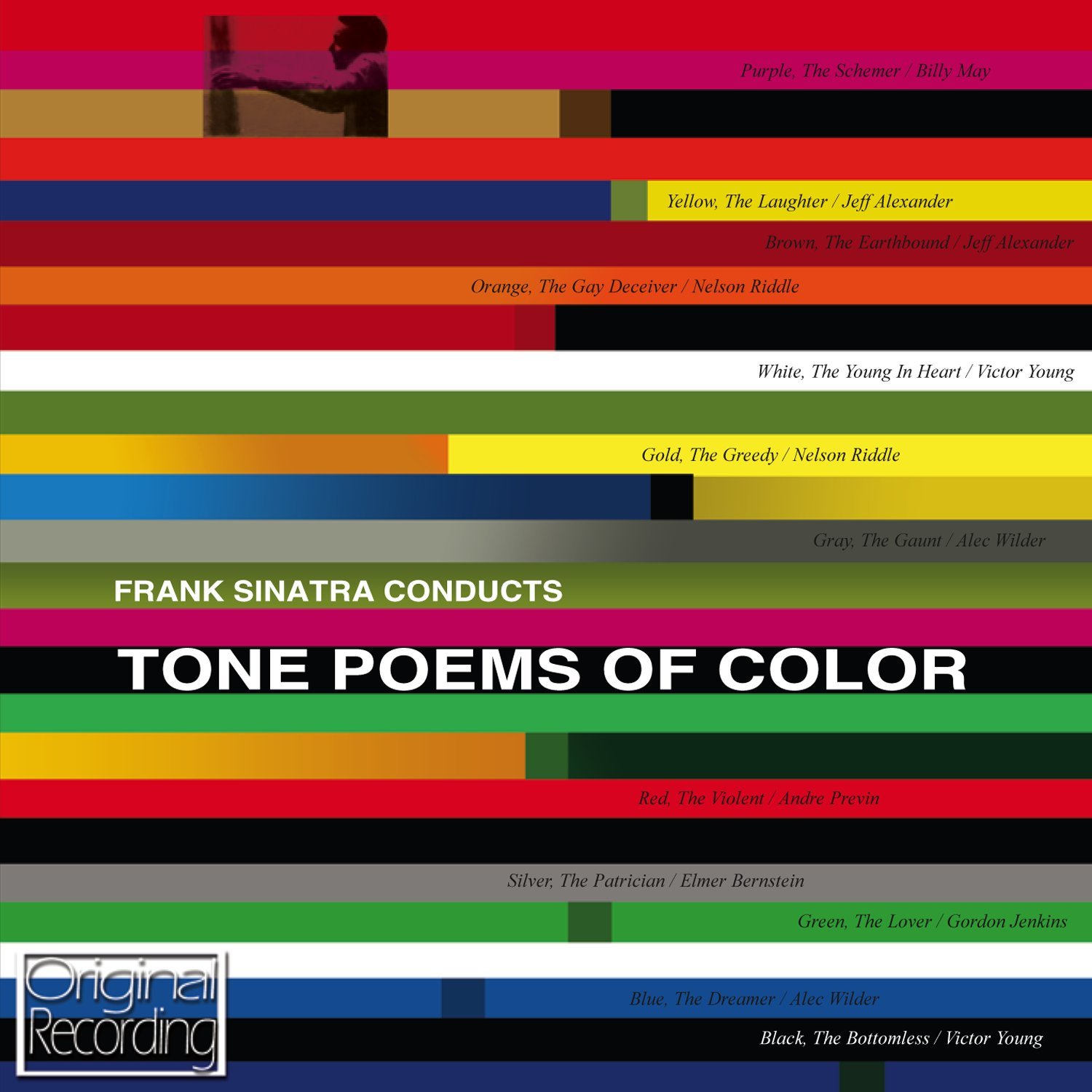 Frank Sinatra – Frank Sinatra Conducts Tone Poems of Color (1956)
Artist: Saul Bass
Saul Bass' genius is threaded throughout design history. He created iconic logos (Kleenex, AT&T, Girl Scouts), title sequences, and movie posters (Vertigo, The Shining, Anatomy of a Murder). His poster design for The Man with the Golden Arm inspired the look of the White Stripes' album The Hardest Button to Button (2003).
Frank Sinatra Conducts Tone Poems of Color features tunes by eight Hollywood composers, so the connection between music and movies makes Bass a perfect fit. The striped cover has the classic Saul Bass look with bold lines of colour butting up against each other with text staggered throughout.
Kanye West – My Beautiful Dark Twisted Fantasy (2010)
Arist: George Condo
As an art school dropout, fine art definitely inspires West. My Beautiful Dark Twisted Fantasy is considered by many to be his magnum opus and the artwork includes five paintings created by artist George Condo, several tying into videos for singles.
The original cover showed a winged nude woman straddling an equally nude man (probably West). It was censored on some covers, creating a blocky, pixelated design that was visually interesting in its own way. An honourable mention should also go to West's 2007 album Graduation, with its cover designed by Takashi Murakami.
Ferren Gipson is an art historian, writer, and presenter based in London