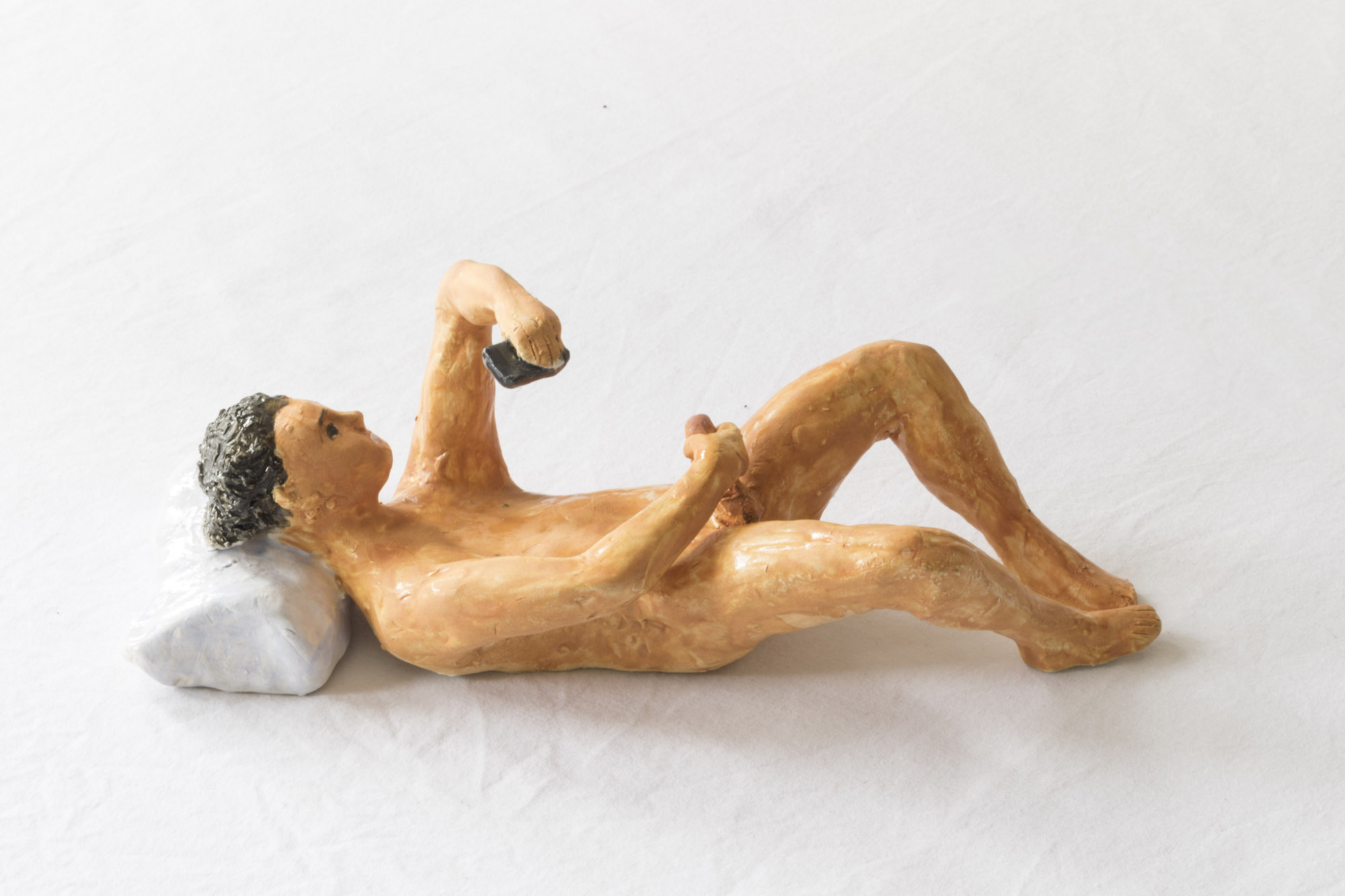 Once you've laid eyes on a work of art by Japanese provocateur Urara Tsuchiya, you won't forget it. It can be difficult to drag your gaze away from her unusual ceramics, which have been known to show anything from a teddy bear engaged in four-way sexual intercourse to a nude sauna. In recent years, she has used clay to create traditional shapes, such as bowls, which act as a shield to the more lurid shenanigans inside. Lately, she has created ceramics that go beyond this format; at last year's Frieze London, she crafted the entire contents of a hotel minibar from clay, complete with a real-life bed and television. 
Performative and immersive environments are an important part of Tsuchiya's work, and she has increasingly moved to include collaborative elements in her exhibitions. From a fashion collection, entirely designed and styled by Tsuchiya herself, to a spa-inspired installation, she often looks to break beyond the walls of the gallery. This April she is to participate in Glasgow International, the biennial celebration of international talent and the city's rich artistic community, where she will stage an exhibition in a real hotel room. Shocking, sexy and always imbued with a healthy dose of silliness, we caught up with the artist in Brussels. 
You often build environments for your exhibitions, whether that's a bedroom, a sauna or a cocktail party. What appeals to you about this way of working, and what are some of the real-life locations that have inspired you?
I always like to create these environments. I've just opened an exhibition at Stems in Brussels, and I have a solo show opening on 16 January at Galleri Golsa in Oslo. The plan for Oslo is for it to be a spa scene, like a sauna, but looking at it from behind the scenes. I've got a mop and bucket made from clay, and lots of towels to make the scene. It's a fictional spa, one that seems a bit wrong. I've been trying to make things that aren't bowls, which I've done a lot of before, so I've made things like big pants, a bra, and a hot tub that will have real bubbles in it. I've also made a miniature ceramic sauna, a mini bar and some trees. 
I prefer not to show my work in a gallery; if I have a choice, I always like to do it in an actual place. A dream place that I'd love to show my sauna work in is Rio's Relaxation Spa in London, that would be quite funny. It's a naturist sauna in London that I've been once before, with the artist Zoe Williams, but it was quite scary to visit as a woman. 
Left: Just Close Your Eyes and Imagine I Haven't Evolved, 2017. Right: Hogroast, 2015
Humour is an important part of your work, whether expressed through your ceramics or performance. Do you want to make people laugh?
My ceramics make me laugh. I think they're quite cute, not in-your-face. Some of the people at my ceramics studio don't like me, though, and they're always trying not to show my work to their children! But when you're working so long on something, for ten hours, you kind of forget what you're working on and it just becomes an object. I've also been making a fashion collection recently. I did a lot of sewing for it, and it's really trashy. I like that. It's sexy but in a funny way; not in a serious-sexy way. I was thinking of an influencer's pool party. It's a celebration of that, but with a lot of humour. 
"It's really trashy. I like that. It's sexy but in a funny way; not in a serious-sexy way"
Tell me about your participation in Glasgow International, where you'll be exhibiting in a hotel room. Why did you choose this setting for it, and what do you have planned? 
I love staying in hotels. It's quite nice, isn't it? It will be in a real hotel room because I wanted to have the actual space, not just an installation. I don't want to just show art in a gallery space. I thought it would be quite weird if you actually go into a hotel room and there's something happening, as if someone had already checked in. I will invite a few artists to do some more performative events. I like the idea that it's a temporary space that constantly changes, with different people checking in and taking over the room. My friend Susannah Stark is doing something with her mother; Erica Eyres, I thought we could print her drawings on the duvet cover; there will also be a performance by the artist Paul Kindersley and me. 
I will also present some ceramic works, and hopefully put them to use, and I'm shooting a video with photographer Ben Toms that will play on the TV screen. We'll be adapting all the existing elements of the hotel room. It will be in an ensuite king-size room at the Brunswick Hotel. I will make it quite small, so that perhaps only three people at a time can visit. A hotel room is not so big, and I like it to be quite intimate but not domestic. I could have it in my flat, but I like the temporary space of the hotel, and it's quite sexy! 
How does your upcoming project connect to your work more broadly? Have you ever shown in a hotel before? 
A couple of years ago I did a performance with my family in a Japanese love hotel. It was me, my granny and my mum. My mum is quite good at performing, she was just saying her favourite colours; then she got a stiff neck and asked people to massage her. While my mum was just talking about herself, I was dragging someone in a wet seal costume across the room. My grandma was on the TV in a film, saying goodbye to everyone.
It was in a Tokyo love hotel, where usually people don't even stay a night, just a few hours, and it was in a business area. We had never been in a hotel like that before, and there were businessmen around when we came out, maybe having an affair— their wives won't find out as they can even go on lunch break. 
"A couple of years ago I did a performance with my family in a Japanese love hotel. It was me, my granny and my mum"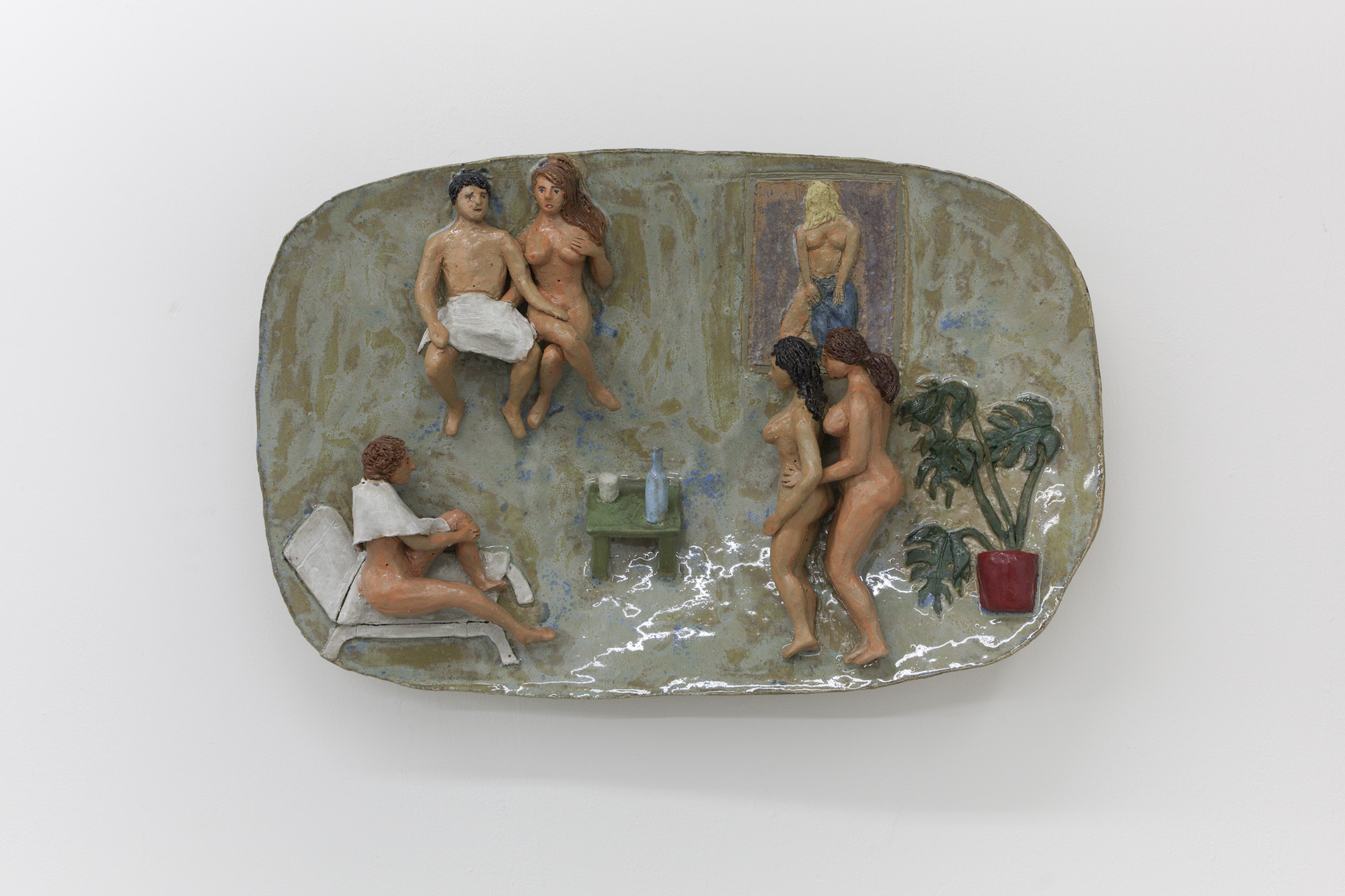 How long have you lived in Glasgow, and what do you like about it? What is the artistic community like there? 
I've lived in Glasgow for ten years. It's got a good artist community; it's a great city with lots of things happening. I really like Queens Park, and I live nearby, although the other day my friend went for a walk there and she said that there was a flasher! Everyone goes dog walking there, and it's also a cruising area.
All images courtesy the artist and Union Pacific