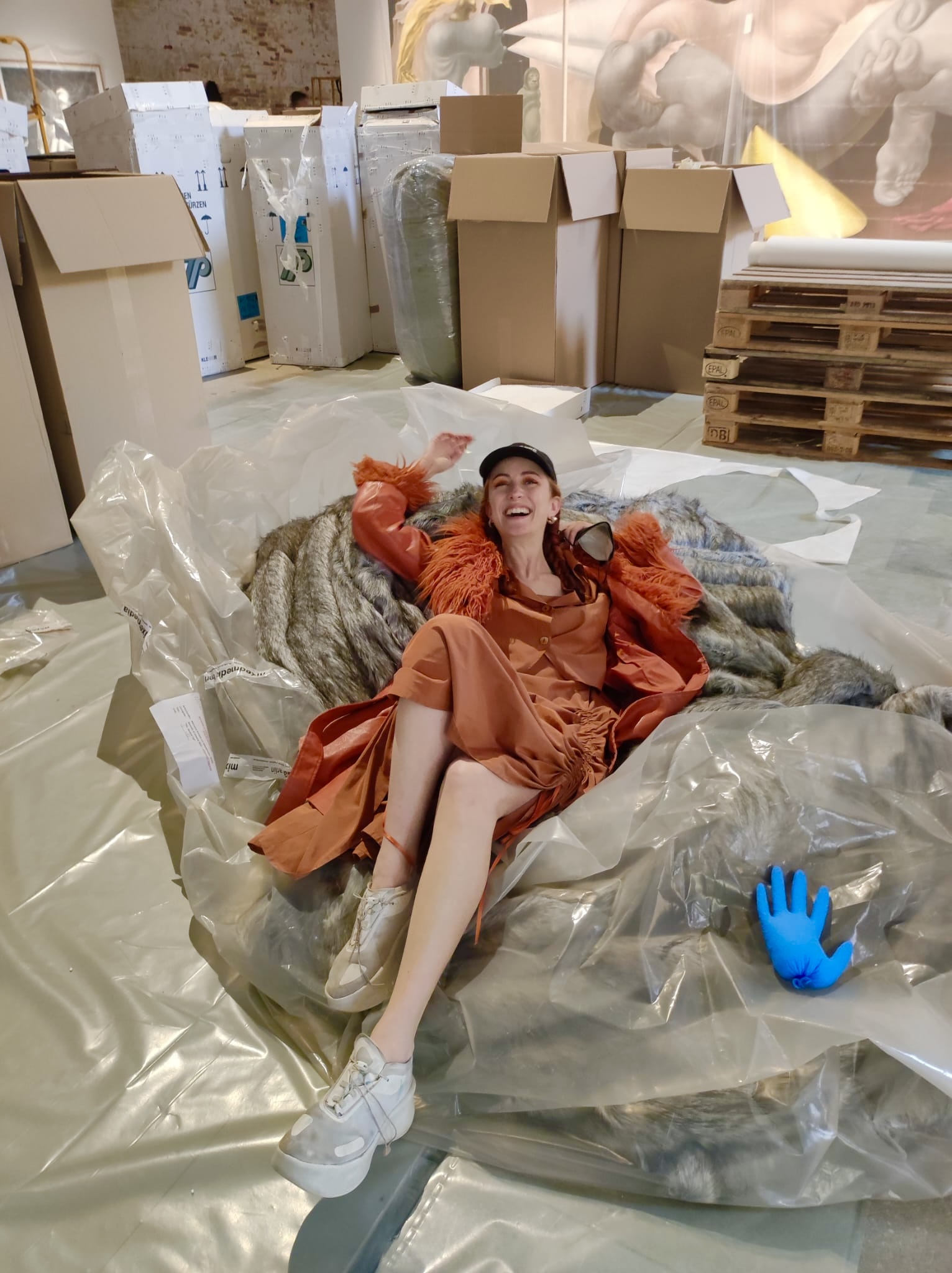 Lying on my enormous furry tail
This gigantic piece travelled all the way from Berlin to Venice for the Biennale. I am exhibiting my new work The Severed Tail in the central exhibition, The Milk of Dreams, curated by Cecilia Alemani.
Heigh ho, heigh ho, it's off to work we go!
Only took an army to carry this giant motherfucker into the Venice Arsenale. The 23-metre tail serves as a seating device. It snaked around the room and out the door of my film installation, leading viewers into the world of The Severed Tail.
Feeling on top of the world
Under a poster for The Milk of Dreams on opening day, outside the entrance of the Venice Arsenale. I'm wearing clothes by the incredible designer Ana Locking.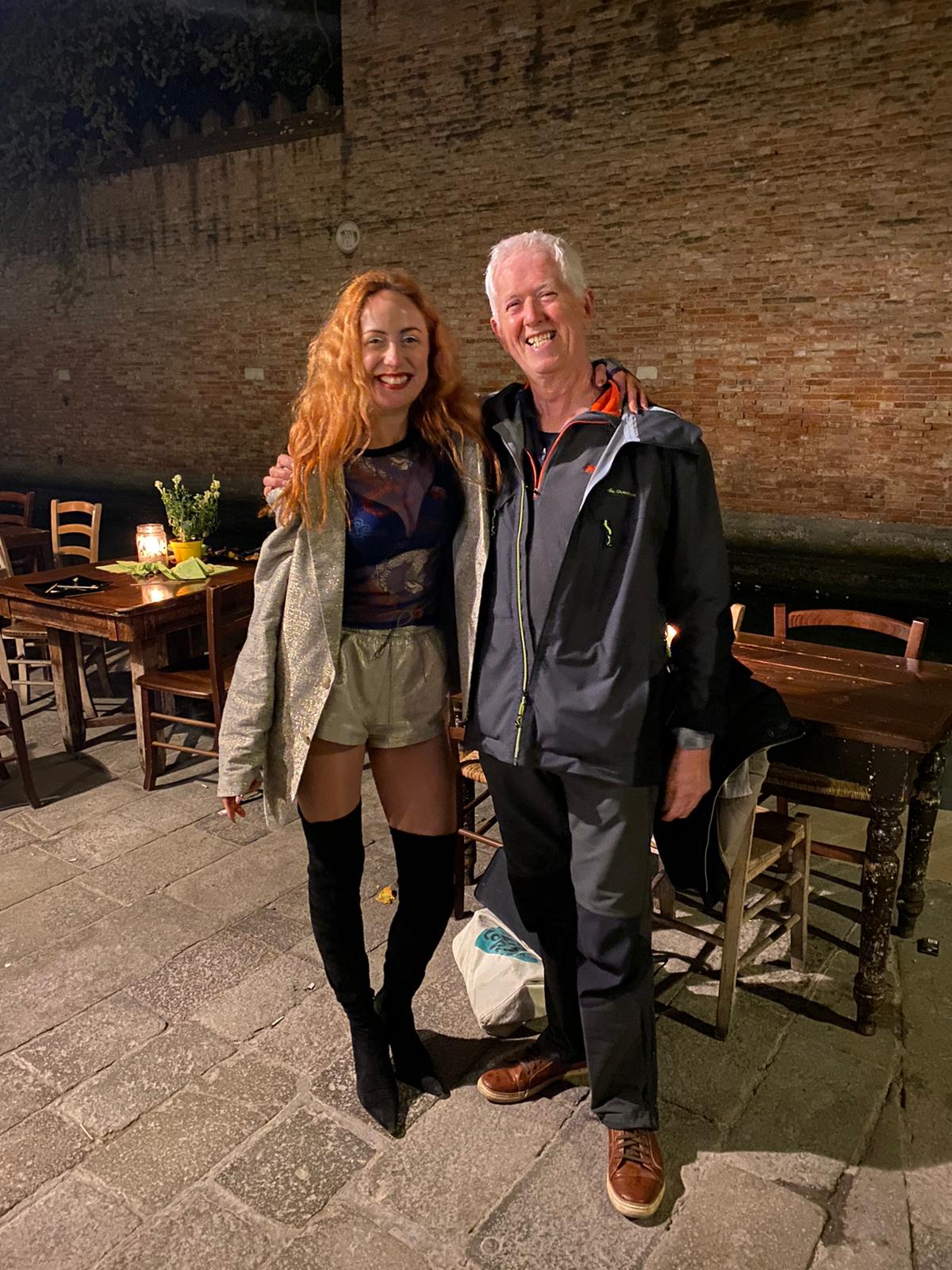 Look! It
'
s my dad!
My dad has supported my weird visions since I was born. He's a hero and came all the way to Venice for my exhibition at the Biennale. He doesn't have any phone data and no GPS (WTF?). Instead he uses the sun for navigation and always finds his way. Miracle man!
Ear today, gondola tomorrow…
This giant ear gives me Vacanti Mouse vibes. This is me with Leander Ott, second camera unit on The Severed Tail, standing outside the Brazilian Pavilion by Jonathas de Andrade in the Giardini, wearing a sequinned Venetian look by Spanish designer Ana Locking. The Vacanti Mouse was the infamous laboratory mouse that had what looked like a human ear grown on its back. One of the stars of my film plays a character that has a human ear sprouting out of their back.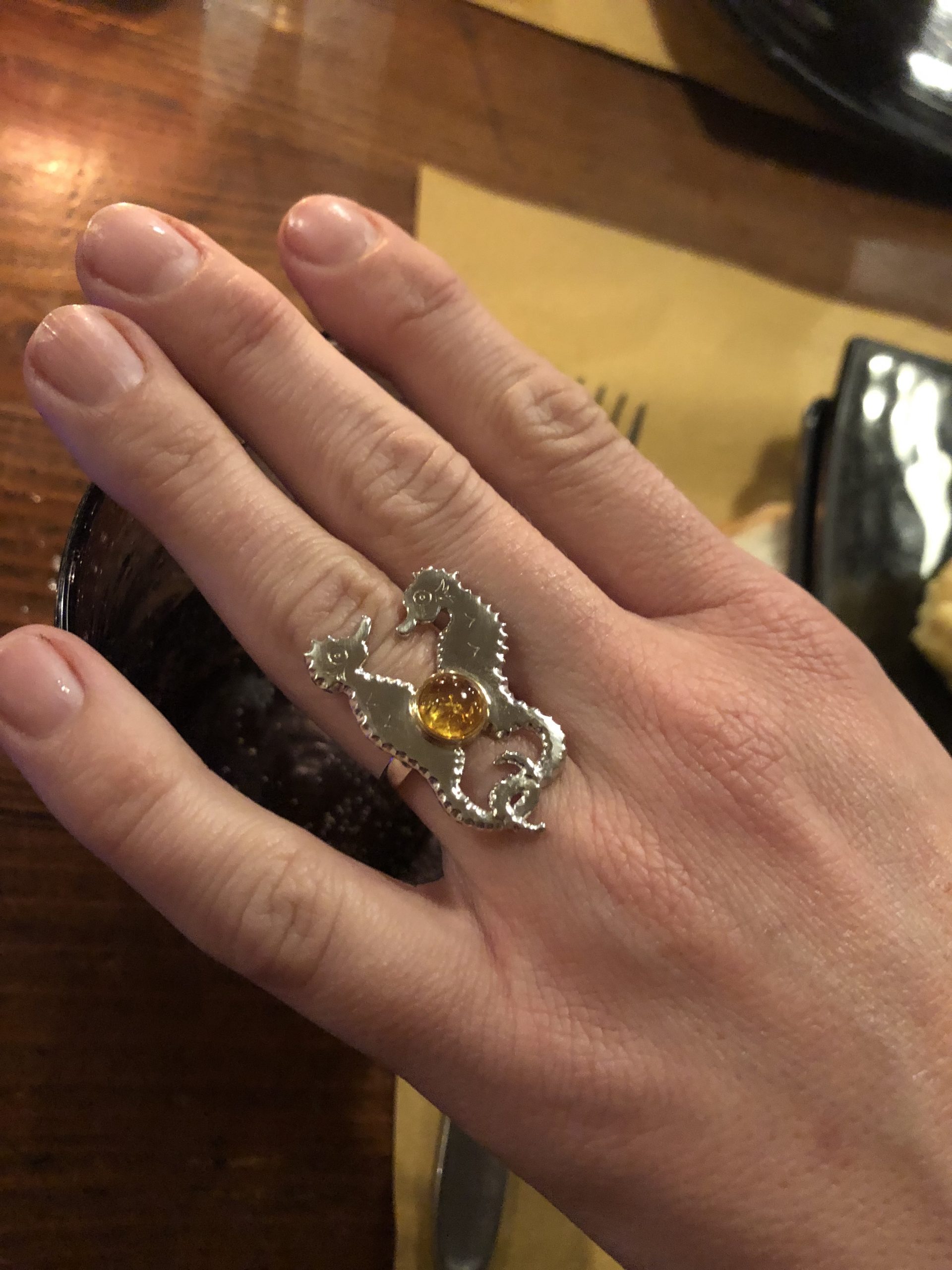 One ring to rule them all
I designed this ring based on seahorses mating. It references a significant scene in The Severed Tail. This was created for gallery director Julia Ballantyne-Way's 40th birthday, and made in collaboration with Siska Bulkens. A gift from her loved ones.
Let
'

s be Frank

Me with the legendary Frank Künster, who plays the vile, egg-thirsty King Seahorse in The Severed Tail. Frank was the infamous bouncer of Berlin's now closed club King Size. Photo candidly taken by Robbie Ryan (director of photography of The Severed Tail).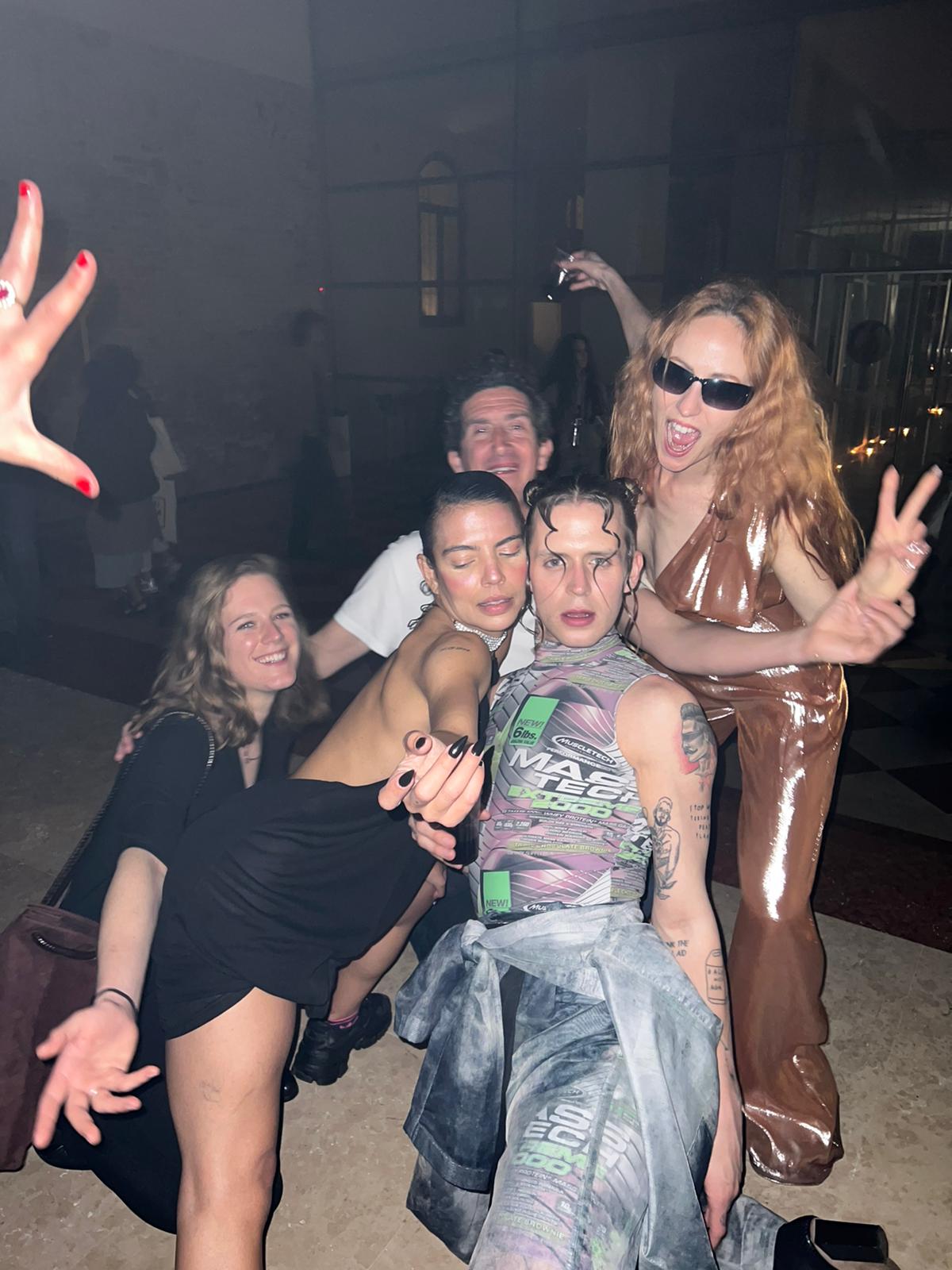 Party! Letting my hair down for the first time in over a year
Here with The Severed Tail team Robbie Ryan, Emilia Margulies (production designer), Kiani Del Valle (lead actress – Piglet), Phoenix Chase-Meares (second lead – Puppy), Janne Ebel (gaffer). I'm wearing a gorgeous jumpsuit by Roland Mouret.
An unbeatable panel
This discussion on dreaming and unreleased projects, with artists Tourmaline, P. Staff, Precious Okoyomon, Claude Adjil and curator Hans Ulrich Obrist, was hands down the most generous panel discussion I've ever been a part of. Pictured behind are stills from The Severed Tail.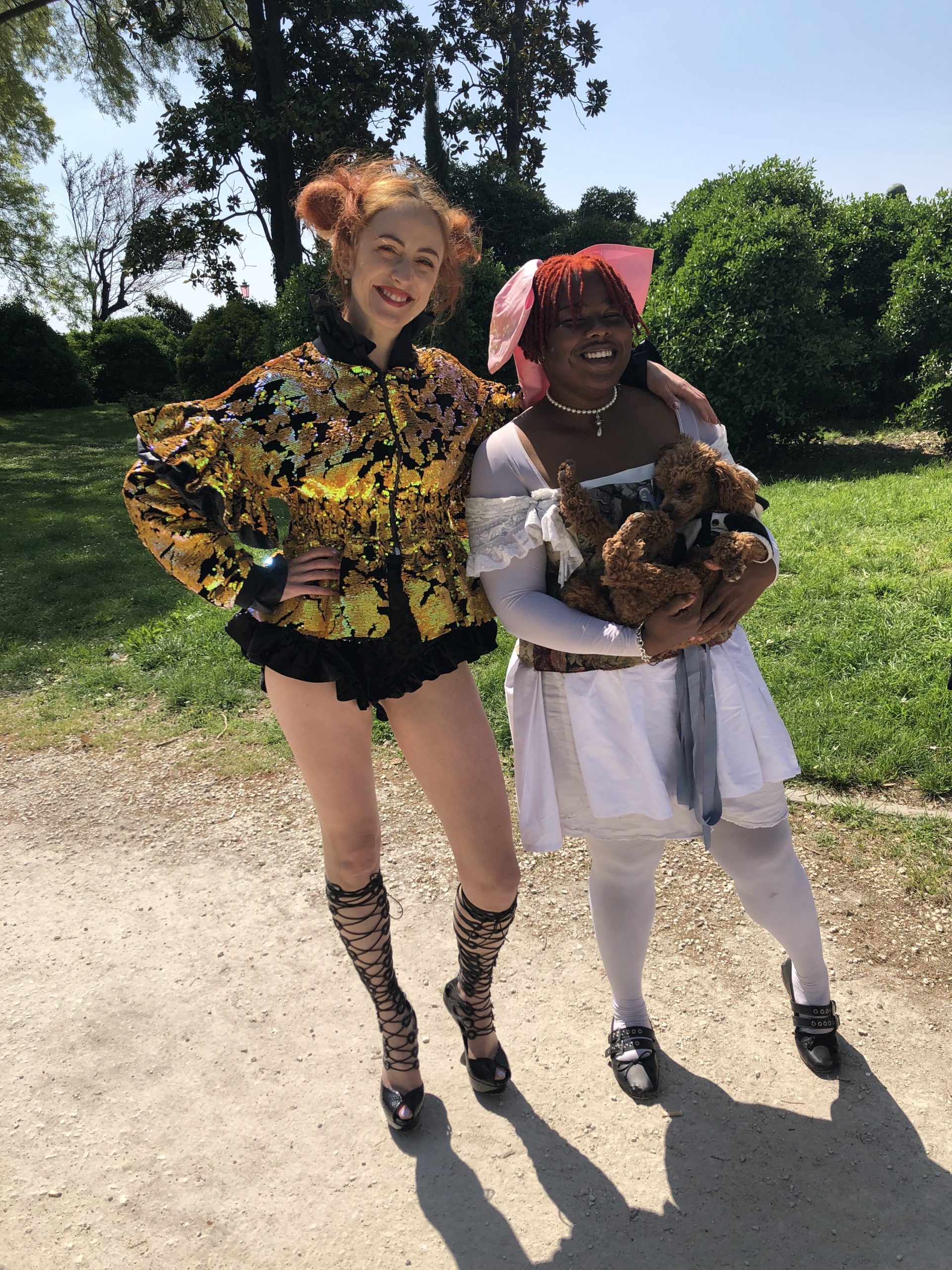 A moment of sunshine
With artist Precious Okoyomon and their puppy Gravity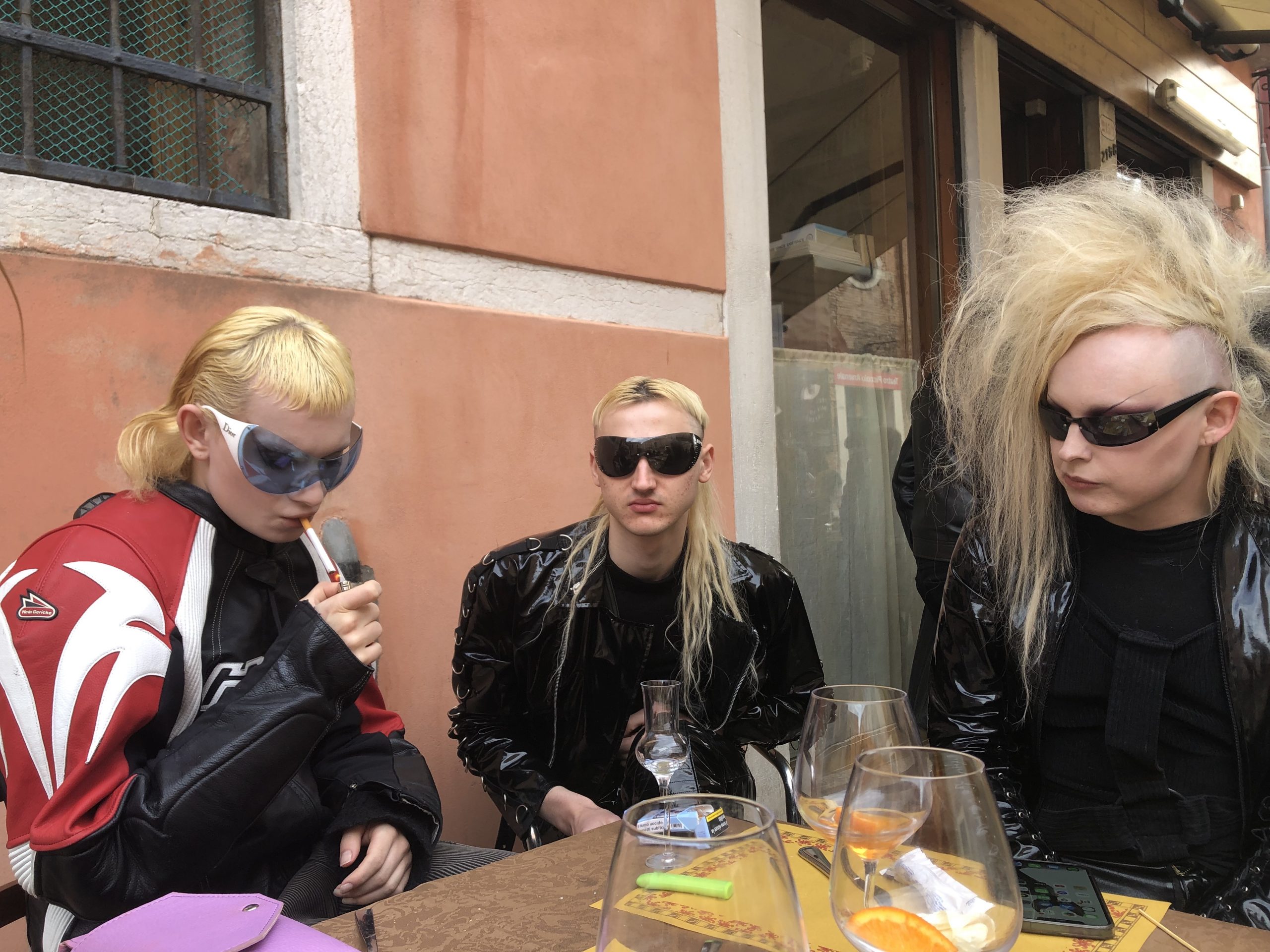 Meet the mice!
Parma Ham, Salvia and Spook. These unmissable creatures are friends from London. They were all due to appear in The Severed Tail, but Salvia was replaced by performer Genesis Fawn after being captured by Covid days before the shoot.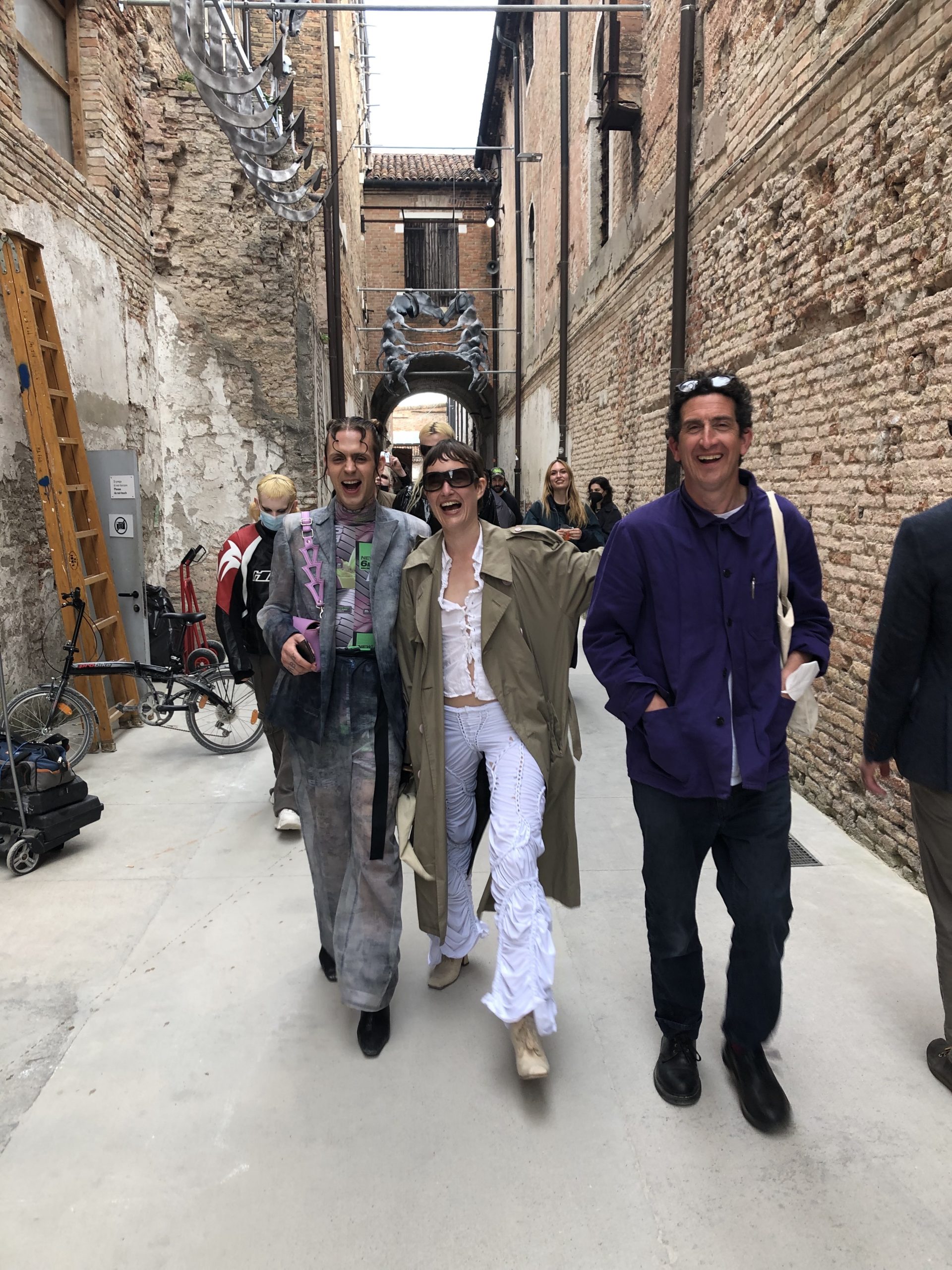 This is my tail squad…
Emilia Margulies (production designer), Robbie Ryan, Phoenix Chase-Meares (puppy) with Spook (mouse) and Salvia (OG mouse) behind. Blessed to work with these talented angels.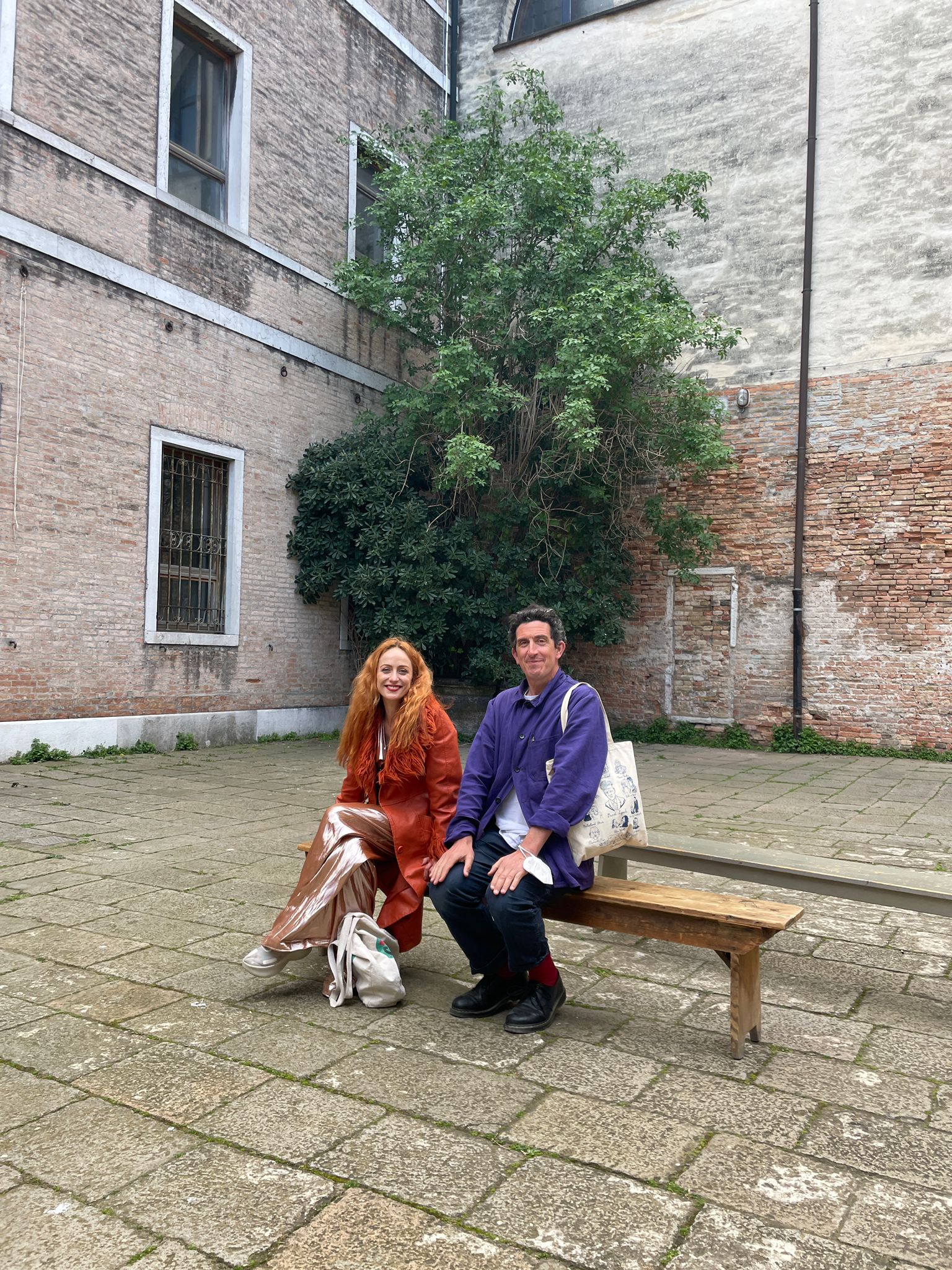 Sitting pretty
Look at us cuties! With director of photography Robbie Ryan. This is the second of my films he's shot (the first was The Bird Game, 2019). I'm so damn lucky to snatch him between his many other shoots for Yorgos Lanthimos, Ken Loach and Alexander McQueen.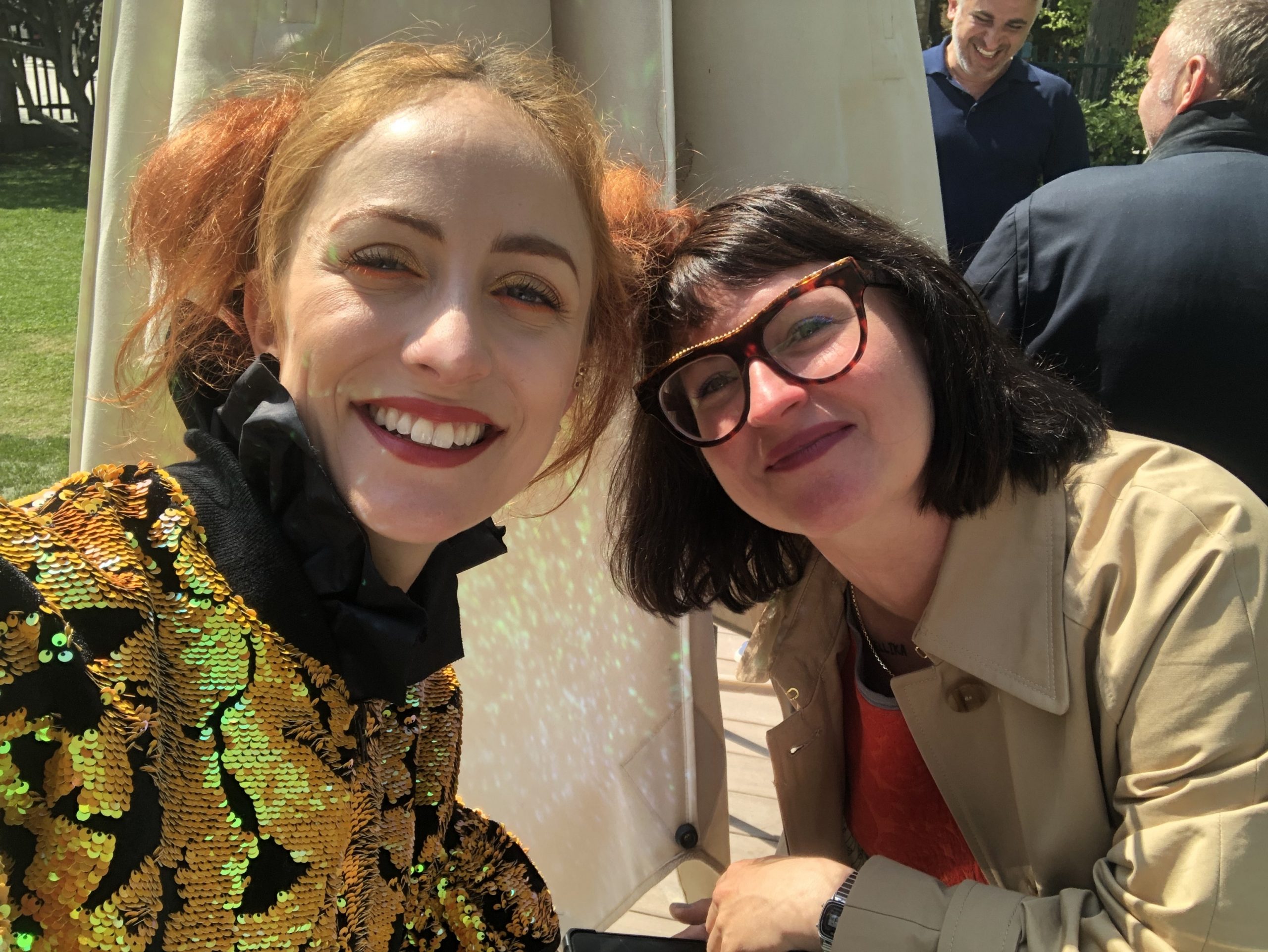 Old friends, new encounters
Venice is one of those places you can't walk more than two metres without bumping into someone from a past life. Snejana Krasteva (senior curator, Garage Museum of Contemporary Art in Moscow) is a magic person who I lived with in my raging twenties. She is queen of no bullshit and has a sense of humour that leaves me on the floor.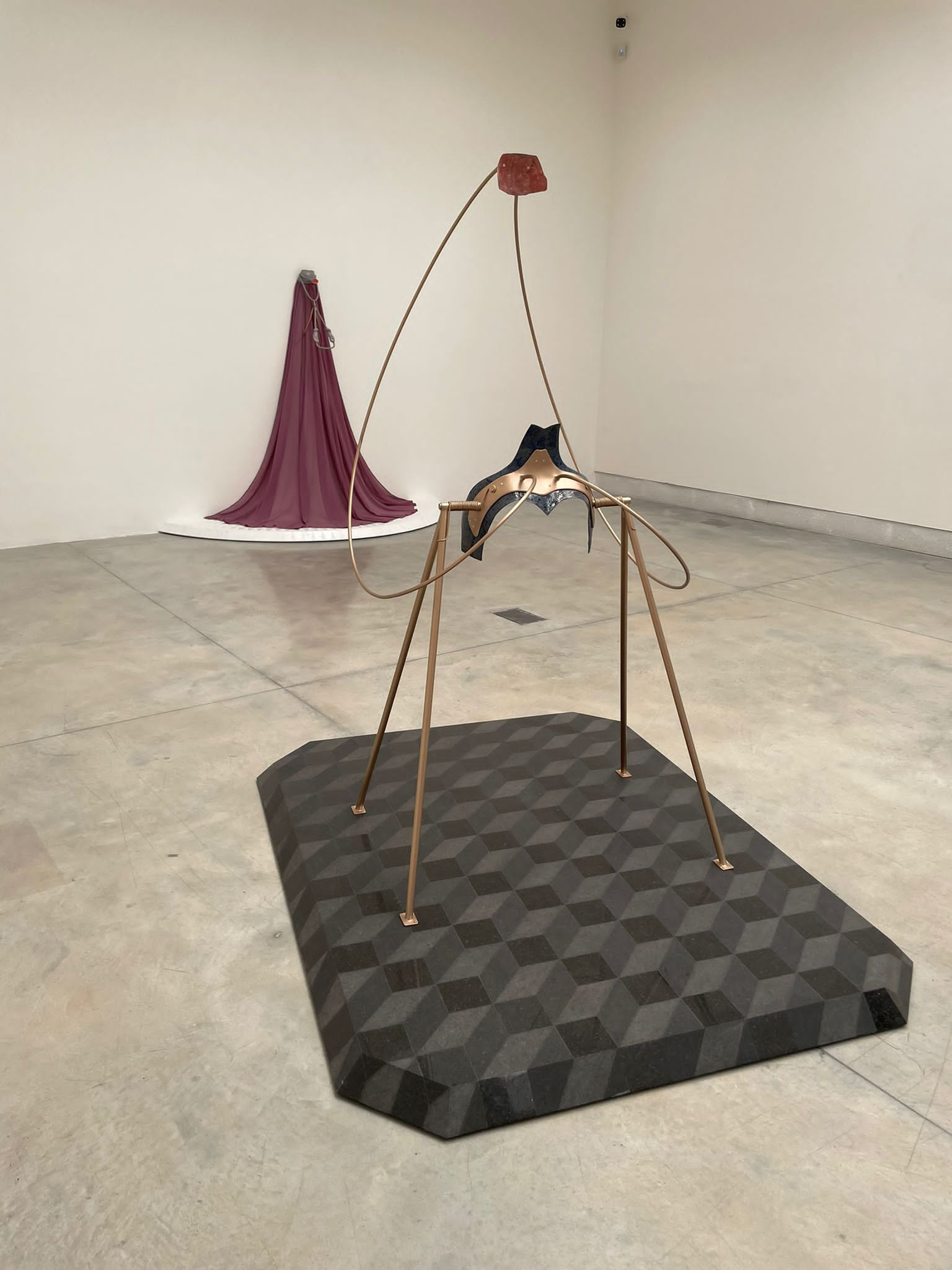 One of the most captivating pieces I saw in Venice
One of the most captivating pieces that I saw in Venice. It's by Julia Phillips, who I'm lucky enough to count as a friend after meeting at Tai Kwun Contemporary, Hong Kong at the exhibition Performing Society: The Violence of Gender curated by Susanne Pfeffer. Julia's work grapples with the absence of bodies.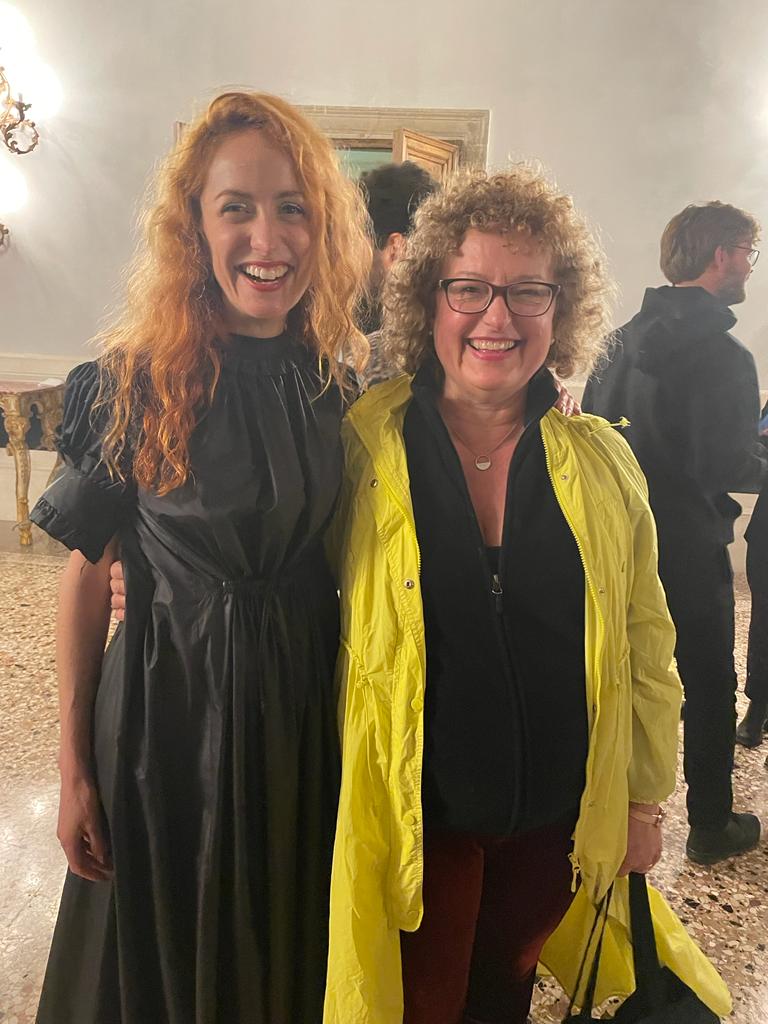 At the Serpentine Climavore dinner
With a menu by former Turner Prize nominees Cooking Sections, I bumped into the ultimate queen Carolyn Christov-Bakargiev, director of Castello di Rivoli at the dinner. A few days later we ran off to premiere my new film installation Prayers for Roadkill as part of Espressioni at Castello di Rivoli, Turin.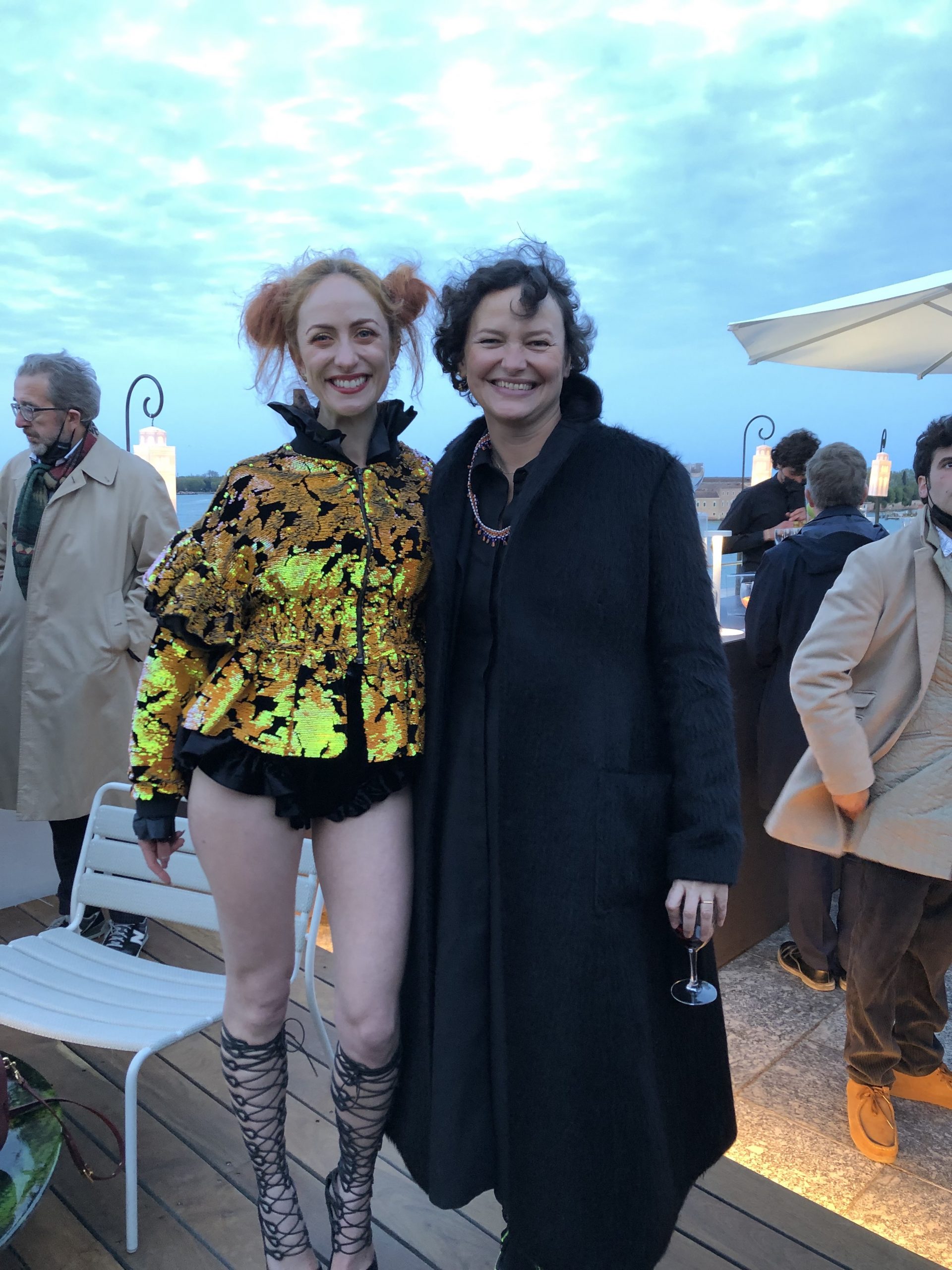 Sunset drinks with woman of the hour herself Cecilia Alemani
Sunset drinks with the woman of the hour herself, Cecilia Alemani. Her phenomenal vision for The Milk of Dreams has inspired me for months and driven me to create one of the most epic and magical works of my career so far.
Marianna Simnett is a Berlin-based artist working with moving image, installation and performance. She presented her new film installation The Severed Tail'at the 59th Venice Biennale