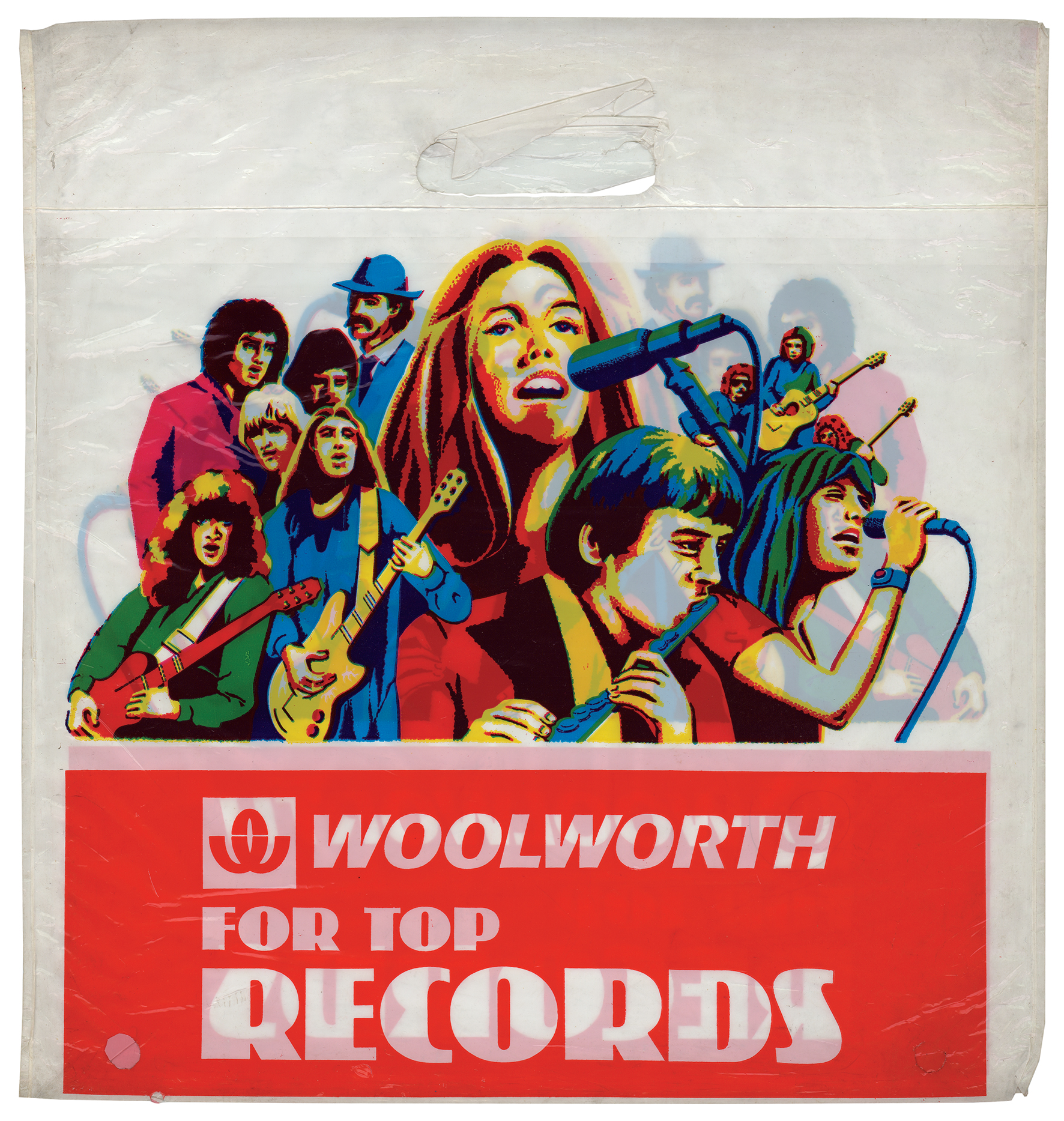 Vinyl culture is sustained as much by mythology as it is music, a mass exercise in collective memory, social history and a fierce belief in a shared experience. But these intangible threads are underpinned by a commitment to artefact and object: battered turntables likened to trusted steeds, sound systems fine-tuned like precision engines, and most importantly, stacks of vinyl listed and traded across continents like precious gems.
Much of this culture centres on record stores, places of infinite possibility where musical fascination originates and flourishes. A transaction lies at the heart of each relationship with a record, the decision to spend money on a physical object, but while the resulting purchases themselves are treasured, the contexts and histories of the record stores are often lost.
Like many British teenagers, Jonny Trunk began visiting UK record shops in the late 1970s, starting at Ken's Records, Venus and Spinnerdisc in Aldershot and Farnham. By the early-1990s, he was in the thick of it, he says, "buying every weekday from new and second-hand specialist shops in the West End." Thousands of records later, he has collected the paraphernalia of a lifelong passion in A-Z Record Shop Bags, a new book documenting the rich history of vinyl culture in the UK, told through more than 500 bags and paper sleeves from the 1940s to the 1990s.
From extinct haunts like the Birmingham Co-operative Society to jazz favourites like Honest Jon's and Ray's Jazz Shop, the book draws a sonic map of the nation, conjuring up countless hours of discovery, relaxation and partying soundtracked by vinyl. "The bags became a symbol of record-buying seriousness," Trunk writes. "Your bag made a statement about you." This means classic designs like Virgin Records sit alongside long faded or obscure prints, the perfect accessory for the edgy vinyl-head keen to parade their taste.
Striking to the modern reader is the sheer breadth of retailers selling vinyl records throughout the 20th-century: WH Smith, Co-op, Woolworths, Oxfam and Selfridges are all listed as purveyors of rare seven inches, while the modest collections of classical music, instrument and electronics shops outside major cities are well represented. Despite the recent resurgence of vinyl culture, Trunk's inventory often feels like a eulogy, with numerous stores now extinct. There are glimmers of hope and resilience in these pages, however. Dales in Tenby, Wales, is a seven-decade old family store "still going strong," Trunk writes. "At 89, Laurie Dale (son of the original owner) is the oldest music retailer in the country. On Sundays he plays his favourite easy listening in the shop."
"The bags became a symbol of record-buying seriousness. Your bag made a statement about you"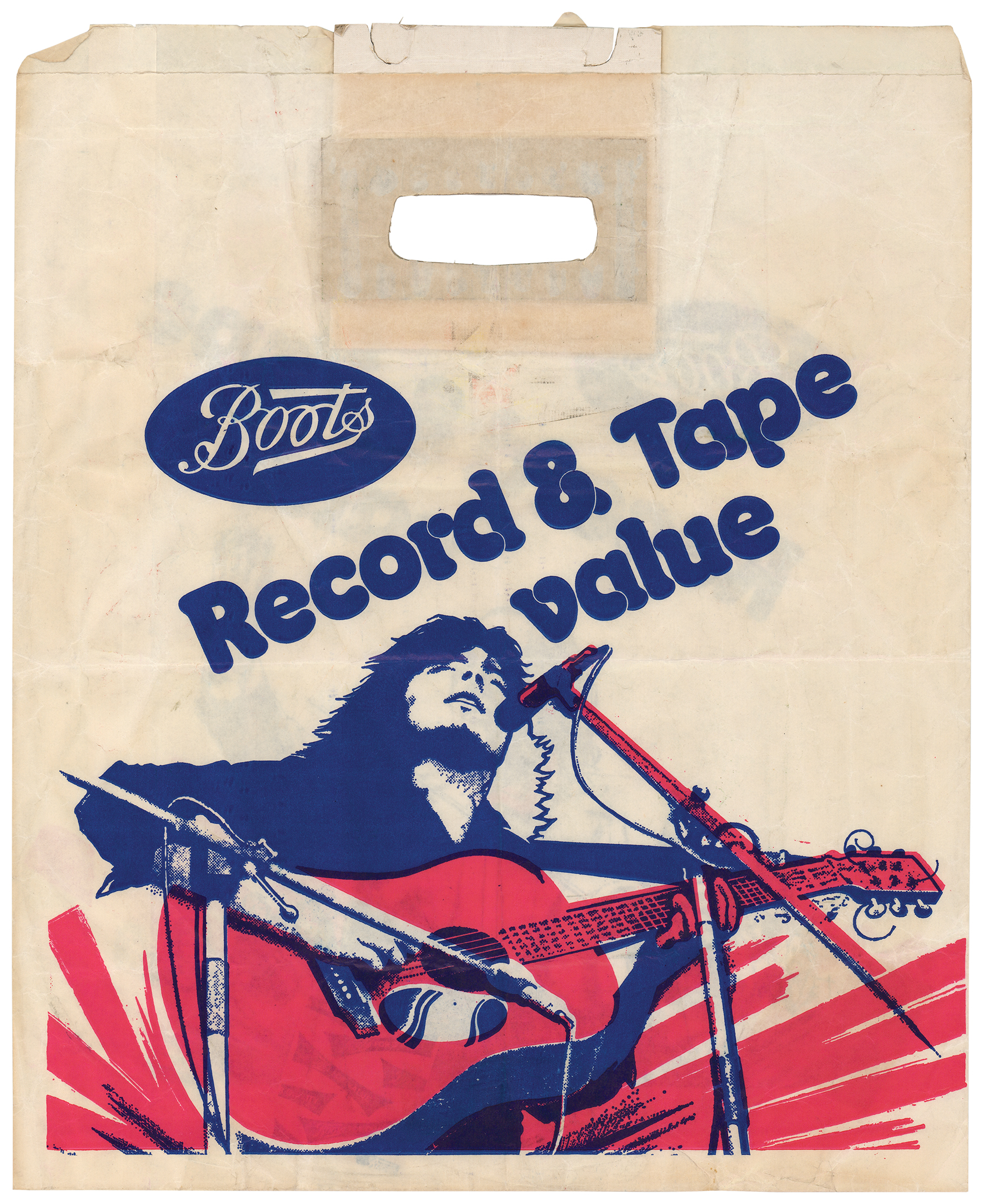 The time the book covers was, of course, a pre-digital, pre-streaming era. "In the first thirty or forty years of British pop culture, the shop was the place," writes music journalist Jon Savage in his intro to the book. "The agora, the arena where committed fans and casual buyers would meet and spend time, perhaps even talk to each other or hear something they might not previously have known." Tribal lines were drawn across sounds and locations as stores curated their own genre selections, guided by the availability of international records bringing the sounds of Dub, Ska and Chicago House to eager British ears.
"Tribal lines were drawn across sounds and locations as stores curated their own genre selections"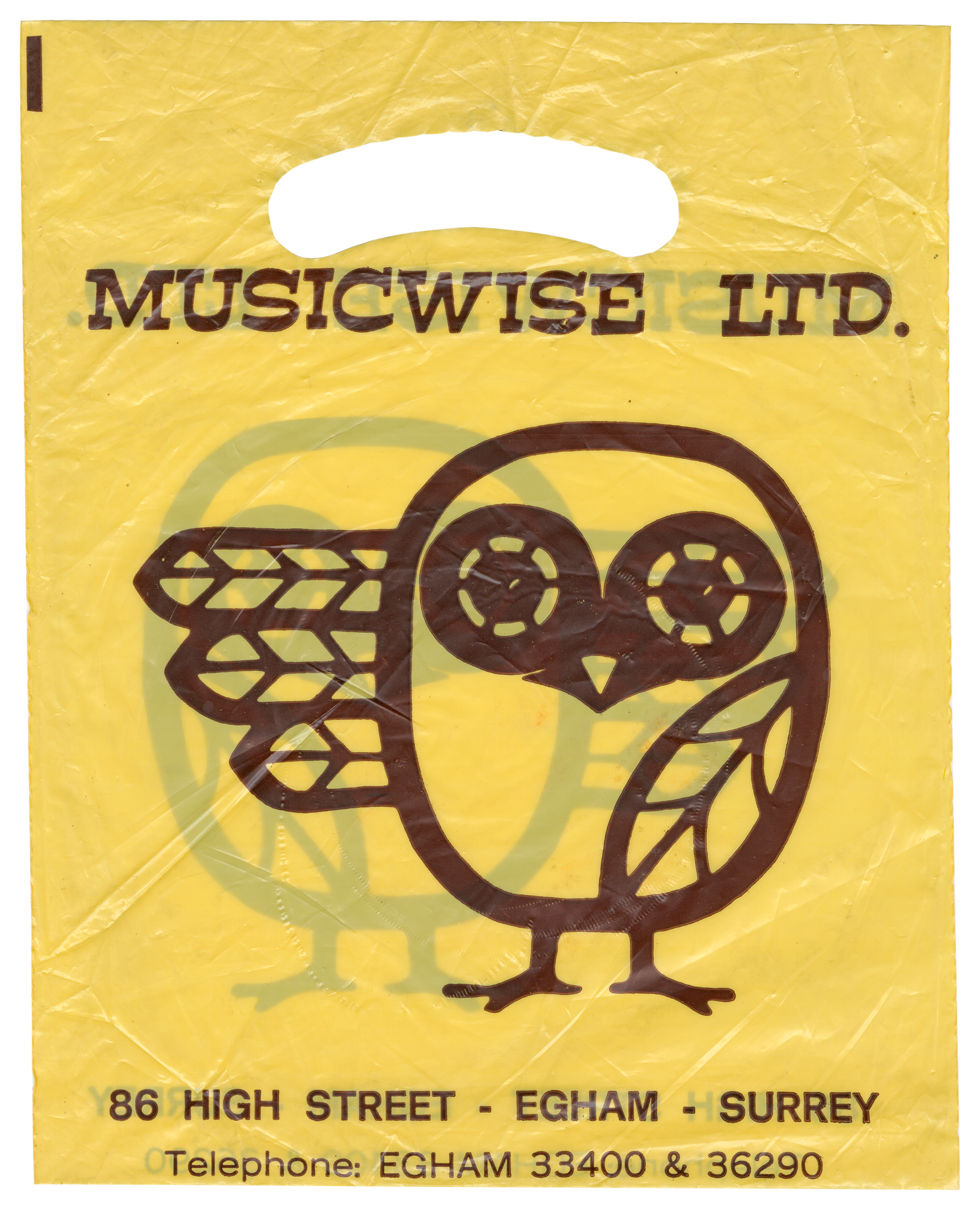 Trunk started the project by screen printing record bag designs on plain T-shirts (he began with Our Price and Woolworths, moving on to the iconic Musicwise owl logo and then Hermons records, a defunct 1970s store with a healthy Northern Soul roster). His research led him to the British Record Shop Archive, and then to individual collectors eager to share their obscurities with him. Individual captions beside each sleeve provide precious nuggets of colour, the lost stories behind the sounds.
The entry for Berwick's, a store in Rugby, offers a perfect dose of pith and nostalgia. "The only thing we can tell you about this shop is that all the staff wore overalls and all looked like lab technicians, which is really brilliant."
Ravi Ghosh is Elephant's editorial assistant
A-Z of Record Shop Bags: 1940s to 1990s: British Record Store Bags from the 1940s to 1990s by Jonny Trunk is out now (Fuel)
Elephant's review column dives into a different art book every week
READ MORE