In a warehouse gallery on the eastern fringes of Cardiff city centre, ten emerging artists and a host of staff are relearning the bumpy art of exhibition installation. Anthony Shapland, g39's co-founder and creative director, describes the process as "a weird game of chess." It is an undertaking that sees ten early-career artists appear in Survey II, a group exhibition spotlighting a cross-section of outstanding emerging practitioners working across the UK.
Established by Jerwood Arts in 2018, Survey employs a nomination model whereby curators from Jerwood, g39 and Site Gallery, Sheffield, invite established artists to propose a peer whose work they feel offers a snapshot of trajectories in contemporary art. Supported over an eight-month period, the ten artists' new commissions then tour the three galleries: it's at g39 until 11 September; at Jerwood Arts in London during Frieze week this autumn; and then moves to Site Gallery from March 2022.
More than 30 artists, including Turner Prize winner Tai Shani, Heather Phillipson (whose hulking fly and whipped cream recently dominated Trafalgar Square's Fourth Plinth) and Sean Edwards (who represented Wales at the last Venice Biennale), nominated their chosen artists. These nominations were then whittled down to the final ten.
"All ten works participate in, and indeed, benefit from this integrated curation"
The full list of the exhibiting artists (and their respective nominators) are: Saelia Aparicio (Jonathan Baldock), Tereza Červeňová (Joanna Pietrowska), Sadé Mica (Emily Speed and Jade Montserrat), Rebecca Moss (Wood and Harrison), Cinzia Mutigli (Sean Edwards), Katarzyna Perlak (Zadie Xa), Shenece Oretha (Zadie Xa), Tako Taal (Jamie Crewe), Nicolaas van de Lande (Tai Shani) and Angharad Williams (Heather Phillipson).
The result is a combination of sculptural installation, sound and video art, image-based and photographic work, and textiles, all bleeding and blending into each other. At g39, a strip of Mutigli's iridescent wallpaper is just visible behind an angled wall of Perlak's delicate hanging handkerchiefs, each bearing a stitched proverb relating to Britain or Poland. Aparicio's sculptures of three dead astronauts protrude into the gallery entrance like guardians, the chair-like hybrid bodies of plastic, plywood, glass and plant matter drawing attention from Červeňová's small photographs which sit patiently on the wall behind.
All ten works participate in, and indeed, benefit from this integrated curation, a decision motivated by Survey II's commissioning principles: for the nominating and selection ethos to carry into the show, interrelation must be upheld and encouraged. The nominators loom large, both in their choices (particularly relating to media: Crewe selects video, Shani experimental sculpture) and in the exhibition literature.
The curatorial style is epitomised by van der Lande's central installation, Červeňová's image-based work and Oretha's sound piece, which each exert an outsized influence on the exhibition architecture: subtly adjusting the collective lens through which their peers' works are viewed; fine-tuning the atmosphere to create constant anticipation.
"The result is a combination of installation, sound and video, photographic work and textiles, all bleeding and blending into each other"
Slovakia-born Červeňová's With and For is a silent moving-image piece shown alongside a series of photographs. Filmed on Super 8 film, it ruminates on spirituality and vulnerability via interactions with familiar places and family. Although much is concealed, shots of Červeňová eating lend a fragility to everyday actions, creating a fragmentary, almost archival feel. The accompanying photographs develop these themes, borrowing from portraiture while employing more experimental perspectives and angles. Their key feature, though, is that they are dotted around the exhibition, like asymmetrical tiles mounted around a room. Only by moving through other works can one conceive of Červeňová's whole project: a clean resolution is deferred.
Van de Lande's installation has the opposite effect, partitioning the space to create natural walkways. The combination of textiles with found and familiar objects (a bed, door and paint cans nodding to the artist's time living in property guardianships) stand slanted, prone and erect, dominating the foreground while allowing other commissions to be seen through the construction.
Close by, two spidery black speaker stands loom, playing a loop of Oretha's Conspiracy: After Jeanne Lee, a rich, woody ambient tone before hums emerge as the sounds converge. On the wall behind, Mica's Parts, an upholstered depiction of the artist's body, displays only flashes of flesh, the cream figure splayed upwards as if caught in a web. Like the near-blinding light emanating from Červeňová's film, Oretha's composition becomes an atmospheric intervention, guiding the viewer in either silence or sound.
Video works anchor the exhibition. Mutigli delves deep into the subconscious mind in I've Danced at Parties, using a split narration to explore interiority while referencing Top of the Pops rehearsal videos from the 1980s to reconnect with her mother's memories. Glistening wallpaper, composed of stills from the film, creates a disorienting backdrop.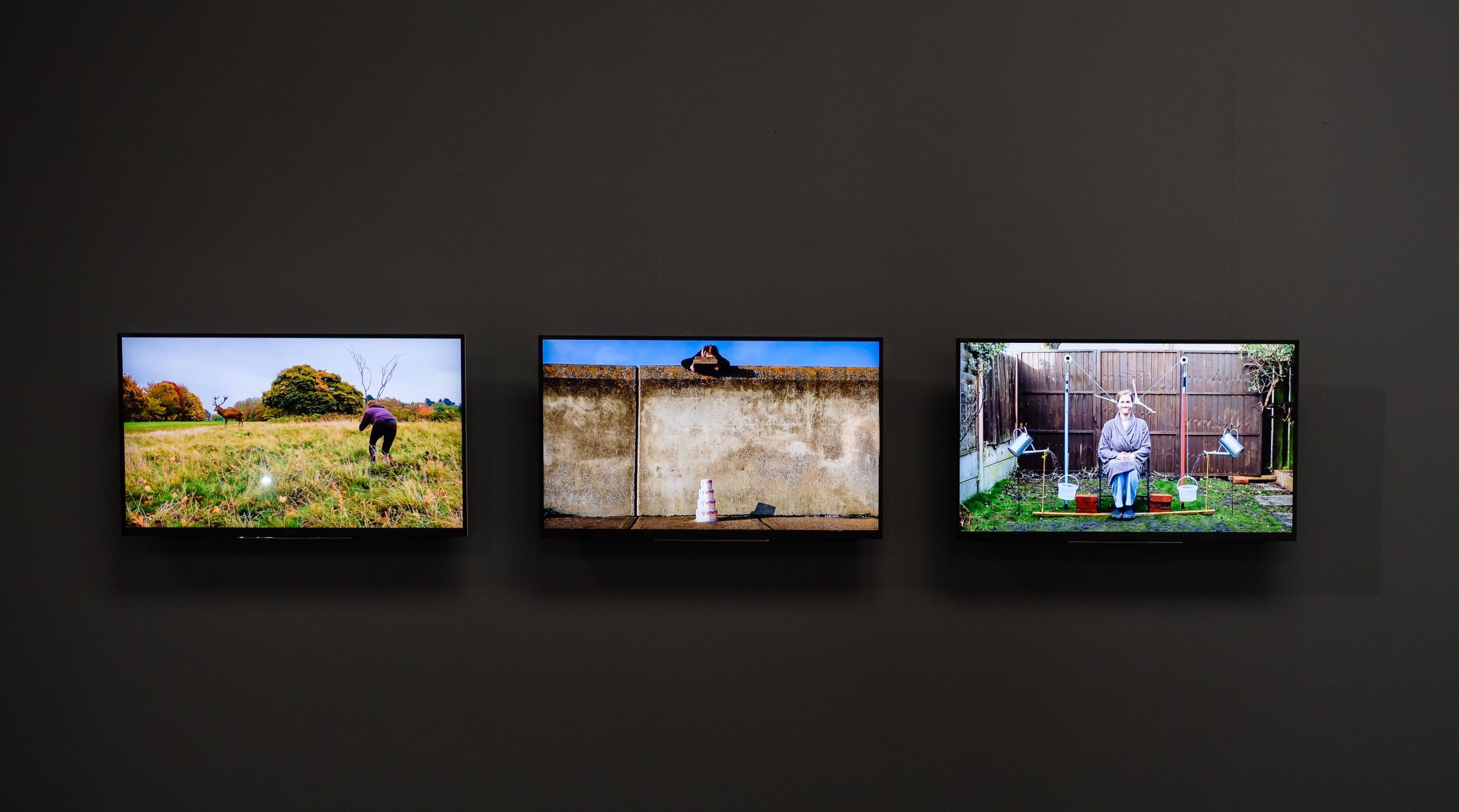 "In bringing together numerous works, there is an embrace of the unexpected new energies and sensations they create"
Meanwhile Taal, who was shortlisted for the 2021 Margaret Tait Award, presents Departures, using textiles and poetry to explore diasporic memory and mortality. "With love to those that left and those that remain," the narrator says, a verse composed by a late son read by his two surviving brothers.
Rebecca Moss presents a triptych of videos in the exhibition's most captivating piece. Herd Mentality sees the artist nervously approach a lone stag; in Pancake, a lavish cake is smashed by a concrete block from height; finally, darker work Home Improvement shows the artist's face manipulated into a smile by a homemade pulley system. All are durational, exploring tension and encouraging patience from the viewer, while the simultaneous screenings disrupt any notion of true calm.
Concurrence deepens their absurdity, as can be said for the Survey II exhibition as a whole. In bringing together numerous projects from a diverse group of artists, there exists an implicit trust in the spaces that exist between different works, at once distant and together—an embrace of the unexpected new energies and sensations they create.
Ravi Ghosh is Elephant's editorial assistant
All photos: Polly Thomas. Courtesy the artists g39, Jerwood Arts and Site Gallery