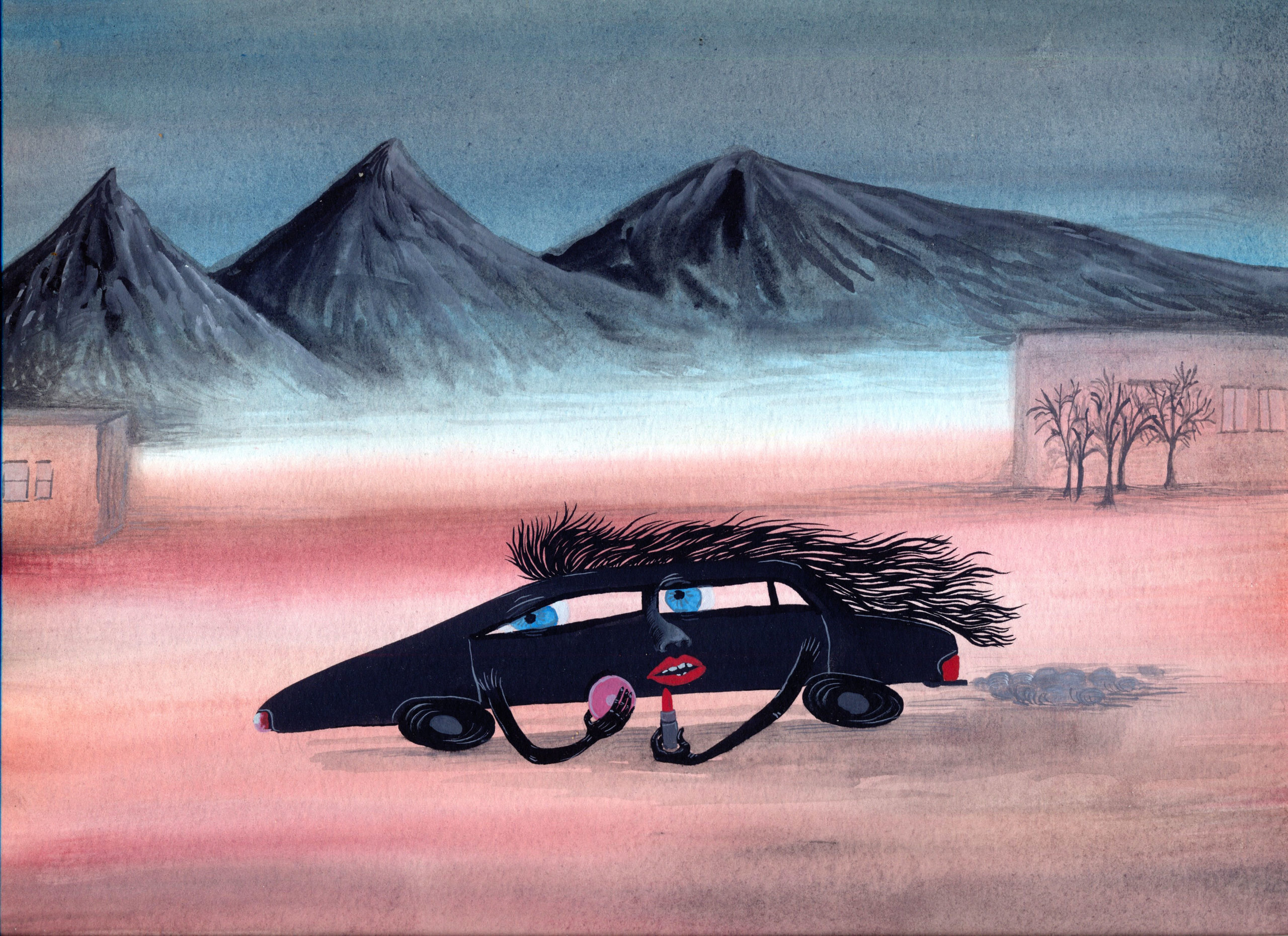 A cigarette sobs in an ashtray. A car applies a full face of makeup. A coffee pot yawns. Like a fever dream that slips away immediately upon waking, the paintings of Agnese Guido feel trapped in a limbo space between imagination and reality. They are twisted into new and ever-odder possibilities as the everyday is rendered bizarre. Her anthropomorphic characters bring inanimate objects to life through the addition of eyes, legs or a red-lipsticked mouth. It is an approach reminiscent at times of the early underground graphic art of figures like Robert Crumb and Gilbert Shelton, and infused with the same spirit of playful absurdity and spontaneity.  
"I think I started drawing so much as a child because I was very shy and introverted, it was my way of being in the world. I also loved watching cartoons and copying them," the Italian-born Guido tells me. "I have always loved painting, comics and especially outsider artists. I studied at the Academy of Fine Arts, I have a fairly classical background but I often find the graphic and narrative aspect of comics, or the incredibly imaginative aspect of outsider art, much more direct and raw. It is less cryptic but speaks on multiple levels." 
"I find the graphic and narrative aspect of comics, or the incredibly imaginative aspect of outsider art, more direct and raw. It speaks on multiple levels"
Guido works across paintings, drawings and (more recently) ceramics, creating small sculptures that she calls "storytelling pottery". The curious characters that appear in her work, which leer, dance, sing and preen themselves, carry with them the hubris of their human counterparts. Her choice of cigarettes, coffee pots and fast cars is never coincidental. "They are addictive objects, and they can appear as threatening and vulnerable at the same time; they express the idea of what is good and what is bad for people." 
"This is not a discussion of evil or good in society," she continues, "rather I try to play with what is considered right or wrong internally. How do we live with ourselves if we choose to embrace the dark side of our nature? Better yet, how do they live it, the cigarette, the wine, the coffee? As a big fan of surrealism I love to explore human drives and play with desires, together with a little black humour." The detailed, occasionally absurdist landscapes depicted in Flemish and Medieval art are further important influences for Guido, although her scenes are firmly rooted in the contemporary world. 
Sex Bomb, 2020 (left); Hello Moto, I'm a Simple Man, 2019 (right)
"My first video games were on floppies, and VHS were precious friends. I try to recreate a personal and generational archaeological site"
Relics from the digital world also make recurrent appearances, from floppy discs to VHS to the Microsoft interface. There is a filmy sheen of digital nostalgia that runs through Guido's work. "They are ancient ruins; they are the origins of what we now use daily," she says. "I was born in the 80s, and for me it was a fascinating world. My first video games were on floppies, and VHS were precious friends to record the things I loved on TV. I love its aesthetics and I am also a regular visitor to flea markets and dusty cellars. I try to recreate a personal and generational archaeological site."
Guido's work effortlessly pairs the serious with the frivolous, and the unknown with the familiar. Her paintings take a journey into the unconscious mind, melding the internet age with timeless human impulse. She breathes life into otherwise unremarkable objects, layering stories within stories. As she concludes, "It gives me the opportunity to dialogue with the image. Everything becomes a character and I can play with them."