Condo conjures up an image of several individual spaces housed in one larger space. This, however, is not the case for the art event Condo Complex. Instead imagine cooperative spaces working together, pooling resources and, ultimately, cooperating with one another to create a welcoming, accessible way of exhibiting art that provides an alternative to the art fair model, for smaller galleries and artist-run spaces to exhibit internationally.
Co-founded by Vanessa Carlos of London's Carlos/Ishikawa gallery in 2016, Condo has since spread to Shanghai, Mexico City, New York—and most likely more cities in the near future. For its second iteration in the Big Apple, the collaborative exhibition features forty-seven galleries, hailing from cities including Kolkata and Cairo, across twenty-one spaces in New York. The choice can be overwhelming, so here are five must-sees.
Mitchell Algus Gallery hosting Mary Mary, Glasgow
Rose Marcus's photographs of urban landscapes break through the boundaries of installation with the addition of unremarkable materials such as iron, glass and silk. These strange, abstract adornments recontextualize the mundanity of her photographic subjects, which are often further manipulated through repetition, cut-outs and other physical alterations. This fragmentation magnifies or diminishes individual parts of her image, which encourages the viewer to closely examine what she has decided to focus on. Moreover, the monumental scale of her photographs adds gravity to scenes that might otherwise be disregarded, if they were viewed unmanipulated and in a traditional 4×6 format.
Foxy Production hosting Christian Andersen, Copenhagen and Edouard Malingue Gallery, Hong Kong
Over at Foxy Production, which is hosting Copenhagen-based gallery Christian Andersen and Hong Kong-based gallery Edouard Malingue, hangs hallucinatory paintings by Sven Loven. I Wrote Your Name on a Bullet displays a presumably medieval figure clasping a sword, with indecipherable text covering the entirety of the canvas. It features a sci-fi aestheticized background, complete with a coded heart in the middle of the figure. Known for his interest in the formation of beliefs and ideologies, Loven makes work that is cluttered, mimicking the onslaught of information often fed to the masses by larger forces. However, it also slows one down, asking for a meditative digestion of its various elements, rather than passive consumption. Tongue-in-cheek, yet enveloped in a dark, gloomy palette, I Wrote Your Name on a Bullet brings to mind cornball apocalyptic thrillers, but still has something noteworthy to say.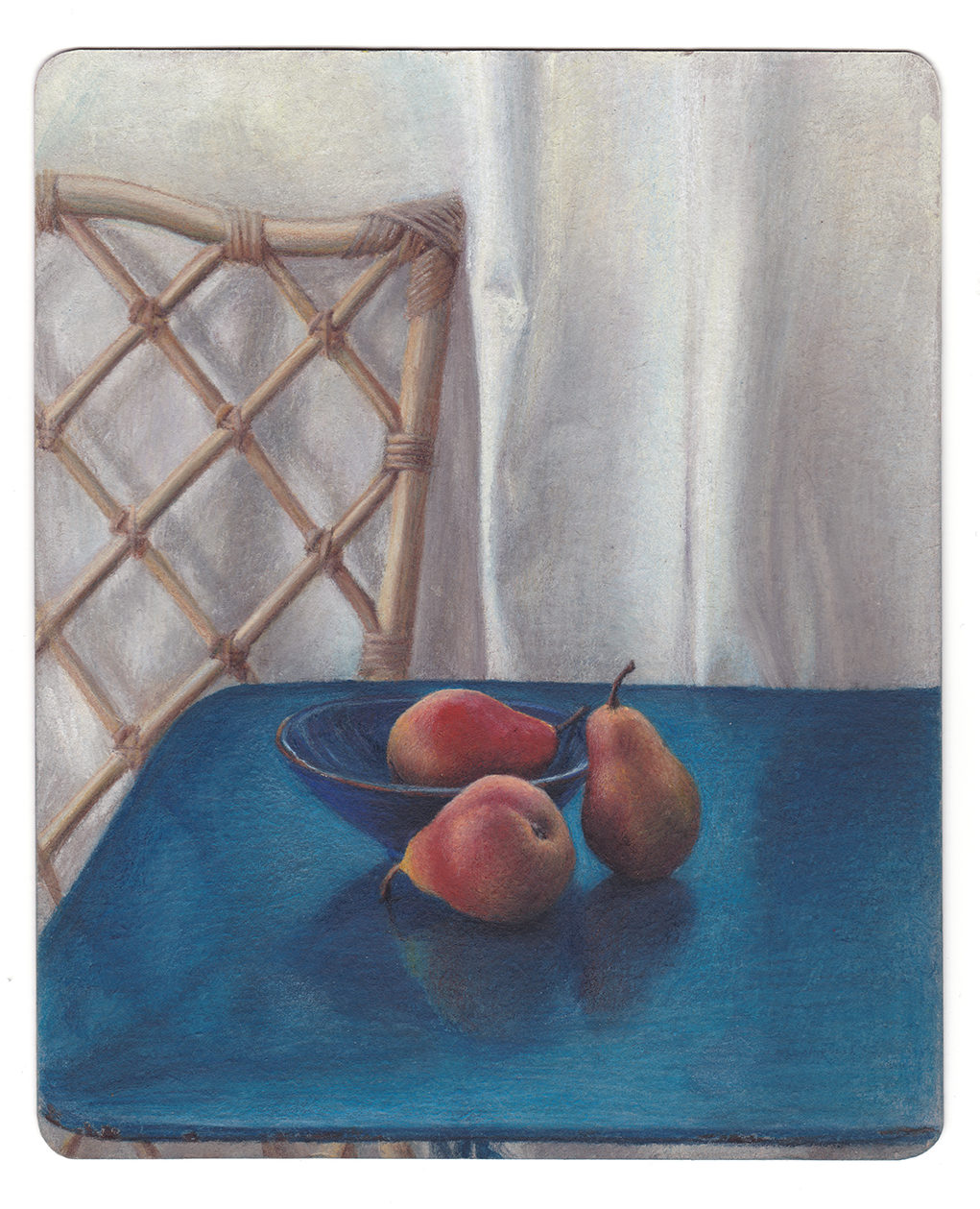 Bodega hosting Galerie Crèvecœur, Paris
Louise Sartor's portraits of women often hide her subject's faces, thus questioning and critically engaging with the conflation of desire and the gaze. However, her painting Poires depicts a group of pears laying in and outside of a bowl, with no sign of a human presence. The fruit, while not erotic, instead inspires a sense of lulled desire, which is more lovely than lustful. The painting invites the viewer to notice details such as the reflection of the pears on the table, the woven craftsmanship of the chair and the folds in the curtain behind. In these details Sartor shapes the identity of the space's inhabitant, sparking our curiosity and offering multiple possible narratives. The gallery is also showing the work of Jason Benson, Than Hussein Clark, Alexandra Noel and Naoki Sutter-Shudo.
Simone Subal Gallery hosting Sadie Coles HQ, London
Simone Subal Gallery has collaborated with Sadie Coles HQ in London to exhibit a selection of Daniel Sinsel's oil paintings, which feature objects such as cherry stones, glass, metal wire, leaves and beeswax. The artist is known for his exploration of space, shape and volume through trompe l'oeil allusion, and infuses his paintings with erotic potential. The works on display at Simone Subal are subtler than his earlier material, but upon closer inspection the bumps and convexes visible in his carefully executed linens still offer multiple interpretations that could be seen as lascivious or innocent in nature.
Chapter hosting Adams and Ollman, Portland
Chapter's show with Adams and Ollman in Portland features vibrant, seductively inviting works by Julie Béna, Julie Curtiss and Joy Feasley. Blinders by Curtiss features a woman whose face is covered by claw-like hands adorned with long, magenta nails. The figure is protected from our gaze just as she, herself, is blinded, temporarily, by the purple hands. The playful colours and textures suggest thematic concern of casting gazes, particularly those aimed at women. Feasley's paintings share a similarly vivacious palette, and her focus lies in traditions of folklore and mythology, as well as an obsession with crystalline geometries. A sense of indulgence rises from both artists' works, displayed in the richness of color and textures, and it's something most viewers will happily luxuriate in.
SaveSave
SaveSave
SaveSave
SaveSaveSaveSave