Could collage have predicted the "new normal"? While it's rather unlikely, there's something a little uncanny in the theme of this year's LESS Festival of Contemporary Collage Art in Denmark. Conceived a while before the pandemic hit, the "nutopia" theme feels incredibly prescient in light of the profound shifting of perspectives on the future in recent months. The word—a portmanteau of "new" and "utopia"—has clearly taken on far more significance since coronavirus took hold. Initially, it was conceived to sum up the way in which art can "transform our visual and urban landscapes". Now, it's likely to generate interpretations of the works that have been selected for the festival in different, perhaps more poignant ways. 
LESS was founded by Sergei Sviatchenko, a collage artist himself whose work draws on the aesthetics and ideas of avant-garde art, architecture, constructivism, surrealism and 1960s pop culture; and it's been curated by Faye Dowling. They've suggested that since the shift in the "tectonic plates of our civilisation", nutopia underscores that art has become a more powerful tool than ever for "purpose and connection," and in considering art we must also think about the potential for "nature and community [to] ground us."
Nico Krijno, from Lockdown Collages, 2020
The lineup of artists is broad and truly international: those showing hail from South Africa to Japan to Australia, Venezuela, France, Denmark, the UK and more. There's also a real breadth in terms of the artists' approach to collage. The medium often seems to get short shrift in the art world, dismissed as a little hobbyish or punky—just too democratic for some, in the sense it can be a rainy day kids' distraction. It's a shame: you could say the same about painting to an extent, yet poor old collage still seems to bear the brunt of such dismissive assumptions.
Hopefully, festivals like this are doing something to assuage that snobbishness. The artists here naturally often work with traditional hand-cut-and paste methods, but they do so in ways that can't fail to beguile. And they're not short of conceptual premise. Take the work of Japanese artist Noriko Okaku for instance, which merges handmade collage, animation and audio-visual performance to explore how personal memories are formed through scenes that draw on mythologies and surrealist-leaning fictional narratives. 
"Collage often seems to get short shrift in the art world, dismissed as a little hobbyish or punky"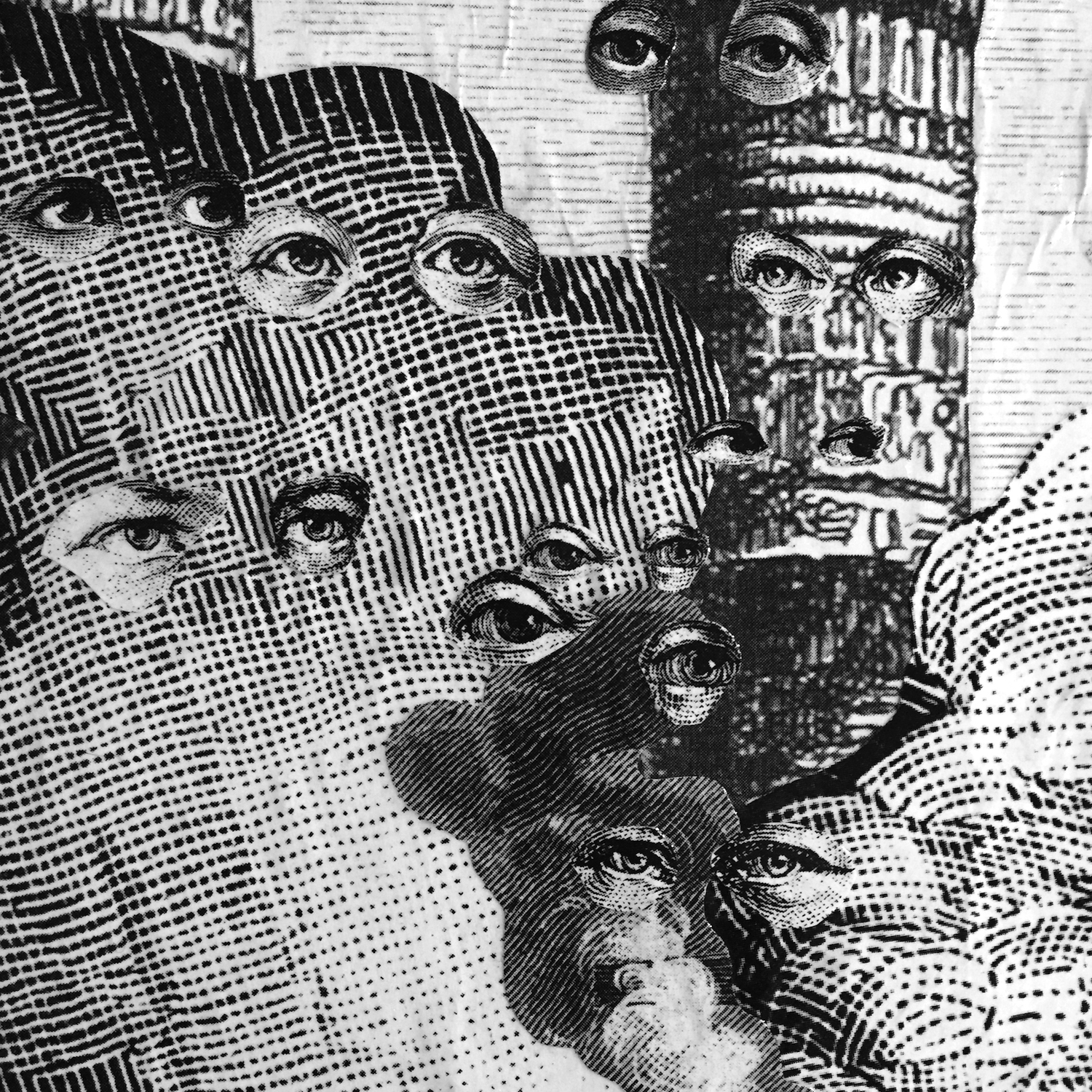 Another highlight of the festival is Australian duo Donnachie and Simionato, who approach collage through technological means with one eye on the retro heritage of "new media". The pair work with formats such as Flash animations, PowerPoint and CDs, as well as gifs and videos, though their series shown at LESS, titled Delayed Rays of a Star, was created from a custom-made algorithm which builds images from digital archives.
There are some old favourites at LESS, too, namely in the shape of Manchester-based design studio and collage-nuts DR.ME. Looking back to one of the more recent golden eras of collage, it's also a joy to see the work of Penny Slinger, who is celebrated as the headliner of sorts. Alongside her collage work, Slinger—described by The Guardian last year as a "Swinging 60s surrealist"—was also responsible for a number of "psychic dolls houses" and erotic wedding cakes, as well as having been widely celebrated as blurring the lines between muse and artist. In her 1977 An Exorcism collage works, for instance, she created a psychodrama in a derelict country estate, using herself and her collaborators as models. 
Is collage really a conduit for "purpose and connection," then? Maybe, maybe not. But if the works at LESS are anything to go by, they certainly forged (and are forging) new ground in ways that few give the medium enough credit for. And for one thing, they're just the sort of distraction we need at the moment.