Sylvie Fleury: Solar Gold and Moonlight Shimmers, 2018
Sylvie Fleury used to say that she was a painter—but only on her own face. Last year, though, the Swiss artist debuted a series of acrylic on canvas on wood versions of make-up palettes. Blown up to gigantic scale, they are seductive as minimalist abstractions through which we might travel from fashion to art, and wonder about the differences in objects of desire. She's explained them as a feminist counterpoint to the paradigm defined by the all-male exhibition The Shaped Canvas, held at the Guggenheim Museum, New York in 1964.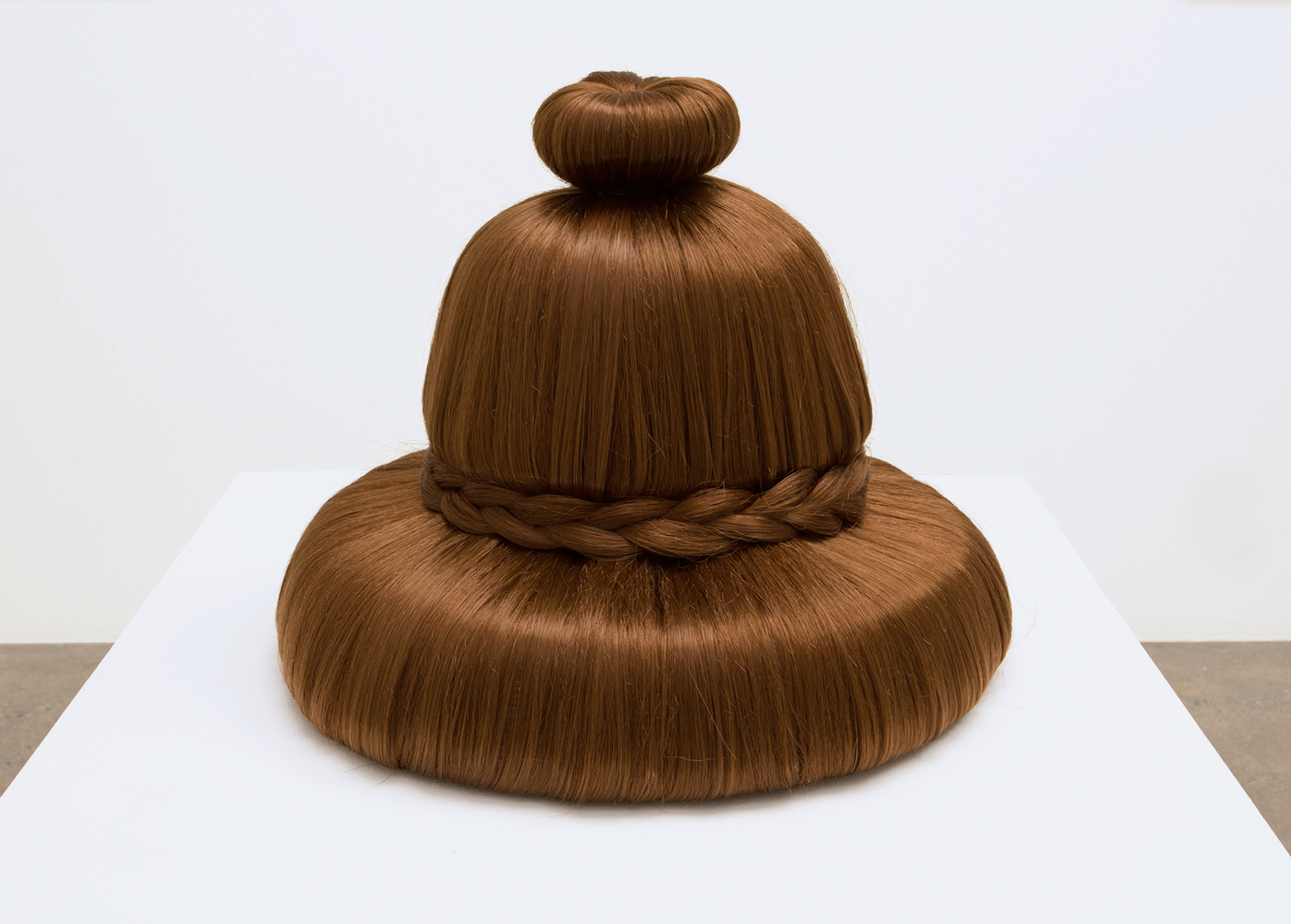 Julie Curtiss: Bun, 2018
A red-hot painter in the market with her precisely obsessive psycho-sexual dramas, Julie Curtiss is visibly inspired by the Chicago Imagists, a 1960s tendency who themselves have become more prominent recently. Some of them were also known as The Hairy Who, and hair is a sufficiently obsessive motif in Curtiss' paintings that this sculpture, made by fully covering a hat with synthetic strands, is a logical extension of her language. It has an uncanny yet comedic presence which makes you long to see it being worn.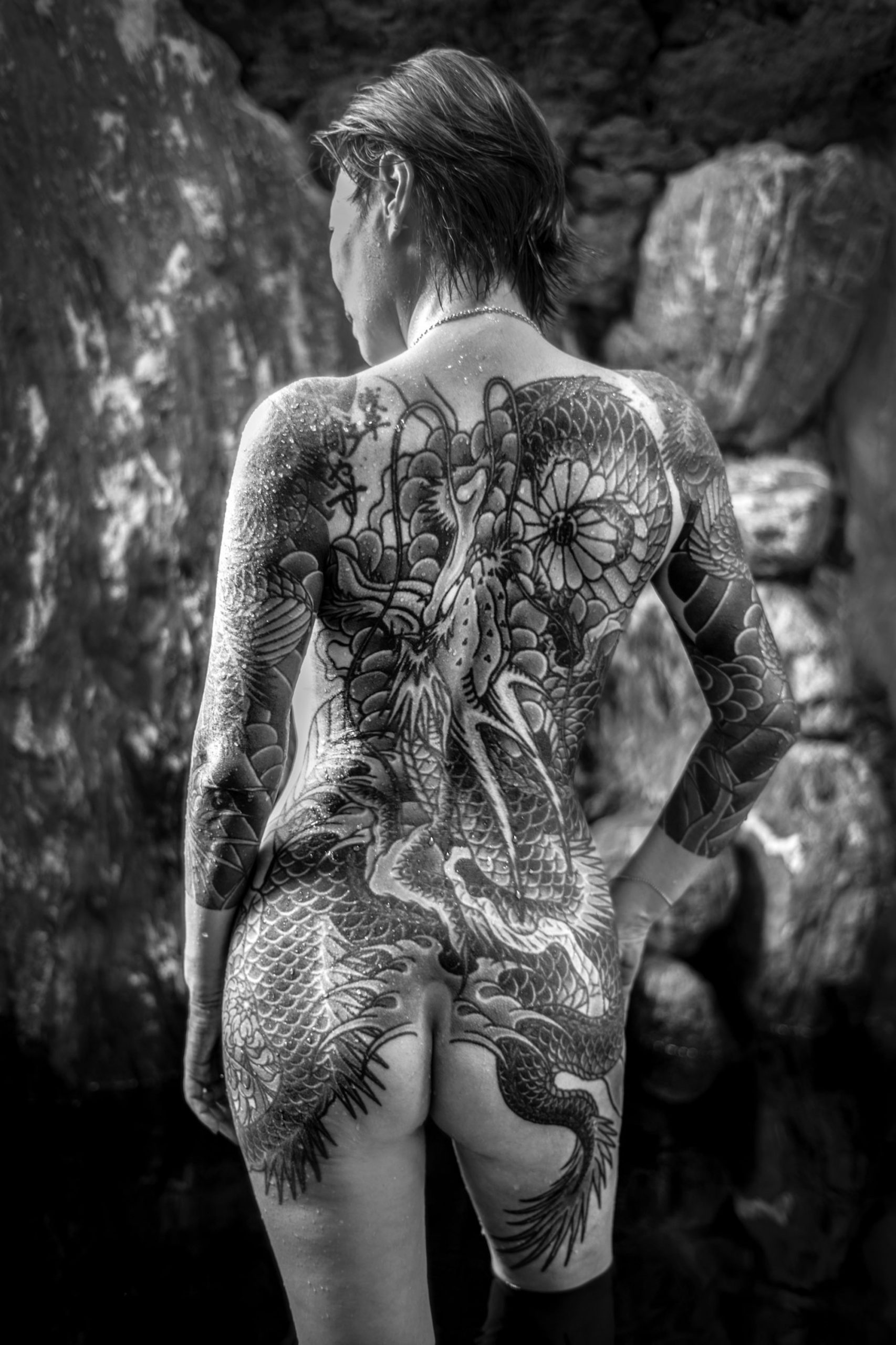 Chloé Jafé, I Give You My Life, 2014-2017
The skin is more of a fashion site now than it's ever been, and much of that picks up on older cultural traditions in which tattoos were used as signals of belonging. French photographer Chloé Jafé lives in Tokyo and met a Yakuza boss who agreed to let her document the women associated with the organised crime syndicates. The women allowed Jafé to photograph their 'irezumi' tattoos: made painfully by hand over years using a wooden handle and a needle, they represent a strong statement of commitment to their partners within the organisation.
Bedwyr Williams: Walk a Mile in My Shoes
At the Saatchi Gallery, Bedwyr Williams recently presented an impressive choice of 45 pairs of shoes to try on in this installation. Any thieving thoughts of making off with his footwear were tempered, though, by the fact that Williams takes a whopping size 13. Walking a mile in those would definitely be a challenge. Not only that, but he bought them all second hand as a way of demonstrating that he's not alone in having big feet, even if only 0.5 percent of adults share the size.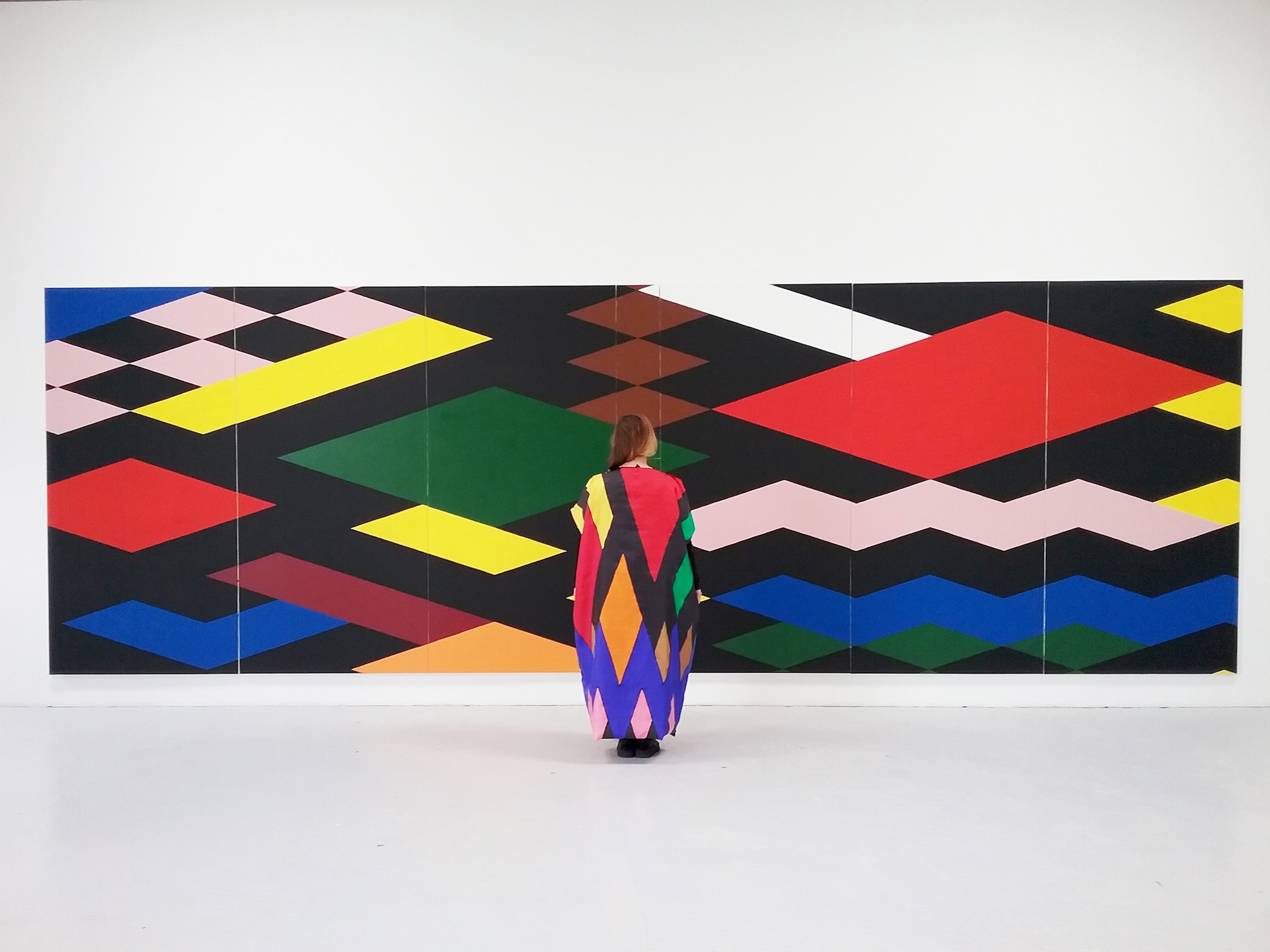 Karina Bisch: La Grande Diagonale and La Robe Diagonale, 2016
French artist Karina Bisch's painting practice feeds into performance, sculpture and clothing to make, in her words, 'a protean activity that merrily defies categories, mediums, styles and genres'. Typically, as here, fresh, forward-looking combinations of motifs derived from research into the historical avant-garde move beyond her colourful canvasses and into the world of 'peinture-à-porter'. Is she wearing a painting in these two works always shown together, or is the painting really a giant pattern for a dress?

Lisa Milroy: Installation with White Dress, 2011
Often intersecting with fashion, shoes are a favourite subject in Lisa Milroy's work, and she has made many 'interactive' paintings on dresses designed to be worn. Milroy has also woven canvas into reversible paintings, sometimes presented as handbags. The distinctions between object and painting, art and fashion, patterned design and painterly abstraction are collapsed, all of which performance can alternatively be categorised rather traditionally as still life.