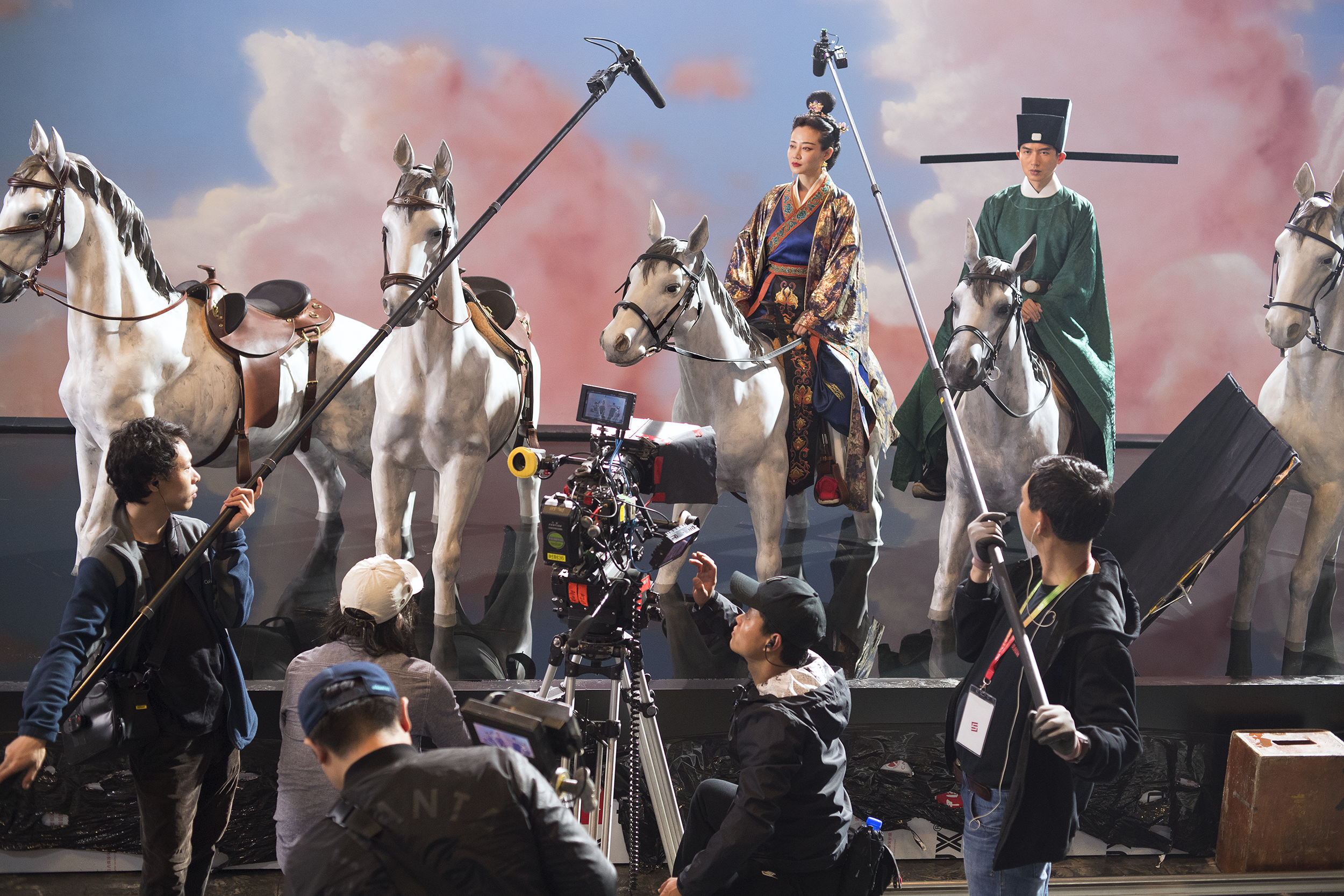 In the early work of Chinese artist and filmmaker Yang Fudong, groups of young, aesthetically-pleasing people want to set themselves apart; to escape responsibility and ambition; to fall in love and pursue unsanctioned relationships without the prospect of shame; to cross-dress. Saying that, it's impossible to know exactly what these characters want. (Even when narrated, their stories aren't told in straight lines but are fragmented, looped, without a hard beginning or end, broadcast simultaneously on different screens.) But you can imagine that they are thinking in terms of a listless youthful rebellion that doesn't really need a cause, more a feeling than a fixed ideology. Something that can be thrown off as soon as it ceases to be of interest. They invite this sort of imagining on their behalf, at least.
"Having onlookers forced me to see things differently"
Yang's most famous work, Seven Intellectuals in a Bamboo Forest (2003), was based on a fifth-century fable in which a group of sages fled corrupt city and court life to return to nature. Transposed to an unspecified modern era, this group of besuited men and women undress on Yellow Mountain, then take a cable car through its cloudy heights. They are travelling not just away from civilization in their idealistic, poesurish stand, but into the past, a pre-twentieth-century China. Eventually they will become disillusioned with trying to live off the land and working on rice paddies, and head back to a life of hedonism in the city. But for now they are subsumed into a tranquillity that belies the clashing of sets, costumes and aesthetics, which can seem to be from many eras and places at once.
The artist's most recent work travels deeper, and more directly, into China's past. In 2018, visitors to Shanghai's Long Museum were invited to watch the shooting process of one of Yang's films as an artwork in itself. Instead of the contemporary context previously favoured by the artist, Dawn Breaking was set in Song Dynasty China (960-1279). An elaborate set was built and filmed on, while gallery goers walked about the rooms.
"Having onlookers forced me to see things differently," Yang tells me, when we meet at London's Marian Goodman Gallery. "I was bearing in mind how the audience might interpret the whole process. Will they think the people around me, the builders and crew, are part of an artwork or are simply working on the installation of one? Will they think this is just a scene with actors, shot in the museum? And am I, in the middle of it all, just the director telling other people what to do, or am I part of the film: a role within it?" After every day of filming, the recorded material was edited into what Yang calls Dynasty Diaries: short extracts of raw footage showing how the shooting process looks and works. These were then made available for the following day's gallery intake.
The artist has form for showing his workings. The 2009 work Dawn Mist, Separation Faith was made from the cutting room floor of other films. His latest project, though, is more deliberately structured. Shown as a group, the collected diaries from Dawn Breaking form Beyond God and Evil: the second phase of what Yang intends to be an epic tripartite project. Surely his most ambitious to date, it will culminate in the finished, edited film, which records the intrigues and decline of a young emperor's court. But at this stage of the process, where the semi-rough diaries are all that is available, there is no need for the gallery goer to be aware of the narrative.
"Am I, in the middle of it all, just the director telling other people what to do, or am I part of the film?"
When I speak to Yang, he is installing his Beyond God and Evil at Marian Goodman. It's his first solo show in London since 2011. He has brought wallpaper from China: big panels of the stuff are being used as screens for his projected footage. Beautifully shot and opulently kitted-out historical scenes—which often feel like they have a self-conscious grain to them, putting more of the past on that past—are suddenly intruded upon by a tracking camera, a sound man, a rig, all of which become elements in the plotted image.
These modern anachronisms feel as visually useful to the composition as crane statues (which interact at one point with crane wallpaper), decorated Pagoda doors, and vases of flowers that naturally belong there. Along with these, there are historical human ornaments: spying observers; poised, silent advisers; young women at their toilette; swordsmen in blue doing wire work. In these short, looped films remains the gestural slowness for which Yang is known, but focused on the daily routines of a leisured past. Every frame is beyond delicious. Quotations from Friedrich Nietzsche are spoken by the cast and are broadcast along the screens. Somehow, they seem perfectly suitable being spoken by the wise but mannered, ultra-refined but bloody-minded aristocrats of Yang's Song Dynasty.
For this timeless project nonetheless set in distant times, Yang has chosen to forgo his most trusted tool for achieving this effect: a black and white palette. Favoured in previous projects for what he calls its "timelessness", "purity" and "simplicity", the black and white image in Yang's care evokes the ink drawings of Chinese tradition. His films—especially Seven Intellectuals, five hours long in its entirety—feel like the modern equivalent of long-roll paintings in the slowness of their unfolding. So what does he get from shooting this past in colour that he can't from black and white?
"I've done a lot of work in black and white," Yang tells me. "I think we have to recognize there are many shades in black and white. It's very rich in expressing things artistically, and because of this, for me black and white sometimes only gives you a very warm feeling. Whereas colour from an artist's eye can be less remarkable than black and white, less imposing. You actually might not feel it, register it, because colour is the natural state of things. As most people see it, everything is colourful. So within this colourful artwork it can feel as if there is no colour. It's the most normal and natural way of presenting a work. When we play with a spinning top, all the colours go. We can only see black and white, no colours, when all of them are mixing."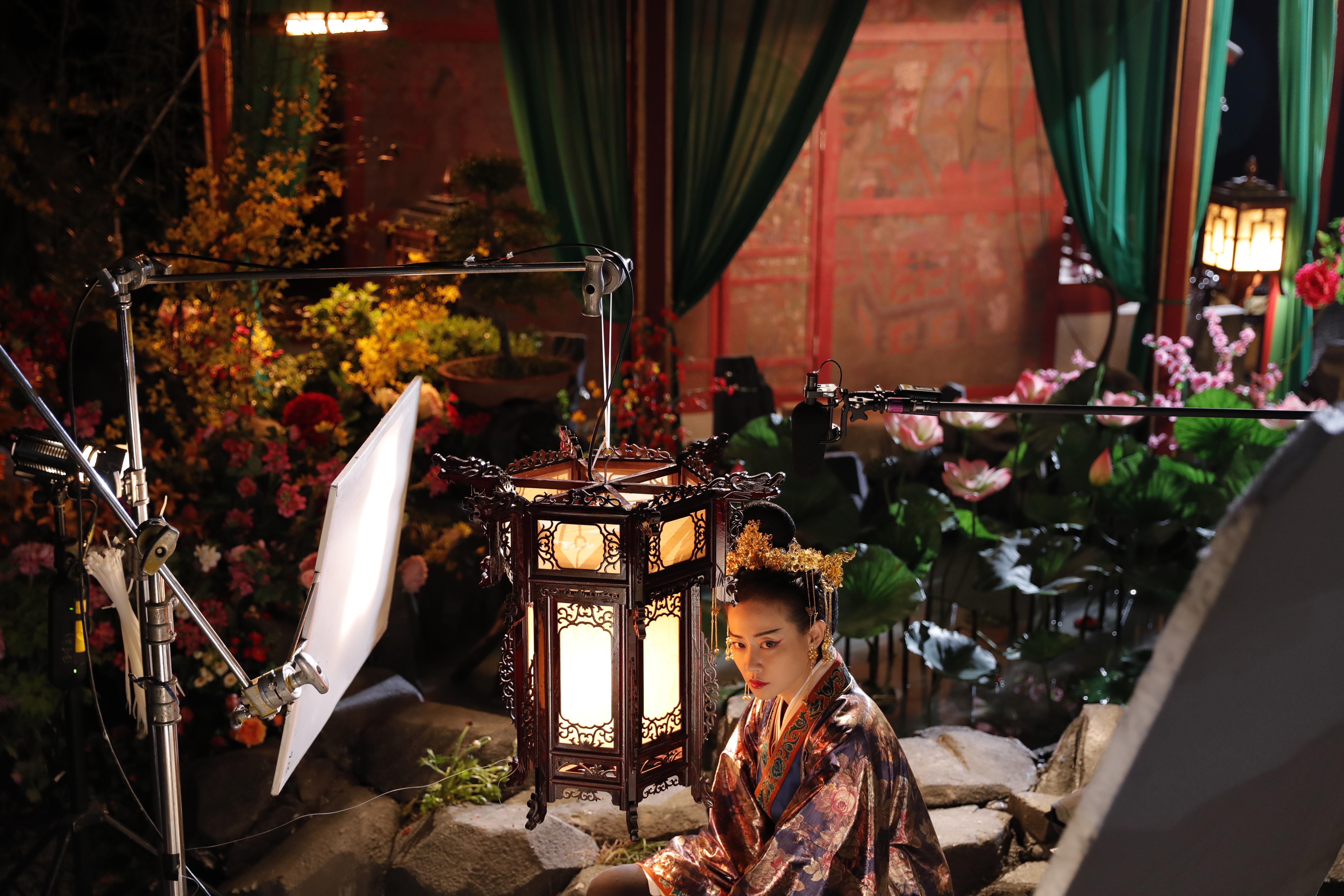 Yang's most representative early black and white works seemed to capture a generation who were figuring out where to look. Chinese young people who had witnessed globalization, had benefited from it and been awed by the West and drawn to it, but also worried that they risked losing something of themselves and their history in the process. The similarly aesthetically-pleasing people in Yang's feudal film, though they clearly know where they stand in their world, have just as much insouciance as his listless modern intellectuals, the ones rowing boats with painted moustaches in No Snow on a Broken Bridge (2006). And they are captured with just as much sensitivity to their mystery. It's a bit like watching Sofia Coppola across her oeuvre: the gap between teenage girls from the 1990s waiting for their life to start and teenage queens from the court of Louis VI doesn't feel all that wide.
"There are things that change, the material stuff," says the artist. "But spiritually I don't think there's much difference. People's humanity, people's desire, their desire for power, for money. They don't change. So what these people from the Song era have in their mind, in their dreams, could be very similar to our modern times. It's just the clothes that are different."
Yang Fudong: Beyond God and Evil – Preface
Until 26 July at Marian Goodman, London
VISIT WEBSITE