How have you responded to Bosse & Baum's title Artificial Arcadia?
When Bosse & Baum first approached me with their ideas for a show, the theme was related to ideas of the natural world and initially we talked about Ikebana (the Japanese art of flower arranging) as a possible thread for the show. I knew I wanted to make new work specifically for the exhibition and it made me think about the arrangement and composition of the work that I might make. This led me to considering making paper-based work for the show, and keeping the works unframed so that the surface, the torn edges, the layering of collage and the matt chalkiness of the water-based paints would all play a key role; the works would feel light and tactile.
As I started to work towards the show I went to see an exhibition at the Dulwich Picture Gallery – Nikolai Astrup, and his woodcuts made me think I would like to include an edition of a woodcut in the show. I have made a few woodcuts in the past, but this would be the first time I included any in an exhibition. I came across an image of a Vuillard landscape First Fruits and decided to us this as a starting dialogue for the woodcut, altering the painting to my own interpretation so that it related to my work. I then painted each print in watercolour so that they reflected different times of day/season and different atmospheres. So the composition of each remained the same but the feeling of each landscape altered.
The last piece I made for the show was Leap of Faith, which shows a figure taking strides across a landscape before leaping in the air towards another location, another option of a place or existence. With each step the figure loses an article of clothing, becoming freer and less burdened with each stride. To a degree almost all of the work I make is an 'artificial arcadia', in some respects the places and worlds I depict are utopian, but the constructs of the landscapes are very much artificial. I meld different aspects of places together, playing with a variety of signs, flora, foliage, pattern, location, landscape and narrative that together depicts both anywhere and nowhere.
Can you tell me a little about your exploration of memory and the past, in your practice?
Memory is an interesting device; it edits, adapts, heightens and loses visual information. The places I have seen, books I've read, landscapes I've viewed, either in first person or in film, are used as a way of creating the essence of a place. I take a lot of photographs but actually nowadays I don't look at them so often, it's more about the act of preserving a memory and cataloging that I find interesting, rather than then using it as a tool for painting. Maybe the act of having a memory bank of images in the studio is enough, I don't need to revisit them so often, the most essential element of a memory stays with you.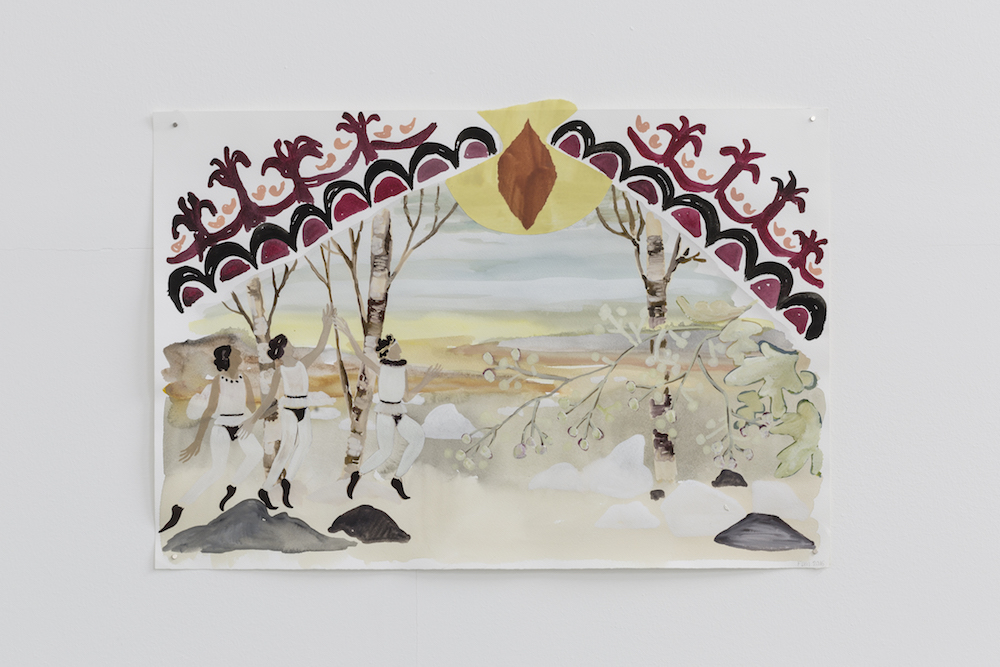 Would you say the majority of your imagery comes from places you have been yourself, or more from your imagination?
The work I make is as much imagined and it is based on experience. It is the balance of these aspects within a painting that I find interesting.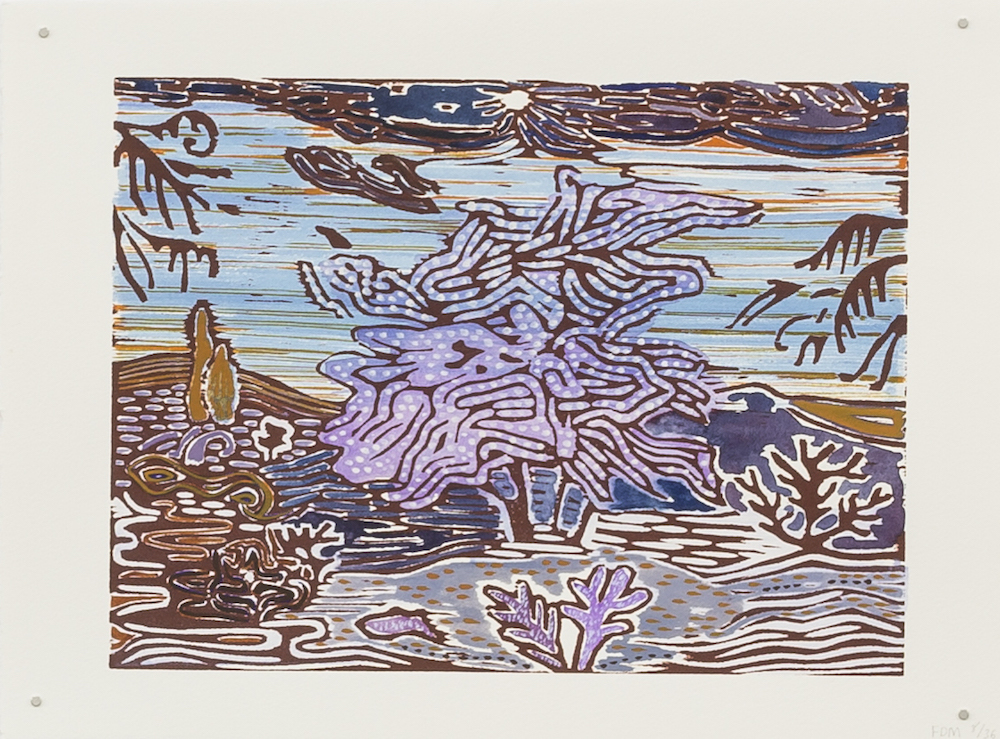 How do you begin a work? Do you know exactly where you want it to go beforehand, or is your process quite loose?
I have a starting idea — it might be a figure, the tone of a painting or a feeling I would like to describe — but I like to leave the making of the painting really loose. The works I make on paper for example are never drawn out; the figures and everything around them are painted straight onto the paper. The image becomes a blend of the original idea I have in my mind and an exploration of working quickly in water-based paints, letting them run fluidly and allowing and encouraging the image to appear in the making.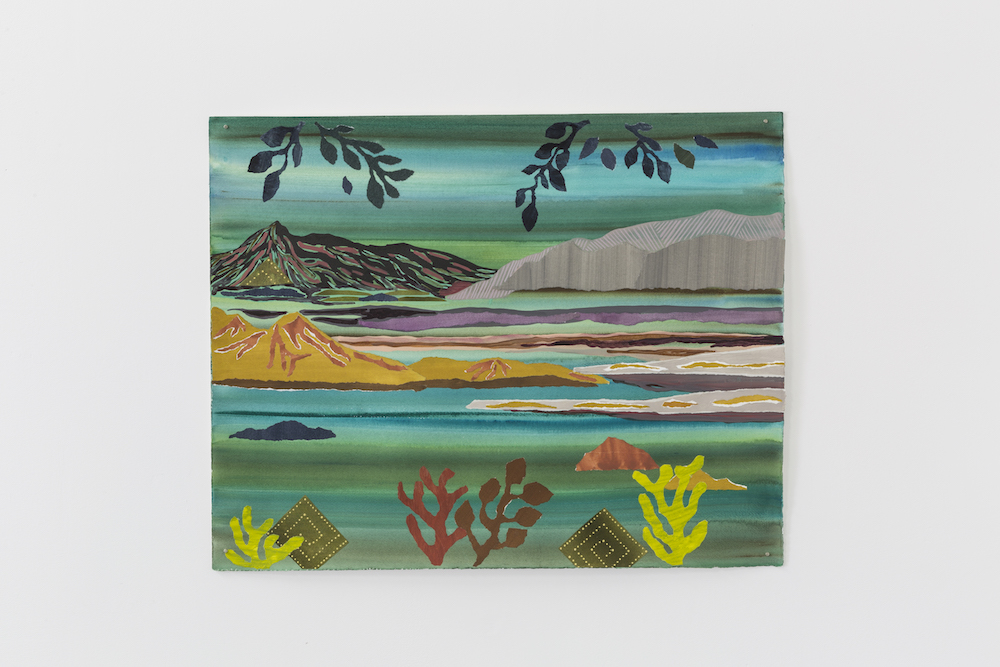 You had a ten year break between your BA, and your MA at the RCA. How did your work develop between those times, and have you really felt a shift since then too?
The years between my BA and MA were spent painting in studios in London and for me the time in-between was invaluable. I had time to leave my BA and work on a body of paintings, exploring this and seeing where the work was heading, before starting my MA with a practice of painting already behind me. It meant that in some ways there was more to lose and more to leave when I started the MA, I was really open to change and to developing and freshening up my approach to my work.
The work I make now is a mixture of things I discovered in my practice recently, but also I feel I am currently reflecting on elements in the work I made a long time ago that I still feel are relevant and that I would like to see in the work I make today.
'Artificial Arcadia' is showing at Bosse & Baum until 31 July.